Google My Business guide: Introduction
As a small business owner, it is difficult to attract new consumers to your business. Some marketing approaches are also costly but don't provide good ROI. 
However, there is one marketing channel that costs nothing. It is simple to use, and efficient in bringing in new customers. Google provides this service named Google My Business (GMB, for short).
Assume someone in your neighborhood is seeking services similar to yours. They found you after conducting a Google search. Undoubtedly, they will pay you a visit. As a result, having your company listed on the GMB is essential.
To start, set up your Google My Business account. Then optimize the profile to improve the online visibility. But as a newbie, it all may be intimidating. So, our GMB experts have summarized all the information and provided this ultimate guide to Google My Business.
This Google My Business setup guide will help small business owners to launch their online journey. You can find all the steps like how to optimize Google My Business or how to write Google My Business description. After completing this Google My Business ultimate guide, you will be a pro! 😎
Before jumping into the actual lessons, let's get an overview of why GMB listing is a must-have. We will also discuss the advantages in-depth later in this Google My Business guide. 
Google My Business helps customers to find merchandise and businesses in their area. People rely on it for finding answers to their queries of local businesses.
Listing on GMB gives you visibility to potential customers. They can easily explore your products and services. You can also answer the FAQs about your services with an optimized GMB listing.   
Visitors can get relevant information such as business hours, where you're situated, and websites with no hassle. It will increase the number of website traffic and store visitors. 
You will also know how to gain quality leads in this Google My Business guide. This is possible because GMB provides insights. It gives the data about customer behaviors, keywords, performing posts, etc. These Google My Business insights are easier to understand for small business owners than Google Analytics data.
From several surveys, you can understand why Google My Business is important:
Local businesses are shown in 1,009 searches per month
Listings with photos are twice as likely to be viewed as credible and receive 35% more clicks.
49% of companies get over 1,000 Search Views each month.
Customers are most concerned with the following factors: rating (84%), credibility (81%), attitude (79%), replying to reviews (78%), and photos (64%).
Before making a purchase, 90% of people check the reviews.
When posting a review, 20% of customers expect a reply within one day.
Every month, most businesses receive 59 actions from their GMB listing.
From these figures, you may grasp the benefits of Google My Business. 
Now, you are surely eager to learn more about the Google My Business listing. As this Google My Business guide is very long, we have divided it into chapters. You will go through a variety of topics in each chapter. 
Have a look at the best suggestions, expert guidance, and relevant resources throughout the guide.
It will teach you how to use Google My Business to boost your Google Maps rankings, connect with consumers, manage your web presence, and create more leads.
Here's the chapter division:
Chapter 1: What is a Google My Business listing? What sorts of businesses are eligible to create a GMB listing? Brick & Mortar v/s Service area business. How can customers find your business through GMB? 
Chapter 2: Why is creating a Google My Business listing important? Google My Business features.
Chapter 3: How do customers use Google My Business? Local ranking element, Zero click search, What are the benefits of Google My Business attributes for my business?
Chapter 4: Step-by-step instructions for creating a free GMB listing, How to make your Google My Business more effective?
We'll also provide you with some ideas on Google My Business optimization.
Chapter 5: Google My Business image guidelines, Google My Business video guidelines, Google My Business name guidelines, Google My Business address .
guidelines, Google My Business description guidelines, Google My Business review guidelines
Chapter 6: Google My Business insights, Benefits of Google My Business insights, How to use Google My Business insights for your business?
So, Let's begin the ultimate guide to Google My Business!
Chapter 1
In this chapter, you will learn the definition of Google My Business, eligibility criteria for GMB listing, and how it gives exposure to your business.
What is Google My Business?
Google My Business is a free, feature-rich business listing. It allows local businesses to improve their exposure on Google Search and Google Maps. Google My Business is like listings on online business directories like Yelp, except it appears immediately in Google search results. So, it eliminates the need to visit a third-party site.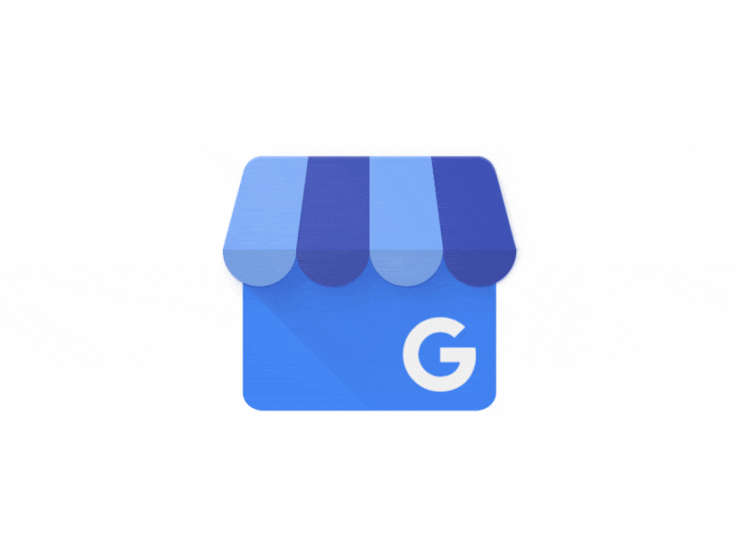 Now Google My Business has grown more than a mere business directory. We regard it as a fundamental element of local SEO for its features and characteristics. We shall explain this later in the local SEO elements section.
"Google My Business is a free and easy-to-use tool for businesses and organizations to manage their online presence across Google, including Search and Maps. To help customers find your business, and to tell them your story, you can verify your business and edit your business information."
The GMB listing for your business gives visitors information like:
Photographs of your brand
Details about how to contact us
Hours of operation and closing time and a lot more.
For this convenience, every business nowadays wants to list themselves. Did you know Google allows specific business for GMB listings? So, check out if your small business is eligible or not from the following section.
What Kinds of Companies Can Benefit from a GMB Listing?
Most consumers believe that only businesses with a physical presence may create a GMB listing. This isn't totally correct.
As per Google, "a business needs to make in-person interaction with the customers during its specified hours in order to be eligible for a Google My Business listing."
So, you may claim a GMB listing if your company doesn't have a physical address. But it offers services to people in certain locations.
Overall, there are two sorts of companies that may create a GMB listing: small businesses and large enterprises.
Google My Business listings are not available to online-only companies or eCommerce enterprises that do not have a physical location where consumers may visit.
The Google My Business guidelines for representing your business on Google state that:
Listings on Google My Business can only be created for businesses that either have a physical location that customers can visit or that travel to visit customers where they are.
That's why you have to categorize your business. There are two options: Brick & Mortar and Service area business. In the next section of Google My Business Guide, we will discuss these business categories. 
Brick-and-Mortar v/s Service Area Business (SAB)
Brick-and-mortar
Brick-and-Mortar means the physical existence of a business or company. It refers to a firm that owns or rents retail outlets, industrial manufacturing units or warehouses for its activities.
Examples of Brick and Mortar Businesses:
Restaurants (that don't deliver)
Service Area Business (SAB)
Service area business visits clients or delivers goods to them but does not give service to them at its physical location. You can enroll as a service area business if you conduct business at your business location and also deliver to them.(e.g., pizza shops, florists)
Types of Businesses in the Service Area (SABs)
Choosing the Most Appropriate Google My Business Category
If you operate a brick-and-mortar business, keep the "I deliver goods and services to my customers" option empty while setting location.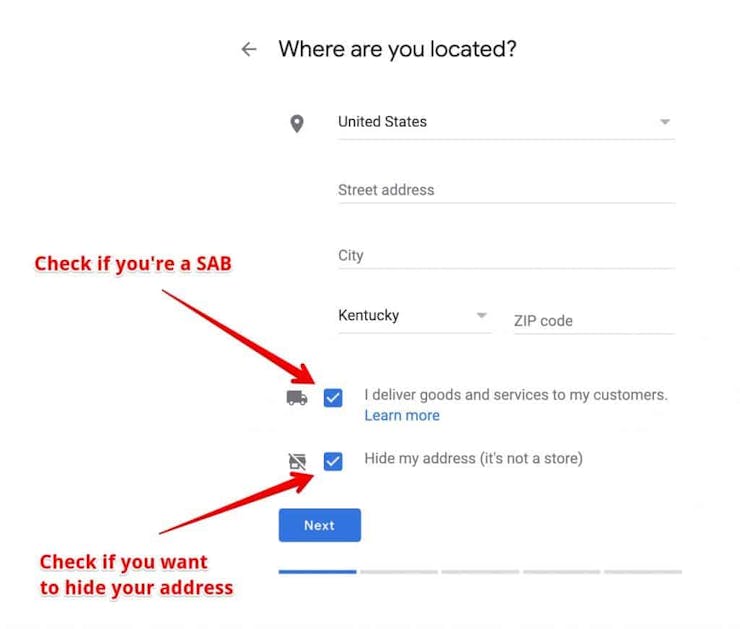 Select this option if you're a service area business.
A new option will open, offering you the option of hiding your address.
Mark this box if you don't want your location visible. You can use it if you're a home-based business and use your personal address as your business location.
If you're not confident which category is appropriate for your company, do a Google search for your industry and check which categories other competitors choose.
The results of Google SERP show what the competitor identifies as its major category. If you see a pattern among them all, you can guess which category you should go with.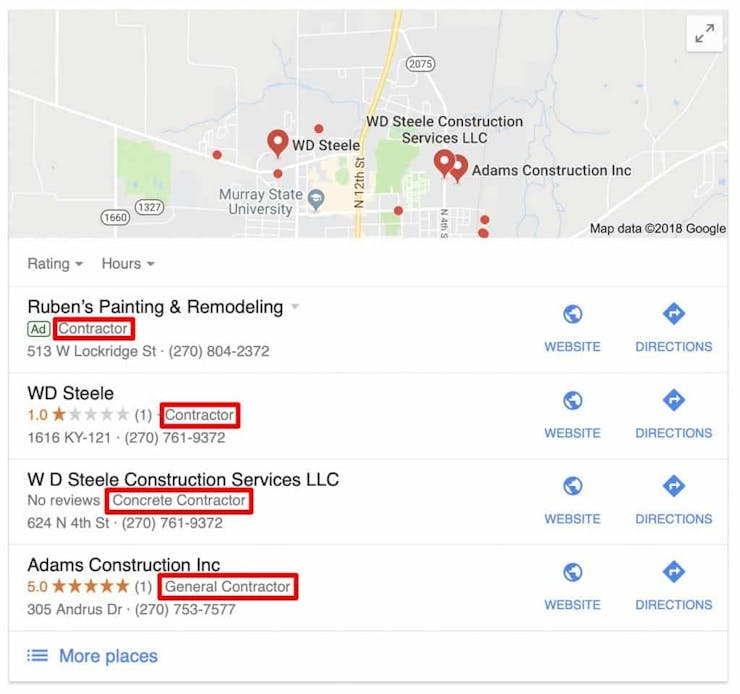 We can see from the sample above that most construction companies in the Murray area are classified as contractors.
That's how you can choose your service category.
You may switch categories, so definitely explore what works better for you.
Updating your GMB category too often may lead to suspension. Therefore, try whichever category works best for you, not more than once a day!
Where does the online listing of Google My Business appear?
When performing a local search, Google My Business listings might appear in a variety of areas. We'll look at what GMB listings seem like and where they appear in the following part of the chapter.
Knowledge Panel of Google
If you do a brand search, Google's Knowledge Panel will display data from your Google My Business listing.
In the SERPs, Google gives your content in a snippet-form to give searchers a convenient way to gain the facts they want. It also improves the reach of your brand.
What is the Google Knowledge Panel, and how does it work?
With a branded search, the Google Knowledge Panel shows in the top-right corner of Google search results on desktop and near the top on mobile. The branded search means when they search your business name.
The Knowledge Panel is a compartment for essential information about your company.
If the business in question is local and has a Google My Business listing, it shows details. It includes the name, location, and contact information of your company (NAP). Also, information like Opening Hours can be retrieved from here. 
The Knowledge Panel on Google can also provide results for inquiries that aren't only local. If you search for a worldwide brand like Dominos without specifying "near me" or a location, this panel will display information taken from Wikipedia and other sources.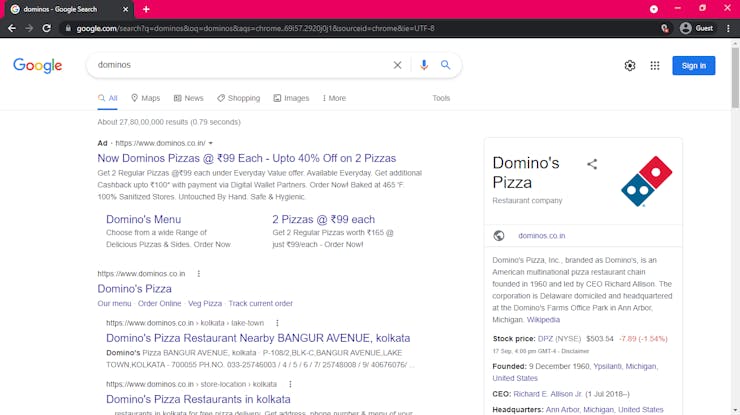 For a branded search, this is where you'll see the Google My Business profile in the Knowledge Panel:
I looked for 'Favfly' in this case. Instead of a generic "digital marketing service near me" search. This business's Knowledge Panel pulls all available details from its Google My Business listing.
Local Finder/Local Pack by Google
Google My Business may also appear in the Google Local Pack, commonly known as the Google Local Finder.
The Local Pack is a group of business listings that appear in search results under the map. This appears after a user conducts a Google search with a local focus. It displays three profiles at first, but you may extend to see more.
If I search for 'pizza Kolkata,' for example, something along this sort will appear:
Each business mentioned here appears only because it has Google My Business listings, and it derived all the content you see here from the GMB listing, much like the Knowledge Panel.
You don't need to have a website because only a Google My Business list can appear in this section! 
This simply makes the differences between local and organic search results, as organic search results can only be found if you have a standard website.
Maps from Google
Google Maps is a desktop and mobile app and browser-based tool for finding routes and exploring businesses and places. It has lots of lists and collections that may help users discover new businesses in their area.
Most people are familiar with Google Maps. They have used it at least once to find a house or a local landmark. It is an important site for smaller businesses to receive attention.
When using Google Maps on a desktop, here's how Google My Business listings (also known as the Map Pack) appear: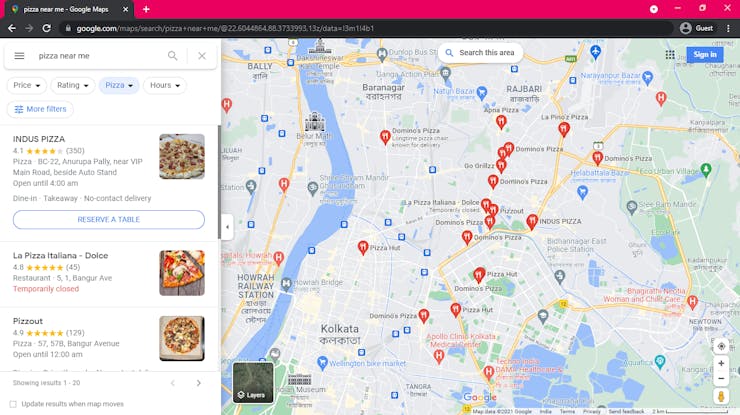 This is how the Google My Business listing appears once someone has clicked it (i.e. when I tap on one result in the picture above):
So, now you must have a basic understanding of GMB listings and how it represents your business. Let's proceed to chapter 2 of this Google My Business guide. 
Chapter 2
In this chapter, you will know the importance of GMB listing for small businesses. Also, we will see which features make GMB a unique business directory. Keep reading!
Why is creating a Google My Business listing important?
Google My Business has become a fundamental element for businesses to grow online. Let's understand the reason for some statistics:
88% of individuals who use their mobile device to look for a local company will contact or visit the business the next day. Consider how much revenue you may make only from organic visitors in Google My Business.
Local searches account for 46% of all inquiries, as per Google.
On Google My Business listings, website hits account for 56% of all activity.
Calls to the business make up 24% of all activities.
To get contact details for a local business, 64% of visitors accessed Google My Business.
16% of total business gets over 100 calls each month only from Google My Business.
20% of search inquiries request address
And all the figures are growing with time. If you overlook the potential of the GMB list, you will miss a large market. Your small business surely needs Google My Business listing because:
1. It boosts your local search engine optimization (SEO) ranking
Google accounts for over 90% of all queries every year. Nearly half of all Google queries (44%) are for local data. This shows that an increasing number of people are using Google to look for local businesses. As a result, businesses that appear on Google attract more clients.
In order to be found by customers, a business must be on the first page of results for specific terms. Local Search Engine Optimization refers to the entire process.
A GMB listing is quite beneficial. Because Google My Business "signals" are the most significant ranking element for local companies trying to rank for local searches.
2. Your company will be listed on other Google products.
People use not only Google Search to find companies. They also use Google Maps and Google Assistant. Details about your business will appear on these platforms as well if you create a GMB listing.
People may perform a voice search for your business using Google Assistant or ask Google Maps for directions. If you have a GMB listing, both tools will bring up relevant information from your GMB listing.
3. It exposes your business in unexpected ways
When customers search for your business by name, your GMB listing will appear. That isn't all, though. If you optimize your listing well, it will probably appear even if people do not specifically do a branded search. (We have already discussed what is branded search above).
You can reach indirectly to the people who are unaware that your business exists through keywords. You just have to put keywords properly.
Google Maps' discovery features depend heavily on data from GMB listings. So, only firms with a GMB listing will make use of this significant benefit.
Google My Business Features
You must be curious how Google My Business can give these excellent outcomes. In this section, we will discuss the unique features of Google My Business that will help your business to grow exponentially.
a. Business Description
Business description is one of the first things on your Google My Business page that prospective consumers will see. So, it's essential to write an interesting description inspired by your company's values.
This is a simple task. Make it sound genuine and organic. Don't jam keywords into your content. Because it sounds absurd.
We will discuss the Google My Business description guidelines later in the guidelines section.
b. Reservation Button
Google's appointment-reservation feature is one reason to increase zero-clicks searches. (There is a detailed zero-click search section in the next chapter)
Now, visitors don't have to visit your website (or a third-party reservation site) to know your criteria and plan accordingly.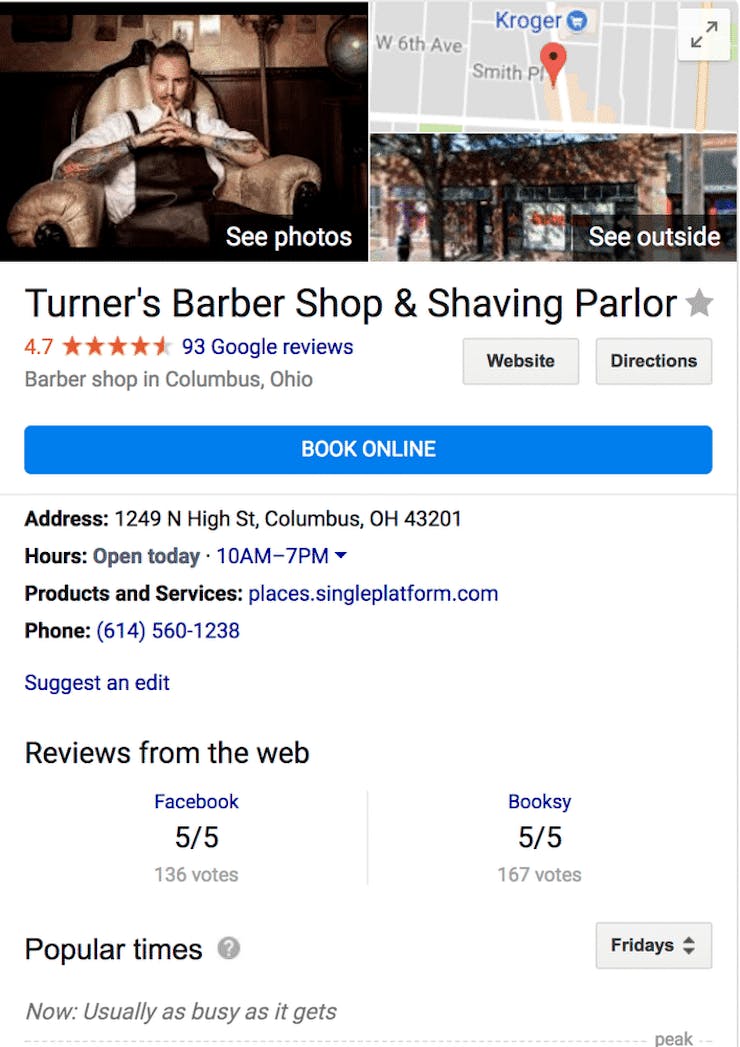 If you are a business that offers appointments and reservations, this feature may make things much simpler for you and your clients. You just add a booking button to your Google My Business profile. It will assist you in generating new leads.
c. Google My Business Messaging
You can activate messaging when your business listing has been validated.
Messaging is an effective technique to use, especially if you're attempting to reach out to younger audiences. This feature enables the customers to text you without even knowing your actual mobile number.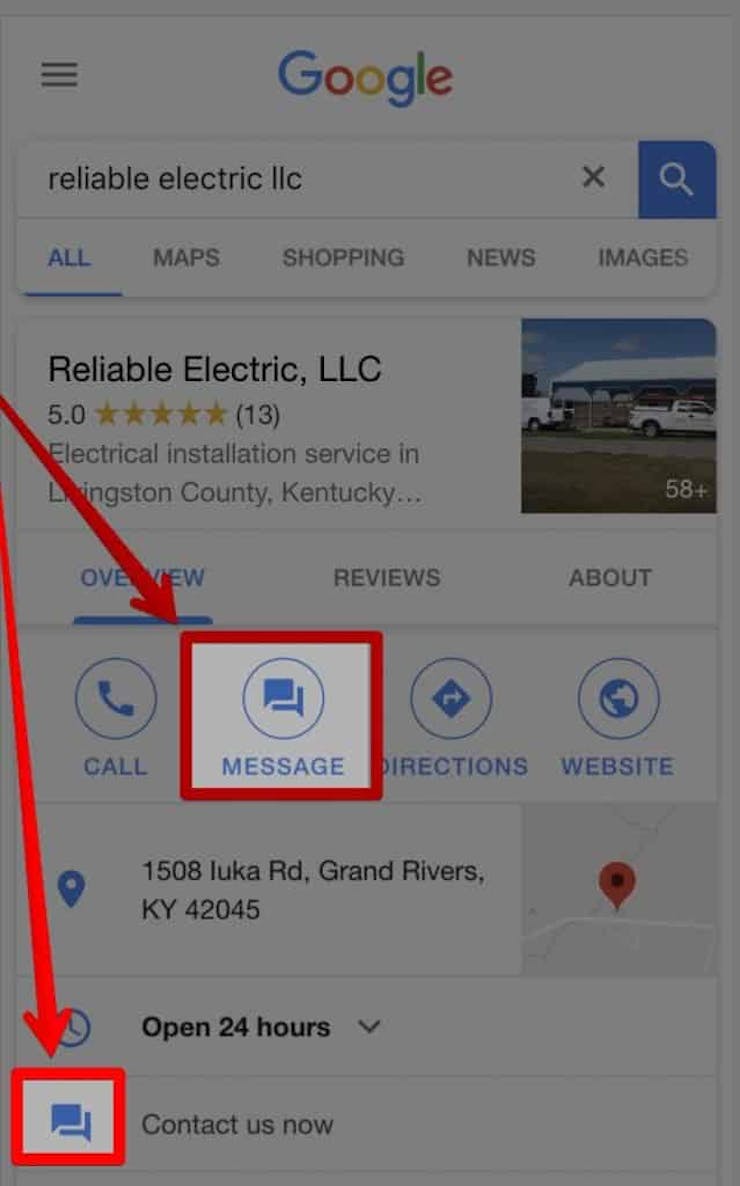 If you don't want customers texting your phone number, you may download third-party apps or the official Google Voice app. So, they will text there instead, noticing no change. You can limit when an app sends you an alert by changing the app settings on your phone.
d. Posts on Google My Business
Google My Business Posts in the same way as Facebook Posts are.
It is another way to convey information about your company to potential consumers. You can build an omnichannel marketing strategy by keeping things active on GMB listings.
You can add buttons to postings, which is a pleasant feature. Each button may be linked to any webpage and tagged with CTAs, such as "purchase," "learn more," "get a deal," and so on.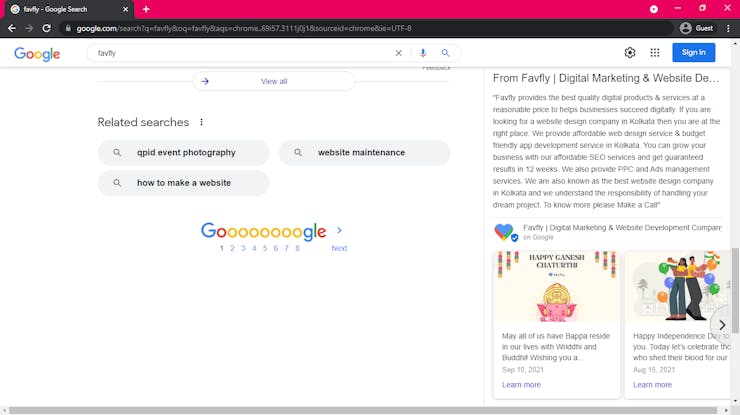 You can see what a GMB post looks like. It can include text, pictures, and video in the Posts. Our experts at Favfly strongly suggest posting regularly to increase visibility.
e. Google My Business Welcome Offers
GMB launched an additional feature named Welcome Offers in June 2019.
It entices customers to follow your business by providing them with welcoming offers.
When the welcome offer is enabled, a little blue tag icon will be added to the upper-right corner of your listings' Follow button.
However, I don't think most people will realize this until it gets more well recognized. In the meantime, make a convincing offer and promote it on social media and in your Google My Business postings.
Keep in mind that the primary aim is to gain followers so that you will appear on their For You tab in maps.
f. Product catalog
Products and Services let businesses to display directly their business offers in local SERPs.
Information in the Products and Services area does not affect rankings. But it may be essential for a consumer to read your list and browse for the items you provide.
Search engines can show information from your products and services for specific search queries. So, it makes your business even more distinguished.
You may also specify the pricing for each offering of product and Service. This is a chance to show to searchers the competitive prices.
This is how catalog on GMB listing looks like:
UYou may add new categories and items in the following steps:
 i) Go to the dashboard of your Google My Business account
ii) Select the "Posts" section
iii) Tab the "Products" option on the left-hand navigation pane.
This function is especially useful for brick-and-mortar stores who want to advertise their brand-name retail products.
Chapter 3
In this chapter, you will know how Google My Business gains potential customers, why it is called the most important local ranking element. Also, zero-click searches and Google My Business attributes are covered. Go on!
How do customers use Google My Business?
Customers use Google My Business for a variety of purposes, including:
To discover about a company's hours of operation
To locate the address of a local business or get directions to it
To make a phone call to a local business without visiting their website
Writing and reading reviews of a local business
To see images of a local business's goods and services
To get the link to the company's website
For making reservations online,
To discover which products and services are available
To enquire about a local business and receive answers
You can provide all this information through GMB listing and gain potential leads.
You can provide all this information through GMB listing and gain potential leads.
You'll note that we've listed a handful of things that we haven't discussed yet, such as reviews and photographs. Don't worry, we'll go through these later in the Google My Business guide.
Local ranking element
Google My Business is the top one local ranking factor. It implies that Google My Business has the most influence on where your business shows in local search results.
Local SEO professionals praise Google My Business optimizations as one of the most effective strategies to increase exposure in the Local Pack.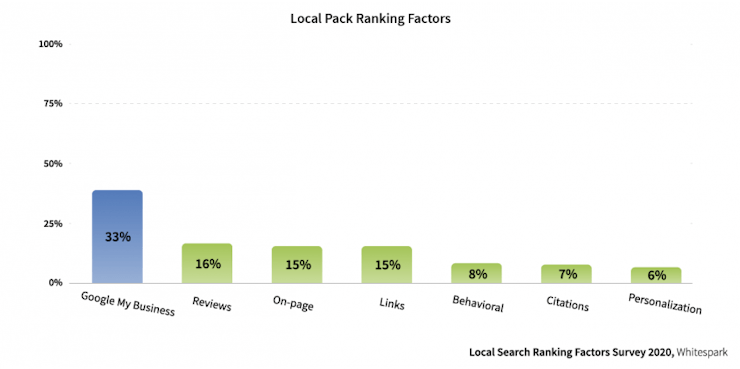 Using Google My Business to its full potential may help companies rank higher for relevant local search phrases. It gives them a competitive advantage.
As a result, businesses without GMB profiles have a slight chance of being discovered or chosen online.
In the age of zero-click searches, Google My Business is a must-have!
As zero-click searches grow more common, it is giving a way to display your company on search engine results pages. You may miss out on attracting consumers at an early stage if you don't have a Google My Business listing.
Google My Business accounts have a variety of features, such as links to contact the business, get directions, and even schedule appointments. GMB makes it that much easier for visitors to give your business their business without having to go to your website.
What is a zero-click search, and how does it work?
Rather than visiting a company's website, searchers may discover what they're looking for right on the search engine results page. This is called the zero-click search. More activities, such as converts to sales, are occurring directly from search results because of this feature.
What Are the Benefits of Google My Business Attributes for My Company?
When you add attributes to a Google My Business listing, it allows the business to appear in more targeted searches. If a person didn't have any cash and just had a credit card, they would want to know what payment choices were available.
Perhaps you owned a tiny guest house and wanted to let potential guests know you offer free Wi-Fi. Restaurants offer an array of alternatives to choose from (see below).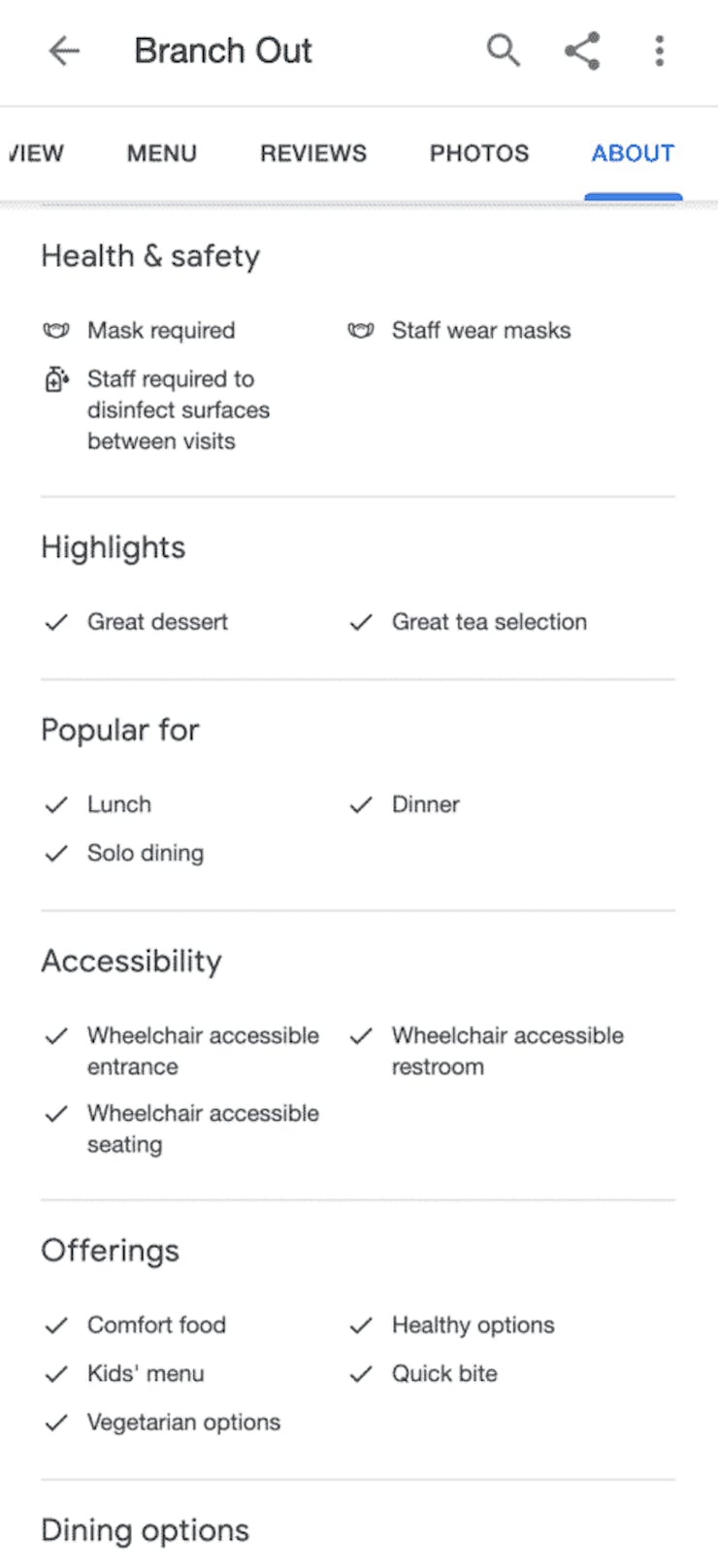 You should fill these attributes sections entirely regardless of the type of business you operate. Also, encourage visitors to answer questions about your business to help highlights emerge as well.
Chapter 4
We have discussed all the importance and benefits of Google My Business so far. Now it's time to implement that in your business. In this chapter, you will go through step-by-step instructions like a Google My Business setup guide. Let's get started. 
How to create a Google My Business account and list my business on Google?
It's important to note that you should do this on a desktop or laptop. It will be a lot less tough. Google My Business listing is free and easy to set up.
Step 1: Go to the official website
a. Go to Google and put in "Google My Business" or visit the following page:
            https://www.google.com/business/
You'll notice it as the first result.
b. Select Manage Now from the drop-down menu.
If you are not already connected into a Google account, it will ask you to sign in.
Make sure the Google account you wish to be connected with your Google business listing is logged in.
Step 2: Set Name for Your Business
a. Once you've logged in, it will prompt you to input the name of your business.
b. Type it in. You will notice your listing appears if you've already listed on Google (which isn't uncommon).
c. If your business does not show, click the result with the following text beneath your business name:
           "Create a business with this name"
Alternatively, if your business appears (like it does in the example below), select it.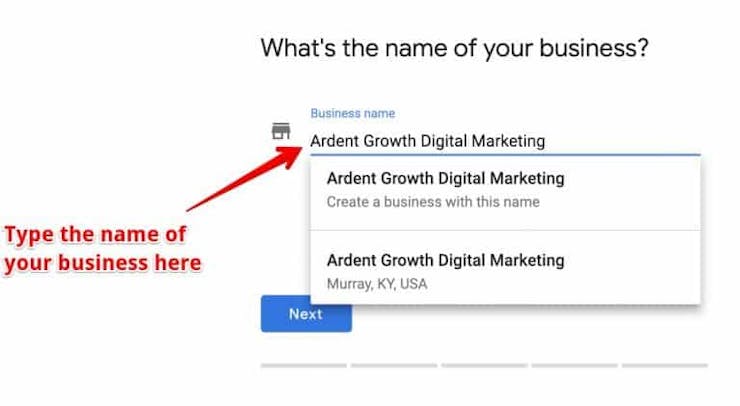 d. Then click the next button.
Step 3: Choosing Your Company's Address
Now you must choose between a brick and mortar and a service area business. For additional information, see the Brick & Mortar vs. Service Area Business section.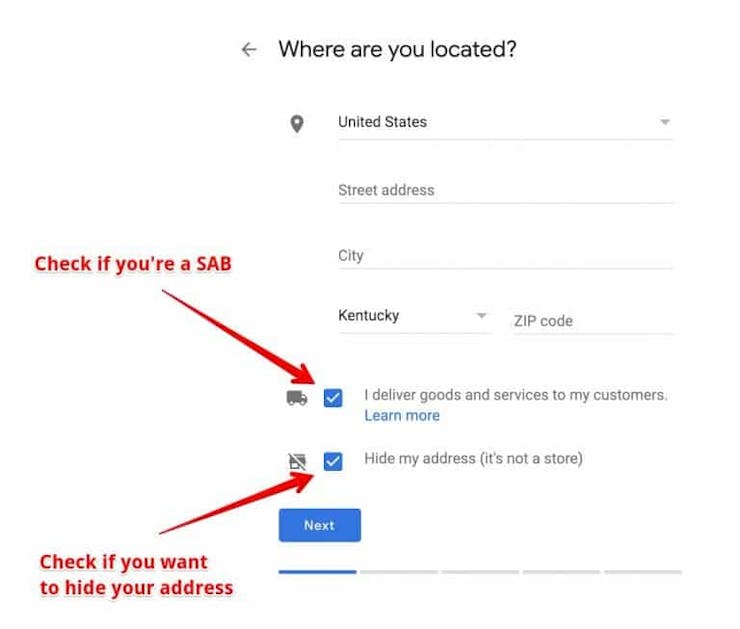 Whether you operate a shop or a service area, the way you set up your location will be different.
Choosing a Location for Your Brick and Mortar Business
If you're running a physical store, you'll need to mark your location on a map. You'll have to drag the marker to the exact spot on the map where your company is located. 
Simply position your marker on the map as desired, then hit the "Next" button once again.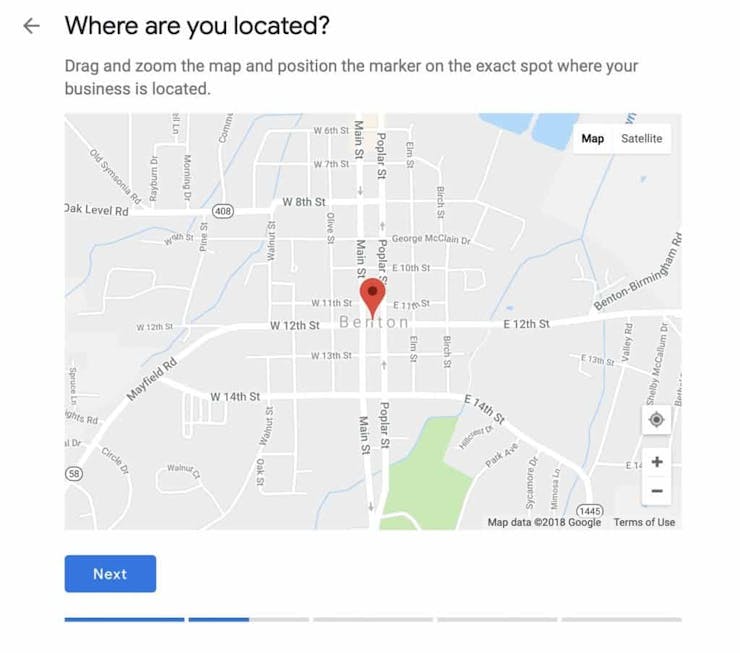 Set your location as a service area business
If you run a business that serves a certain region, you'll need to tell Google what area you serve.
City, county, state, zip code, nation, and so on can define your service region.
Tip: If you service a whole county, instead of listing all the zip codes, just put the county itself.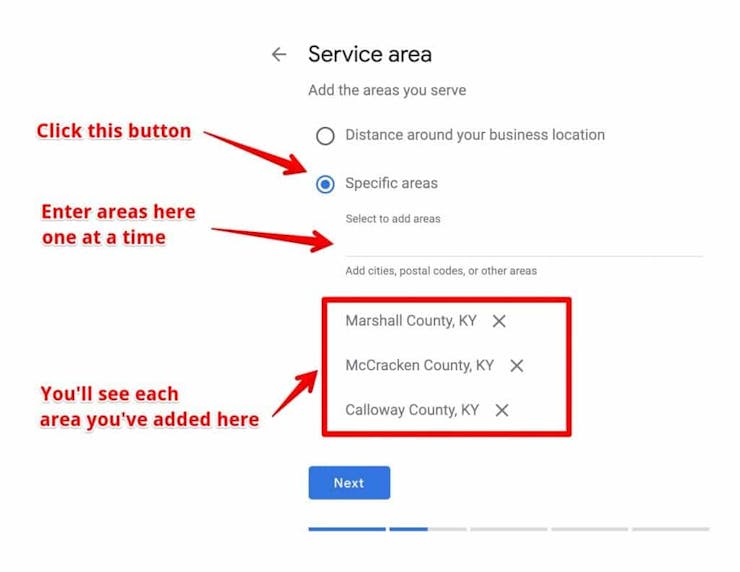 Do you know how to hide your address?
If you already have a listing and wish to hide your address on Google, you may do so via your GMB dashboard's data settings
Step 4: Select Your Business Into Categories
If you want to appear on Google's results page when potential customers search for a product or service you provide, you must do this step right. So, this is a crucial step, don't skip it.
Do you know? As per the local SEO professionals, the primary GMB category is the most important ranking element in the local pack.
To get the idea, see the "Selecting the most appropriate Google My Business Category," section in Chapter 1.
Set both primary and secondary categories into the "categories" section.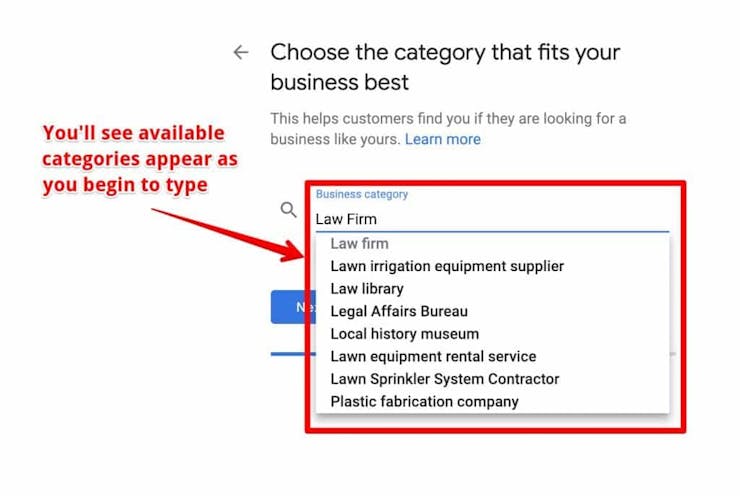 Step 5: Choose which contact information to display to your customers.
It is optional to include these details in your Google listing. We definitely suggest it.
Adding your website may drive consumers to your site, where you can convert them to a lead.
Customers will contact you directly if you include your phone number.
Tip: Each time a visitor from a local search sees your website, gets directions, contacts you, messages you, and so on, you'll get a little boost in your local rating from Google.
You can choose the option "I don't need a website," or the option to "Get a free website based on your information" if you don't have a website.
Use the same URL of your website everywhere on the internet (in a Google listing, Yelp, Yellow Sites, local Chambers of Commerce pages, and so on).
Once you've finished filling out the information, hit the "Next" button yet again!
Step 6: Complete and Verify Your Business
It is the last step of your setup.
After creating a listing, you need to verify your business. It can take a few days. In the meantime, you may work on optimizing your listing.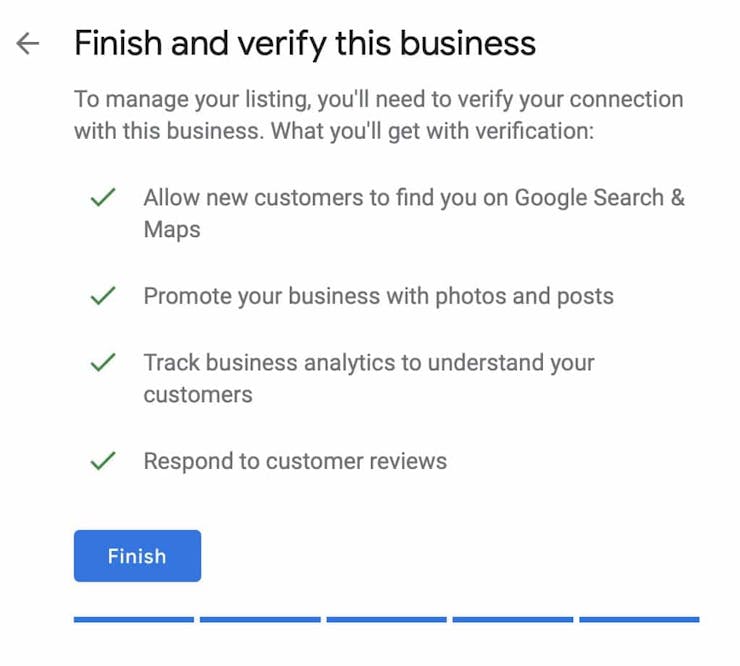 Google may provide you with an alternative option for verifying your business (we will discuss the ways in the next section). Mostly, you'll have to wait for a postcard from Google with a verification number to arrive in the mail.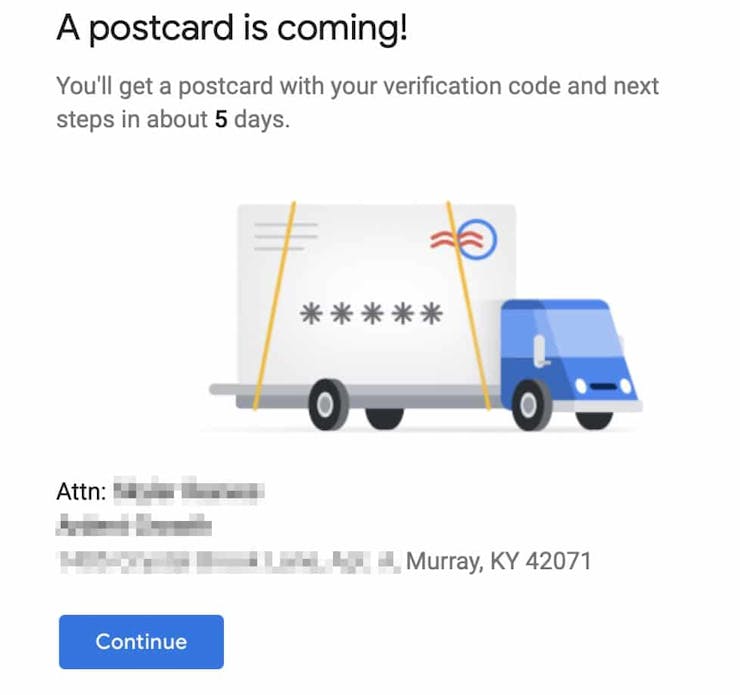 How to verify Your Google My Business Listings' Information
You may have a few choices for verifying your business, depending on the type of business listing you create (or manage):
Confirm by mail (postcard)
Authenticate over the phone
Please acknowledge through email
Primarily, the postcard method is used.
When your postcard comes, go back to the GMB website. Choose Verify Location from the menu. Or you can select the Verify Now option if it's accessible. Then input the 5-digit code from your postcard.
While you're waiting for your verification postcard, Google suggests you don't change your company name, address, or category, or request a new code.
That's all! You've already created your listing with this Google My Business setup guide. It's now time to optimize it so you can reap the benefits of Google My Business.
How to Make Your Google My Business Listing More Effective?
You'll be sent to the Google My Business dashboard once you've completed the steps above. Here you'll find helpful options for improving your listing, as well as a View Plan option.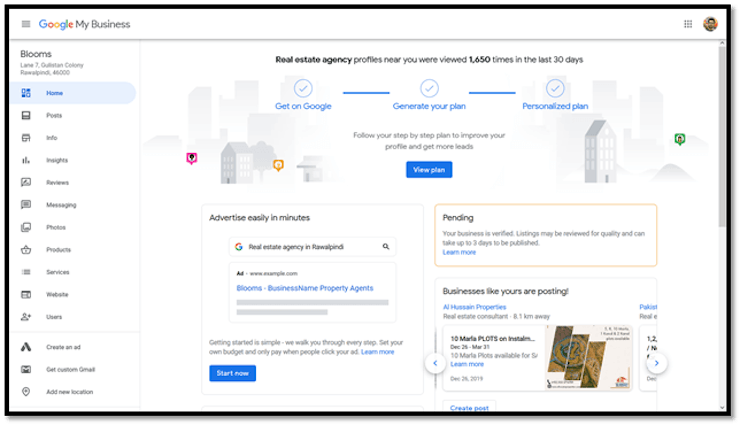 To find out what you should do next with your listing, tap this button. Instead, you may use the "Complete Your Listing" list to check what details you should include.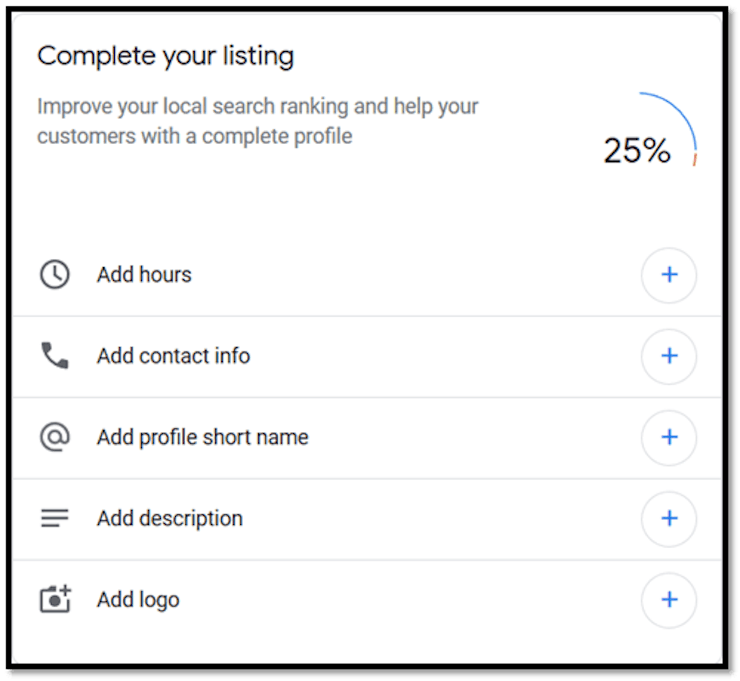 You must optimize your Google My Business listing once it has been created. It will rank higher in search engines if you customize it properly. Higher ranks imply greater visibility.
It's like winning the lottery when your website appears at the top of a Google search.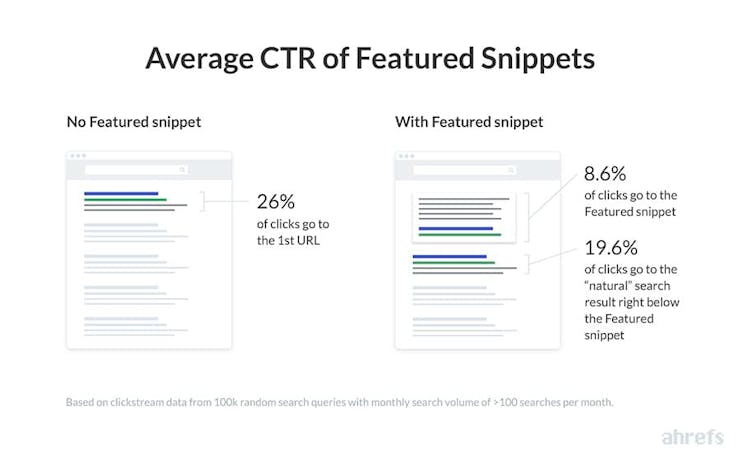 If there isn't a highlighted snippet, around 26% of all clicks go to the first result displayed (excluding advertisements). Otherwise, highlighted snippets get 8.6% of clicks, while the top organic result receives 19.6%.
With that in consideration, here are tips for improving your Google My Business listing.
Optimize Your Information Section
On the left-hand side of your dashboard, you'll notice an info option. Select that. Fill your info section with as much information as possible.
What should you include in the information section?
You may (and should) include a lot of information in your listing. Here's a brief rundown of what your GMB listing should include:
Opening and Closing Hours
URL of the website (if applicable)
URL for the appointment (if applicable)
Description of the business
First opening date of your business
Simply click the pencil symbol beside the options to edit it. It may also need extra information, depending on the sort of business you operate.
You may also include 30-second clips of your company in your listing. Remember that videos perform better than other sorts of content. We have Google My Business video guidelines later in the guide.
It's important to note that anybody may change your listing. As a result, fill up as much information as you can. This will prevent anyone from giving incorrect details to your listing by mistake.
Also, double-check your GMB listing frequently to confirm that everything is still correct.
Create Engaging Posts
You can include posts in your listing. It's like social media updates on Google My Business. Use them to give useful information to those who are interested in your business.
It's vital to ensure you're following Google's rules. There are a few unexpected regulations that must be followed.
There are four main types of postings you may make:
a. What's New: Businesses may use the 'what's new' Google Post feature to post basic details about their shop, goods, or services.
b. Event: This post type is important if you run a business that hosts in-store events.
Events Posts enable businesses to post updates on their upcoming events. You can insert a picture, event title, start time/date and finish time/date.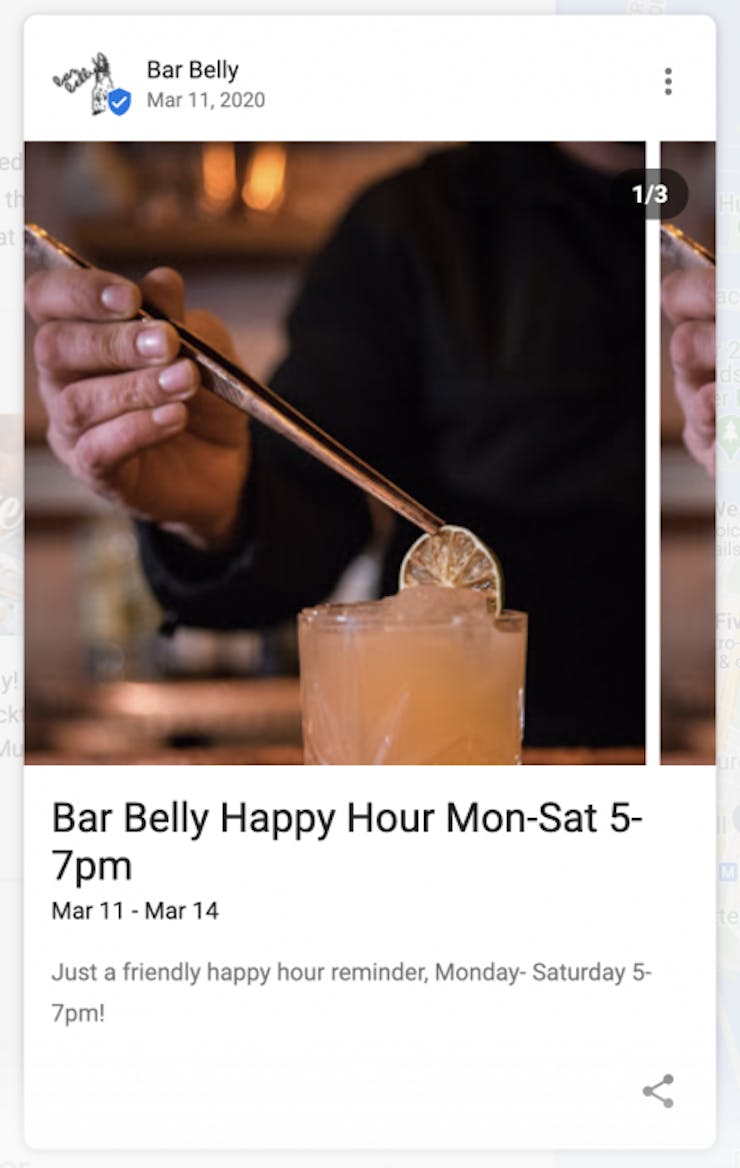 c. Offers: Have a great deal you'd like to share with potential customers? Then this post is ideal for you. You may provide a coupon code and a link for your visitors to use in order to redeem the deal.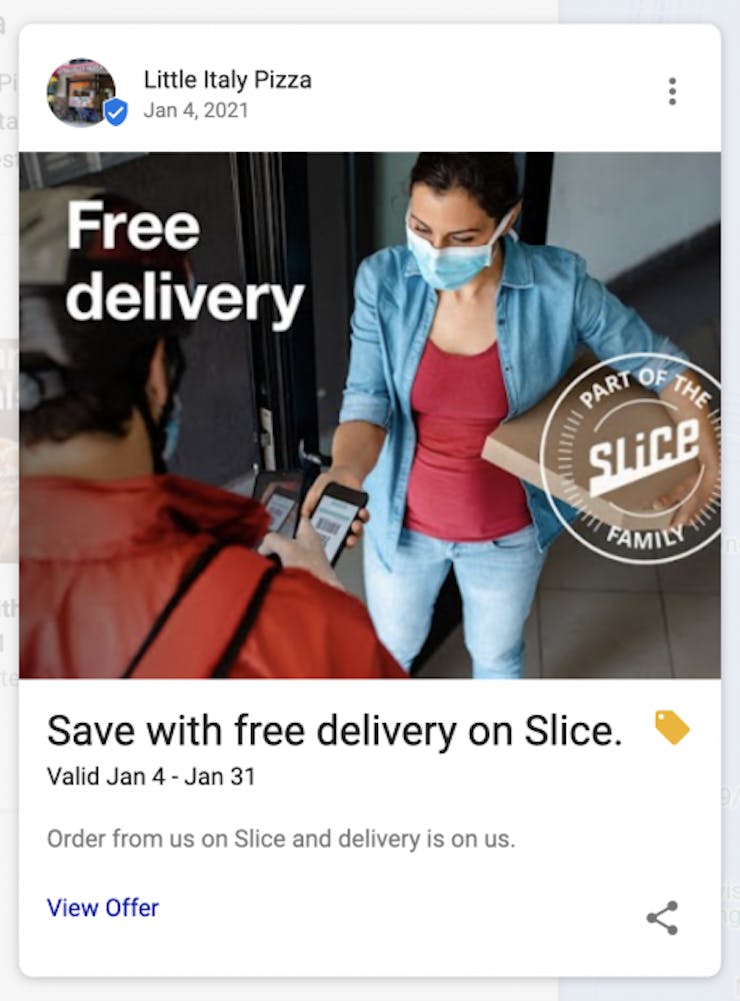 It is one excellent method to enhance conversions through Google My Business.
You can specify a promotion start-and-end date. So clients can check whether the offer is still available. Include a picture or graphic to grab the attention of the search.
d. Product: This post type is a fantastic method to advertise products and increase in-store traffic for businesses that sell goods instead of services.
You may share a product name, picture, category, price and description within the post. Price and description are optional here.
Create a product of post if you're introducing a new product or want to let people know about one you already have.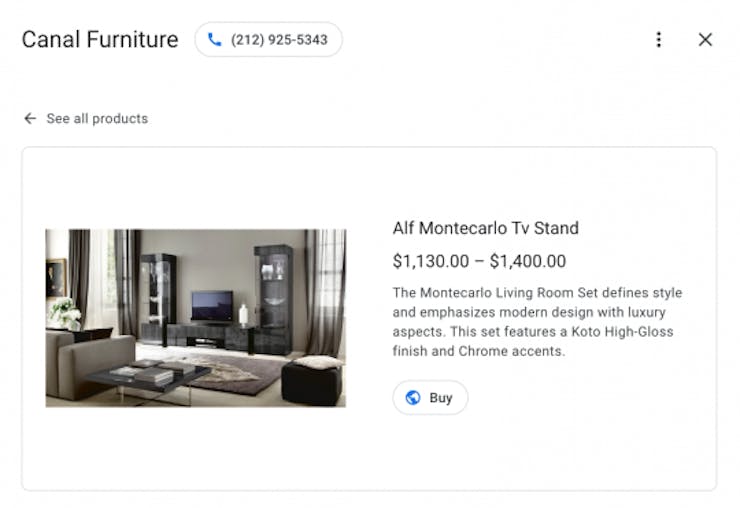 It is essential to remember that although product postings are uploaded as regular postings in the GMB dashboard, the change will show in the Products section of your listing.
e. Update hours
This is not a post that you can manually create through your Google My Business account. If you change your opening hours in GMB, Google immediately shares it as a post. Then it's included in the "Updates" area of your profile.
f. Update of Covid-19
The upgrade of Covid-19 post allows businesses to inform their consumers about new regulations on opening, health and safety precautions and on-site regulations.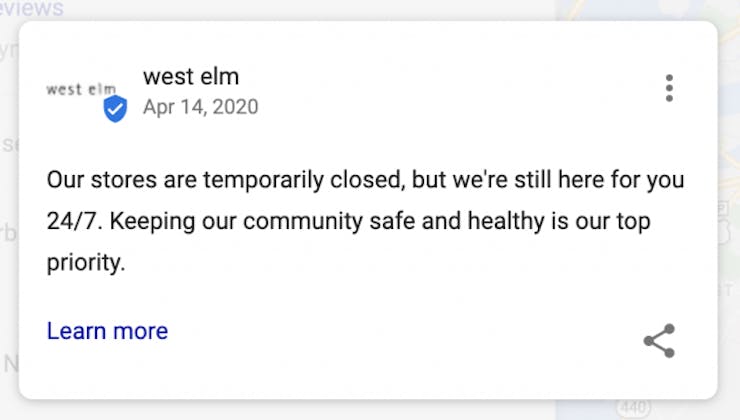 Activate Messaging and Request a Quote button
You may enable the chat option in your listing by downloading the Google My Business app. People will text you privately with your company because of this.
Also, you can activate the Get a Quote button after this.
Do you know? According to Google's standards, messages should be responded to within 24 hours. So, if you're unable to do so for a few days, turn the function off. Businesses who don't follow this rule risk having the function deactivated.
Read the full step-by-step instruction to enable the "Request a Quote" button.
Include a booking feature
Only a few regions and categories of businesses have access to the booking function. You should certainly enable it if it's accessible for your sort of business.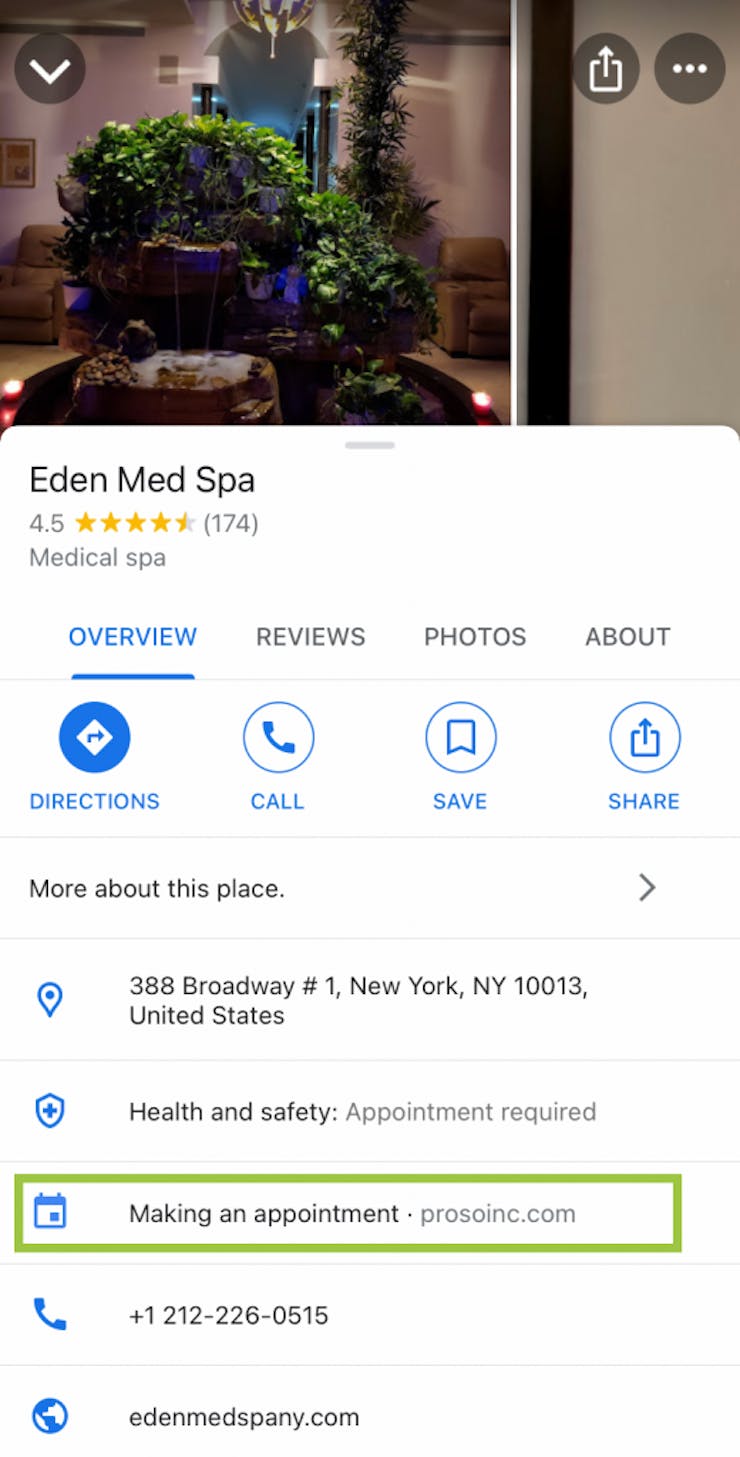 You'll find this choice on your GMB dashboard. This allows consumers to book your services directly from your GMB listing.
This improved GMB functionality will be available after connecting with one of Google's supported booking/reservation partners.
To create 'Reserve an appointment', click on 'Info' and tap the 'Add appointment links' option on your Google My business page.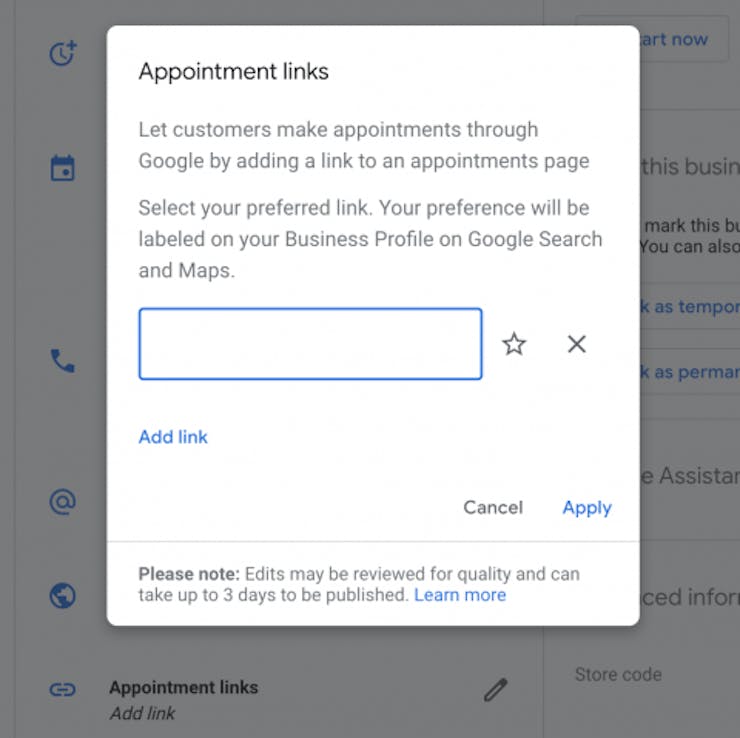 Service Section optimization
You may add more information to your listing by using the services section. These are useful for people. But from an SEO perspective, they don't help you rank for other keywords.
To add new service:
In the left-hand navigation of your GMB dashboard, select Services.
Make a new section or add a service to an existing one.
Include a service that you provide.
If you like, you may provide a listing price.
After you've entered all of your information, click Add, and you're done!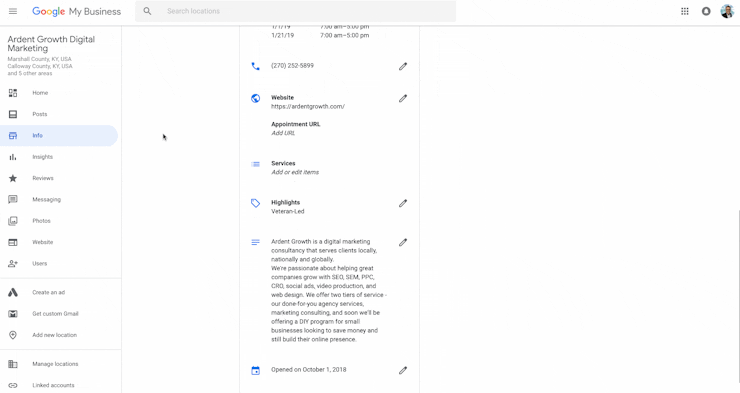 Attributes to Google My Business
You can add things to the Attributes/Highlights section based on the industry in which your company operates. In both Google search and maps, attributes will appear on your company profile.
These may include:
Compatible in a wheelchair
How to Add and Change Them
i) Open the Business dashboard 
ii) Go to the Info page
iii) Scroll down to the Google My Business Attributes Tag Indicator area
iv) Select the Edit button. 
v) Choose which attributes relate to the company
vi) click "Apply" to finish your changes.
Double-check your NAP
It is one of the fundamentals. Your NAP (name, address, and phone number) must be correct for your Google My Business to rank highly with search engines and users. 
It's critical that your company's name, location, and website be consistent throughout all directories. For verifying your NAP consistency throughout the web, a tool like Direction is ideal.
For more accurate monitoring of performance, use UTM links and call tracking
Urchin Tracking Module (UTM) links in your GMB profile are a fantastic method to track and identify where customers discover your company and what actions they do when they arrive.
A UTM tag is required for Google Analytics to track the performance of a certain page.
An example of a UTM tag is shown below:
https://www.abc.com/?utm source=google&utm medium=organic&utm campaign=gmblisting
You can determine where a user arrived from by looking at their source, medium, and campaign information following the question mark in your Google Analytics reports.
Apply this tag on major links like your website button, Google Posts, appointment links, and products. So, you'll be able to better understand your clients' actions.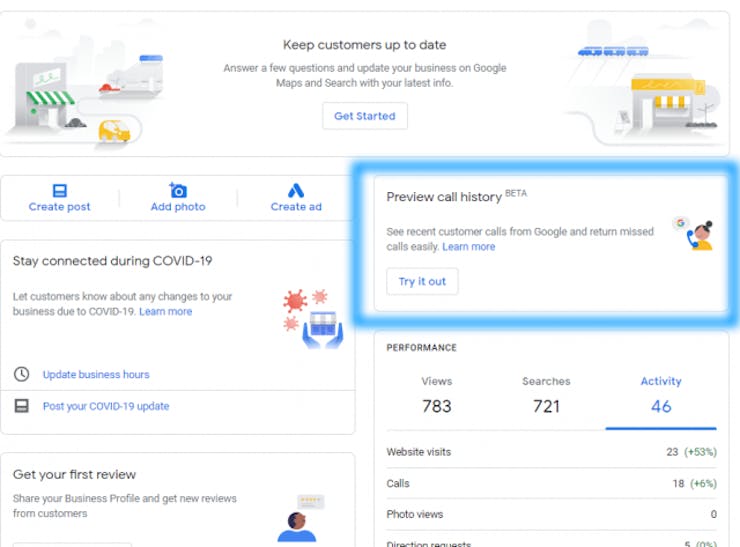 Call tracking is like UTM tracking because it allows you to evaluate the performance of certain approaches and connect with leads as well.
 Pay attention to FAQs
Customers can ask and respond to questions about a business with Google's Q&A feature.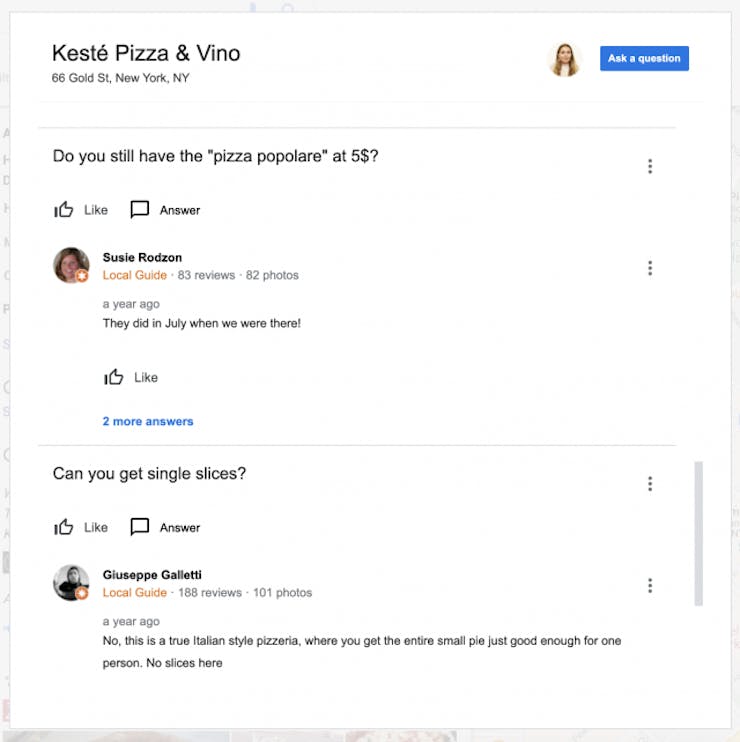 You can find the "Questions & Answers" section in your listing.
Because these questions will be made public, answer them as clearly as possible. You may also submit your own questions and answers to this section.
When used in this manner, Google's Q&A function behaves very much like an in-SERP FAQ, similar to your website.
Chapter 5 
So far, in this Google My Business guide, you have created your listing and optimized it. But Google has set some guidelines for specific features. You must know them to avoid penalty.
Google My Business Guidelines
1. Google My Business description guidelines
You'll be able to add a 750-character description to your Google My Business listing. This is your chance to tell potential customers about your company.
It's crucial not to overuse keywords in your description. Instead, think about any relevant search phrases that your potential buyers may use.
Read the Google My Business description guidelines by Google itself:
Enter a brief description of your business: what you offer, what sets you apart, your history, or anything else that's helpful for customers to know. Focus primarily on details about your business instead of details about promotions, prices, or sales. Do not include URLs or HTML code, or exceed 750 characters in the description field.
Google My Business Image Guidelines  
Before uploading images, you must know the Google My Business image guidelines.
Images must be in JPG or PNG format and 10 KB to 5 MB in size. Our GMB experts recommend the resolution to be 720px 720px.
Use high-resolution photos. They should be sharp and well-lit, with no heavy editing. Don't just post irrelevant pictures of your business.
It's critical to have a profile photo in your listing. Customers are far more willing to click on your listing if it has a great profile photo than if it doesn't have one.
Uploading pictures using generic filenames (such as IMG2018 05 21) is not recommended. Instead, consider a proper name such as (new-pizza-boxes.jpg). By naming your images correctly, you can ensure that they are optimized for SEO.
What Images Can you Upload to Google My Business?
Note that others can also upload pictures to your listing (known as user-generated material). 
Because it will display your photographs as rectangles on phones and squares on computers, select pictures that work well in both square and landscape mode.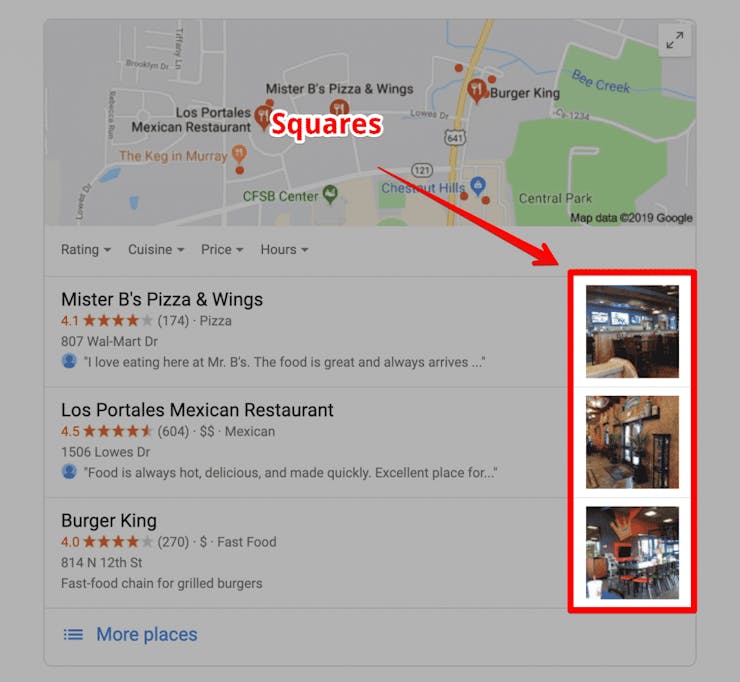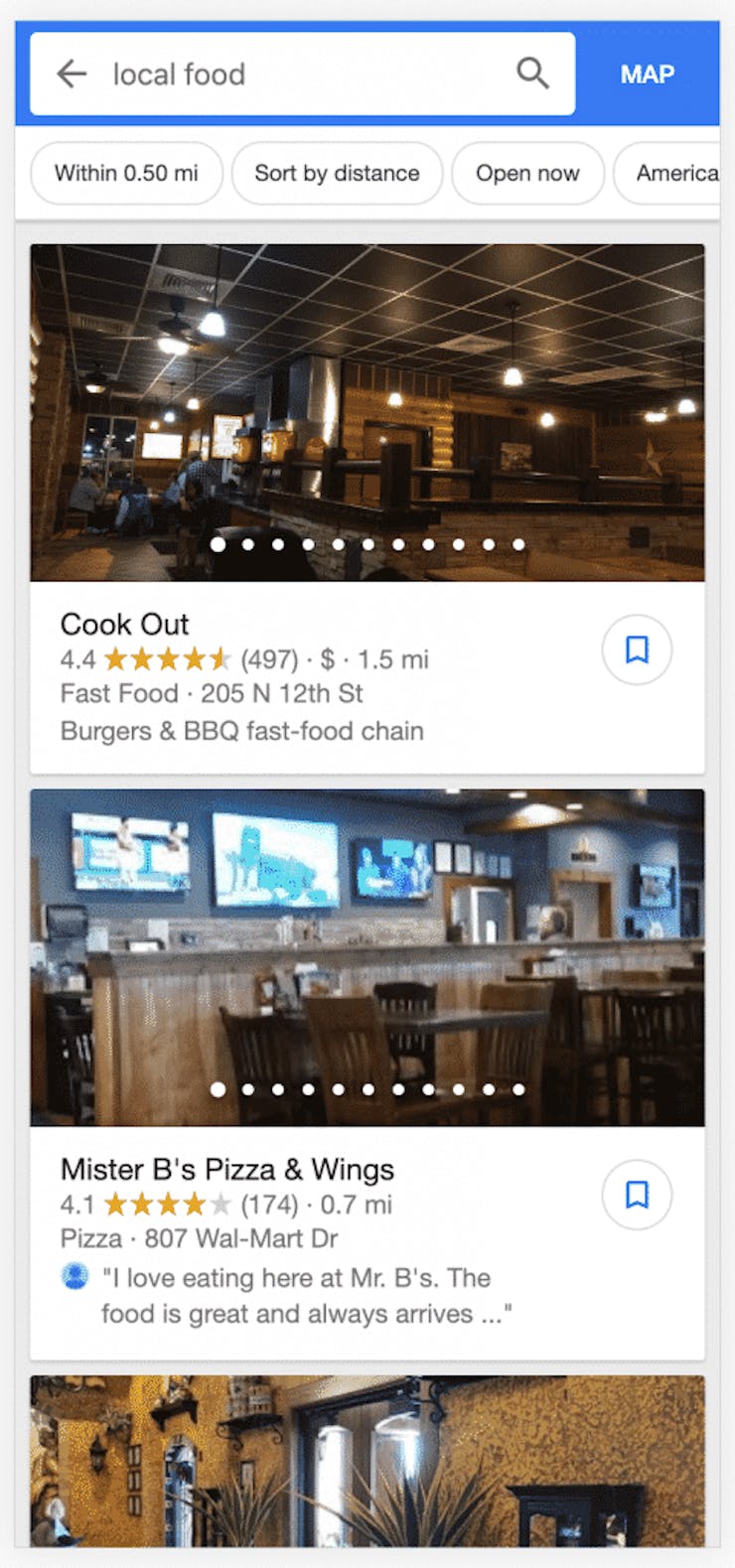 Google My Business Profile Photo size
Google My Business Profile Photo size is 250 x 250 pixels (minimum 120 x 120; maximum 5200 x 5300)
Google My Business Cover Photo
Select your cover photo wisely, since it will be the first image that people see when they view your business in the search results.
Have a professional cover photo that will attract the target consumers. Make sure it correctly reflects your company, as always.
Google My Business Cover Photo size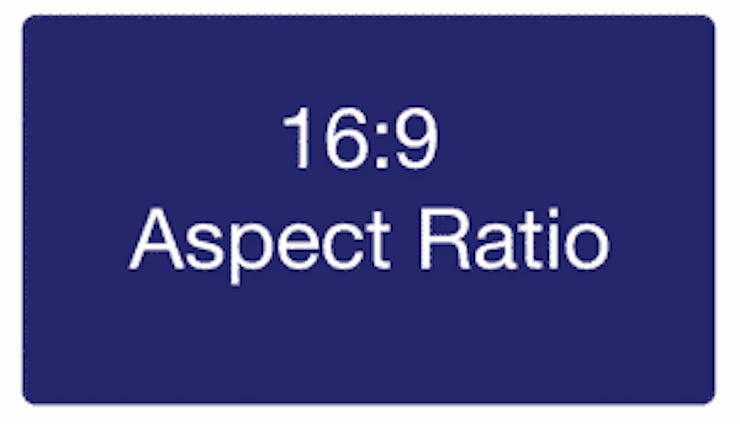 Google My Business Cover Photo size is 1080 x 608 pixels (minimum 480 x 270; maximum 2120 x 1192)
Google My Business Post Image size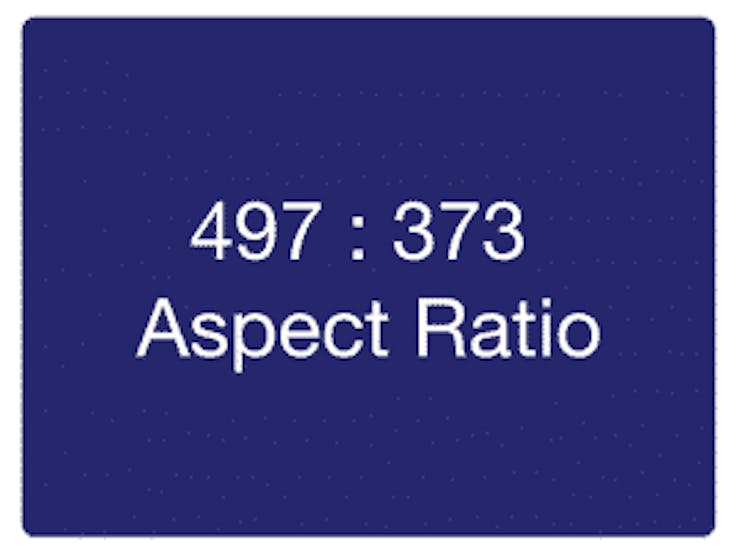 Google My Business Post Image size is 497 x 373 pixels (minimum width 497; maximum 2048 x 2048)
Google My Business Logo size
If you have submitted a logo, it will begin to display in the listing too.
Recommended Google My Business logo size is 10 KB to 5 MB and dimension is 250 x 250 pixels.
Video Guidelines for Google My Business
Video content works incredibly well on the internet.
Don't upload videos randomly. Make sure your videos aren't blurry or taken in portrait mode.
The video you upload to your listing must be:
720p or higher resolution
Google My Business Review Guidelines
Do you know? Second top local ranking criteria is the online review, after Google My Business. So, it is the most significant aspect for businesses.You certainly want your consumers to post reviews on the internet.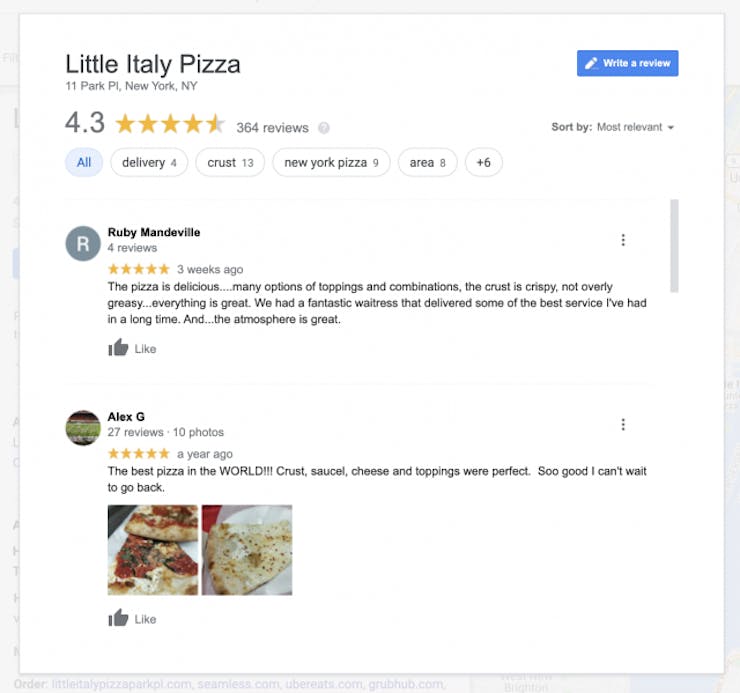 Customers will post reviews and you can reply to them. However, be sure you're following the regulations.
Consumers are a lot more inclined to give reviews if they see you reply to them..
Show appreciation if the review is positive. Be kind if they are negative. Understand the reason and find a solution.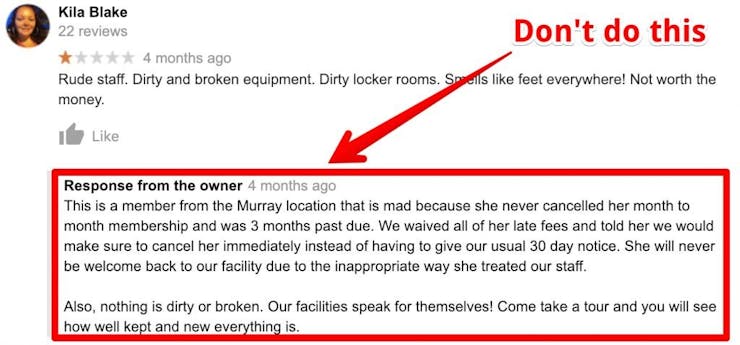 Note: Don't get into an argument with someone simply because they left a negative internet review.
How can I get rid of critical reviews from my listing?
Customer reviews cannot be removed from your listing simply because they are negative.
Google allows you to justify false reviews. Note that opposing it does not ensure that they will delete it.
How Do I Claim a False Google Review?
Select Reviews from the Business Dashboard. 
To mark a review, locate the three little dots in the upper-right corner of the review and click them.
Select "flag as inappropriate" from the drop-down menu.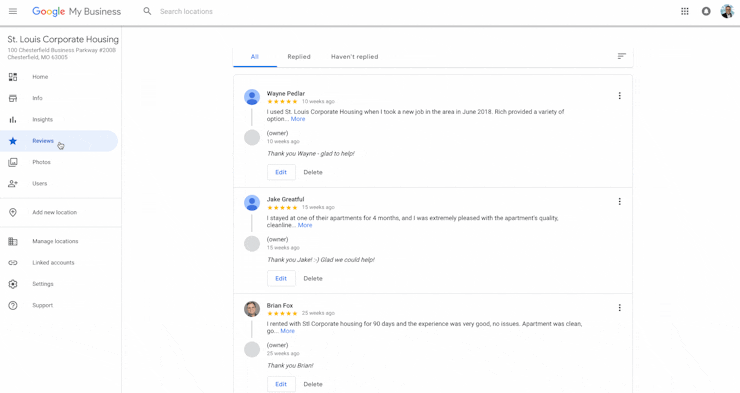 By selecting Support from the left-hand menu, you can keep track of the status of your complaint.
You can also submit a legal request for deletion. Keep in mind that the level of defamation is rather high.
How can you disable Google reviews for GMB listings?
There is no option to turn off your Google reviews. If you don't agree with the comments people post, your best choice is to react politely and try to fix the situation.
Even if it's a false review, handle it as if it were a genuine issue while you seek for Google to decide after you've reported it for a disagreement.
How can you include the Google reviews on your website?
For embedding Google reviews on your website, you have a few alternatives.
Tools like EmbedReviews help your webmaster do so without establishing a separate connection to the Google API.
Do Google reviews influence SEO?
Yes. "High quality positive reviews from your customers can boost your business's exposure and raise the probability that a potential client will visit your location," Google says on its website.
Google My Business Name guidelines
With the Google My Business name guidelines, you can get a short name for your business.
This will provide you with a better branded link to your GMB listing.
The short name contains a 5 to 32 character name given to a g.page URL. It helps search engines and business owners connect directly to Google My Business Profiles.
Short names are quite helpful since you can share something brief and meaningful instead of a lengthy, numerical, and mostly meaningless URL.
It is simple to claim your short name. Just log on to your Google My Business account, select the 'Info' button, and add your brief @ signature name to it.
Chapter 6
Congratulations! You have successfully created and optimized your listing according to the guidelines. But this is not enough. Track and monitor your efforts.
In this scenario, Google My Business Insights will help you a lot. You can learn about your customers and determine if your approaches are going in the right direction.    
Insights are used to extract business analytics, such as
How do clients look for your business?
What search terms do people use to locate your company?
What people say about your listing, how they engage with it, and much more.
In this chapter, we'll look at what you can know from Google My Business Insights and how you can use it.
What is Google My Business Insights, and how does it work?
Google My Business Insights is a free Google service that tells how people found your business listing and what they did with it. It is an excellent way of discovering and keeping new consumers.
It provides data on your local search activity, such as the number of times your listing has been seen, your website visitors, calling you, or seeking directions.
When you initially arrive at Google My Business Insights, it looks like this: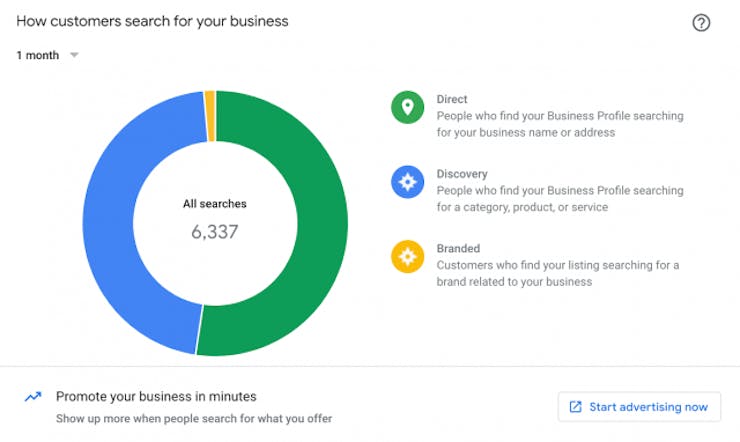 What are the benefits of Google My Business Insights?
For two main reasons, Google My Business Insights is beneficial:
Comprehend how searchers locate your business
Determine what activities searchers do in your listing
GMB Insights can also assist you in identifying wider search patterns of your audience. For example, your cake delivery service may be very busy at the beginning of May. Consider offering special Offer Posts to consumers who purchase services around Mother's Day.
The more data you have at your hands, the more you'll be able to optimize your listing and promote additional activities.
Google My Business Insights: How to Use It
We now have determined why Google My Business Insights is helpful.
Here's how to locate Google My Business Insights and use it:
Log in to your Google My Business account.
See the 'Performance' box on the right of the home screen. It displays statistics from the previous 28 days on Search and Maps.
For more details, go to the left-hand menu and select Insights.
We divided the Insights data into a variety of elements. Let's have a look at these.
1. How do customers find your business online?
Understanding how consumers search for your business helps you make smarter marketing plans. Three kinds of figures appear at the top of the Performance box: 
i) Views
ii) Searches
iii) Activity.
When you choose searches from the drop-down menu, a panel will appear. It provides information about Direct and Discovery searches.
Users that found you through Discovery may or may not be aware of your business. These are broad searches that usually revolve around a particular keyword about product and services.
If your Discovery figure is lower than your Direct figure, it's time to reconsider your local SEO strategy. With a higher Discovery search number, you may reach out to new consumers.
To see this data in graph form, go to Insights in the left-hand menu.
What is the definition of a direct search?
When someone goes to Google and enters your business name or address, this is known as a direct search. 
This number clearly shows that these are people who are already familiar with your company. They have entered their search with the particular purpose of discovering your listing or related information, such as customer reviews.
What is a Discovery Search?
A discovery search occurs when a search user types in a general phrase like "plumber near me" or "convenience store open now" and your company listing appears in the local search results.
What is a Branded Search, and how does it work?
When a person looks for a brand that is linked to your business, this is known as a branded search. 
Google gives the example of a person looking for "McDonald's" and being sent to a comparable fast-food restaurant. The Branded Search category appears in GMB Insights only if your business has featured for this sort of inquiry at least once.
2. Search terms used to locate your business
The data in this area, titled "Queries used to locate your business," can be a valuable resource for content improvement.
The top search queries are listed in the Insights tab. You can use them to double-check that you're using the correct keywords in your blogs, web pages, and Google My Business Posts.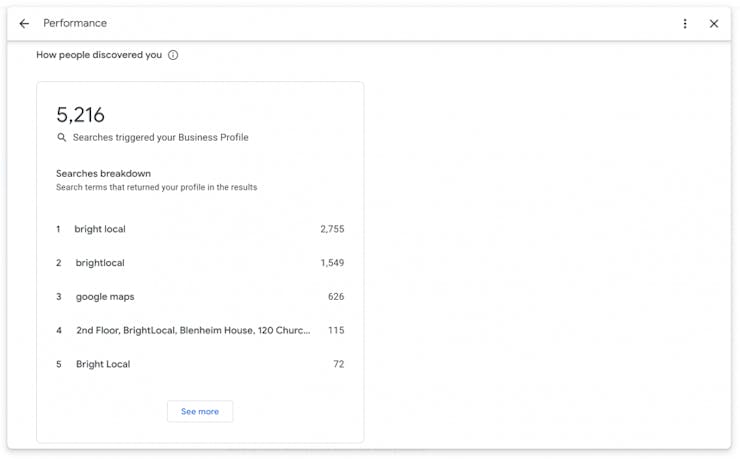 3. Where do people see your business on Google?
This part tells you where your Google impressions came from: from normal Google Search or from Google Maps.
Listing on Search and Listing on Maps are the two numbers you'll see here, with choices to see for the week, month, or quarter.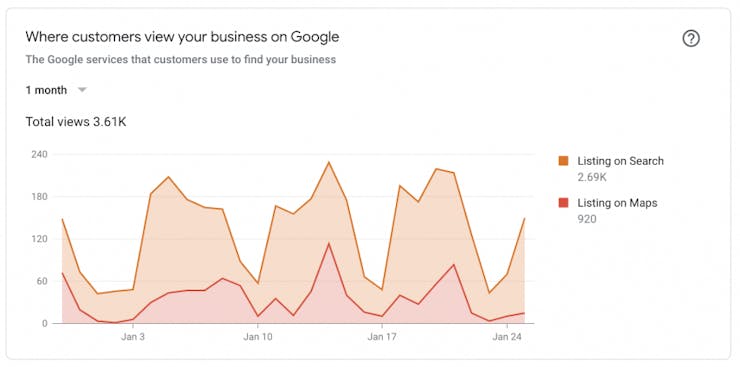 This may not appear to be useful at first sight. But it will really show you how well your mobile optimization is doing. It's especially beneficial for high-traffic businesses like restaurants or hotels.
In GMB insights, what are the impressions?
The number of individuals who have viewed your Google My Business listing is referred to as Impressions..
4. Customer behaviour
The Customer Actions section comes next. This information is useful for determining how to handle your listing and what to do next.
This Google My Business Insights reveals the most typical actions a search user performs on your listing, such as visiting your website, asking directions, and calling your business.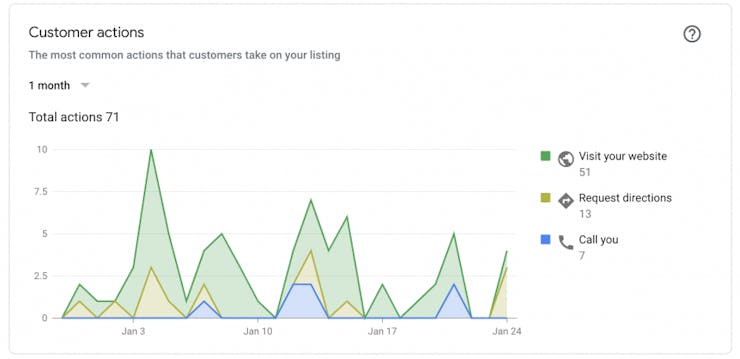 You may use this information to improve your GMB profile. Suppose you have lots of direction queries. It shows that someone wants to come to your place. So, you can make a Post about local parking lots or bus stations.
Or you can update the contact page on your website with directions, parking, and public transportation information.
5. Requests for directions
You'll notice a direction heat map in GMB Insights when a user clicks on the 'Directions' link on your profile. It shows the location of those searchers.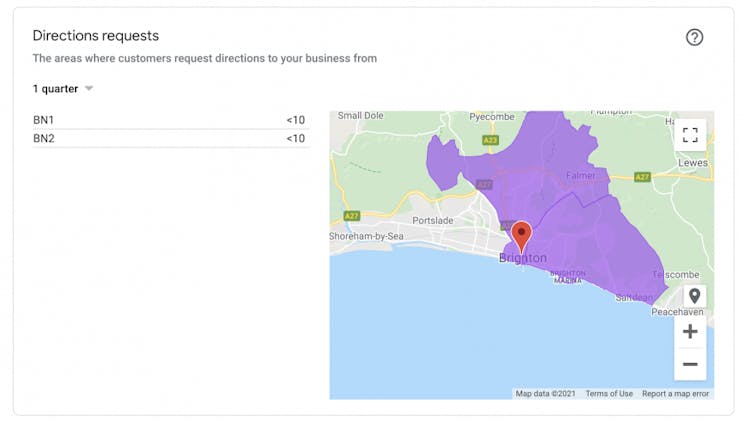 This heat map is useful for local businesses since it shows where your potential consumers are coming from. 
Use the directions heat map's zip code and location data to delicate your advertising and marketing targeting. You could use zip codes to target Google Ads or use this information to geo-target social media ads.
6. Contacts by call
You'll be able to track data if a searcher has called your business after clicking on your Google My Business listing.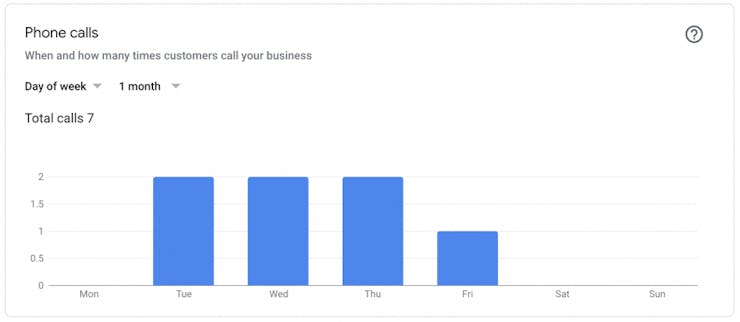 This data may determine which day of the week/day generates the most GMB calls. 
7. Views of the photos
Pictures are critical to GMB success. It can influence how much traffic comes from your Google My Business page to your website.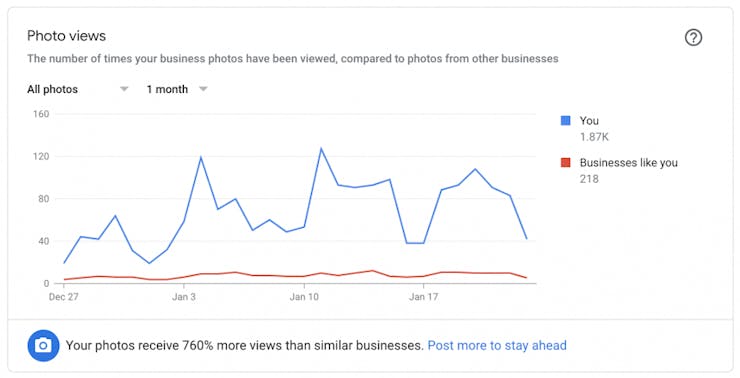 This Insights tab will allow you to compare your photographs with your rivals. Monitor how many times they viewed your own images. You will also receive a competitive benchmark, comparing your views with businesses like you.
You may continue to post in the same manner if your photos gain more views. With fewer views, you'll need to reconsider your image strategy and maybe do your own competition study to figure out where you're going wrong.
8. Quantity of photos
When you use the photo quantity Insight, you can check how many photographs are on your listing compared to your rivals.
If you have fewer photos, this means you need to add more.
Tips: add:
At least three good outside pictures shot at various times of the day. It showcases your business approach from a typical perspective.
At least three inside pictures
Product pictures for the most popular goods and services
Any common places your business may have, like the reception
At least three pictures of management and team
9. Insights on Google My Business Posts
Google My Business Insights provides you with some information on your GMB posts. Just click the Navigation Posts and check how often your posts had new views in the previous week.
The more successful your Google My Business profile is, it will attract more consumers.
Last Thoughts 
Well done! You've reached the conclusion of our in-depth Google My Business guide.
From understanding why Google My Business is important for local businesses to comprehending the features it provides and how to utilise them, you now know (nearly) all about the wonderful tool, Google My Business.
It's just the beginning of your way to being a Google My Business rockstar with all the knowledge you now have.
Have you looked into using Google My Business for yourself? How did it go? 
Did you learn anything new today? Or want to share anything with other local SEOs? Send us a message in the comments section below.