Starting your local SEO journey using Google Business Profile looks to be simple. You only need to set up an account and register your business.
But there are many tricky and complicated things. You will face them while optimizing and maintaining your business profile. Different Google Business Profile questions and concerns will arise in your mind. 
Don't worry. We, the best SEO company in Kolkata are here with the answers to Google Business Profile FAQs. 
At Favfly, we have got Google Business Profile experts, who assist small business owners with all kinds of problems. In this resource, you can find major Google Business Profile FAQs with to-the-point solutions.
Read This: Google My Business Complete Guide
Let's go through the frequently asked Google Business Profile questions.
Google Business Profile FAQs
1) What benefits does a small business receive from Google Business Profile?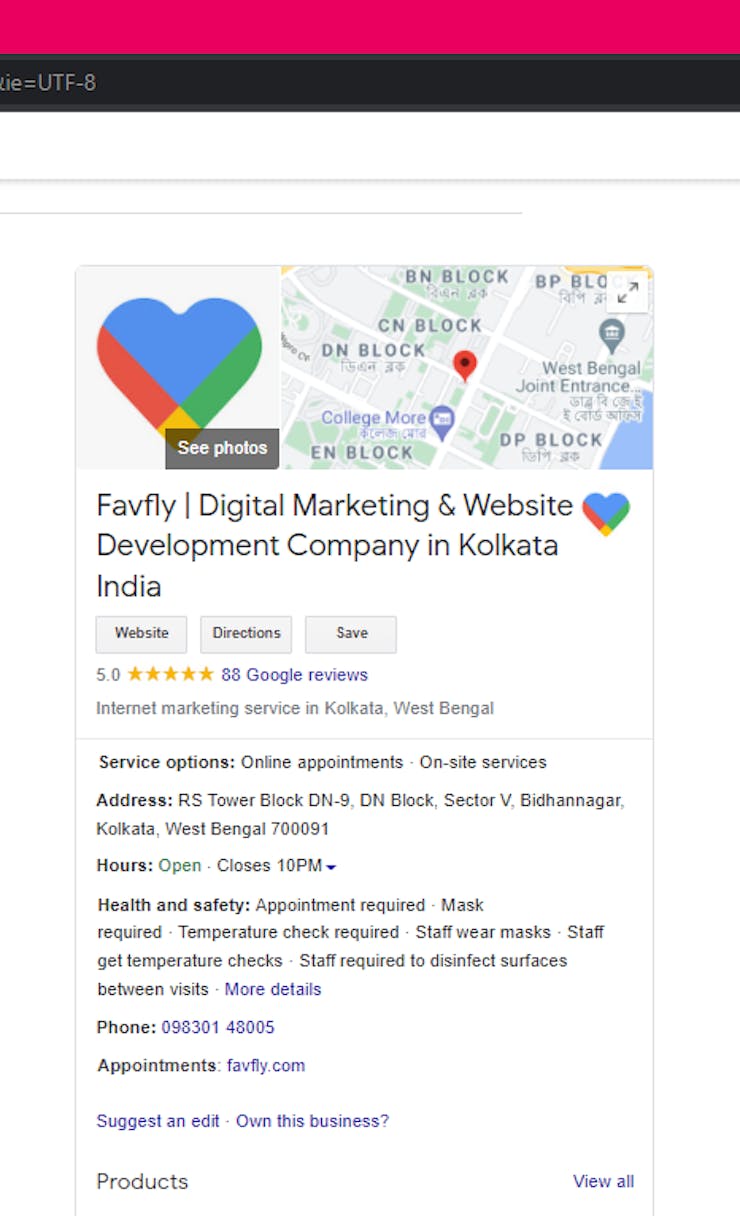 Google Business Profile enables you to advertise your business on Google Search and Maps. You may appear on the local 3-pack search result. With your Google Business Profile account, you can reach more local people and let them know updates about your business. Also, find out how consumers engage with your business on Google.
Must Read: 10 Tips to Increase Your Google Business Profile Ranking in 2022
2) Is it free to list your company on Google?
Yes! Anyone may register a business on Google at no cost. It is a completely free business listing.
Note: Though Google allows you to list your business for free, you may not write everything you want on your profile. They control everything a business publishes in their listing to verify all information is maintaining their guidelines.
3) How can Google Business Profile assist me in getting more customers?
When people search for your business, your Google Business Profile listing appears. As a result, you can interact with and engage potential consumers.
You can reply to reviews, upload images of items or post special deals, and add/edit your business details. All these features provide information to visitors easily that they are looking for. 
Also, GBP Insights shows how to improve your customer involvement for better outcomes. You may connect with your consumers via the Customers page. 
4) Is there a mobile app for Google Business Profile?
Yes, and it's completely free! 
With the Google Business Profile app, you can do everything you do in your online account and more. There, the improved features make it easy to establish an eye-catching Business Profile.
Recommended: Top 6 Benefits of Google My Business for Small Businesses
5) Is it necessary for me to use Google Business Profile if I already have a website?
Yes! Your free Google Business Profile enhances your website traffic. It increases exposure on Google Search and Google Maps for your current business website. On your listing, you may even provide a link to your website.
6) Can I still use Google Business Profile if I don't have a physical location?
Yes! You can claim a Google Business Profile listing with or without a physical location, whether you are a home-based or a service-area business.
7) Why do I need to verify my business listing?
Verification of listing allows Google to validate that you are the legitimate owner of the business. It grants you access to manage your Google Business Profile. With this security protocol, nobody can change your Business Profile except you.
8) How can I verify my business?
It's very simple. For most businesses, you may verify ownership over the call, by SMS, or by requesting and getting a postcard from Google at your location.
9) What should I do if someone else has claimed my Google Business Profile listing?
You may set up your business profile and see it's already claimed by someone else. Sometimes this kind of problem appears and you don't know what to do next.  
Don't worry. Google provides instructions on how to properly claim the listing for your company.
How to claim ownership of an already confirmed Google Business Profile listing?
i) Go to business.google.com/create and enter your Company Name and Address.
ii) Select the business from the search results. Then click Continue.
If anyone has listed your business, you will see "This business is owned by someone else".
iii) Now tap the Request Access option. Fill out the form.
iv) Click the Submit button. 
After completing seeking ownership, the existing listing proprietor will have 7 days to react.
Three scenarios are possible here!
First, your request will be approved, or they will refuse it. Google Business Profile will alert you of all the actions through email.
The third possibility is that you do not hear within 7 days. In this situation, you may claim the listing yourself. If there is an option, it's possible that the listing isn't transferable.
10) What is the significance of Google Business Profile Page reviews?
Google reviews are the no.1 local ranking factor. It's more important from a customer perspective because:
Before making a purchase, over 95% of customers check reviews online.
93% of local shoppers read reviews to determine if a local business is good or bad.
72% of customers don't take any action before they have read reviews
So, reviews on Google Business Profile have the potential to substantially influence consumers' purchase decisions.
11) What is a Google Business Profile post?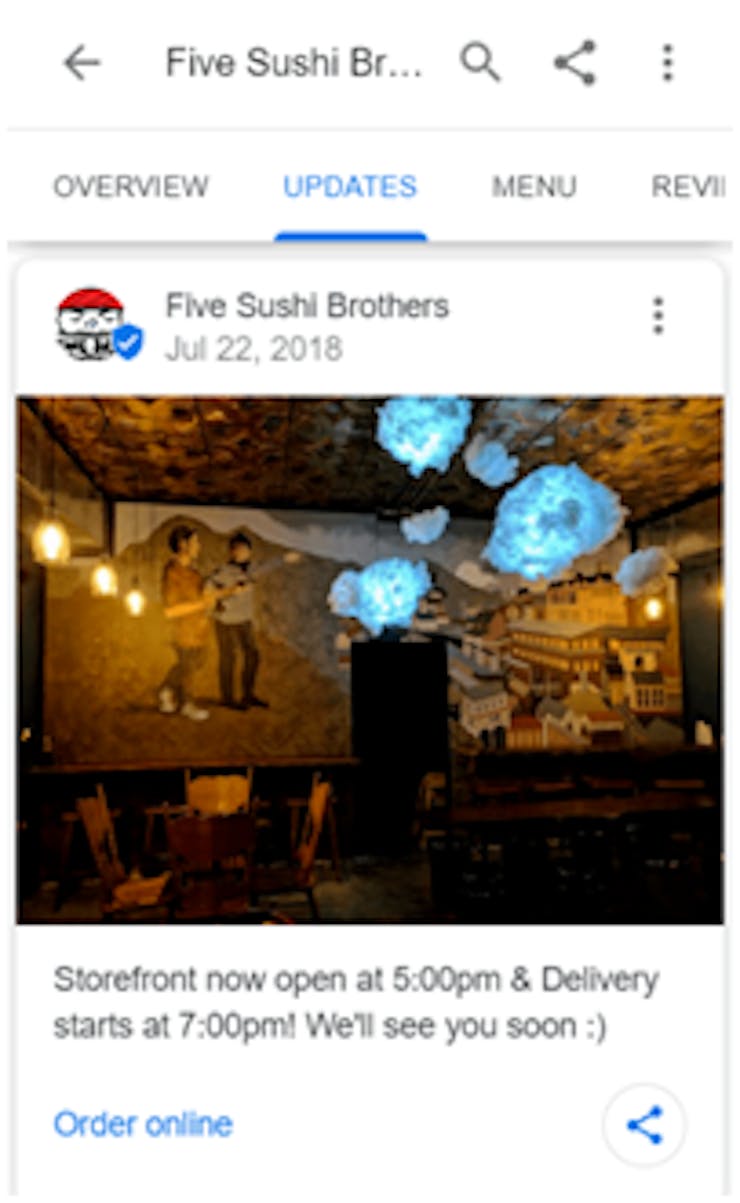 You can post updates, offers, events, or products on your listing. It enables companies to market for free and lets the customers know the updates. GBP posts increase the business's digital presence or engagement. 
Use GBP posts to increase brand recognition and keep your consumers up-to-date on company hours, promotions, and other relevant news. You can make it simple for people to follow you, schedule an appointment, or purchase your items.
You can also add a call to action button or provide a URL to lead the viewers to your website.
12) Do Google Business Profile posts affect local SEO?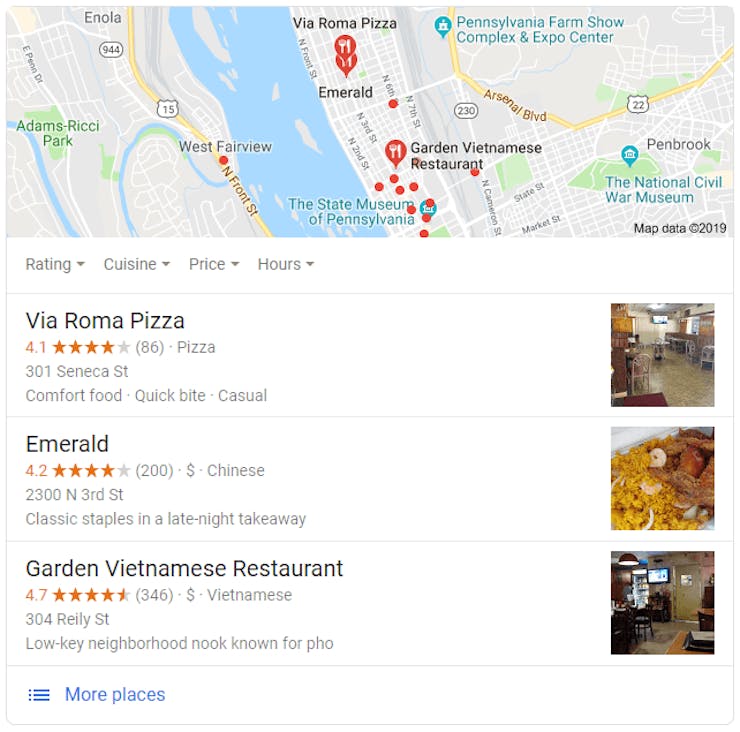 In terms of SEO, Google Business Profile listings and postings serve as significant ranking signals. It makes your business more appealing to Google's search algorithm. So, GBP posts enhance your local SEO approach. Therefore, your intended audience can now find you more quickly.
Google may also extract material (and make it SEO-friendly) from your GBP posts to generate rich snippets for local 3 packs. This allows you to rank higher on the search results page.
These postings increase CTR or click through rate. It brings more visitors to your website and produces better leads.
Thus, Google Business Profile posts are an excellent method to increase exposure, generate leads, and increase revenue.
13) Where can people see posts from Google Business Profile?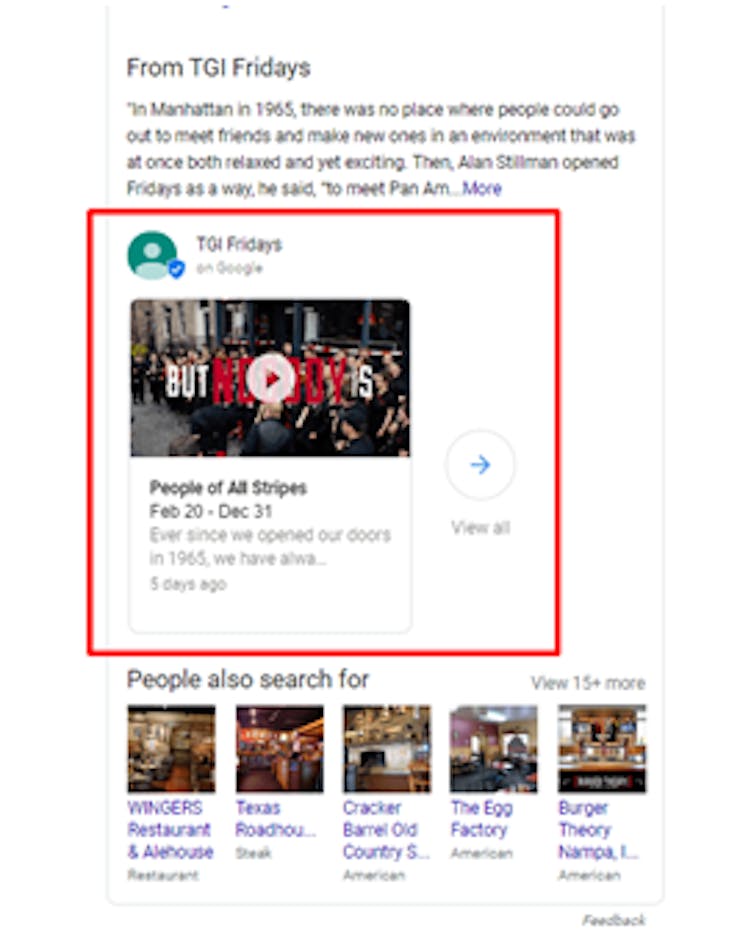 It is one of the major Google Business Profile FAQs. 
GBP posts appear at different locations based on the sort of post you write.
If you write an event post with start and end dates and times, it will appear on the right search knowledge panel, beneath your regular GBP listing on the desktop. The post will show as a feed under "Updates" for mobile users.
Visitors can also see your Google Business Profile posts on the Google Maps app. It will appear on the Overview page. Open the "Latest Updates" area and go to "From the owner" to see the posts.
14) How can I know whether my posts are successful?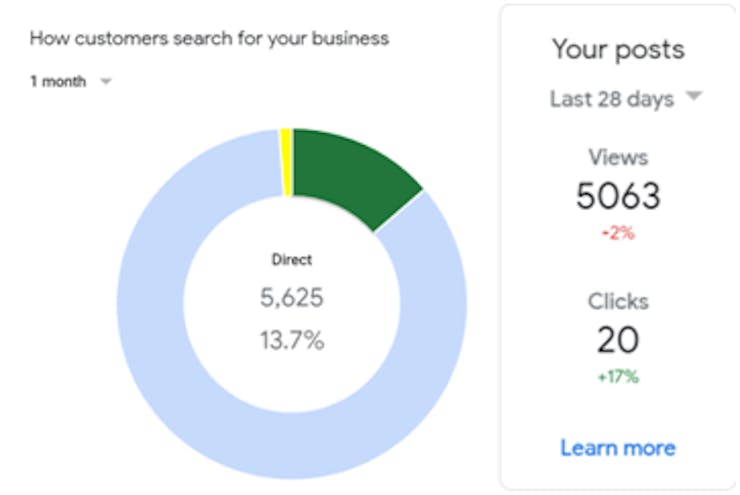 Tracking and analysing data will help you determine whether your postings are effective or they need modification. To get the insights:
Open your Google Business Profile dashboard and browse to the Posts area. Here you can see how many views and clicks you're getting.
Also, you can add UTM tracking URLs to your Google Business profile for more accuracy and thorough information. These URLs will direct visitors to your website. So, with your Google Analytics account, you'll be able to see how many people are visiting your website and what they're doing. 
You can get started using Google's Campaign URL Builder tool.
Then, just add information such as the website URL, campaign source, media, name and term, and campaign content. The picture below will help you understand. Note how the traffic from the GBP post is being classified as organic traffic.
15) Is it possible for anyone to make modifications to my Google Business Profile listing?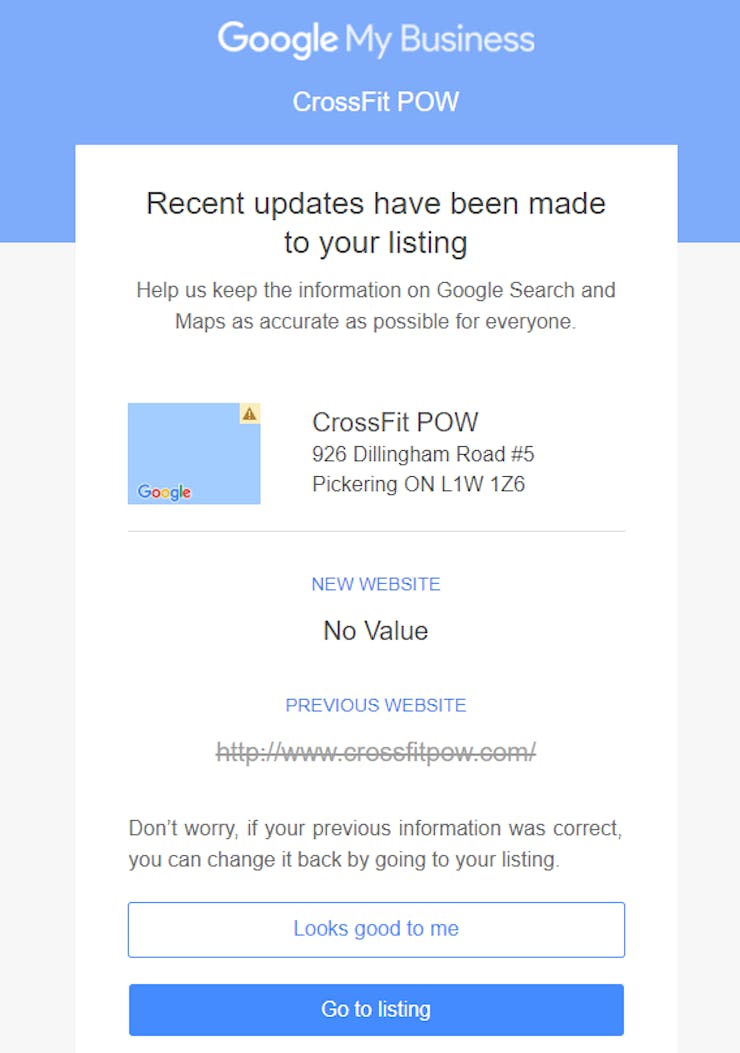 It may not appear fair to you, but anybody may recommend a change to your business listing.
Google allows this to maintain authenticity. So, businesses can't add false details to portray themselves as the best. Customers can add or remove information as per their knowledge about your business.
Merchants will get an email from Google Business Profile when these changes go live.
Conclusion
That's all. Now you have the solutions to the major Google Business Profile FAQs. We hope all your Google Business Profile questions are answered here.
All that remains is for you to use this information to your advantage and be ready to take your business to the next level.
And if you need help, contact one of our Google Business Profile specialists right away.