Facebook launched WhatsApp Business, a dedicated app for enterprises. In this resource, we'll look at the benefits of WhatsApp Business account. 
Nowadays most of our clients create whatsapp business account for their Digital Marketing in Kolkata.
Learn from our experts how it may help you build an effective connection with your consumers. Also, go through WhatsApp for business features and advantages of WhatsApp Business. 
What does WhatsApp Business mean?
WhatsApp Business is a free messaging app that lets businesses establish a platform on the world's most popular messenger. The app allows you to connect with consumers using text messaging. It has a far greater response rate than other contact techniques. 
Small businesses can reap the advantages of WhatsApp business. It includes automation, tools for sorting consumers and effectively responding to communications.
This OTT chat app provides efficiency and convenience of personal messaging to customers. Over 500 million people have downloaded WhatsApp Business as of now.
Why has WhatsApp Business API caught the interest of businesses?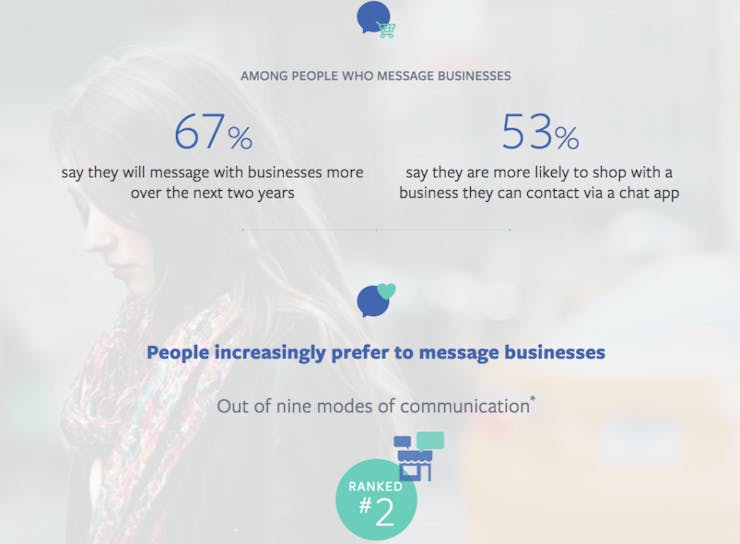 Texting has become our major mode of communication. 78% of customers want to communicate with businesses via text. 
Customers need personalized responses, real-time communication, and immediate solutions. So, omnichannel interactions are essential. Waiting to talk to a customer support agent is now labelled as unsatisfactory practice.
WhatsApp Business promised to use omnichannel communications. It promotes the development of conversational commerce. So, you can personalize consumer engagements.
Deliver one-way notifications like:
i) Appointment reminders
ii) Shipment updates
iii) Payment alerts
iv) Verification codes
v) Boarding passes 
WhatsApp Business API lets organizations engage consumers through two-way customer care chats and surveys.
Companies can take advantages of WhatsApp business account responsiveness with the new API. And reach out to people all over the world. Besides, its encryption and authenticated credentials provide the protection that organizations and customers need. 
But the WhatsApp business account benefits don't halt here. Question is which features make WhatsApp Business so effective? 
Let's have a quick brief on WhatsApp Business Features And Benefits .
WhatsApp for business features and benefits of WhatsApp business account
The primary goal of WhatsApp Business is instant engagement with your consumers. This platform allows you to interact swiftly, manage your time, whether you are a customer or a business owner.
WhatsApp has included unique features in this one to support businesses. The unique traits include:
1. Set up a business profile with brand identification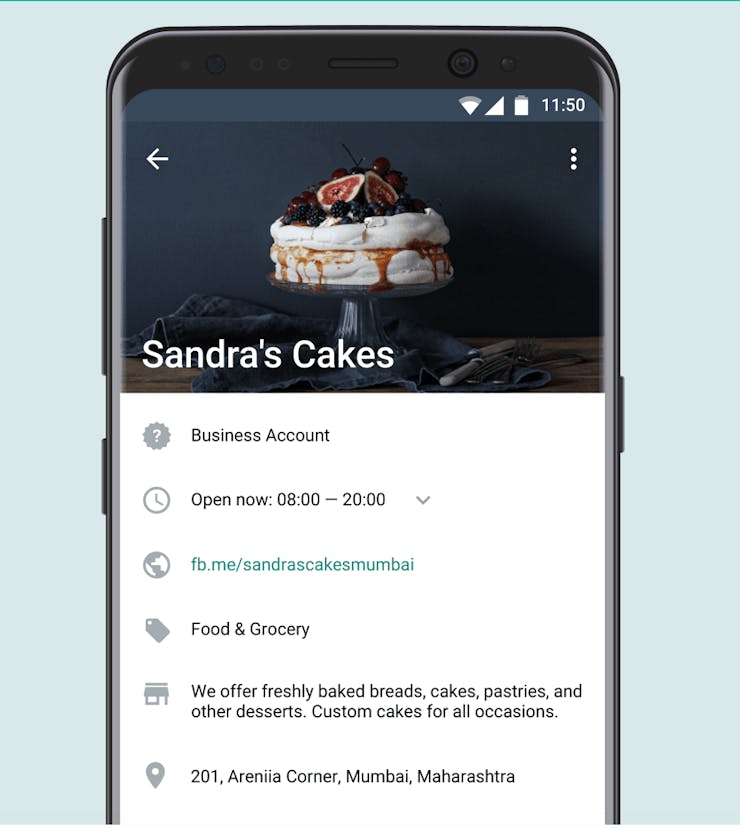 The business profile on WhatsApp Business includes:
Workplace address incorporated with maps
Description of your product and services
This profile helps you exhibit your brand on WhatsApp. This is a modern business approach to communicating with your clients directly and personally.
2. Insights and analytics
There is a specialized area of analytics in the Settings menu. You may monitor the progress of your digital marketing initiatives. Check the number of sent and received messages, the accurate readings. Also, track if a user has blocked you.
All this data is essential to growing your business in the right direction.
To get the statistics, follow these steps: 
Select Menu
Open the Settings
Tap the Business Settings
Now go to the Statistics section.
3. WhatsApp Away message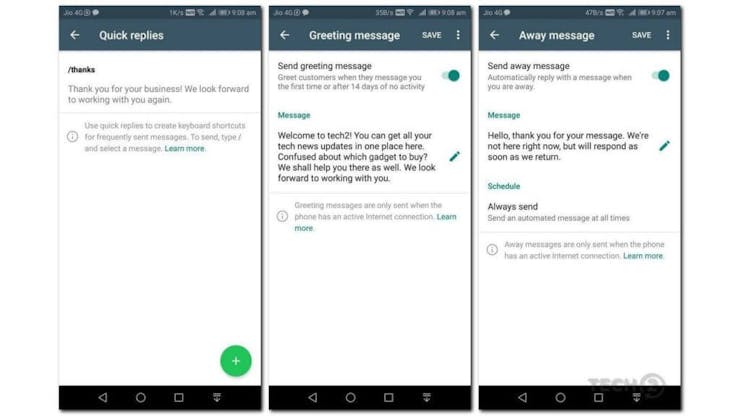 away message whatsapp work in the same manner as whatsapp business greeting message do. It delivers a personalized message to those who try to connect the business beyond their working hours. You can provide your work hours or add a unique message. You may set them to be turned on at the selected time.
Steps to create a message away: 
Open the Settings menu
Choose Business Settings 
Tab the Away message option
Select  "Activate message away."
You may also modify your away message and specify when you want to deliver it from this section. You have the option of sending at any time, on a custom schedule, or after your work hours.
4. WhatsApp Greeting message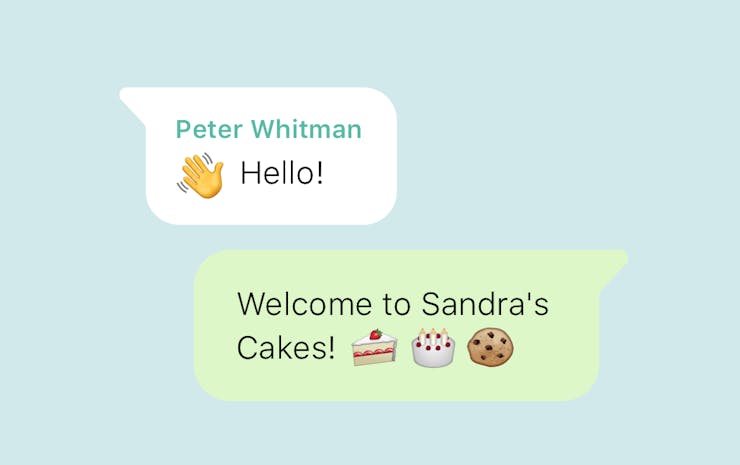 WhatsApp for Business allows you to send a whatsapp business welcome message to users after starting a business discussion, or after 14 days of inactivity. You can sent welcome message for customers on whatsapp business .You can greet and introduce your business to a new potential lead without delays and wait periods.
Steps to create a message of greeting:
Open the Settings menu
Select the Business settings
Tap the Greeting Message option. You may either make a new welcome message or modify an old one from this section.
5. Quick replies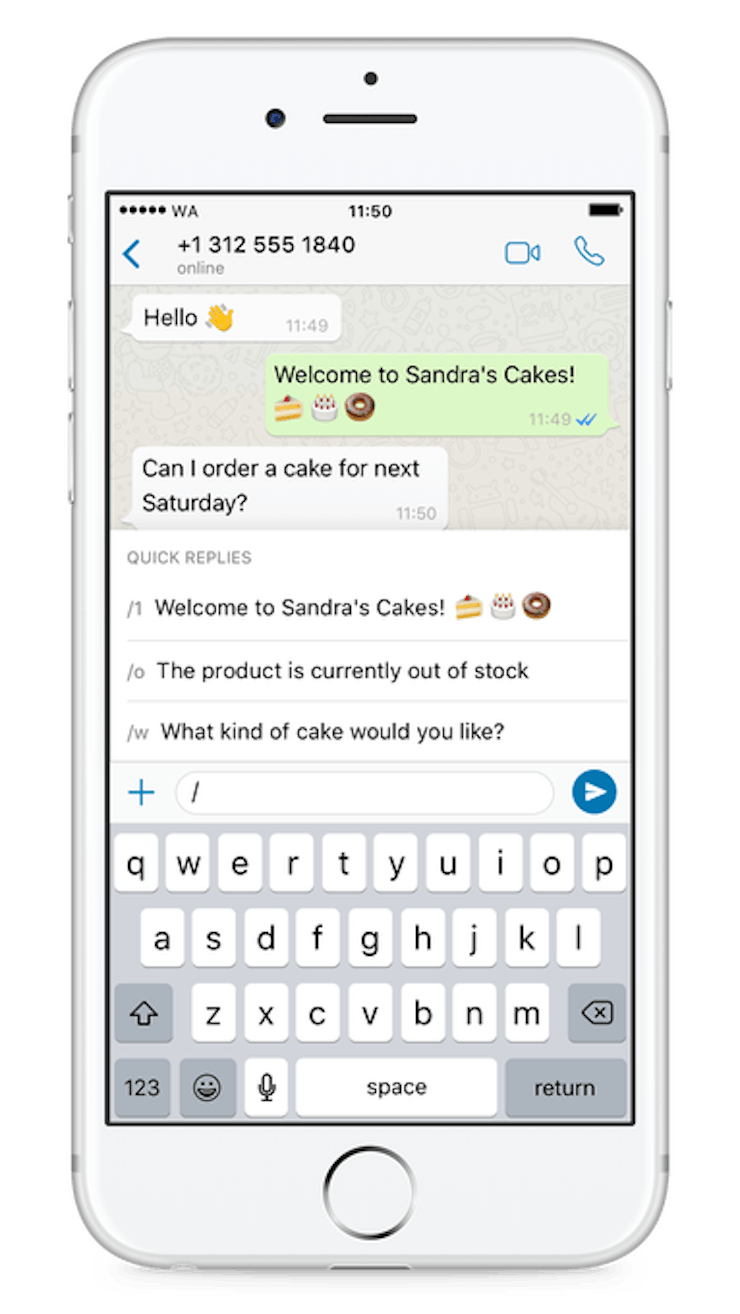 These are often texts in which common queries are answered. Quick replies allow you to save and repeat regularly sent messages, so that typical queries may be answered without any delay. To fast respond and send you only click the "/" button on your keyboard.
6. Label Contacts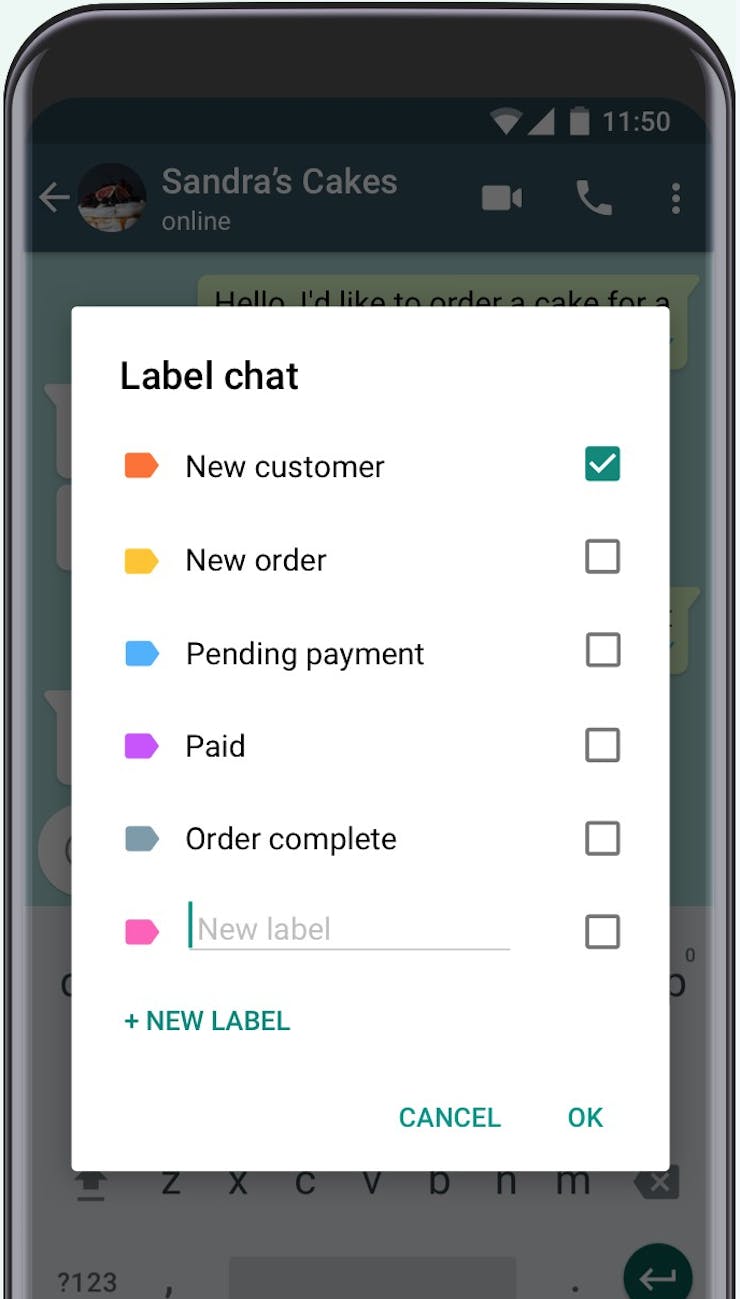 Businesses may organize and classify their contacts with easily accessible labels. You can find and maintain contacts groups and arrange them in this way effortlessly. Determine each customer's current communication stage. It might be anything like 'New client' or 'Invoice sent.'
Steps for a new contact to add a label: 
Open the client's chat page
Tap the menu button 
Select a label
Save it.
Adding a new label steps: 
Open the client's chat page
Tap on the menu button
Select the "New label"
Save.
7. Broadcast message
In this feature, the message is delivered to each contact separately. A WhatsApp broadcast list can include a maximum of 256 contacts. The message will be delivered as a regular conversation to each recipient. The recipients are unaware that the message was delivered through broadcast.
8. Templates for Messages
WhatsApp Business provides message templates. It allows you to send pre-written messages, such as appointment reminders, shipment updates, and approvals.
9. Combination with your Facebook Shop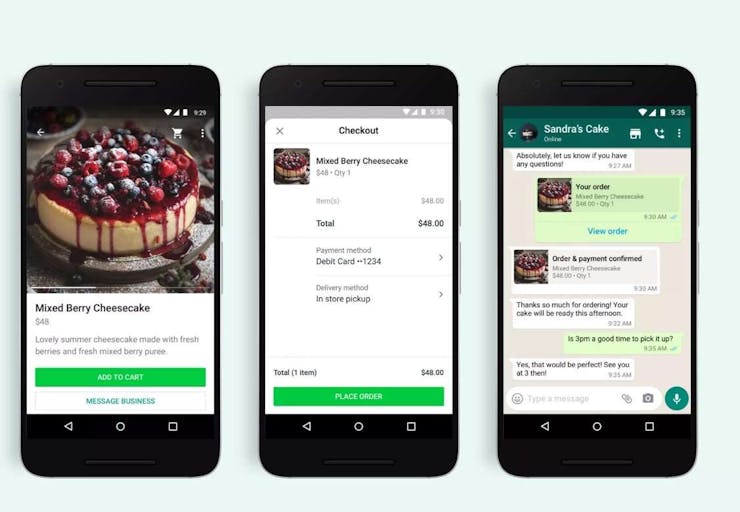 Facebook Shops is the platform to develop and integrate personalized shopping experiences across the Facebook family of applications for your business. You may interact with potential consumers and promote your products and services through your shop. It is a useful resource for any developing firm.
How to Connect Your WhatsApp Business Account to Your Facebook Shop
When you connect your WhatsApp Business account to your Facebook store, you may have consumers who view your shop write you a text via the WhatsApp Business app.
To connect these accounts, you must do the following:
You must be an admin on your Facebook Business Manager account.
Connect your Facebook Page and Catalog under the same Business Manager account.
On Business Manager, enable Manage Page access for the Facebook Page and Manage Catalog permissions for the Catalog.
Connect your WhatsApp Business account to your business.
To begin, open the Facebook Commerce Manager and establish a shop.
After that, add your WhatsApp Business number to your shop and make WhatsApp the main contact option.
10. Build a catalogue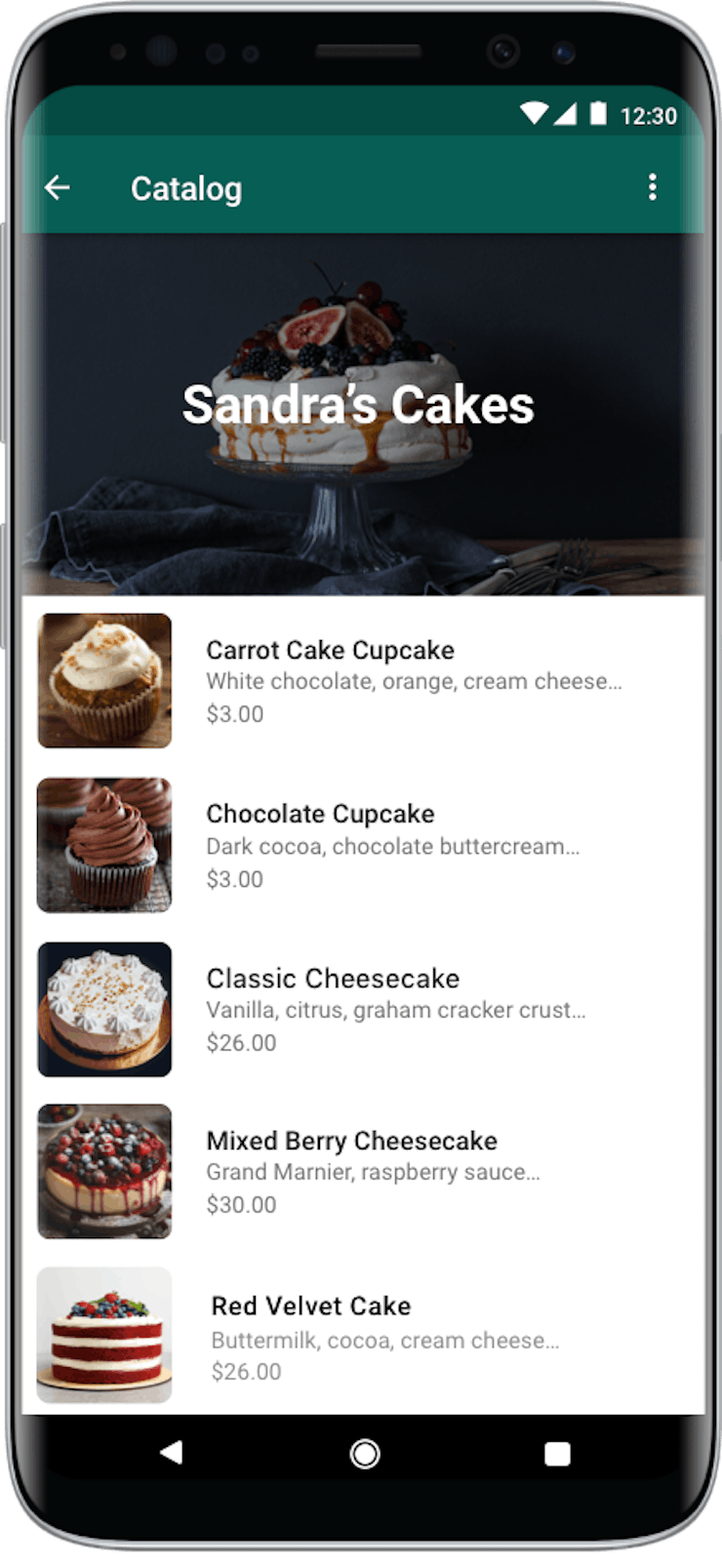 Catalogues enable your business to exhibit its items. So customers can simply explore and check out things they are interested in and want to purchase. With catalogue, you don't have to send each item, price, and description individually, as you used to. Now that everything is easily organized on your WhatsApp page, you won't have to refer your clients to the website or elsewhere.
Add information to each item in your catalogues, such as the price, description, and product code. This is far more convenient for your consumers than directly asking you about each item individually or switching from WhatsApp to the website.
You can add a catalogue to your business profile. It can promote up to 500 items or services. Then post the catalogue links on social media to assist clients to learn more about your company. So, they may contact you directly with sales and support inquiries.
Steps to create a catalogue:
Open the "Settings"
Select the "Business Settings"
Tab the "Catalog" option
Then scroll down and select the "Add product or services"
Now you have to add images and information about that product
Reap the benefits of the WhatsApp Business account from today! 
As a digital marketing service provider, we found that WhatsApp Business is a fantastic tool for both large and small businesses. The advantages of WhatsApp Business can help you increase sales, advertise your company on the world's most popular messenger, and provide a 5-star customer experience.