As a small business, you certainly employ digital marketing techniques to grow your business. Optimizing your website for SEO is the key to bringing organic traffic. 
But the ranking factors of search engines are updating every day. Also, SEO needs a long time to give excellent results. So, enhance your SEO techniques daily and give attention to every aspect.
At first, you need to know what is SEO and how it works? It all begins with having the proper tools. Legit keyword research tool, keyword analysis tool, site rank checker, and SEO rank tracker can boost your efforts to the next level. You can also get help from seo company in kolkata.
Don't worry, you don't have to invest additional to have these tools. There are lots of free SEO tools to assist you. 
In this blog, our organic seo expert in kolkata has listed a variety of free SEO tools. This list includes the Google keyword research tool, rank checker, and competitor keyword research. Let's go through the best keyword research tool and best SEO tools in 2021.
Free SEO tools from Google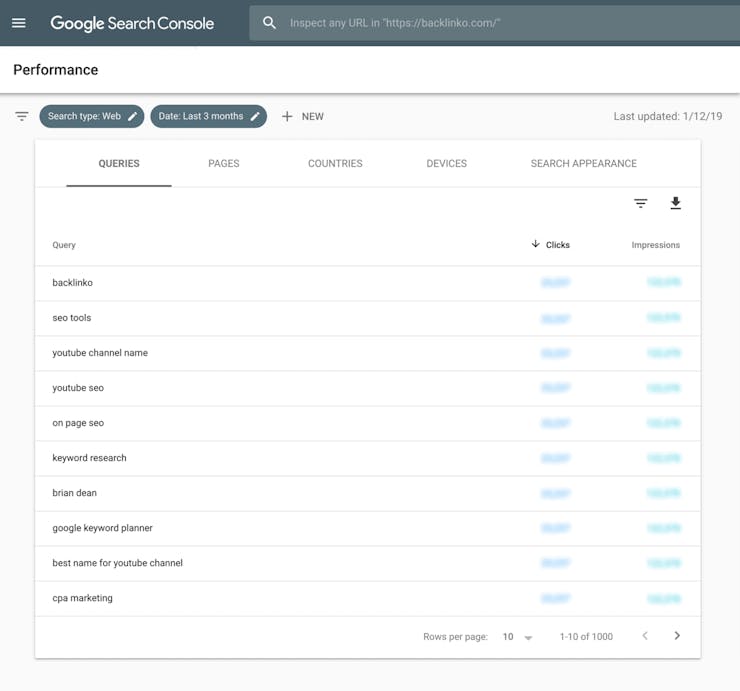 The Google Search Console is a must-have for any list of free SEO tools. Get website monitoring, warnings, and problem reports regularly. This is the most popular SEO tool used by the best seo agency in kolkata.
It allows you to examine and solve technical problems on your website, see key SEO statistics such as clicks, impressions, and average ranking position, submit sitemaps, and much more.
Limitations: Displays just a few technical SEO problems, the top 1,000 backlinks, and organic keywords.
Highlight: Report on Index Coverage. The Index Coverage Report displays a list of your website's non-indexed pages.
Similar: Bing Webmaster Tools and Yandex Webmaster Tools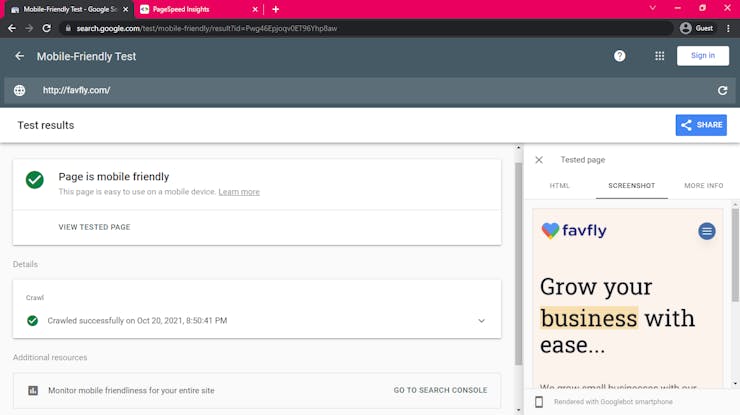 Google has over 200 SEO ranking factors. As the mobile search volume is increasing, you're at significant risk if your site isn't mobile-friendly.
So, Google provides this test to examine your website's mobile usability.
Type any URL and it will tell you whether it is mobile-friendly. It also informs you of what's wrong and what has to be fixed.
Highlight: Page loading problems. This feature shows how you may enhance the code of your website. As a result, Google's mobile crawler will locate and index all the contents on your site.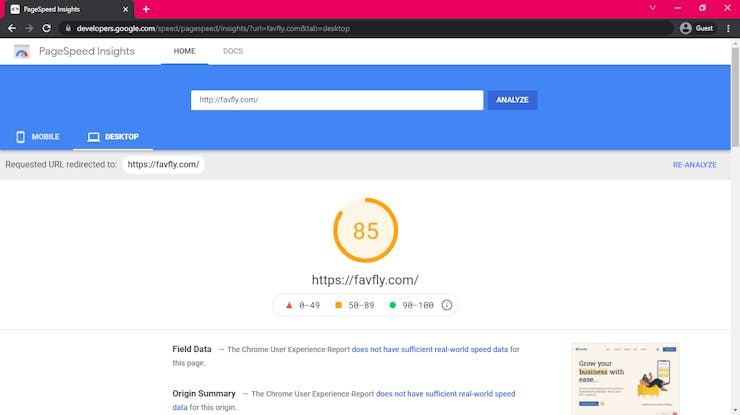 This free SEO tool examines your website's performance and usability on a variety of devices.
Submit a URL and it will evaluate its loading time and efficiency. It then assigns a score from 0 to 100 to your site's performance. Also get recommendations on areas of concern.
Similar: Pingdom, WebPageTest, and GTMetrix
Must Read: Why Website Speed is Important for SEO?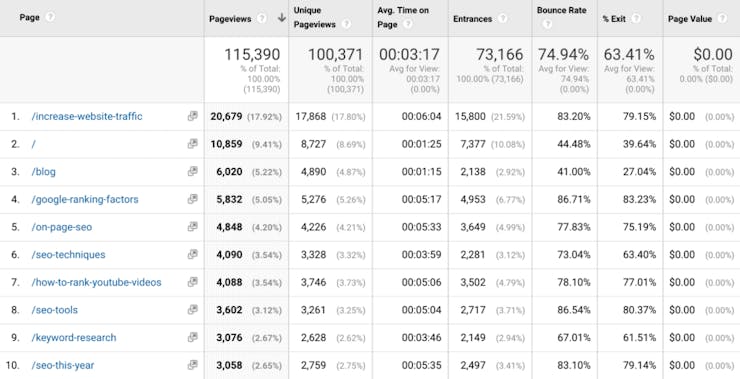 While it isn't strictly for SEO, it's a useful tool for full web statistics and search insights like bounce rate, sources of traffic, site time, etc.
Limitations: There are no restrictions on its use, although searches that bring you organic traffic are hidden. You'll need to use it with a tool like Keyword Hero to know the hidden information.
Similar: Matomo, Open Web Analytics, and Clicky
Best Keyword Research Tool For Free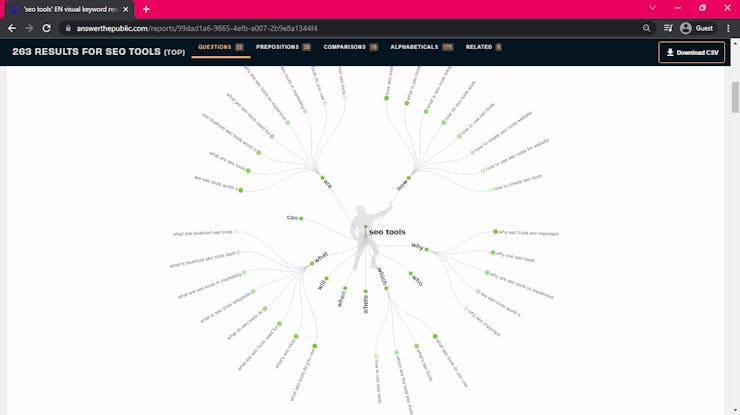 The data for most SEO tools uses the same source: the Google Keyword Planner. But Answer the Public is unique.
It searches for questions posted on forums, blogs, and social media and converts those into keywords. Thus, you can have a massive list of long-tail keyword possibilities.
In seconds, you may get 150+ keyword ideas based on a single term.
Limitations: Two free searches each day
Highlight: "Vs." keywords feature
Similar: KeywordTool.io, Keyword Sheeter, and Ahrefs Keyword Generator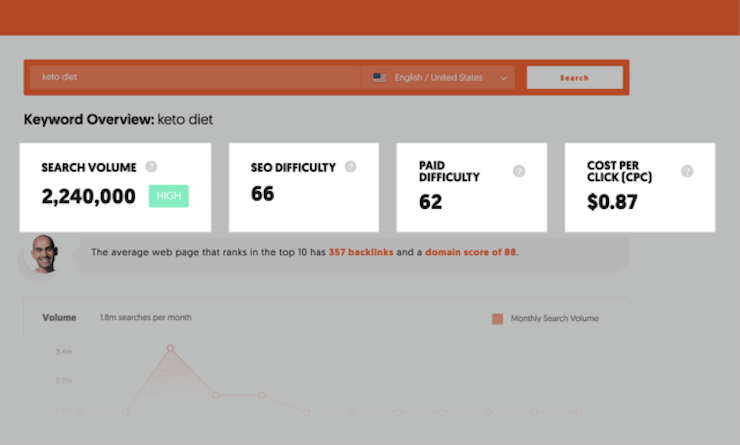 Ubersuggest has several capabilities that are often available only in paid SEO solutions. However, it is completely free.
Just enter your targeted term or your competitor's website link. It will provide you with comprehensive information on keyword difficulty, monthly search volume, and other factors. In addition, get a list of recommended keywords based on the term you entered.
Highlight: Comparisons. This feature displays "X vs. Y" keywords.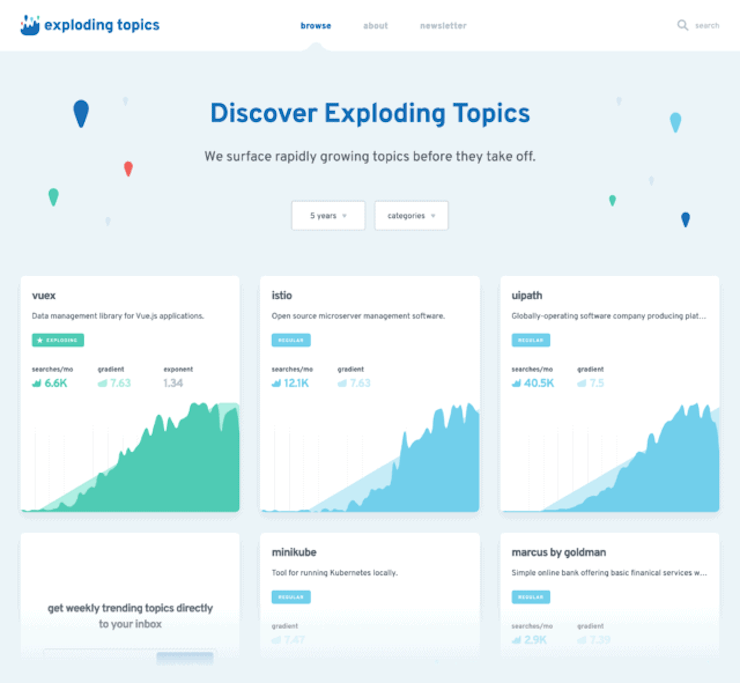 It's among the popular free SEO tools. Because it brings up content ideas that are only becoming popular. 
Discover hot keywords before they become competitive. So, you will develop content centered on these rising trends. Or you can optimize your old content around a new keyword.
Highlight: Categories. This feature narrows your search to a particular subject area that is relevant.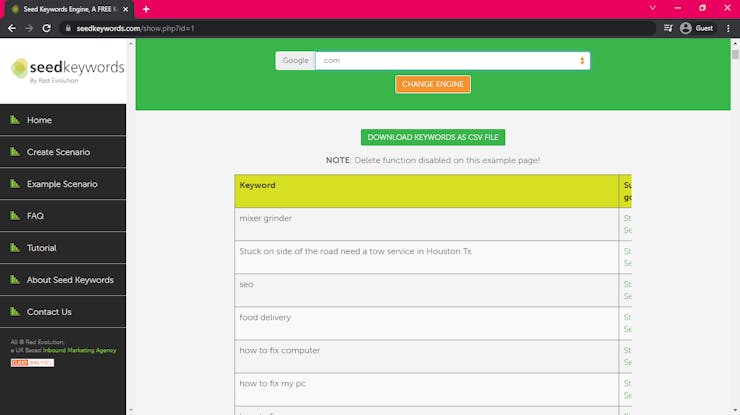 Discover totally new keyword ideas because Seed Keywords take a totally different strategy.
Instead of generating targeted keywords at random, you ask your consumers how they would search for you online. Then, enter your seed keywords into your preferred keyword research tool.
Highlight: Submit Query is the best feature.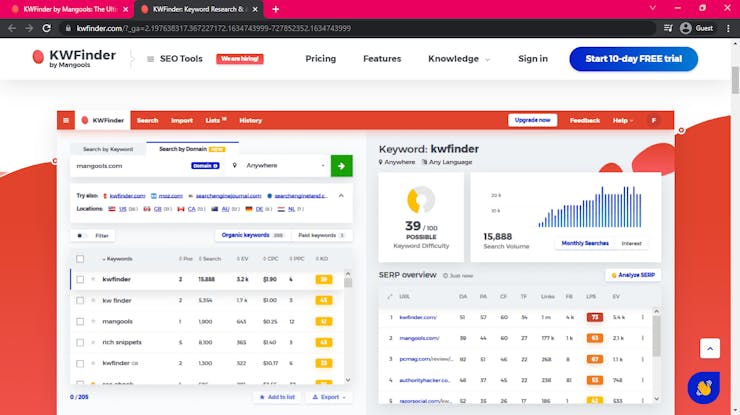 The greatest thing about KWFinder is how simple it is to use. You can consider this as the most popular and best keyword research tool used by professionals.
Highlights: LPS (Link Profile Strength). This function essentially informs you how many links you'll need to rank for that specific keyword.
So, if you discover a keyword with an LPS of 50 or higher, you know you'll need to perform some significant link building to rank for that term.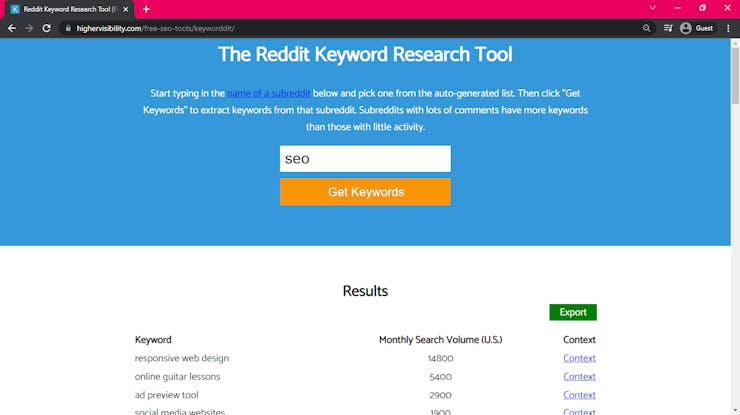 It's our preferred simple keyword research tool. As it can display words that can't be found with any other tool.
This tool uses Reddit for terms and phrases that appear in particular subreddits. If you identify where your target audience spends their time on Reddit, this is a jackpot of keyword and topic possibilities.
Highlight: Context. This feature directs you to the original Reddit discussion.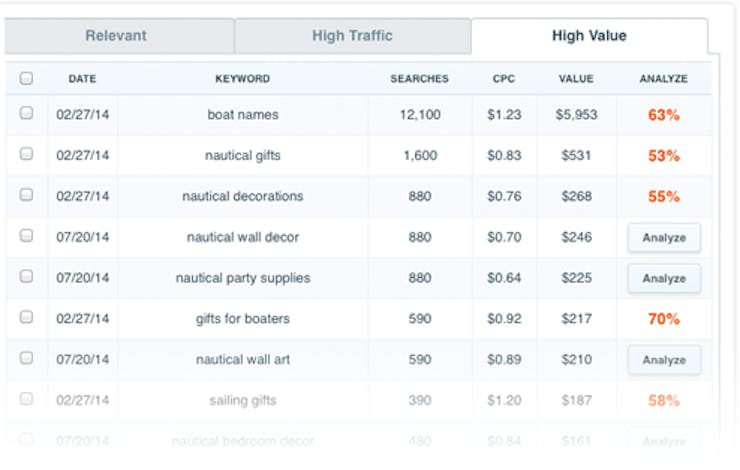 CanIRank is a keyword difficulty tool that is very comprehensive. Unlike other free SEO tools, it does not provide general recommendations such as:
"This keyword has a high level of competition."
Instead, it informs you whether you're qualified to rank for that term.
Highlight: "How can you better target this keyword?" is the best advantage. It provides recommendations to help you rank for a particular keyword.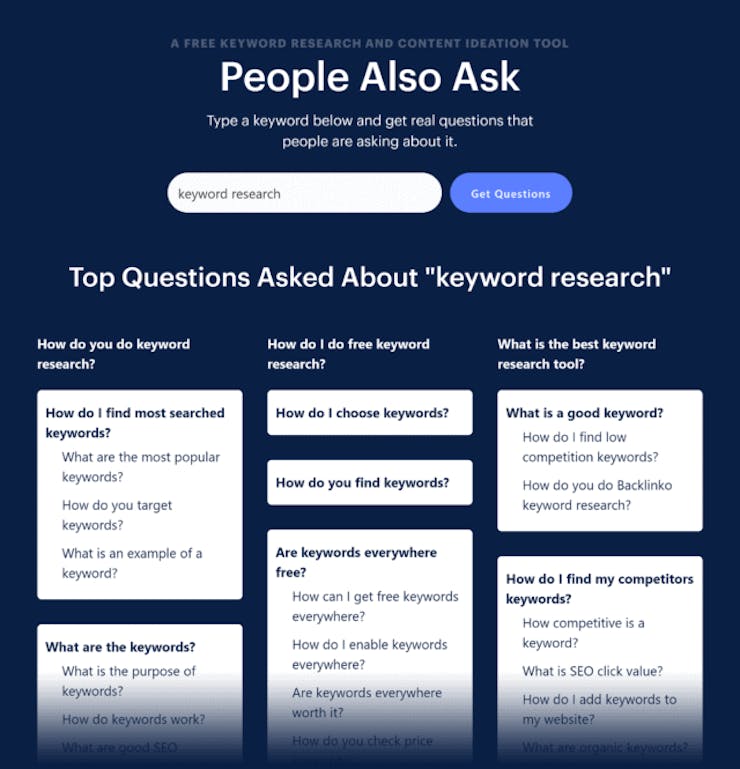 This keyword research tool free collects questions from Google's search results that show in the "People Also Ask" segment. It's a fantastic tool for locating query keywords.
Highlight: Related questions feature.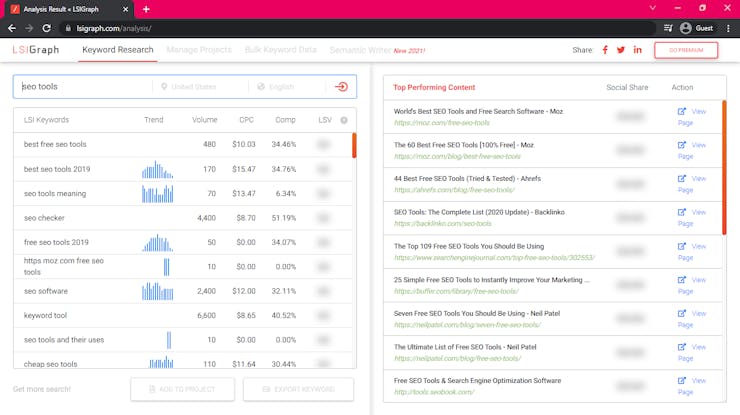 LSI Graph assists you in taking your on-page SEO to another stage. It generates a list of LSI keywords for you to use in your text. So, you can do effective content optimization.
Highlight: Analysis feature. It allows you to go further into an LSI term from your list. That way, you'll be able to discover more fantastic LSI keywords.
All-purpose Free SEO Tools
The Ahrefs SEO toolbar is a free Chrome and Firefox plugin that checks for broken links, traces redirect chains, and highlights nofollow connections on any site. It also produces an on-page SEO analysis for the site, which contains the following information:
You'll also be able to view crucial keyword data like search volume, CPC, and keyword difficulty inside the SERPs if you have a premium Ahrefs account.
Limitations: Technical and on-page SEO capabilities are free, however to view SEO metrics in the SERPs, you'll need an Ahrefs account.
Similar: Detailed SEO Extension, SEO Minion, LinkMiner (broken links), and Ayima Redirect Path (redirect tracing)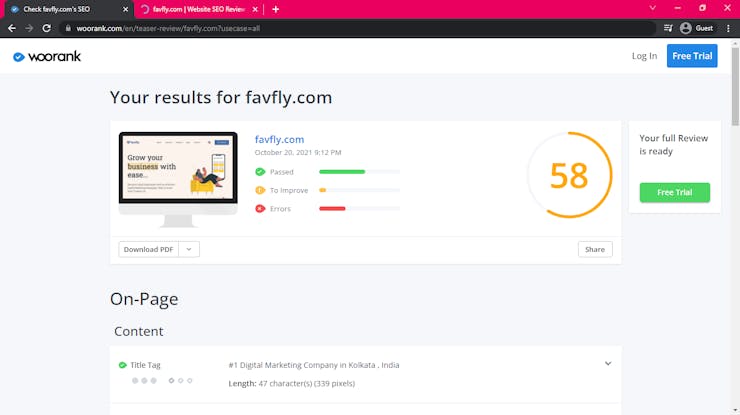 Most free SEO tools just provide information about issues, not remedies. However, with Woorank, you receive a comprehensive SEO checklist to troubleshoot any problems.
First, they will assign an overall SEO score. Then shows specifically how to enhance your site's on-page and off-page SEO.
Highlight: Marketing Checklist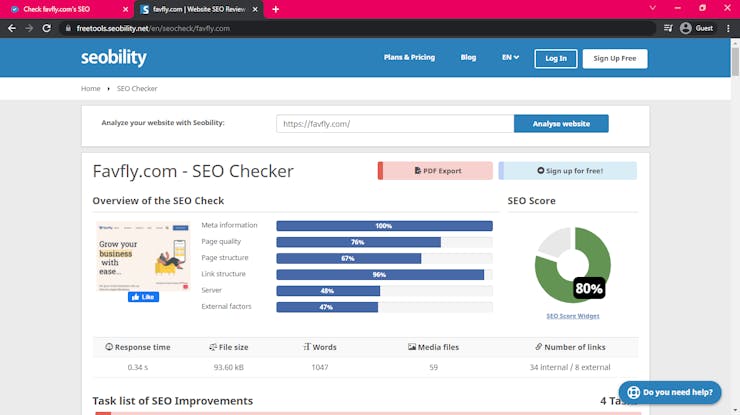 SEObility scans your entire website and alerts you SEO problems such as:
SEO technical difficulties
This kind of information is typically only available via professional SEO tools. So it's great that Seobility provides this information for free.
Highlight: Content Report. This report provides a list of pages with content-related SEO problems like missing meta titles, keyword stuffing, and plagiarism.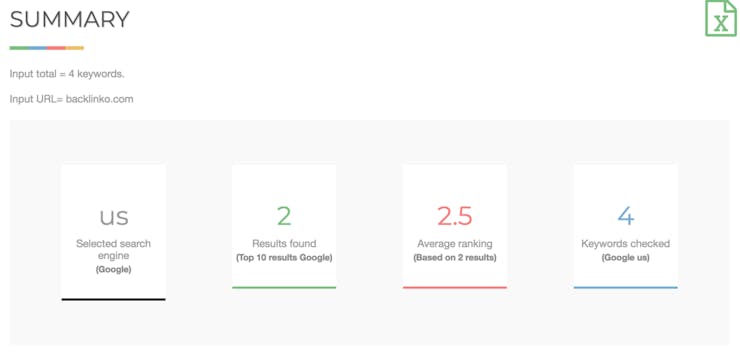 If you want to check where you rank on Google for a particular term, use a SEO rank tracker. 
Rank checker simplifies the procedure, and you can check up to 10 keywords for free.
Highlight: SERP rankings. You can check out your and your rival's rank in the SERPs.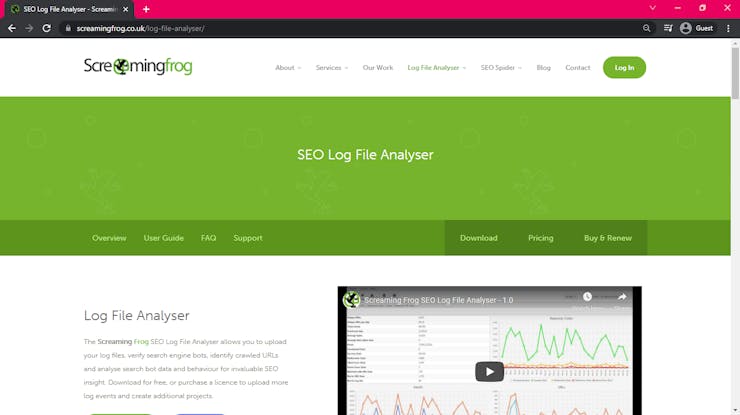 If you want to see what Googlebot is doing on your site, go through the log files. You can accomplish this for free using Screaming Frog's Log File Analyzer. 
This handy tool searches your site using a crawler similar to Google's. And produces a report of problems like HTTP header errors, JavaScript rendering issues, bloated HTML, and crawl errors.
Restriction: Up to 1,000 lines are allowed
Highlight: Detect duplicate content
Similar: SEOlyzer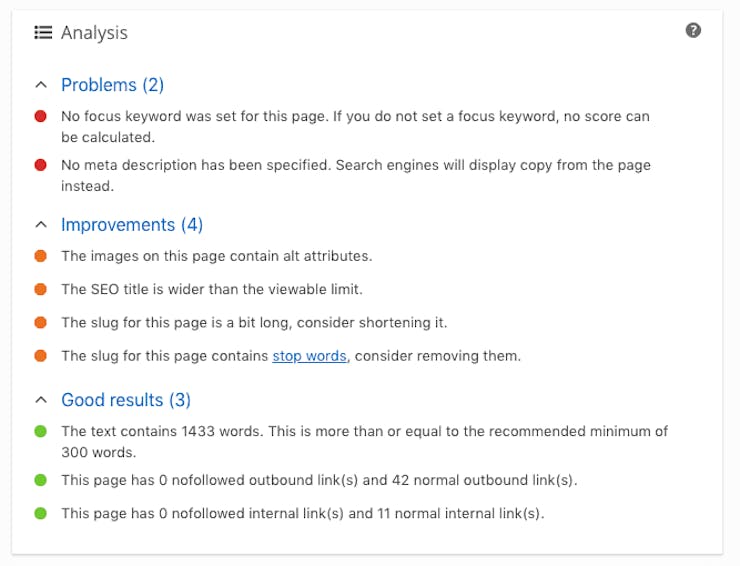 Yoast SEO is the finest WordPress SEO plugin for free. It helps you optimize your blog articles for search engines.
Enter the primary keyword for your blog article and see recommendations for enhancement.
Restriction: There are certain data limitations that may be removed with a premium account.
Highlight: XML Sitemap Generator. With this, you don't have to fiddle with your sitemap every time you add a new page. It will automatically refresh your sitemap.
Similar: Rank Math, All in One SEO, and SEO Framework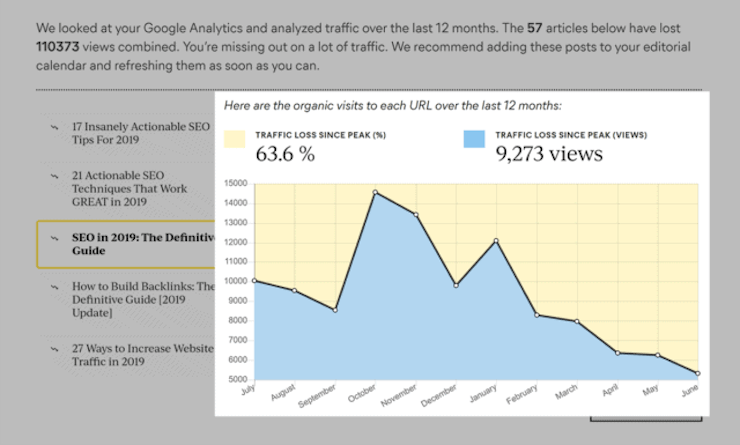 Animalz Revive assists you in locating older material on your site that requires an update. So, you can enhance and update the existing content.
Previously, you had to manually search your Google Analytics account for these pages. That was a major headache. Thankfully, this tool informs you which items on your site require the most maintenance.
Highlight: Traffic Loss Since Peak (Views). This feature tells you how many visits a piece of outdated material is giving you.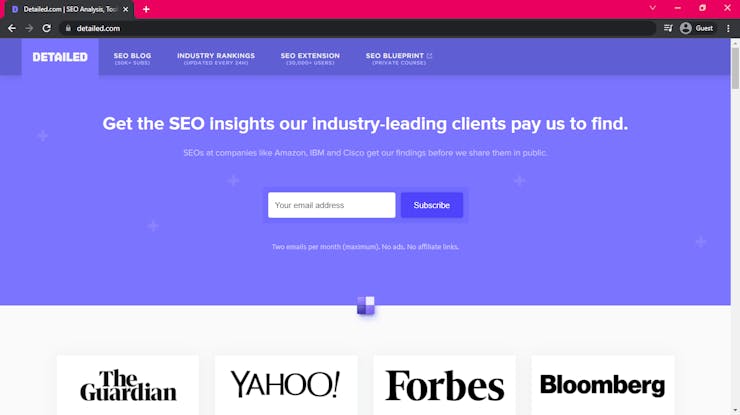 Competitor keyword research is the most essential for SEO optimization. Detailed is a free SEO tool that gathers information about your competitors.
Also, it provides you a hand-picked selection among the most popular websites in your field and assesses your major rivals.
Highlight: Mentions. This feature displays who has recently linked to (or tweeted about) your competitor.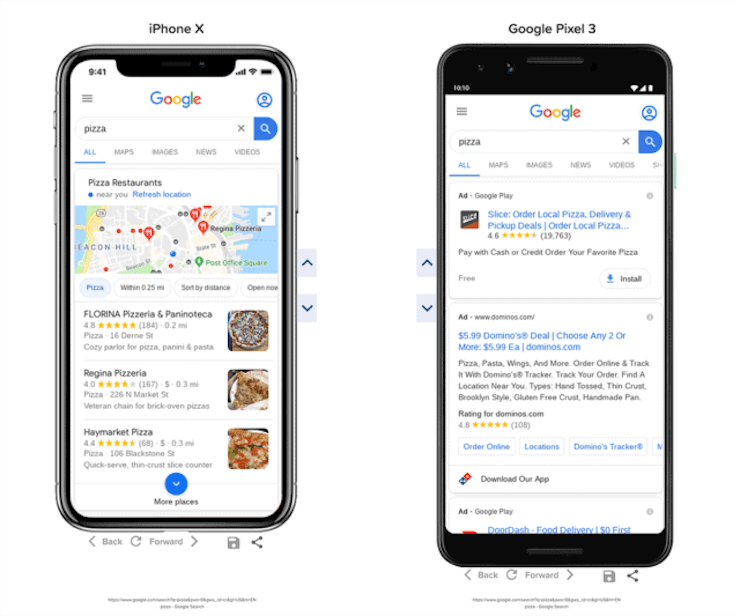 This fantastic tool compares SERPs across several locations and devices. Search results vary depending on where you are and what device you're using. This is especially true for local queries such as "pizza restaurant".
You can view precisely how the results would appear for someone looking on a certain phone from almost any big city.
Highlight: Compare Devices. You can examine the results on two distinct smartphones side-by-side.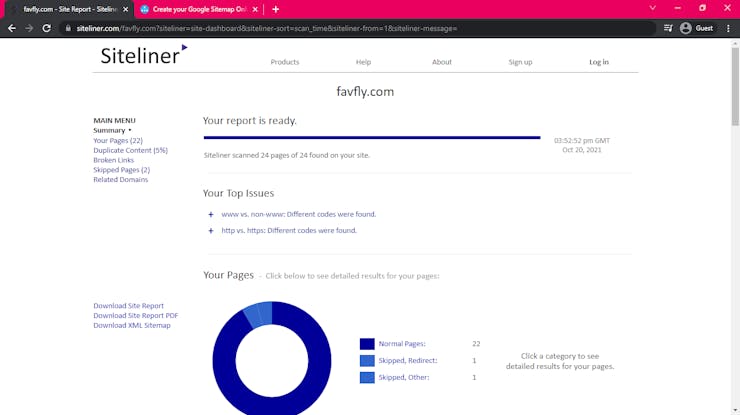 Siteliner examines your website for SEO issues like blocked pages, messed-up redirects, and broken links.
Highlight: Comparison with other sites.
This helps in comparing the loading speed and page size of your site to those of other sites in Siteliner's database. This is useful for benchmarking.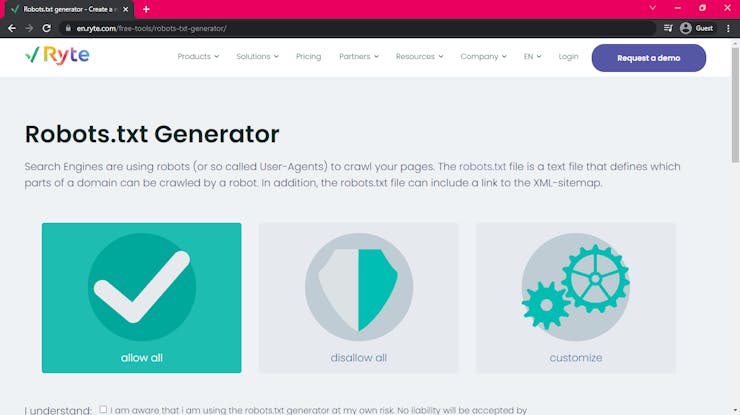 Create robo text for your website. Robots.txt files advise web crawlers about what to do with a site's pages. When a page is marked as forbidden in robots.txt, the robots are instructed to totally ignore such websites.
Similar: YellowPipe's Robots.txt Generator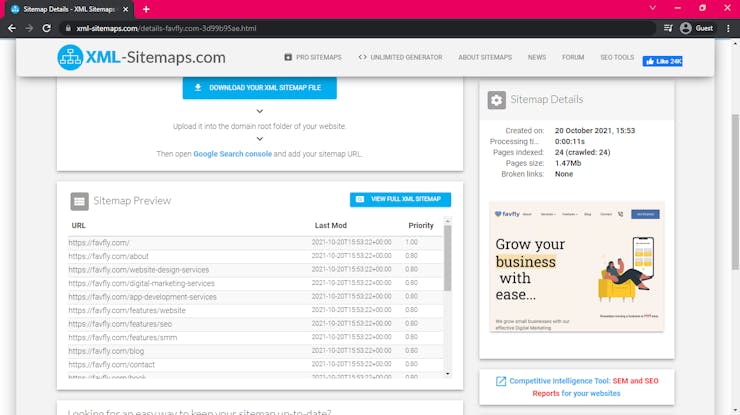 Sitemaps assist Google and other search engines in discovering, crawling, and indexing all the pages on your website.
Simply input your site's URL and a few additional settings, and XML Sitemaps will generate a sitemap for you to submit to Google Search Console and Bing Webmaster Tools.
Restriction: Up to 500 pages.
Last Words
That's all the best SEO tools 2021. We've mentioned the best keyword research tool, Google keyword research tool, rank checker, keyword analysis tool, site rank checker, and SEO rank tracker. Choose the free SEO tools as per your requirements.