It's simple to come up with a list of keywords you wish to rank high in SERP. The hardest part is determining the competitiveness of ranking for those keywords. Then start generating organic traffic. 
This concept is all about what is Keyword Difficulty. After knowing this, you can easily prioritize and plan your SEO approach.
Nobody understands Google's actual methodology for ranking websites. Even if you know, the reality is certain keywords are tougher to rank for. 
So, being a SEO expert in Kolkata, we consider SEO keyword difficulty is among the most challenging concepts.
In this post, we'll go over the basics like what is keyword difficulty. You will get to understand how to determine the odds of website ranking on Google. 
Know the following in particular:
What Is SEO Keyword Difficulty?
Influencing Factors of Keyword Ranking Position
How to Check the Keyword Ranking Position and Difficulty?
What Is a Good Keyword Difficulty Score?
What Is SEO Keyword Difficulty?

The technique of determining the level of difficulty to rank in Google's organic results for a certain phrase is known as keyword difficulty or SEO difficulty. It is measured by a variety of criteria, like domain authority, content quality, etc. This metric considers pages that have previously been ranked.
Therefore, it will help you establish the right expectations for the outcomes. Also, find out the possibilities for your site to rank for the term in the near future.
But don't rely just on a score. To make these insights effective, first, comprehend the aspects that influence a web page's rank in the SERPs. Then find techniques you must use. 
SEO takes time and work, so you should know the factors of website ranking on Google. Thus, you can predict your odds of achieving exposure for a term with a good plan.
People ask us as SEO services Kolkata, why Keyword Difficulty is so important.
In brief, it's a critical step in the keyword research process. Keyword difficulty, total search volume, and certain other factors all contribute to the picking of the best keywords
You may already know low competition keywords for SEO are ideal for ranking for beginners. While doing this research, you have to look for keyword difficulty measures.
The only problem is that each keyword difficulty checker tool assesses keyword difficulty in a different way.
Concentrating only on search volume to prioritize them is among typical keyword research blunders. You'll get unsatisfactory results if you do additional keywords analysis.
Your rivals also target popular keywords. Higher monthly search volume usually equals more competition. So, it becomes more difficult to rank organically for certain keywords.
By assessing keyword difficulty, a sensible method is to balance potential with ranking convenience. Also, understand the ability of your site to rank for a keyword. 
Difference Between Keyword Difficulty and Keyword Competition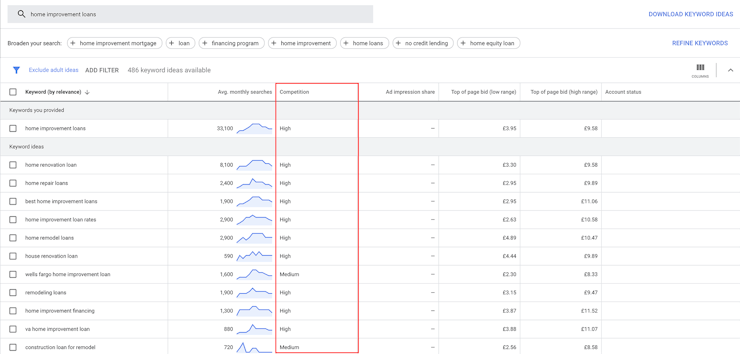 Don't mix keyword difficulty with Google Keyword Planner's keyword competition. 
The number of advertisers bidding on ads in SERPs for a certain term is shown as keyword competition. The keyword difficulty checker illustrates how tough it is to rank for a search term in an organic search.
Influencing Factors of Keyword Ranking Position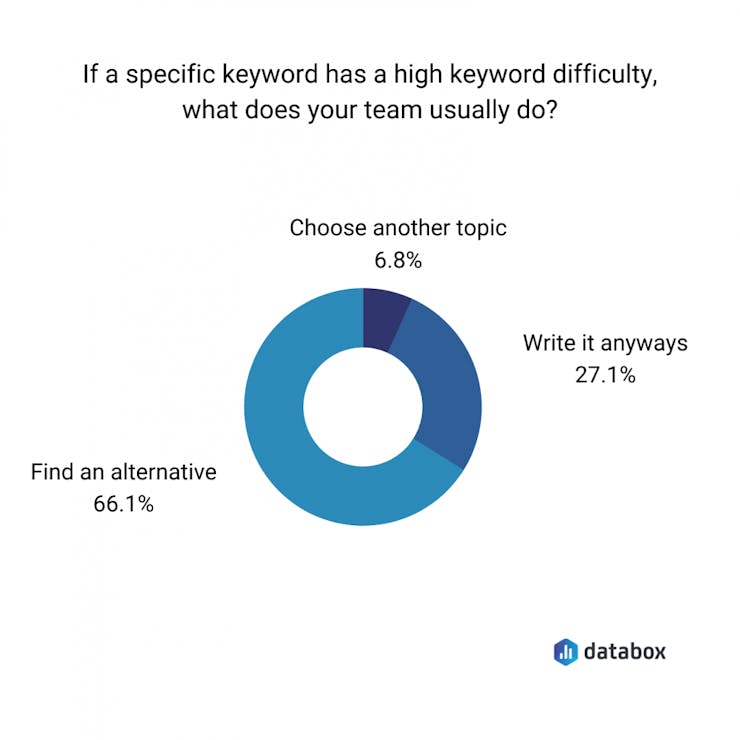 While determining SEO difficulty, look at the sites that currently rank in Google for recognized keywords.
Analyze five basic characteristics:
The intent of the searcher
Authority of the domain/webpage
We'll go through each of these key elements in more detail below. 
1. Page's content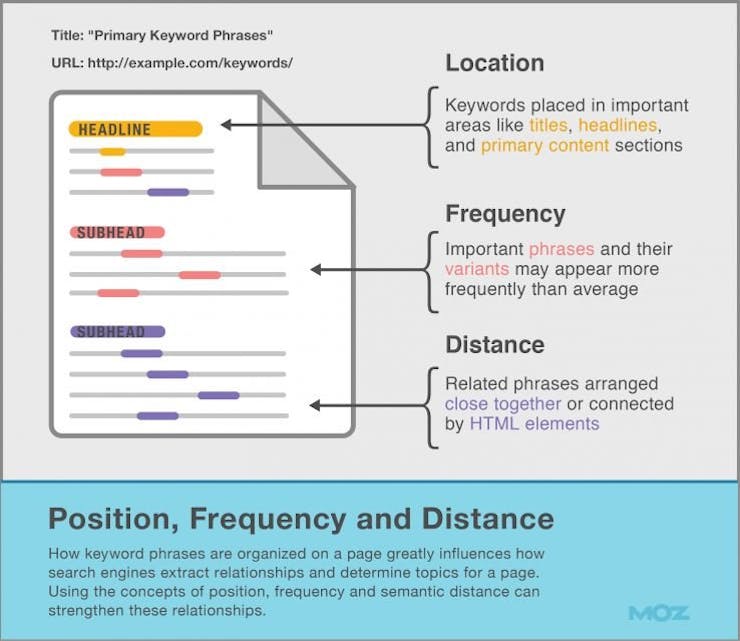 Irrelevant pages are not ranked by Google. So, you have to make your website relevant to the certain keyword
If you compose an article with a certain keyword in mind, you can be sure it is related to that term. Simple, right?
But how to boost your page's relevance in Google's eyes? Focus more on your on-page SEO.  Include your target term in the following places:
Just don't overdo it and stuff keywords! Keep it natural and seamless.
Google has clearly learned to recognize synonyms and jam similar search phrases to outrank rivals. 
So, if you still assume that the lack of the target phrase in the title tag on top-ranking sites indicates minimal keyword competition, reconsider.
When researching top ranking keywords, don't get too caught up with how many times and where they appear on a website. Instead, look at the content of the top-ranking sites to check the quality and what it offers.
So, perfect keyword placements will not give you a competitive advantage. But the quality of your content and the value it provides to readers do. 
What about LSI and TF-IDF?

You may be curious about on-page SEO tools that promise to rank you higher in SERP by distributing the search terms in the right proportions across your content.
Most of these programs promise to accomplish so by using smart-sounding technology like LSI or TF-IDF.
For RankBrain, Google probably uses a word vector technique. But there's no indication that they apply LSI. 
As a result, employing such LSI keyword tools to create keywords for your content is pointless.
TF-IDF is a little more probable, but still...
Being an experienced SEO company in Kolkata, we don't advocate focusing on fancy-sounding tricks. It is more important to prioritize creating good content and a terrific user experience.
We don't think there's a method to measure your content's "relevance score" and improve it to top the search results. 
IMPORTANT NOTE
Evaluate the overall quality and depth of the content while examining the top-ranking pages. Then it's up to you to develop a better page than the ones that currently rank.
Furthermore, don't use any tool to determine the relevancy of a page. Because you are not sure if Google is using the same technique.
You will not be capable of ranking unless you provide greater content. The objective of Google is to offer the most relevant and accurate information accessible.
So, make sure your material is at least as excellent as what's currently out there. Also, find out how you can provide value above what's already on SERP for top ranking keywords.
2. Intent of the searcher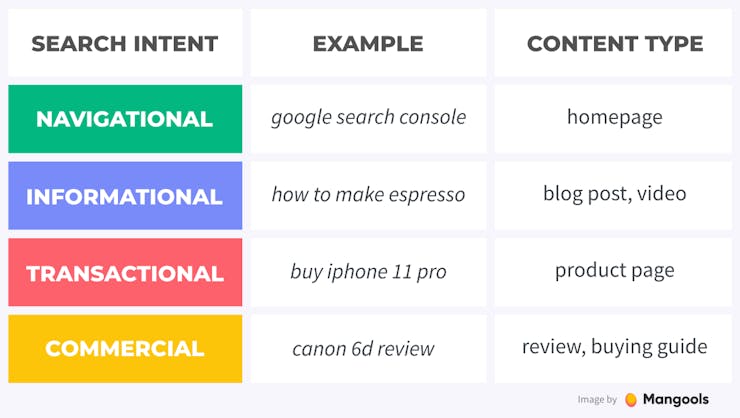 You may have been using every well-known technique to improve that landing page.
Revised the page's copy, reduced the load speed, enhanced mobile-friendliness, and gained high-quality backlinks. But, still, the outcomes are not satisfying and the ranking is not going high, why? 
Because, along with perfecting conventional SEO elements, your page's approach to addressing search intent should be right.
Google has a method to ensure whether users are satisfied with the search results. It's mysterious exactly how they do this. Maybe pogo-sticking, page session, bounce rate are all possible website ranking factors.
The important thing is when they see people are satisfied with a certain page more than others, that page will be prioritized.
In that instance, Google will continue to rank your page for more and more relevant keywords. It will result in a boost of overall search traffic.
IMPORTANT NOTE
Examine the top-ranking sites for your target term. Find how you can provide more to searchers than what's currently available. If you can't achieve it, no matter what keyword difficulty checker indicates, that term is essentially too difficult for you.
3. Backlinks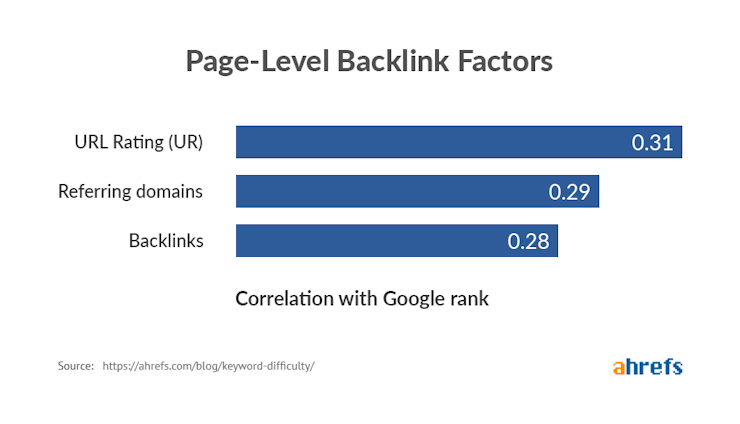 Most common and popular one: Backlinks!
Google's ranking system relies heavily on links from other pages.
They are votes of confidence, indicating that your page should have a high ranking.
Google's algorithm is more complicated than just counting the number of referring websites. The quality of the links matters most. This quality is measured by the factors such as:
The number of additional websites linked from the connecting website
How deep your link is hidden inside the website's structure
The link's real context and anchor text
Controlling all of these factors of link value are very difficult.
However, the more connections your page receives from other websites, the better it will rank in Google.
Backlinks are one of Google's top three ranking variables. It has a better association with ranks than anything else, according to several case studies.
Consider the quality of backlinks pointing to top ranking sites and make a link-building plan to build authority.
That's why the Keyword Difficulty score is based on the average number of connecting websites to the current top 10 ranking pages. 
Target keywords based on how many backlinks your web pages have:
Keyword Difficulty = Referring Domains
 0               =            0 
10              =        ~ 10 
20              =        ~ 20
30              =        ~ 35
40              =        ~ 55
50              =        ~ 80
60              =        ~ 130
70              =        ~ 200
80              =        ~ 350
90              =        ~ 800
Target the keyword difficulty segment based on how many referring domains you got or can achieve.
But use this figure as the initial layer of your investigation since searcher intent and content quality play a significant part.
4. The authority of the domain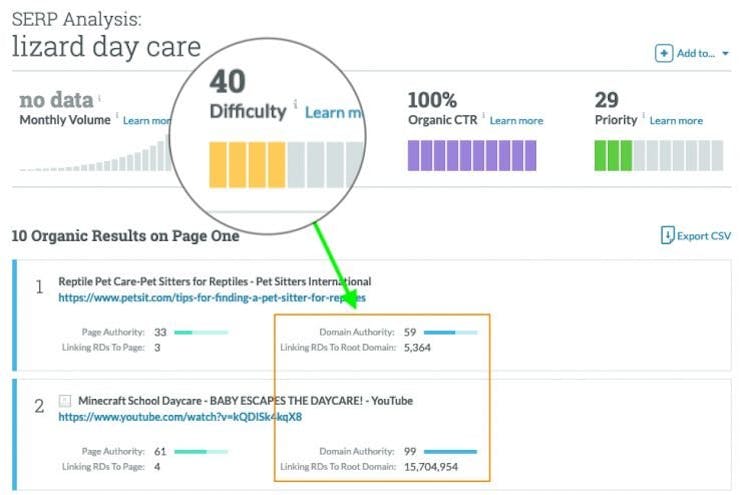 Many SEO experts think that Google has some domain quality factor that affects every page on a specific website. But, Google has never accepted that.
In the search results, we think Google sometimes favours pages on "strong" websites. Maybe this is due to Google's evident preference for high-authority sites or well-known companies for particular searches.
Internal linking is helpful for websites. We believe that websites with "strong" pages may use internal connections to channel some of that authority to other pages. It enables them to rank better.
As leading SEO services Kolkata, we think a page on a low authority website with many high-quality backlinks is better. It can easily outrank a page on a high authority website.
The truth is a new domain will struggle to rank for competitive keywords.
It takes time to build up the authority required to rank. It is among the reasons why SEO  takes six to twelve months or more to give ROI.
Tip: Keep an eye out for big-name brands.
The importance of brand signals in determining keyword difficulty is often overlooked. 
What are brand signals, and how do they work? 
They're indications to search engines that a website is a well-known brand. And in Google's algorithm, these signals are becoming more crucial.
As a result, when it comes to keyword difficulty, you should also consider the scale of a brand.
IMPORTANT NOTE
Websites with high authority are well-known and trusted businesses that consumers prefer. The search results that users are more inclined to click are obviously rewarded by Google.
As a result, ranking in SERPs against famous competitors in your area will be more difficult, but not impossible. Pages with a lot of high-quality backlinks on low DA websites may outrank pages with high DA.
5. Examine the Profiles of Links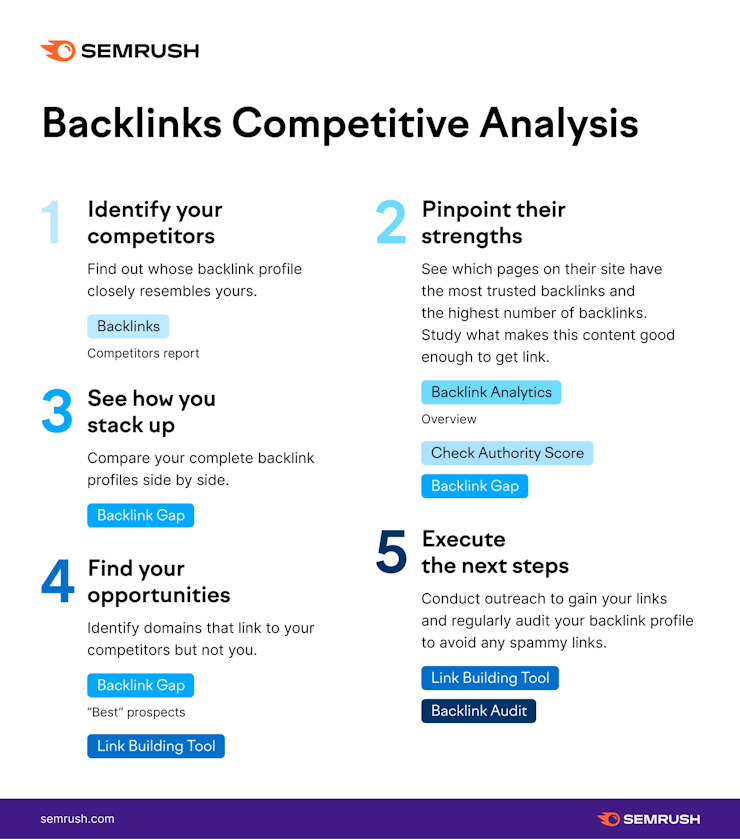 If you've been doing SEO for a long time, you may know that link analytics are sometimes quite deceptive.
The domain and page authority of sites with spammy link profiles can be high. But since they're employing spam links, they won't be able to stay on the top page for long.
So, if there's a top-ranking keyword with high competition, inspect the top 10's link profile. Check if the results are skewed by black hat SEO
See whether any of the top ten contain connections that will be really difficult for you to get (for example, mentions on major news sites).
This may seem like a lot of work for you. Checking out their link profile is the greatest approach to do so.
Links from these sources are more likely to have a black hat link profile:
Web directory of poor quality
Keep an eye out for external links with keyword-optimized anchor text. 
If a page has a lot of these following connections, defeating them may be more difficult than the PA and DA statistics suggest:
Editorial connections from reputable websites in your field
Links from well-known blogs
The aim isn't to get obsessed with their connection profile. It's merely another layer of knowledge to aid in your decision-making.
Find Easy Target on SERP
It's time to rejoice if one or more Easy Target appears in the top ten results. You've just discovered a keyword with low competition.
Following are some search results that point to a keyword with extremely low competition:
Answers from Yahoo!, Ehow.com, Buzzle, HubPages, eBay, Quora or another forum/community.
Or, the result is from free blogs i.e. Blogspot or sites that publish press releases.
How to Check the Keyword Ranking Position and Difficulty?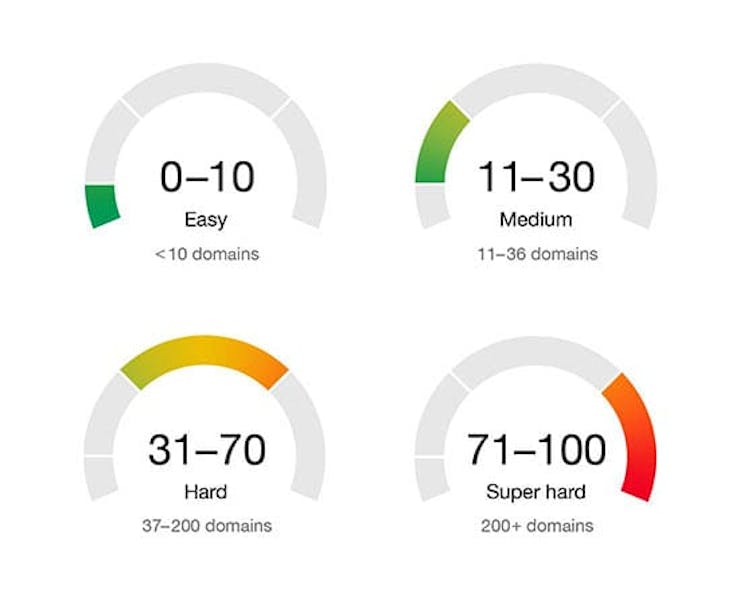 Most SEO tools offer keyword difficulty checker like Semrush, Ahrefs, etc. Choose your preferred one. It's really easy for any term.
Always think about keyword difficulty in terms of your own domain: content, backlinks, and general authority. 
Let's look at this score in more detail.
The keyword difficulty score ranges from 0 to 100. The greater the percentage, the more difficult it is to rank for. This metric uses the authority of the domains that appear on the results page. Then predict how tough it would be for a new website to outrank its present rivals on the SERP.
These may be categorized:
0-14: Very simple. These are the ideal scores to get new websites ranked on Google fast.
15-29: Easy. These keywords have low competition. But there are still possibilities of a ranking if you're just getting started. For that, you'll need high-quality content that focuses on the searcher's intent and the goal of the term.
30-49: Possible. There's more competition now. You'll need a material that's well-structured and distinctive. Also, optimize the content for your keywords.
50-69: Difficult. To compete here, you'll need some referring domains along with well-structured, informative, and optimized content.
70-84: Tough. There will be more competition to rank your well-optimized and useful content among the top pages. Put in more work in terms of getting referring domains for these keywords.
85-100: Extremely difficult. These are the most difficult keywords, particularly for a fresh website. To rank and get visitors, you'll need a lot of SEO and content marketing efforts.
This score assists you realize how tough it will be to rank for a term while undertaking keyword research.
What Is a Good Keyword Difficulty Score?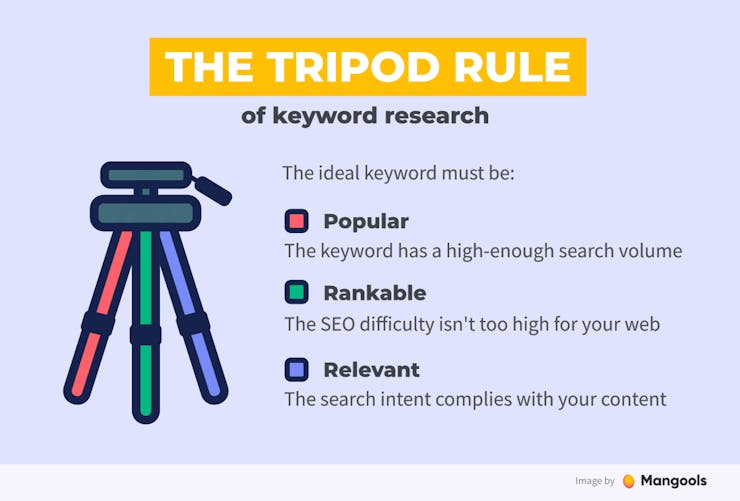 As now you properly know what is keyword difficult, let's see what determines a good keyword difficulty score.
Unfortunately, there is no simple solution. A high authority domain has a better chance of ranking for high difficulty keywords.
So, how do you decide which keywords to use based on their difficulty?
SEO is a long-term endeavor. Therefore, don't overlook keywords that are tough to rank for. Obviously, these terms will take time to give good outcomes. Continue to evaluate your authority compared to the SERP top web pages and websites. A high Keyword Difficulty Score isn't always a negative thing. You'll just have to commit more resources to rank for it than a keyword with a lower score.
Smart methods strike a balance between easy-to-rank keywords and those that are more difficult to rank for.  Use topic clusters to target wider phrases with a higher Keyword Difficulty on your pillar pages. And target low competition ones on your cluster content. It is a wonderful method to achieve this.
Also, don't rely just on search volume while doing keyword research.
Because you'll have a hard time estimating the resources you'll need or the time it'll take to get visibility for the keywords.
Use the Keyword Difficulty Score as a reference, and combine it with your domain's authority and ability to rank. That's how you can create a strategy for growth. 
Don't be afraid to use keywords with a high difficulty level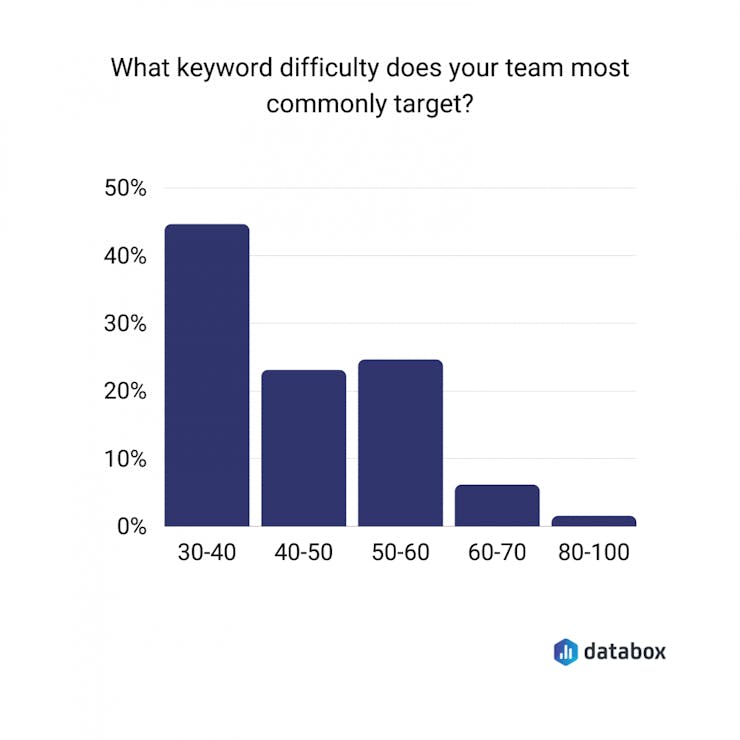 Finally, you have made it! We have come to the end of our discussion over what is keyword difficulty and why it's important in SEO. Here are a few tips from our side…
Most keyword research guides recommend avoiding high-difficulty keywords and pick those with high search traffic and low Keyword Difficulty score.
That is very understandable. But actually, the quantity of such terms in any given area is quite tiny. So, if you can't locate any of them, you could come to the conclusion that keyword research isn't for you.
But that is the incorrect approach.
The complexity of a keyword isn't designed to restrain you from using it. Its purpose is to assist you in estimating the resources needed to rank for it.
If ranking for a term is critical to your company, you must do everything it takes to get it.
Short-term thinking is the biggest opponent of long-term rankings in SEO. Therefore don't be afraid to go after those apparently competitive phrases. It has the ability to propel your company to new heights.