Certainly, you're putting in a lot of effort to promote your business. Maybe you've mastered most of the search engine optimization. 
Now you are exploring more to boost your SEO strategy. Being an SEO company in Kolkata, we have encountered lots of people not getting expected results from SEO. One reason for that is not knowing what are meta descriptions. 
The website meta description for SEO is very essential. So, you should know how to write a meta description. In this post, we will tell you what are meta descriptions, the use of meta description tags in SEO, and meta description importance. 
Also, learn how to write meta description and optimize them. So, let's start with the basics.
What Are Meta Descriptions?

The website meta description is an HTML element that summarizes a web page's content. When your page appears in search engine results, this description will display underneath the title and URL. 
When the searched term appears inside the description, search engines display it in search results. As a result, meta description SEO optimization is very essential.
Meta descriptions, unlike the page title, are not an SEO ranking factor. But they persuade people to click through to a page. So, a good meta description is an important aspect of on-page SEO. 
They appear as <meta name="description" content= description/> in a page's code.
Meta description code example:
<head> <meta name="description" content="Learn meta descriptions and how to use them!"></head>
Meta description embodies the promise you offer to searchers. It stands out in a sea of rival websites!
What Is The Meta Description Importance?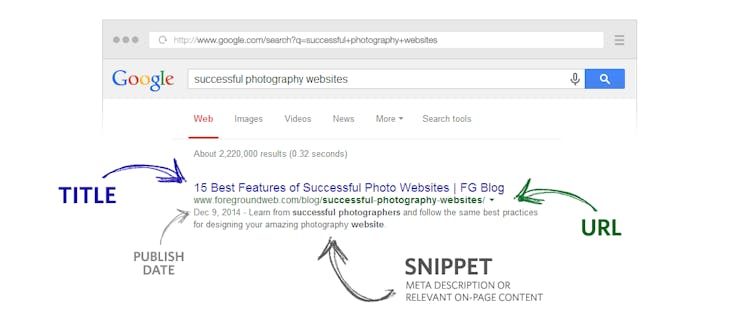 Meta descriptions show alongside your title and URL on results pages. As the SEO expert in Kolkata, we realized they have the potential to increase or decrease the click-through rates of your results.
Including the target keyword in the meta description is a relevant sign for search engines. It may enhance your ranks.
Just organically use keywords instead of jamming them into your descriptions. 
So, it's a great opportunity to market your website with an interesting message to searchers. Because your meta description has the most real estate in your search result.
Read This : Keyword Research: How to Do It, Tips, Tools & Examples [2022]
Use Of Meta Description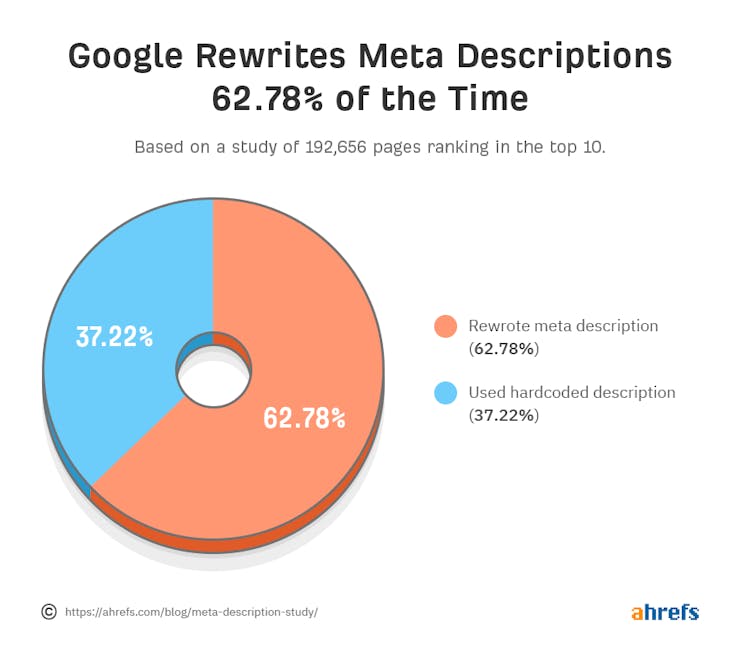 Its goal is simple: it must persuade searchers with a certain search term to click your link. In other words, the use of meta description is to encourage search engine click-throughs.
It has no direct SEO value, according to search engines. It isn't included in their ranking system. However, there is a side benefit. 
Google evaluates your CTR to determine if you're an excellent result. Google considers you a decent result if many users visit it. So, it will boost your position on SERP. Therefore improving your meta description and your titles are critical.
Unfortunately, Google does not ensure that the meta description you've submitted will be shown. However, as it's possible that it will appear, it's always worth the effort to include it in your article or page.
There is another scenario. Sometimes Google rewrites them!
According to Ahrefs, Google rewrites meta descriptions for 63% of search results. 
That is because Google wants to show the searched term more on the results page. Therefore, let's see how to write meta descriptions perfectly so that Google does not rewrite them.
Let's take a look at some best free keyword research tools for SEO that you can use.
How To Write Meta Description?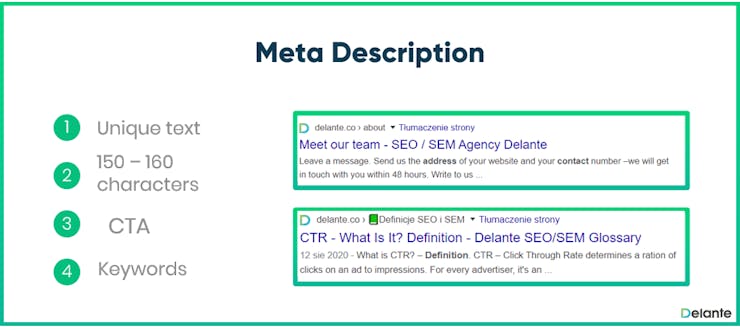 We already told you that the SERP click-through rate is considered a possible ranking factor. Thus, the ideal strategy is to make your meta descriptions SEO-friendly. And create them with the goal of generating more clicks.
Consider your search results to be like a classified ad in a newspaper or magazine. To attract a consumer to call a phone number or come to an address to purchase a product in person, traditional print advertising employed headlines and taglines.
Your page title is your headline, your meta description is your tagline, and the URL is the address in your search results. 
A meta description is effectively a micro-pitch for a website. So, use dynamic language to get visitors to click on your result.
We've learned what are meta descriptions and meta description importance. Now, implement this information in your own company.
From our years of experience as SEO expert Kolkata, we are sharing the tried-and-true methods for good SEO meta description.
Consider the customer's perspective.
Tell your USP
Make it unique
Keep the description short 
Use active voice for an actionable approach
Add a call to action button
Use your target keyword.
Provide specifications 
Double-check that it corresponds to the page's content
Avoid using meta description generators 
Understand each point in detail below. Keep reading!
1) Consider The Customer's Perspective.
To start, think about what could encourage a person to select your title tag. Showcase your offerings and give reasons you are the best for shopping. 
Writing descriptions for product pages has straightforward intent. You're trying to sell your goods. 
It's a bit more difficult to write meta descriptions for your home page. The greatest thing to do is to reinforce your brand constantly. That's the one thing your entire business offers, and it's why customers should shop with you.
2) Tell Your USP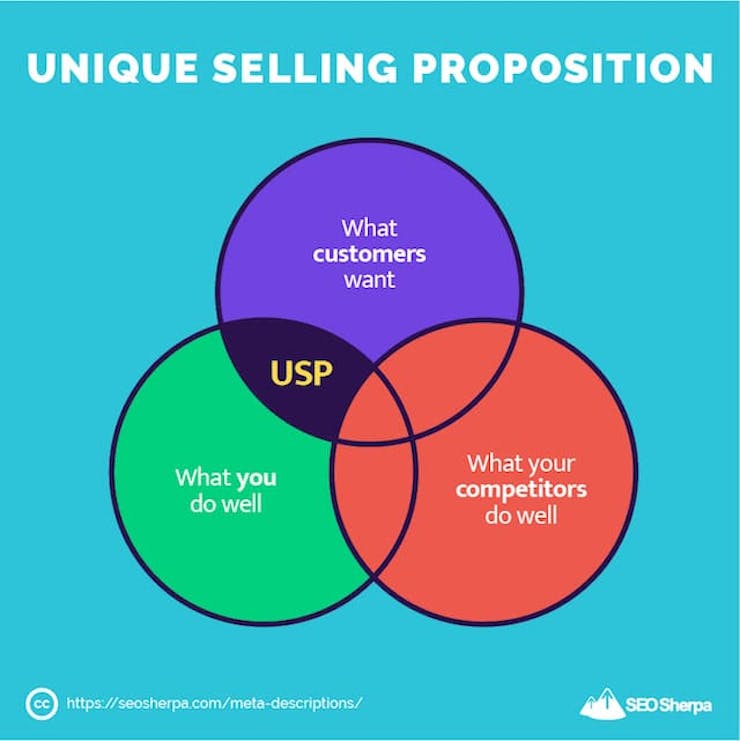 The meta description is a place to tell readers what you do, your unique selling proposition. You should repeat this information many times. 
It's usual to have trouble coming up with an excellent meta description for your whole site. So, be attentive and acknowledge your brand properly.
What do returning customers say about your company? And, if you're a newcomer, what made you believe this company would be successful?
Your meta description's purpose is to garner clicks. And also a chance to market your company.
Stephen Light, CMO of Nolah Mattress, advises, "Think of meta descriptions as a continuation of your brand and a chance to clearly describe your USP (unique selling proposition) using relevant keywords." 
Talk to people about your company and write out a description like an elevator pitch. Draft a few versions and read through. 
It will not be perfect for everyone since this will be many clients' first introduction to you and your business. Don't put any redundant meta descriptions on your website, since this might hurt your search engine rankings.
Use your message to elicit an emotional response. Emotional advertising has had a lot of success by appealing to people's emotions.
3) Make It Unique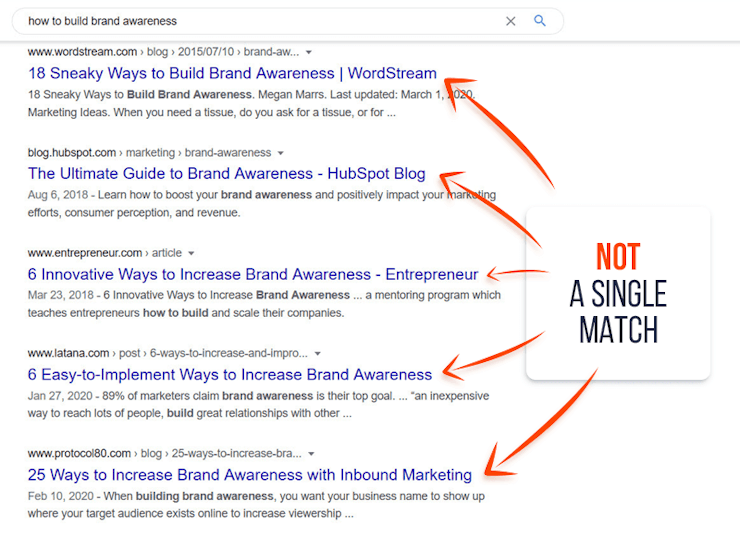 The user experience in Google will be harmed if your meta description is the same as other sites. The names of your pages may differ. But all of them will seem to be the same since the descriptions are all the same. 
So, it's critical to have distinct descriptions for each of your website's pages. In on-site SEO research, we discovered that over 30% of sites had duplicate meta descriptions. Also, 25% of pages had no meta description at all.
You'd be better off keeping it blank rather than producing redundant meta descriptions. Google will choose a snippet from the page that contains the query's keyword. 
It is best to develop a custom meta description for every page you want to rank. Make it relevant and detailed, and ensure it corresponds to your content.
4) Keep Website Meta Description Short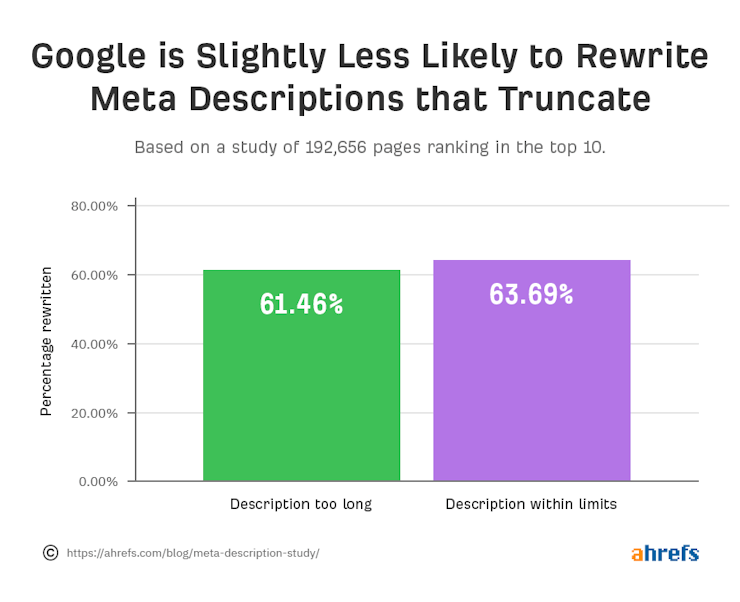 Google allows for a 1-2 line (160-character) summary. As a result, your descriptions should provide a compelling reason to visit the homepage in one to two phrases. 
It won't fit if it's too lengthy. Google will truncate it. So, consumers won't comprehend what your site can provide.
Also, people will just ignore it if it is too ambiguous. There are always more options to choose from.
So, in two phrases or fewer, try to connect with a searcher's emotion. Don't miss optimizing it for search engines.
Start your description with the most crucial material, such as action statements or a few lines about your business.
Tip: Keep it to 155 characters or fewer.
There isn't such a concept as a perfect length. It is entirely dependent on the statement you want to convey.
Give yourself enough room to convey your point, but make it brief and snappy at the same time. 
If you go through Google's search results, you'll see that snippets of 120 to 156 characters are the most common.
Regrettably, you do not have full authority over what Google displays in search results. It will sometimes display the meta description, and other times it will just pull a few phrases from your content. 
Keeping it brief is your best strategy. That way, if Google displays the meta description you wrote, it won't be chopped off.
5) Use Active Voice For An Actionable Approach

A meta description is an invitation to your website. So, you must consider your customer's potential motive to visit it. Make sure your description isn't boring, complicated, or obscure. People need to understand what to expect when they visit your page.
You can consider meta descriptions to be the welcome mat for your online business. It needs to be interesting and actionable. Explain to your visitors what they may anticipate from your website.
Make it compelling, and straight to the reader. Visitors will know what they will receive if they hit the link!
6) Add A Call-To-Action Button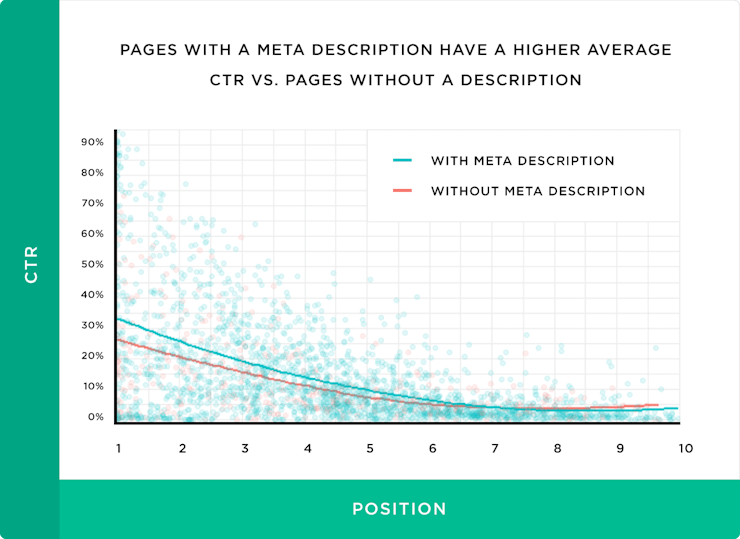 The meta description tag in SEO should include a call-to-action to attract customers. 
This is kind of: "Hey, we have such-and-such products and services you are looking for, learn more!" 
It is like what we mentioned before in the actionable approach. But, we wanted to underline it again. 
You will see in the meta description SEO example people use sales texts. In this situation, the "product" they are attempting to sell is the linked page. 
It will compel people to click through to your page if you include a call to action in your meta description. They assist readers in comprehending what you provide and what they will get. 
Focus on distinct motives driving their search for e-commerce shops.
If you search for a more general word, such as men's shoes, you'll see that the top results contain several category sites. People surf these sites rather than product pages when they want to purchase something. Convey those objectives in your call to action.
The following are some e-commerce call to action examples:
Find out the latest trends
Besides these, Learn more, Get it now, and Try it for Free are common call-to-action examples.
7) Use Of Your Target Keyword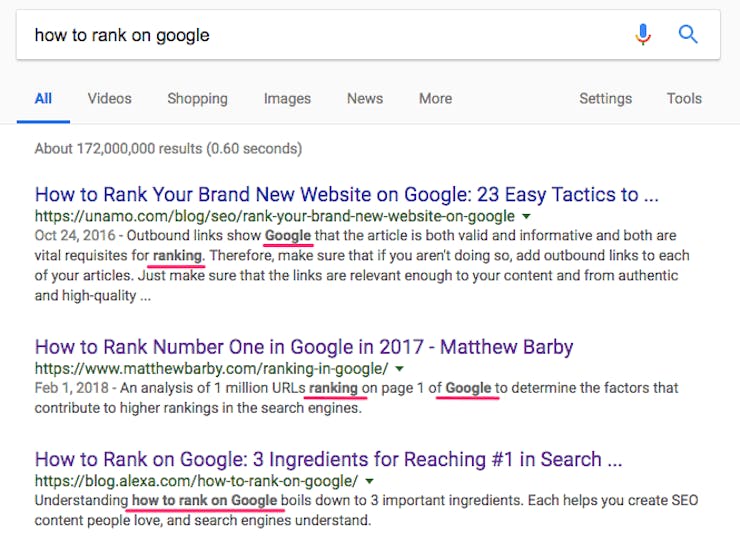 If a component of the meta description text matches the search query, Google is more likely to use it and emphasize it in the search results. 
This will make your website's link much more appealing. Google occasionally highlights synonyms. Having your offers highlighted helps them stand out even more.
Identify a strategy to incorporate your target phrase to assist search engines in ranking your page. Ensure it looks like a person wrote it. For that, include the term into your description organically.
8) Provide Specifications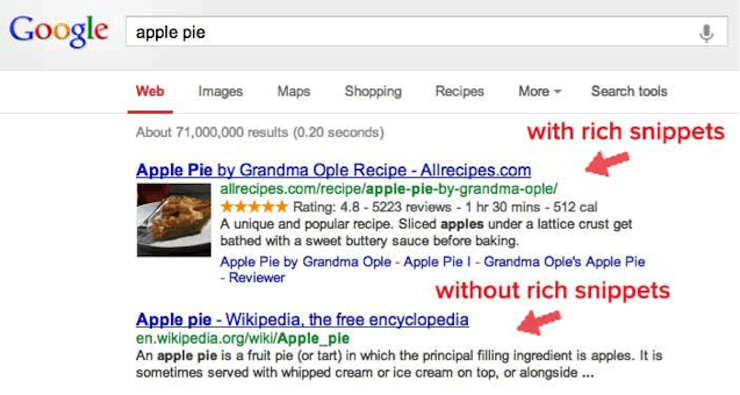 Showcasing specifications of your products and services is a brilliant use of meta description. If you're selling a tech product, it's a good idea to concentrate on the technical specifications. 
For example, provide the features, price, and other details. 
If the visitor is seeking those goods precisely, you won't have to persuade them. Collecting rich snippets will help you maximize your results in this way.
9) Double-Check That It Corresponds To The Page's Content
This is a crucial point. If you write meta descriptions to deceive users into clicking on your result, Google will find out. If you do it, they may even punish you. 
Inaccurate descriptions will certainly boost your bounce rate. People will lose faith in your firm because of this. For that reason, it's a horrible idea. That's why the meta description should match the page's content.
10) Avoid Using Meta Description Generators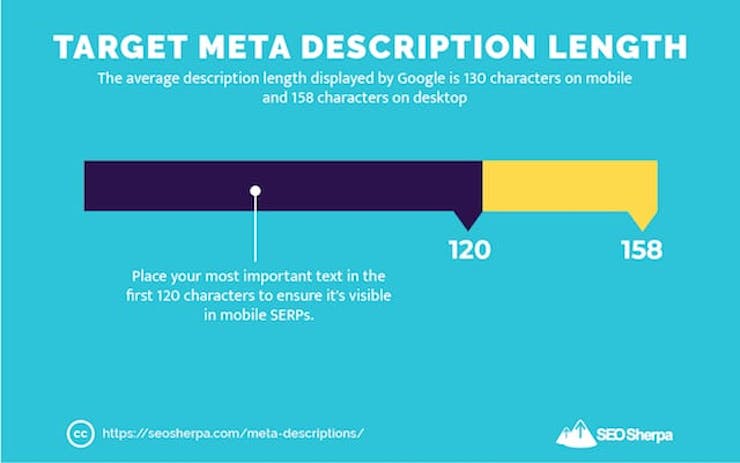 There's a considerable discussion regarding whether to employ meta description generators. Descriptions generated by tools might be bland and lack individuality. 
If you have thousands of web pages and insufficient resources to write them, it may work.
Now you know how to write meta descriptions, you're better off creating meta descriptions manually. Particularly focus on sites that receive a lot of search traffic.
Pro Tip: Include a clear call to action, treat an emotional pain point, or provide visitors with a particular reward to get a good SEO meta description.
Meta Description SEO Example
Not all the meta description SEO will be the same for all pages of your website. You need to customize it according to its purpose. 
Homepage
Reading rivals' meta descriptions makes the process easy. But keeping the description simple makes it difficult to write.
The excellent descriptions provide a quick summary of the entire site's content and an interesting cause to visit. 
Many searchers just click on the link, which will satisfy their interest without requiring them to think about it.
Product Page
Your product pages aren't meant to represent your overall business. So, creating meta descriptions for them is simpler than writing them for your homepage.
They're advocating for something that gives buyers a genuine advantage.
Pages For Each Category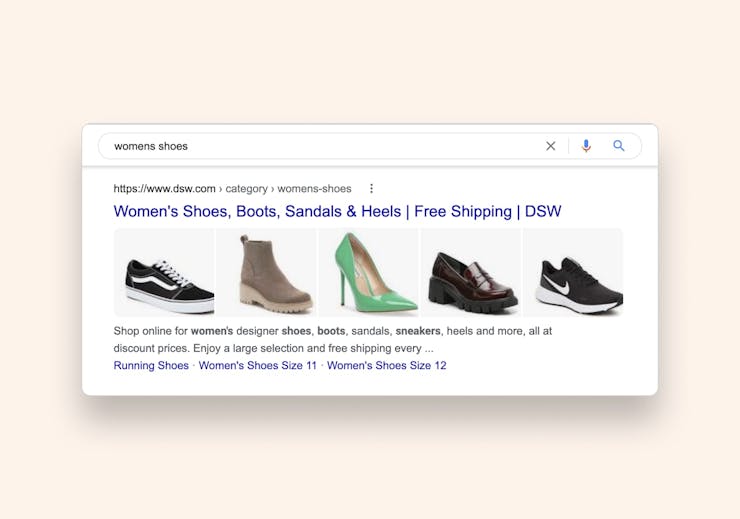 Your last focus will be the meta descriptions for your category or collection pages. This page's goal is to gather comparable goods together so that buyers may explore them. 
For broad, high-volume keywords like "men shoes" or "women sandals," collections pages may appear.
The meta description of your category page should provide essential information about the collection to entice visitors.
If you want to make your description interesting, you can use checkmarks to point out the sub-collections of items.
We also recommend providing figures in the description and using attention-getting terms like "free" or "exclusive". 
If you are offering any special deals, such as free delivery or special discounts, mention that in your meta description. It is very useful for visitors! 
Online Tools For Meta Descriptions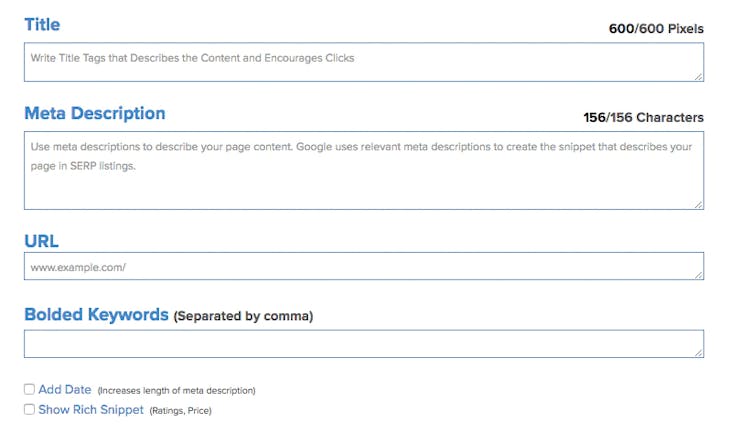 The tools listed below will help you check your meta descriptions:
On-Page SEO Checker – This tool scans the keyword in your title and meta tag.  Check the complete analysis for keyword usage in meta descriptions. It also offers you a comprehensive list of practical, custom-tailored on-page optimization advice for each page of your website.
Portent - The above image is a snapshot of this SERP view generator. It evaluates how your meta description, title, and URL will look in search results. Examine the pixel width of your title, the character length of your description. Also, how various keywords inside your description will appear highlighted.
Conclusion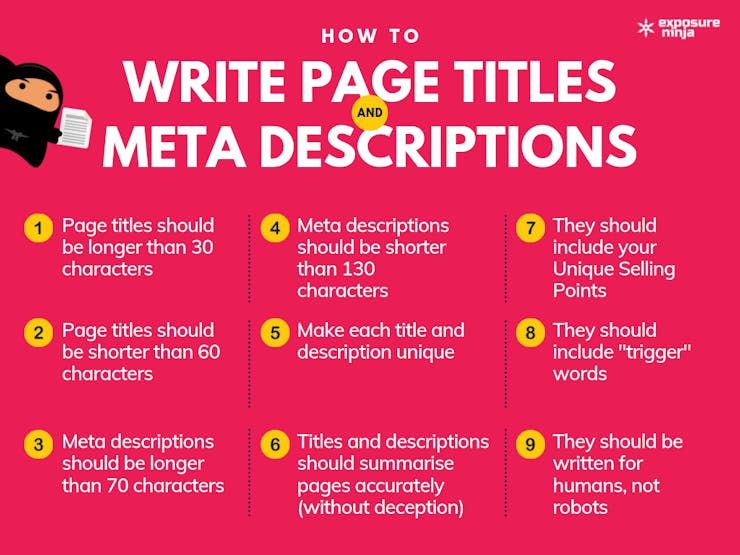 Interesting meta descriptions are critical for increasing website traffic. It provides a positive user experience and increases conversion rates. Implement the methods and tips from the best digital marketing company in Kolkata. You'll be well on your way to optimizing your sites. And you'll soon notice the increased traffic and sales as advantages of the good SEO meta description.