Everyone wishes to save the most memorable events of their lives. So that they can cherish the memories later. And marriage is indeed one of the crucial events of your life. 
That's why the trend for the wedding photography business is growing. If you do photography then you can become a professional wedding photographer. There are a lot of chances to become successful.
A new survey shows that the cost of medium-term wedding photography is about 48,000 INR. It's a wonderful decision to start your wedding photography business.
Now you might be thinking about how to start a wedding photography business. In this resource, we will discuss wedding photography business tips. Also, steps to become the best wedding photographer.
How to start a wedding photography business?
1. Recognizing the competition of the wedding photography business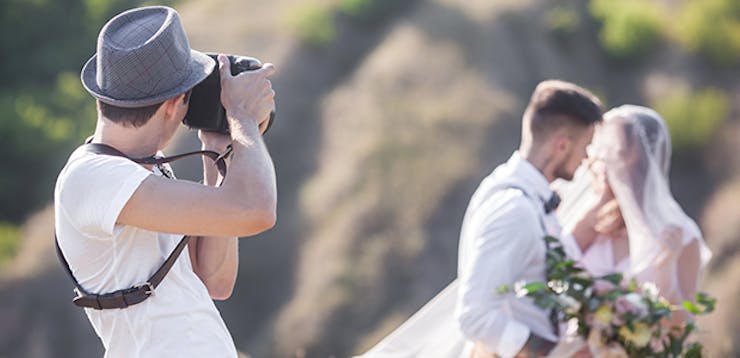 As a professional wedding photographer, you need to first know the photographic industry of the weddings business. You begin with finding wedding photographers working in your region. Then understand their target customers and their wedding photography business ideas.
The majority of this material may be found on their portfolio websites. Often wedding photographers display galleries of weddings they've photographed. Also, the services or plans they provide and the price list.
Determine how you can set yourself apart from the competition in your region. What will be your unique selling proposition? It might be anything as simple as your price, photographic style, or how you offer your wedding photography services. 
2. Begin by focusing on your close circle to grow your wedding photography business
Your relatives or friends may hire you and inform you that your photography is fantastic. But it is not enough. When that family and friends begin suggesting your services to strangers. That demonstrates your trustworthiness and expertise in your technical abilities.
Soon you start receiving recommendations on a regular basis. Get yourself ready to take up projects. This will put you forward to being a professional wedding photographer.
3. Start doing free wedding photography projects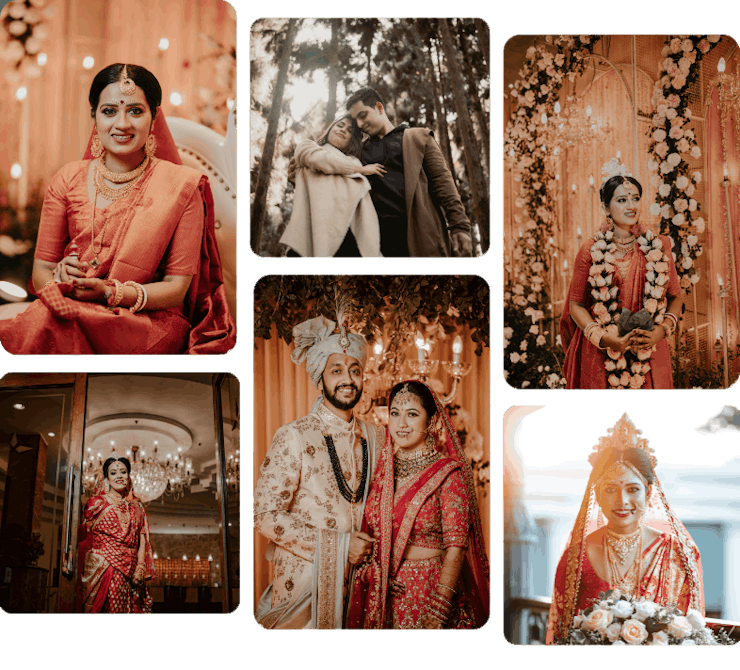 It will take a lot of preliminary work and planning to get your first genuine customer to employ and engage you as a professional wedding photographer.
Take on unpaid wedding photography projects to start building your portfolio. Ensure that the marriages you choose to photograph for free are premium events. So, you can obtain high-quality portfolio photos.
4. Be strategic with your pricing and keep track of your costs
To run a successful professional wedding photography business, you need to balance your costs and revenue. So, you can make sure you constantly earn money. Don't overlook your costs and underquote to get the business.
Make sure you total up all of your costs, both fixed and variable. Tools, rents, insurance, set supplies, helpers, and processing time are all included.
To be a professional wedding photographer, you must first identify your value. Choose how much you would charge for your service. 
Compare your prices with other local photographers in the area. A safe approach to branch out is to provide competitive prices.
5. Build a reputation for yourself in the wedding photography business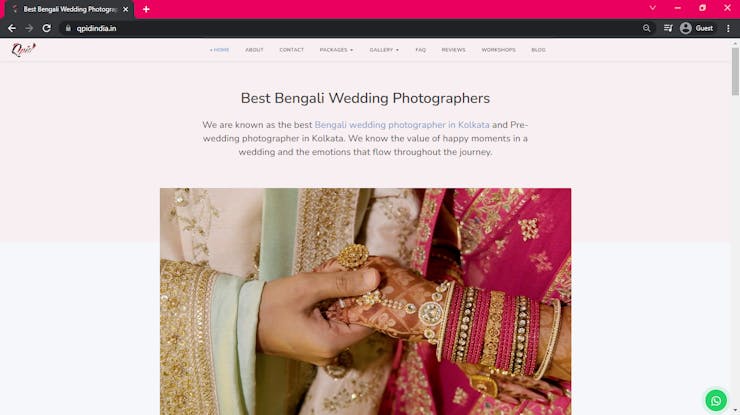 To stand out and gain a reputation as a professional wedding photographer, you must first develop a brand voice. 
Your wedding photography business's name, logo, and other components are all part of your brand. Maintain consistency of your brand identity across your business cards, brochures, sales materials, and website. 
Showcase your professionalism. Also, ensure that your brand image is top-notch to build trust in your customers.
6. Make a fantastic wedding portfolio site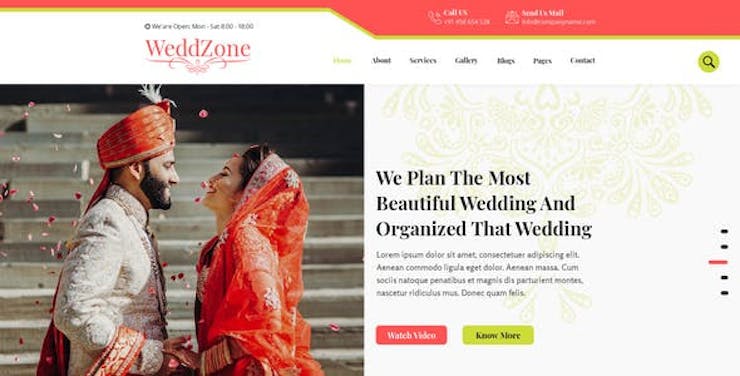 A professional wedding photographer should have an excellent wedding portfolio website. There you will share your best clicks. The goal is to develop a personal brand that reflects your photographic style.
So, potential clients will be able to see your wedding photography business work more easily. 
It's critical to make it simple for site visitors to contact you. Maintain a clean, fresh, and brief website for your wedding portfolio.
There are several benefits of having a wedding portfolio like:

Increased audience outreach as a result of website availability 24/7

Ensure online exposure and visibility that creates brand awareness 

Backlinks from reputable sites will increase your wedding photography business's credibility.

Get client insights through the monitoring of user behaviours

Answer common questions via the FAQ page

Your resources can educate visitors about your business

Generate qualified leads easily

But as the portfolio is loaded with high-quality images, it may become slow. Page speed affects SEO. Also if the website keeps loading users will be bothered. Visitors' experience matters to rank a website. So, ensure your wedding portfolio is fast enough. 
You can use Gtmetrix to check your website speed.
7. Pay attention to the legal things of your wedding photography business
Contracts and agreements are necessary for both you and your clients. The contract specifies the nature of the services and deliverables you will give to the customer. Also, the cost you will charge.
It can prevent uncertainty at the conclusion of the project. The contract should clearly state what is and is not included in the work for both parties. 
Clients frequently want more time or more deliverables like motion pictures, prints, albums, etc. In the contract, make sure to include the pricing for any extras.
8. A client-proofing framework to manage your productivity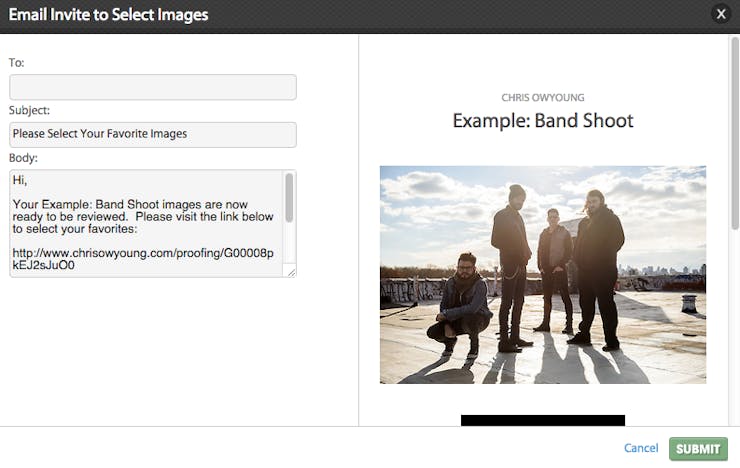 Use an online client proofing tool to share client galleries. It improves your process of selecting deliverable photos.
Clients will love to see, discuss, and provide comments on their photos. You may also send your files to clients online. It saves time and effort. 
9. Write blogs about your wedding shoot activities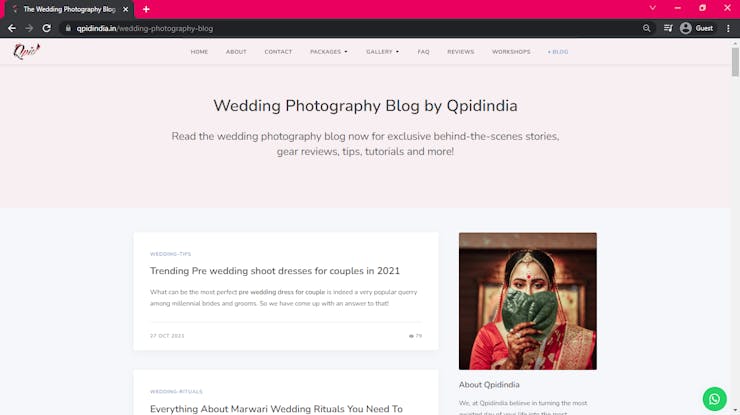 Writing isn't for everyone, but it can help a lot. Your wedding photography portfolio will grow as a result of your blogging. Couples may notice you while searching for professional wedding photographers on search engines.
Don't forget to build your portfolio website for local SEO. This will help you get found when people search for things in your area.
You can use blogging to increase traffic to the site. It improves your inbound marketing activities and engages more potential consumers at a low cost. Consistent blogging helps to create brand recognition while also offering relevant and helpful information to your target audience.
There are companies like Favfly that provide content marketing and SEO services. So, you can focus on other aspects of your wedding photography business.
If you don't feel confident writing blogs, you may have a photographic blog. But don't neglect to do SEO on your wedding photography sites.
10. Create a Google My Business profile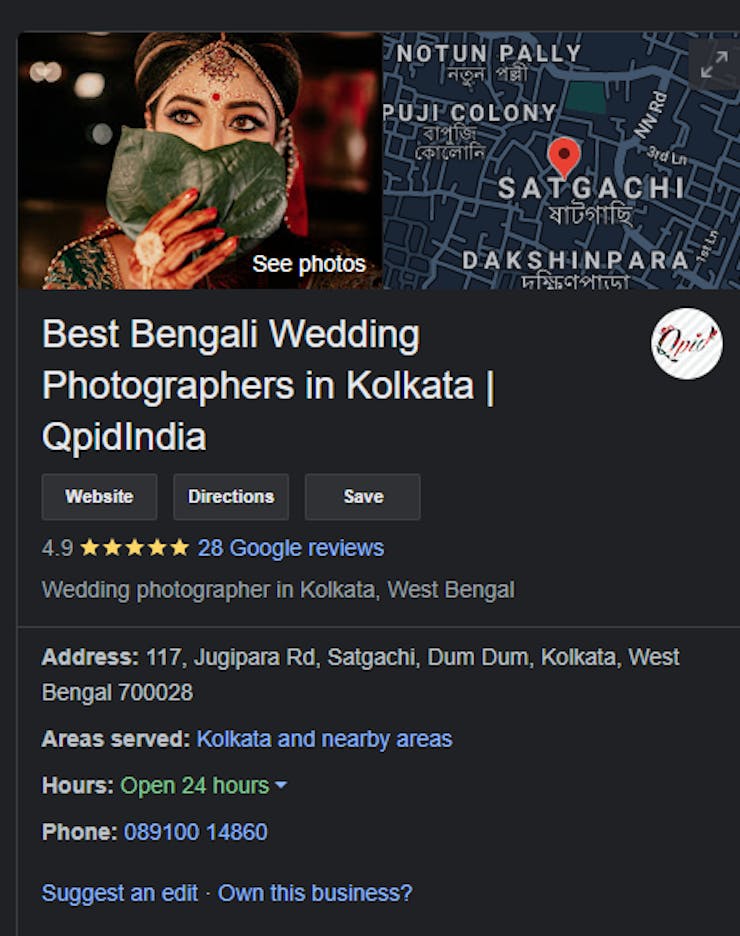 This is particularly essential for local photographers.
Create a Google My Business account. Request testimonials from a few recently pleased clients. Post some gorgeous photos of you and your work. 
This listing increases your chances of attracting organic visitors from your neighbourhood.
Remember to optimize both your site and your GMB listing for local search. You'll receive more visitors and perhaps more bookings. 
All these things might sound intimidating. Don't worry we are here to answer your queries. Contact us if you have any questions regarding Google my business listing. It will be a pleasure to help you!
Complete setting up your websites with SEO. Take a peek at your Google Analytics account after that.
Google Analytics is very much important to see your progress. Create an account. It's completely free and powerful. Find out what is trending.
Extract the insight data. Then use it to make business, sales, and marketing decisions. It will maximize the potential and value of your wedding photography business.
12. Keep track of numbers
Set some short and long-term numerical objectives and KPIs for yourself. They must be both practical and quantifiable. 
This will aid in the evaluation of your marketing efforts. Check the effectiveness of various campaigns, and the return on investment for new services. 
Make it a practice to go back and look at the KPIs every month or quarter. Identify growth trends to reinforce particular activities and tactics. Also, cut down loose ends if something isn't working.
13. Listing on 'marketplaces for wedding photography'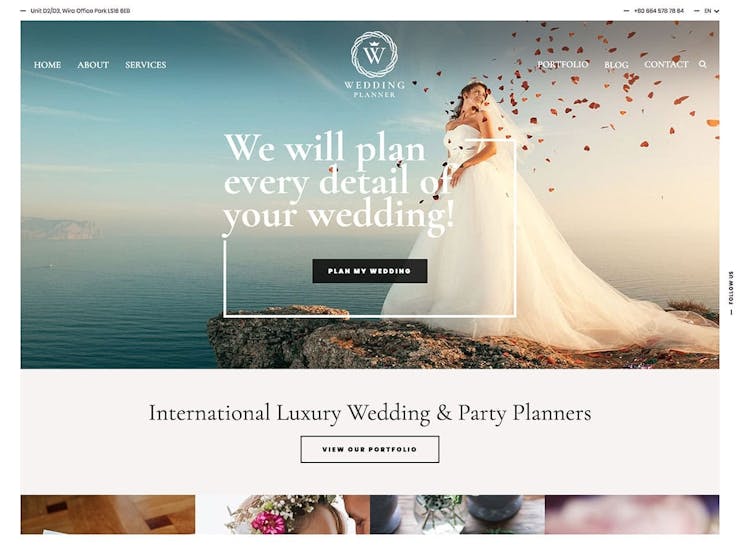 Future couples often use wedding forums as their initial point of arranging their ceremonies. The key wedding services, like florists, DJs, caterers, and wedding planners, may be found on these sites.
Most wedding planning websites provide free listings for wedding photography businesses. Be one of them. Because these wedding planning websites attract huge numbers of would-be couples. 
But there is a competition between many wedding photographers. Previous client reviews on these platforms might give you an edge out among other photographers.
14. Get recognition in wedding publications and blogs for your services
There are several wedding publications and websites that feature the industry's experts. It includes fashion designers, makeup artists, photographers, and other wedding industry experts.
These publications provide a variety of options for wedding essentials. So, brides can select everything from a premium bridal gown to a wedding venue. 
Try to get showcased there. You can reach out to the editor. Or run ads on wedding blogs. It will give you much exposure.  
15. Make active and innovative use of social media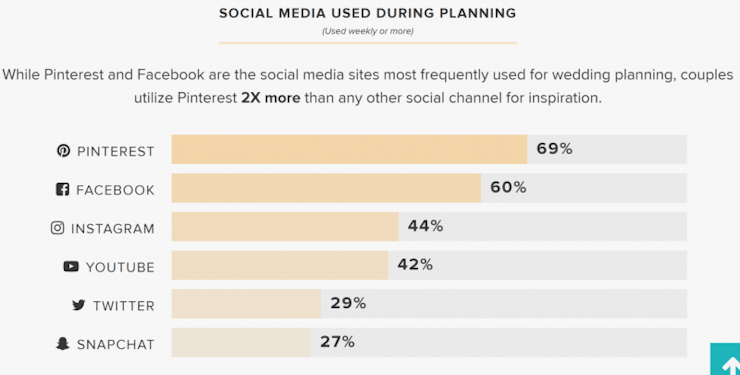 Social media is an important element of marketing for most creatives. This also demonstrates how competitive the market is. 
Instagram is the best platform to showcase your work. We, at Favfly, found that our professional wedding photographer clients get positive leads as their account is managed properly by us. 
You can reach out to us to grow your Instagram organically. 
So, how could wedding photographers use their talents to set themselves apart from the competition? It won't be enough to just publish a picture every day.
Brainstorm some exceptional ideas. Be creative to get viral.
16. Keep an eye on mentions of your wedding photography business
Try to know what your clients say about you online. 
Even if you aren't tagged, there is a way to see such messages. It's completely free to sign up for Google Alerts. 
You may use a premium service like Mention. First, try their free trial version. 
Receive daily/weekly notifications whenever someone mentions you or your company. It includes all social media networks like Facebook, Instagram, Twitter, Reddit, and even website mentions. 
Follow up on your online remarks. It can help you find positive reviews to share. Also, fix the negative reviews depending on the user's issue.
17. Make your social media accounts automated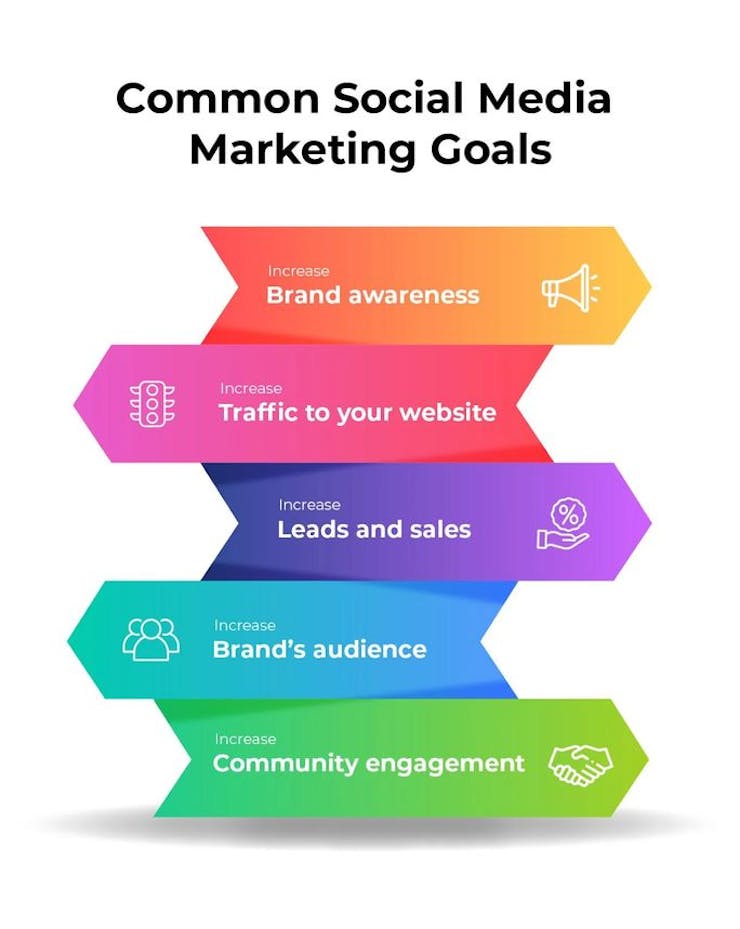 Consistency is crucial on social media. Try to publish every day at the same time. 
Consider using automation software. So, you don't have to post on a regular basis.
Latergram, Iconosquare, and Planoly are excellent Instagram apps. They all include a wealth of insights, analytics, and statistics. But you can't auto-schedule Instagram Stories with them. 
Facebook's own built-in scheduling tools are available. Plan out all of your posts, including images and content. Schedule them all according to time.
18. Expand your social circle
When it comes to launching a business, networking is crucial. Engage with individuals both online and offline to expand your network. Arrange meetups, free shoots, webinars to showcase your expertise.
Reward and encourage people who suggest a new business to you. Your admirers and followers will aid in the growth of your wedding photography business.
19. Boost your Instagram following effortlessly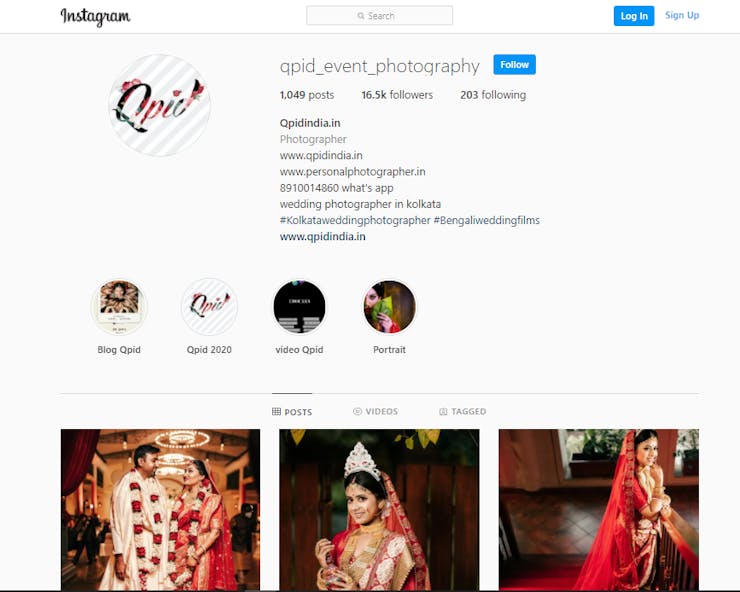 Instagram offers a feature that allows you to follow a hashtag and view all relevant posts.
So, use relevant hashtags and geotags like venues to help would-be couples find you. Keep note of terms like #engaged #newlyengaged #bridetobe #proposal and others that your potential clients could use.
20. Take advantage of the opportunity to go LIVE
Most wedding photographers only share their work on social media. Therefore, it's difficult to interact with followers and admirers.
Streaming LIVE on Instagram or Facebook is a fantastic opportunity to interact with them. People can engage with you and ask questions. So, you'll have enough to discuss. 
Try to broadcast Live every several weeks from home or premium venues.
21. Seek out testimonies from clients for your wedding photography business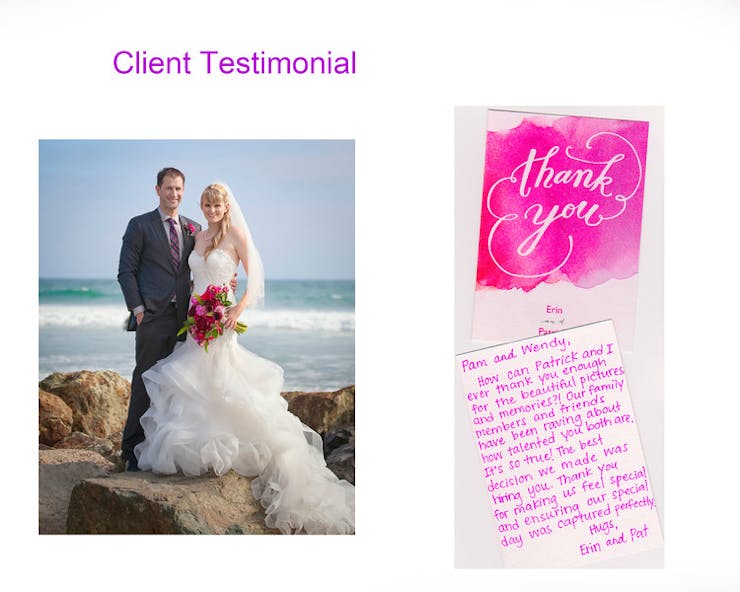 Every time make sure to ask the couple for feedback on their wedding photographs. This may have a significant influence on a photographer's social media marketing activities.
If you have reviews on your website, Facebook page, and Google My Business account, it is fantastic. Because it provides strong social evidence for your potential consumers. 
Ask your happiest and most charming couples for a video testimonial. They should put it on their social media accounts so their friends and followers may watch it. You may easily share it or request a copy of the material from them. 
Give them a modest present as a token of your appreciation, such as a free print, a short session, or a discount on your family picture session.
22. Launch a challenge or a giveaway
Giveaways particularly on Instagram are an excellent method to gain additional followers and new clients. 
A free engagement session or freestyled photos for a would-be couple are examples of appropriate prizes. Ask participants to tag a bride-to-be with a simple assignment.
Encouraging contestants to post about your offer via Instagram Stories. They can explain in a short video why they want to win, and tag you. So, you can see it is an alternate approach to record contest entries.
This will provide free beneficial exposure for your work and improve your Instagram analytics and visibility.
23. Collaborate with photographers that specialize in a different type of photography
Collaboration with other photographers from various genres. It is another method to use social media to enhance visibility for a wedding photography business.
Wedding photographers can collaborate with boudoir photographers. Because both boudoir and wedding photographers are accessible for weddings. Also, request them to tag you in any behind-the-scenes photos.
24. Make the most of your vendor network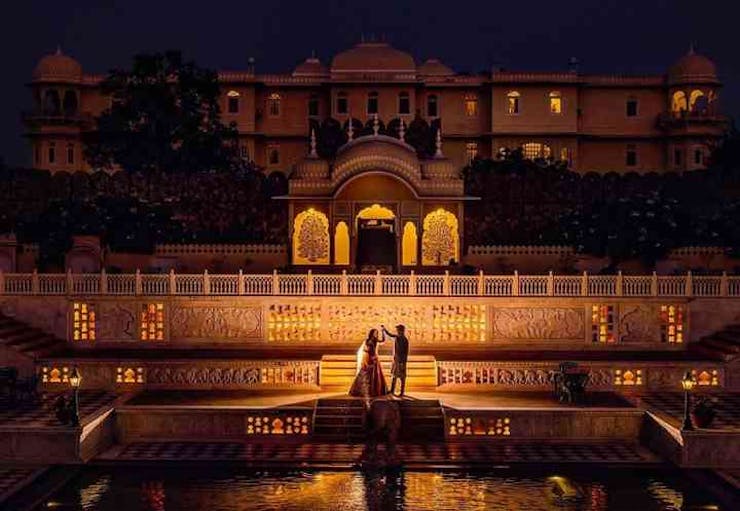 As a professional wedding photographer, you'll be working with wedding venues, caterers, florists, and wedding bands on a regular basis. Maintaining a positive relationship with them may significantly aid in the expansion of your wedding photography business.
Vendors can be contacted in a variety of ways, including:
Request that merchants suggest you to their clients: Vendors realize how important it is to have customers to run business. So don't hesitate to ask them to put in a good word for you.
Share a sample album with vendors: Give them a sample album of your work while speaking for you. This can assist you to acquire clients' trust and speed up the conversion process.
Take photos of vendors while working together: Click photos of vendors during a wedding. This act may enhance your vendor relationships. It can help you advertise your wedding photography business more effectively.
25. Before providing photographs, make an impact with teasers
Your clients are wanting to see their wedding photographs as soon as possible. As a newlywed couple, they have immense excitement to cherish their memories.
Use the excitement to your advantage by sharing a sneak peek with 30-40 images before providing the entire gallery a few weeks later. For a greater effect, we prefer presentations that are backed by music.
26. Packaging for pictures delivery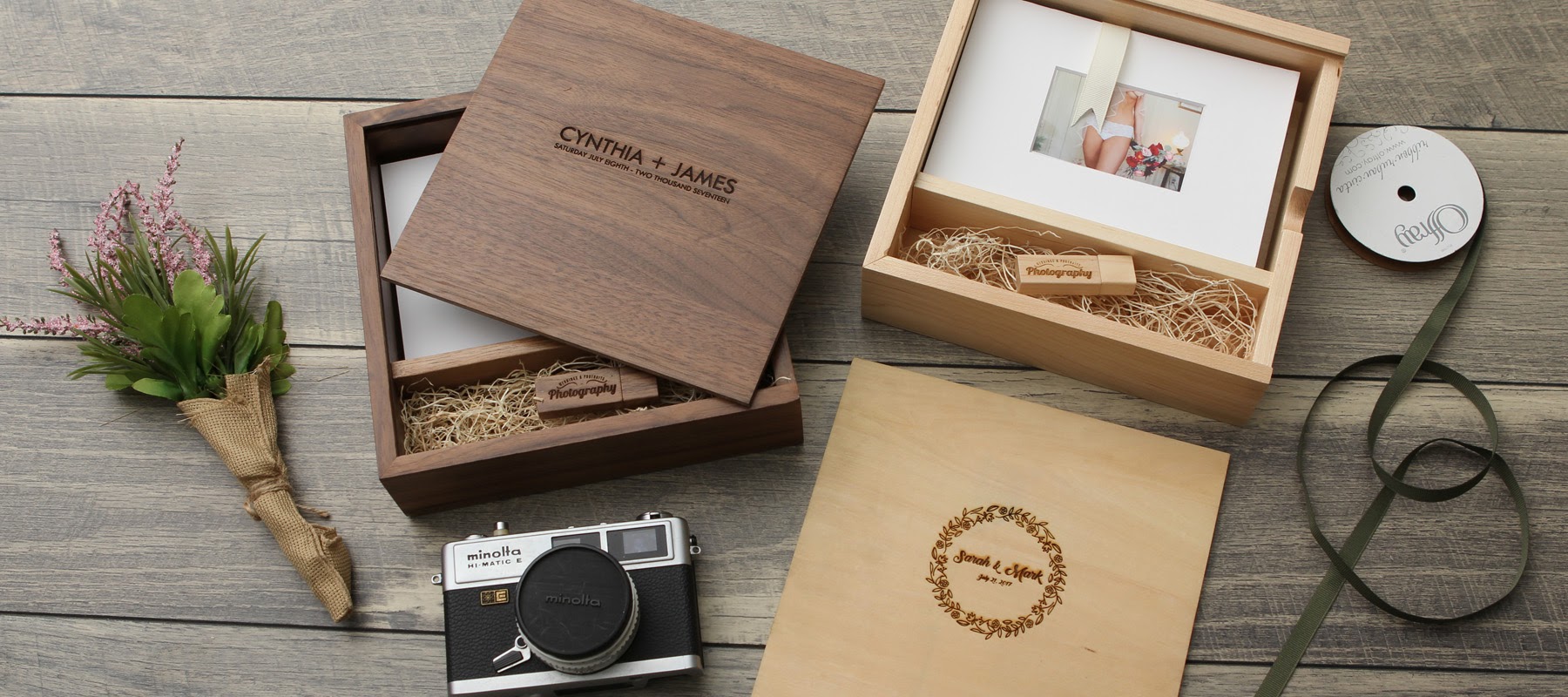 Use some attractive packaging while delivering clients a selection of prints, USB flash disc with the whole gallery. Encourage your customers to record their unboxing experience. And share that online with their social media followers. Also, show them offline to anyone who visits their home.
Consider giving printed albums to your customers. Pixellu, Pic-time, and Fundy software, for example, provide excellent design ideas. Decide the layout and pictures to be utilized with simple client interaction. Also, get great printing discounts from top print labs.
27. Offline marketing for wedding photography business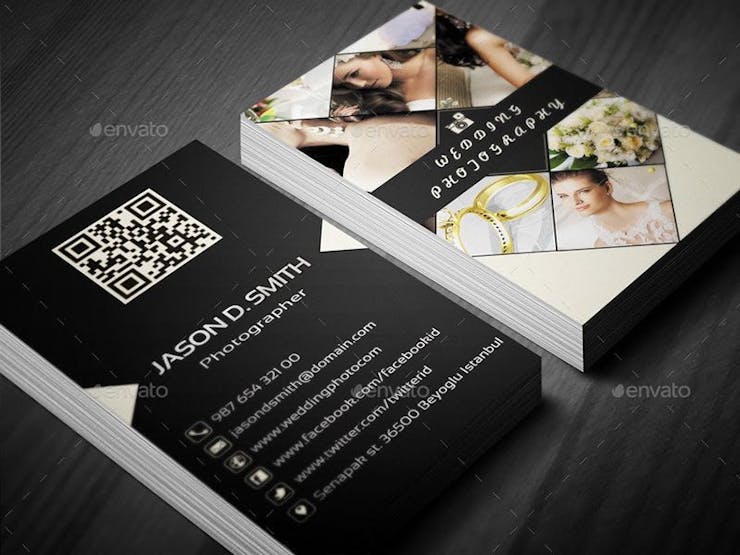 This is a simple change that can play a huge role in your wedding photography business. 
Print a bundle of business cards with your contact information. Include a proper URL to your portfolio on those cards. Give the guests the business cards and inform them that the photographs will be available on that URL in a few weeks/months.
Guests may now quickly access all of the photographs, purchase prints, albums straight from you. Also, they can approach you personally for their events.
Include email signup to see the photographs. So, you may advertise to those people directly, which is useful around anniversaries and birthdays.
28. Make a client manual specialized for your wedding photography business
You can save time on replying to frequently asked questions via e-mails and social media by a customer guide. It may also help you acquire new leads who can become customers. 
Simply develop a pdf guide with valuable and personalized information, suggestions, vendor recommendations, and planning insight. Then, in return for a user's email, use this as a content offer for free.
This helps in increasing the size of your mailing list and the opportunity for email marketing.
. 
29. Emphasize email marketing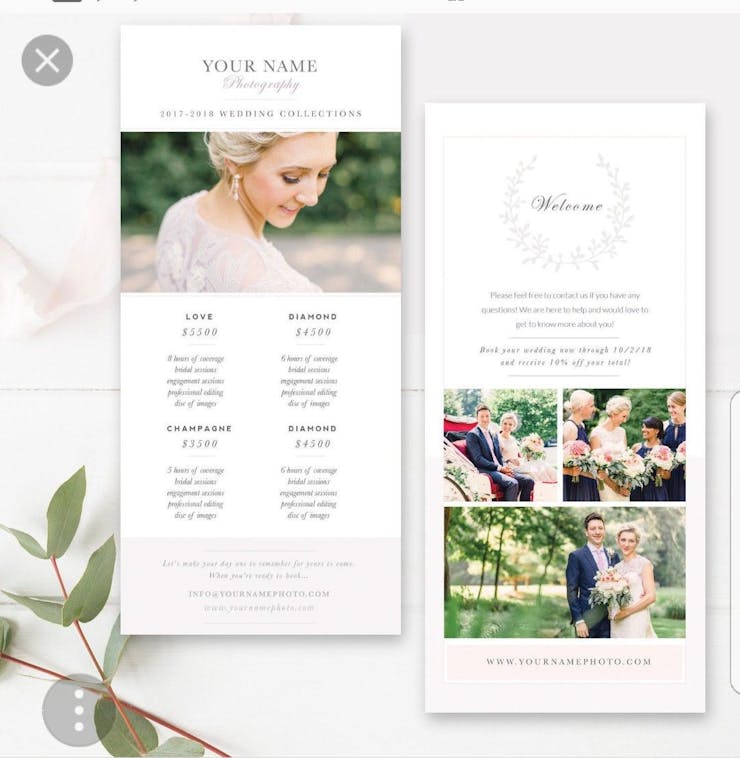 Once you get your mailing list, set an automated email campaign. Establish a process with up to 7 to 10 emails that will be delivered every 5 to 7 days. Maintain the time gap.
Provide more ideas, suggestions, and helpful hints in the first 4-6 emails. After those initial nurturing communications, you may try to entice them with an attractive one-time-only offering or an early bird discount on your following year's bookings.
30. For marketing, use Pinterest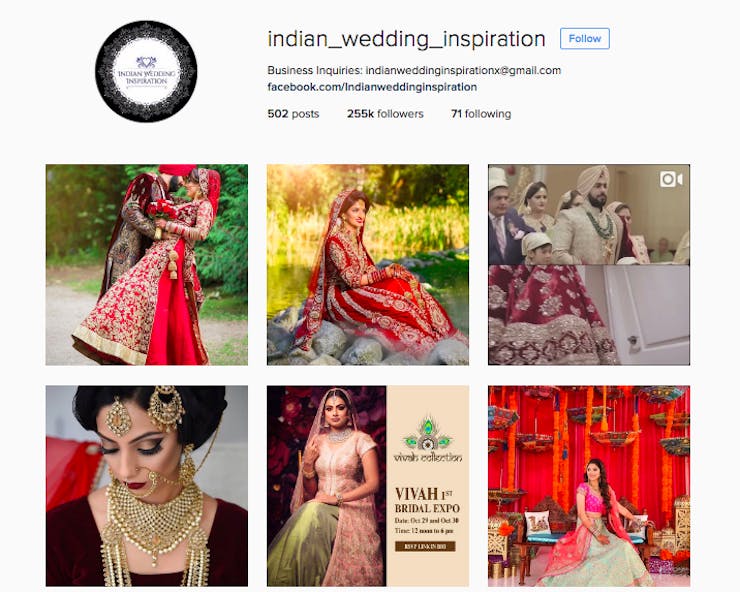 Pinterest is the most popular site for getting ideas and creating mood boards. Don't overlook the traffic and attention your site and work might receive from Pinterest.
Get an application that helps you to schedule your weekly Pinterest postings. Schedule photos adding captions and keywords. 
Don't forget to use your Google Analytics account to track the traffic to your website that comes from Pinterest.
Pinning approximately 5-10 photos every day is a great approach to get Pinterest working for you.
31. Discounts for a good cause
The wedding photography business is a seasonal career. So, you're probably also doing portrait sessions, family or couple shots, and other similar services. 
Offer a special deal to individuals who bring a friend to the session, such as "Have your buddy book me for pictures on the same day as you and receive both 20% off." 
If you don't want to discount your services, give them a freebie throughout their session. As a result, customers pay the full amount but receive 5 more retouched photos for free.
Now surely you know how to start your wedding photography business. Start implementing these wedding photography business ideas to grow your wedding photography business. Also, share this wedding photography business tips resource with fellow photographers.
FAQs:
How can I promote my wedding photography business?
As already discussed in the upper section there are lots of ways to promote. You can use the following:
Facebook and Google paid ads

Also, organically reach potential customers with SEO. Optimize all your business websites with specific keywords. So, your targeted audience will find you while browsing. 
You can collaborate with influencers, fellow photographers or wedding planners. It will give you recognition. 
Do I need a website for the wedding photography business?
Your web portfolio is your best advertising tool for wedding photography marketing. It's how potential clients will learn about you. A great online portfolio will have a direct influence on the quantity of work you acquire. Without a website nowadays, creative work is effectively out of business. 
To show off your individuality to potential consumers, create a vibrant, comprehensive About Me page. Remember to provide a pricing list.
How do wedding photographers get more clients?
With proper promotion and marketing, you can get business. You can acquire new leads from:
Google searches
Website
Recommendations from previous clients.
Other Wedding Photographers' Recommendations
Local Business Recommendations
Social media platforms
Is wedding photography a profitable business?
An entry-level professional wedding photographer with 1-4 years of experience makes a total remuneration of 400,000 INR yearly on average. It includes tips, incentives, and overtime pay.
Be the best wedding photographer to earn more.
How to manage a wedding photography business?
Become a registered wedding photographer.
Purchase the appropriate wedding photography equipment.
Build a wedding photography website.
Create a wedding photography portfolio.
Promote your wedding photography business.
And you are all ready to launch your wedding photography business. All the best from us!