Goals, SEO tracking and KPIs (key performance indicators) are crucial components of any SEO strategy. But most people neglect the importance of KPIs in marketing.
Of course, SEO takes a bit of time to provide results and revenues. But you can discover the influence of your digital marketing approach with SEO KPIs to track.
Is your SEO approach working well enough? 
Are you sure that your efforts produce positive outcomes? 
What can you do to boost your website's ranking and efficiency?
You can address these questions if you consider the top SEO KPIs.
But before jumping into the top KPIs for digital marketing, know the importance of KPIs in marketing.
Importance of KPIs in marketing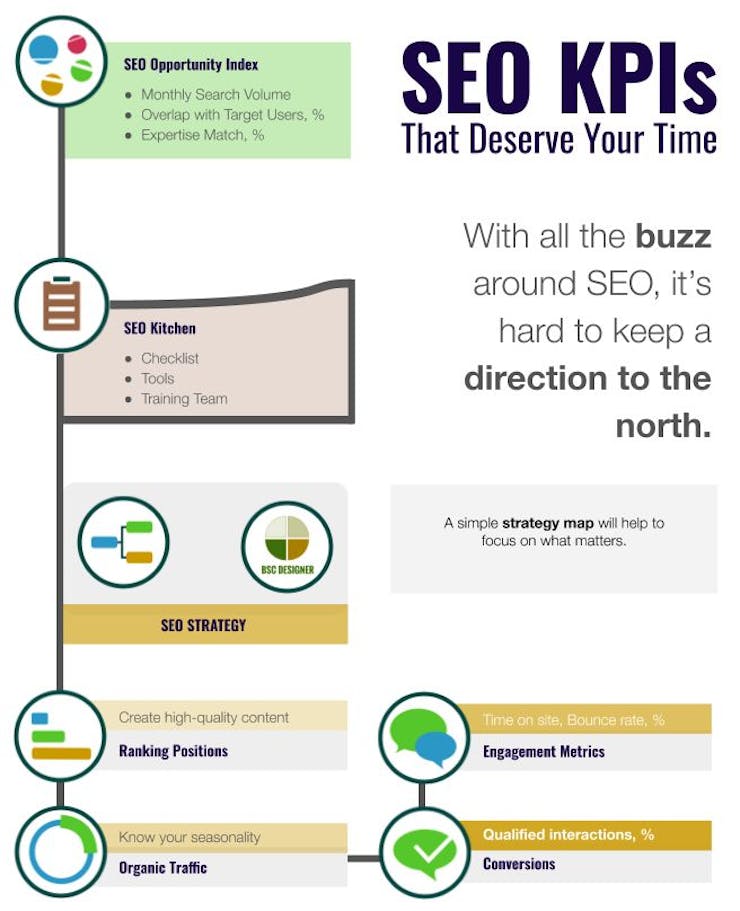 To complete your SEO strategy, do SEO tracking, keyword rank tracking, SEO rank tracking, and keyword tracking in SEO. For this, you need KPI monitoring tools to know the success of your campaign and identify whether you are doing right.
That's why the top seo company in Kolkata believes that SEO KPIs are the foundation of your marketing approach. It provides both monitoring and reports on improvement and progress. 
Marketing KPIs to track determine which strategies work and which do not. Analyzing the best SEO KPIs is the greatest method to prevent wasting time and money on things that aren't generating the intended return.
What are the top KPIs for digital marketing for monitoring the effectiveness of your SEO and digital marketing initiatives?
In this blog, our SEO expert will tell the most important marketing KPIs you should track for your SEO performance.
12 Top SEO KPIs to Track
1. Organic traffic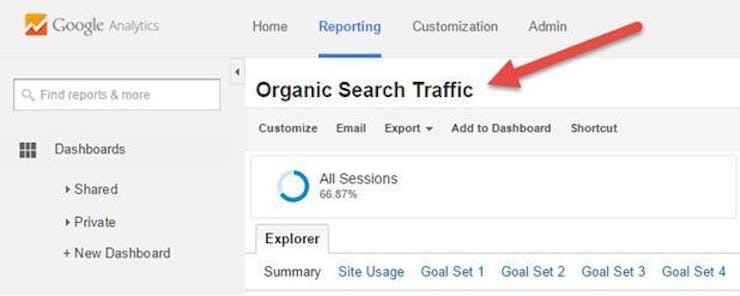 It's one of the best SEO KPIs to track how many people visit your website via organic search results. Growth in organic traffic indicates that you've achieved your key SEO goal of increasing the number of people who view and visit your website.
SEO boosts your organic traffic, which multiplies the number of visits to your site every day. This strongly equates to a surge in sales. Because the more relevant people come to your site, there is a greater chance to sell to them. 
It is critical to rank on the first page of a search query. The better your ranking in the SERP, the larger the number of clicks to your website.
You can track it directly in Google Analytics. Choose the 'Organic Traffic' field in the 'Audience > Overview' report. Also, link the data with a reporting service like Agency Analytics for a more thorough analysis. 
Another alternative is Google Search Console. That also provides great reports.
2. Organic Visibility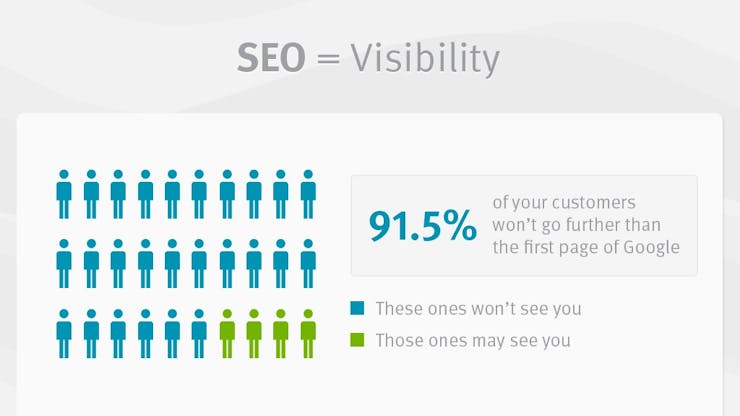 Organic visibility is among the top SEO KPIs that analyze if your prospective clients can organically find your website. It shows the frequency of your domain appearing in search results for the targeted keywords. 
Organic Visibility to assist you in easily summarising your organic ranking results. This number is nearly equivalent to the average predicted click-through rate for all terms monitored in the current list. 
One goal of SEO is to enhance a website's organic exposure for its keywords; we quantify this in terms of our proportion of traffic, or 'impressions' (the number of people seeing your organic listing).
Ranking well for phrases with little search traffic will not help you get organic visibility. So, if you're looking at organic exposure via the lens of keyword rankings, you'll need to factor in the search volume for those phrases.
You can track it in Google Search Console, which shows an increase in impressions. Get the total impressions to score in the Performance report. They record an impression every time a person visits the search results page that includes your URL.
Because impressions reflect the searches for which your site was visible, even if they didn't result in clicks, this is a great approach to developing exposure. A rise in impressions shows increased organic visibility. You can also consult a professional seo agency in Kolkata to increase your website's impression.
3. Keyword Ranking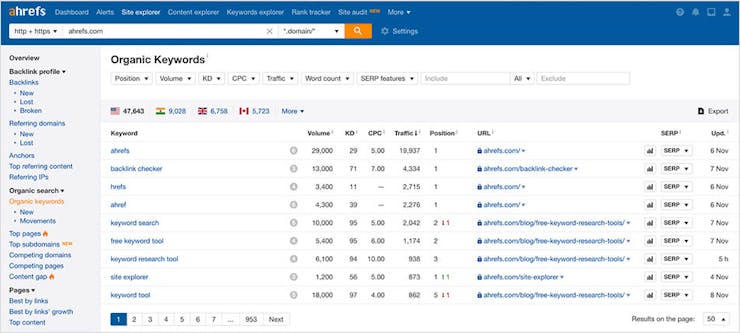 Because keyword rank tracking is directly related to SEO performance, we have included it on the top SEO KPIs list. If you've greater search rankings, you can achieve additional goals like traffic, leads, and conversions.
The position of your individual keywords in major search engines such as Google or Bing is keyword rankings. The better your website ranks for high-volume keywords, the higher it ranks in SERPs. Keyword rankings are displayed by numbers that correlate to your organic listing's position inside the organic SERPs.
You may use a service like SEMRush or SE Ranking to monitor keyword ranks. With tools like Serpstat or Ahrefs, track how your search rankings for the target keywords are changing. Simply add your domain, pick the kind of SERP, import the keyword list, and begin rank monitoring.
Creating high-quality content, link building, and active social following enhances ranks.
4. Leads and Conversions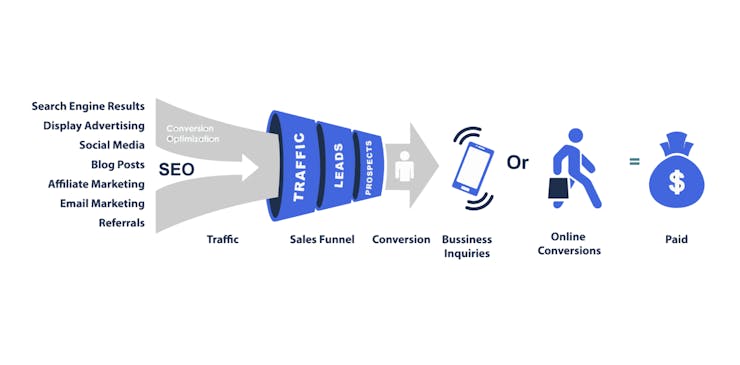 The first three ranking elements in our top KPIs for marketing list are about luring people from search engines to your site. The next most important SEO KPI is the number of leads that convert into sales. 
Conversion rates are the percentages at which visitors convert. For example, if 100 people come to your site and 10 of those convert, your conversion rate is 10%.
Focus on conversion rate optimization (CRO) and user experience (UX) to increase outcomes for this KPI.
A rise in leads indicates that you're not only attracting more visitors to your site but also those visitors are doing the required action in greater numbers. Thus, you can achieve the goal of expanding the client base and boosting revenue.
To track, take an average of conversions produced in the three months leading up to the start of your campaign and use it as a baseline for assessing growth.
In Google Analytics, set objectives for lead conversions and use the eCommerce report to track sales by channel.
Pro tips: To increase organic conversions create CTAs like:
Subscribe to our newsletter.
Submission of a contact form with a request for further information.
5. Bounce Rate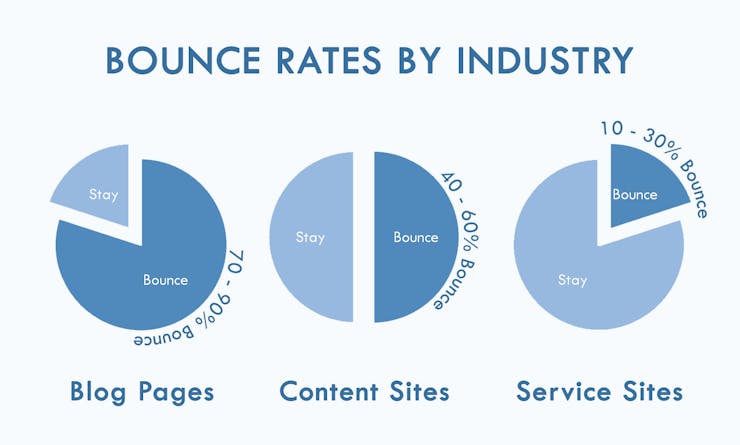 The bounce rate counts the percentage of times a person visits a page and then leaves taking no action. It divides the total number of sessions by the number of non-interactive sessions.
The bounce rate is among the essential SEO KPIs to track, since fulfilling the user's search query is a primary concern for search engine algorithms.
When a user types a term into Google, it aims to display them with the most relevant and high-quality results that will help them solve their problem.
Users returning to the search results page might signal that the ranking page is irrelevant, difficult to browse, or untrustworthy.
A low bounce rate suggests that your site is relevant, easy to traverse, and meets a minimal E-A-T (Expertise, Authoritativeness, Trustworthiness) criteria. A normal bounce rate ranges from 40 to 60%.

Monitor your bounce rate in Google Analytics' Overview report to determine which pages have high bounce rates. Experiment with various techniques to see what can help you minimize it. 
In Google Analytics, go to the Behavior section and tap Site Content. Then enter the All Pages tab to check your site's and pages' bounce rates.
6. CTR from organic sources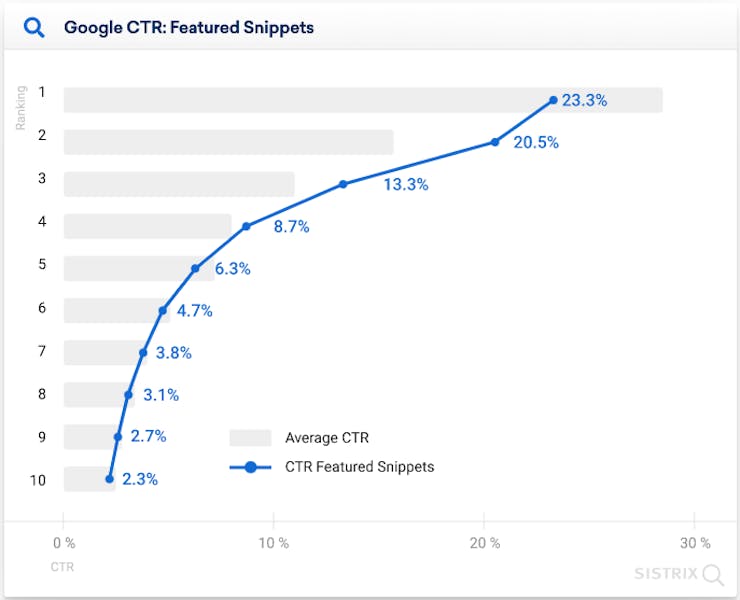 The click-through rate (CTR) is a performance indicator of the top SEO KPIs. It compares the number of people that click on your link to the total number of people who read the search results. 
CTR lets you know your consumers by telling you what performs well (and what doesn't) while attempting to contact your ideal customer. 
A high CTR equals a lot of traffic. A low CTR indicates that you're engaged to the wrong audience or that you're not compelling enough to get them to click. It leads to a drop in rank.
It is also a significant ranking sign for search engines. If your search snippets aren't visually attractive, even high rankings won't help you attract more people.
Organic CTR is critical to improving your content for search engines. Learning how to increase your CTR boosts your SEO and delivers more visitors to your site.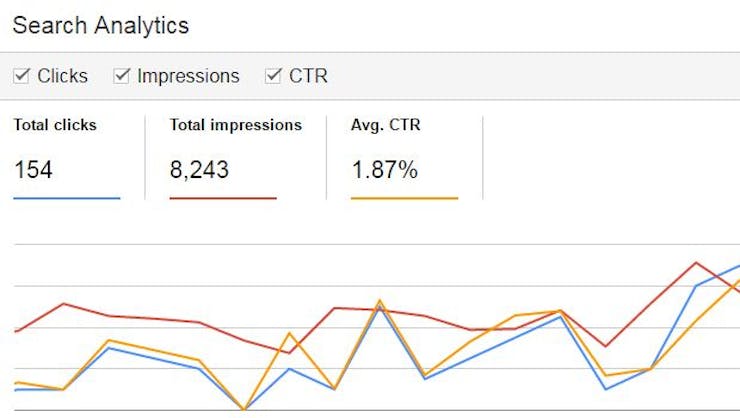 By monitoring your organic CTR, determine why your high impressions aren't resulting in substantial traffic and address the issue.
Use Google Search Console to track your CTR.
Recommended: 11 Golden Rules To Create Website Content for Your Website [2022]
7. Backlinks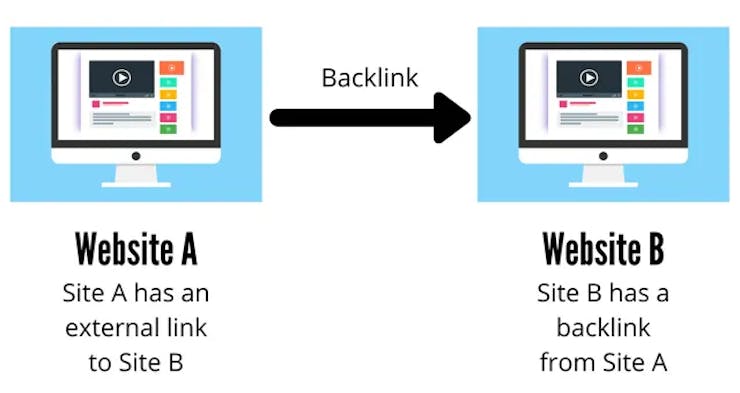 Backlinks are one of Google's top three ranking criteria and most important marketing KPIs. It enhances your E-A-T criteria and improves your ranking position.
Backlinks are links on a page that point to or connect to another website's pages. They are viewed as a recommendation for that material by Google. It has only two major components: 'quality' and 'quantity'. To get maximum authority, get as many high-quality backlinks to your site as possible.
You should track the following link metrics:
Number of backlinks in total
Total number of domains pointing to this page
The number of connections got
Use SEMrush's backlink analytics and backlink audit tools as KPI monitoring tools. Our SEO experts also suggest Majestic and Moz Links Explorer.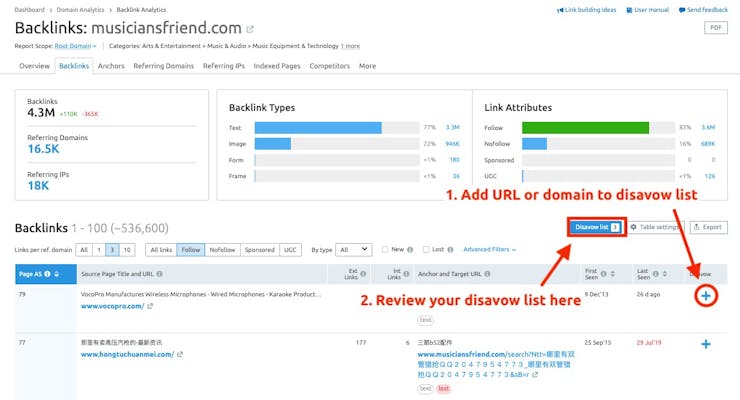 Each of these tools offers a link authority index and index ranking. When you input your domain name, you'll receive a score that evaluates the quality of your link profile based on the quantity and quality of referring domains.
It is critical to monitor the quality score of your link profile to verify that you are establishing a good link profile. Also, compare your own link profile to that of your nearest rivals.
8. Session length on average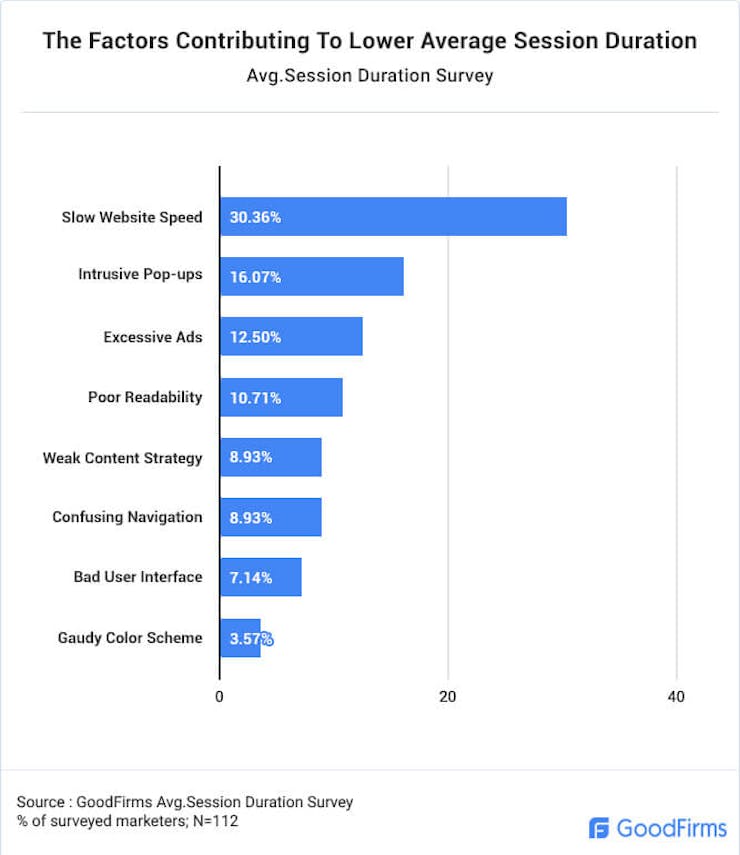 How long do your visitors typically spend on your website? Do you try to persuade them to remain longer? You can answer this with the average session length.
Average session time is an important indicator to consider in top SEO KPIs when measuring user engagement on your website.
Session duration measures the average duration of a visitor. If a user is inactive for 30 minutes, their session will automatically time out.
By monitoring session time, you'll be able to analyze the quality of your site and determine if any adjustments to its structure are required.
You should develop an in-depth content structure to get a longer session period. Add internal linking, breadcrumbs, hamburger menus, and so on. The more detailed your content and site structure, the longer visitors will remain.
Create an engaging, appropriate page title and a meta description with a visible, attractive call-to-action to encourage more organic sessions. Continue to emphasize large and obvious CTAs convert this captive audience into a lead or client.
This KPI can be tracked in Google Analytics by going to Behavior > Site Content > All Pages.
9. Time to Load a Page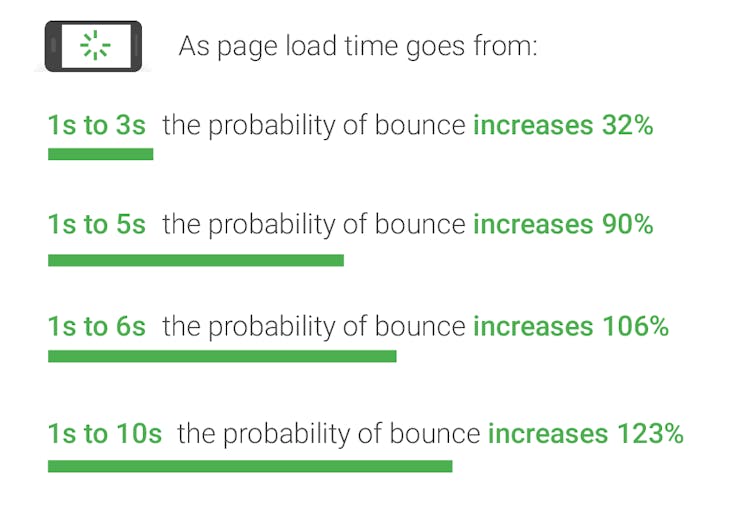 Page load time is an underlying factor to most of the top marketing KPIs we've examined so far.
Consider how you act as a user. If a site takes too long to load, you're more inclined to return to the search results page.
If the page speed is slow, you will not explore the website more. You're also less likely to convert since your first encounter with this organization was unpleasant.
The ideal page load time may vary depending on the website content and optimization. Most people will quit a website if it takes over three seconds to load.
Expect the bounce rate to rise with each additional second of loading. In fact, a website that takes 5 seconds to load raises the likelihood of a bounce by 90% when compared to a page that takes one second to load.
Use a tool like GTMetrix to receive insights into how well your site loads and suggestions for server, code, content, or image optimizations to optimize load time.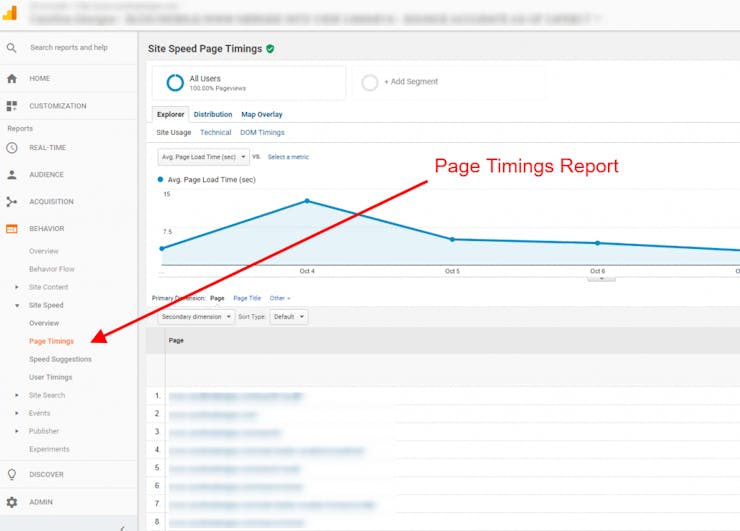 Keep the importance of page speed in mind whenever you do a website audit, whether it's altering a page layout or uploading a new image.
It's far simpler to optimize pictures, content, and code as you go rather than attempting to fix bloated code, large images, and redirect chains all at once.
10.  Branded vs. Non-Branded Traffic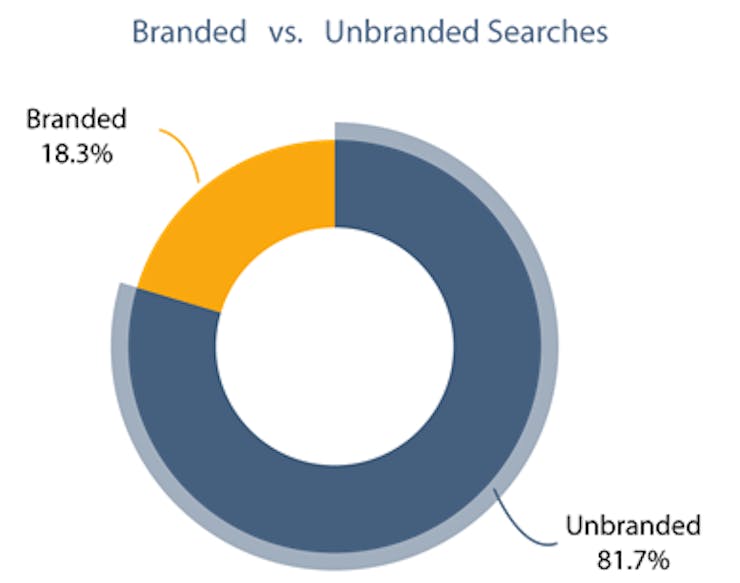 You should omit branded searches when analyzing the real impact of your activities on organic traffic. But a change in the percentage split of non-branded traffic that your site receives is another crucial metric of success and growth.
Branded traffic is typically driven by a prior awareness of a company or a suggestion from someone else. Perhaps a searcher has seen your social media advertisements, heard about you. Here the main point is the searcher was already aware of your existence. And this traffic is not because of your SEO efforts.
Non-branded traffic is typically generated when consumers are looking for keywords related to your products or services that you score highly on. Traffic from searchers who were perhaps unfamiliar with your company before seeing you ranked on the SERPs.
To track the percentage of branded vs. non-branded traffic, use the SEMrush organic research tool.
11. Return on investment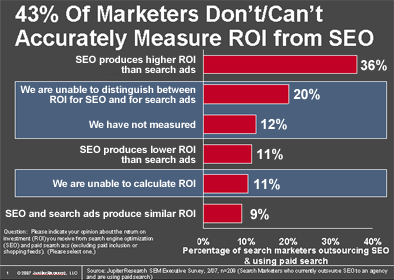 ROI (Return On Investment) is among the top KPIs for digital marketing that evaluates all of your marketing activities. When you calculate ROI for SEO, you'll see whether the net revenue is worth the money you spend optimizing your website.
The ultimate aim of any business' SEO strategy is to provide a return on investment. And whether it's an investment in an in-house team and resources or in an agency, it implies seeing more money returned than you put in.
Tracking ROI from your SEO initiatives is critical since it is the greatest indicator of success. However, keep in mind that it might take over six months to realize an ROI.
Here's how to figure out your ROI percentage: Subtract investment cost from the profit and then divide by investment cost.
This value is often negative at the start. However, if your method is effective, you will see a favourable rise within a few months.
Know what your ROI objective is, and analyze your performance regularly to understand and report on how it is progressing.
12. Problems with Coverage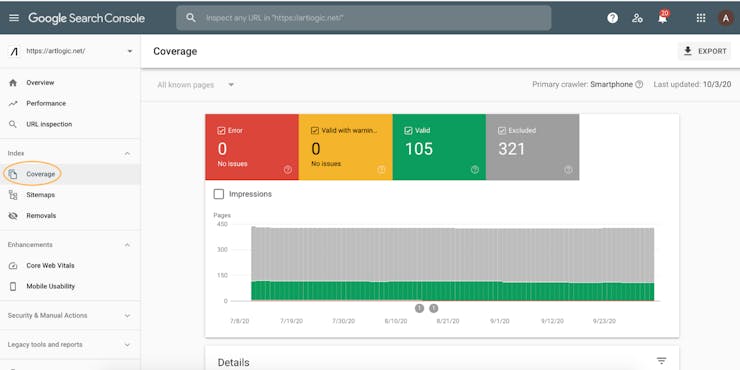 Google Search Console, formerly known as 'crawl errors,' helps you to investigate any coverage difficulties your site may be experiencing.
Typically, they are:
Crawled but not yet indexed
Duplicate or not canonical URL
Robots.txt has blocked this page.
And much more.
They may not be a genuine measure of success, but minimizing errors should be one of your primary goals. It guarantees that all of your pages are indexed and improves search rankings.
Monitor these difficulties as a KPI and monitor these issues frequently. It will help you stay on top of things that may develop into larger crawling or indexation concerns.
In Google Search Console, look for them under Index > Coverage.
Last Words
Setting and monitoring the best SEO KPIs assists you in focusing your efforts and continuously assessing the effectiveness of your strategy. Depending on that, upgrade your SEO approaches from time to time to hold a higher ranking.
Use Google Analytics and rank tracking, heat maps, site speed analyzers, and other analytic tools to magnify your website's strengths and remedy deficiencies.
Also, concentrating on these 12 top SEO KPIs and attempting to track them should cause a growth in the equivalent business KPIs: Customer base, Profit, ROI.