The most significant instrument in achieving your firm's marketing objectives is content, which is the magnet of your website. A great SEO strategy begins with quality content generation. It's also crucial since it's one of the few portions of your SEO strategy over which you have complete control.
So, it is very important to know the right approach and knowledge about how to write content for website.
One of the most common concerns new content marketers have is how to create website content. They can be unsure of how to put writing into usable, attractive online text.
To learn how to develop content for your website, including landing pages, you've come to the perfect spot. Go through the 11 golden rules of how to write content for website below. Also, we'll teach you to design effective, powerful, and results-oriented web pages by using keyword research, search engine optimization, and non-copy page features.
Create Website Content Tips
1: Identify the Website Content's Goal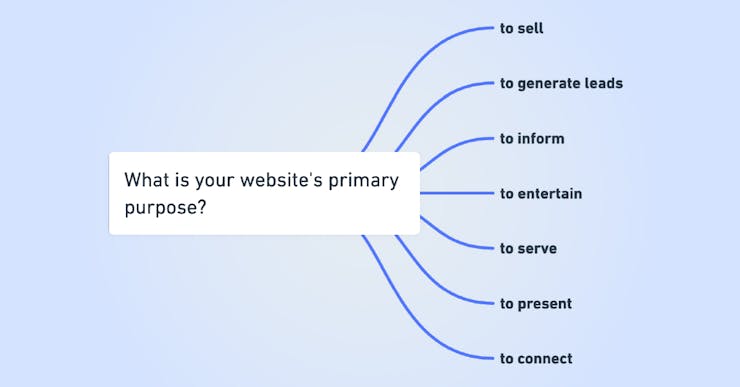 You can't produce excellent content for your website until you know why you're writing it.
Does the material on your website try to sell a product? Is it made to get new customers? Is it intended to increase traffic for advertising and sponsorships? Compose a copy that will assist you to reach the primary aim of the website.
This content will explain the purpose of your website. Also, how your services and procedures provide value to your customers. Address the pain points of your customers and be distinct from other companies in the sector. So, you can outshine the competition. 
Your website's unique value proposition should be prominently displayed and woven throughout your content. For your site's success, make your content targeted and relevant to the individuals you want to reach.
2: Find Out Your Target Audience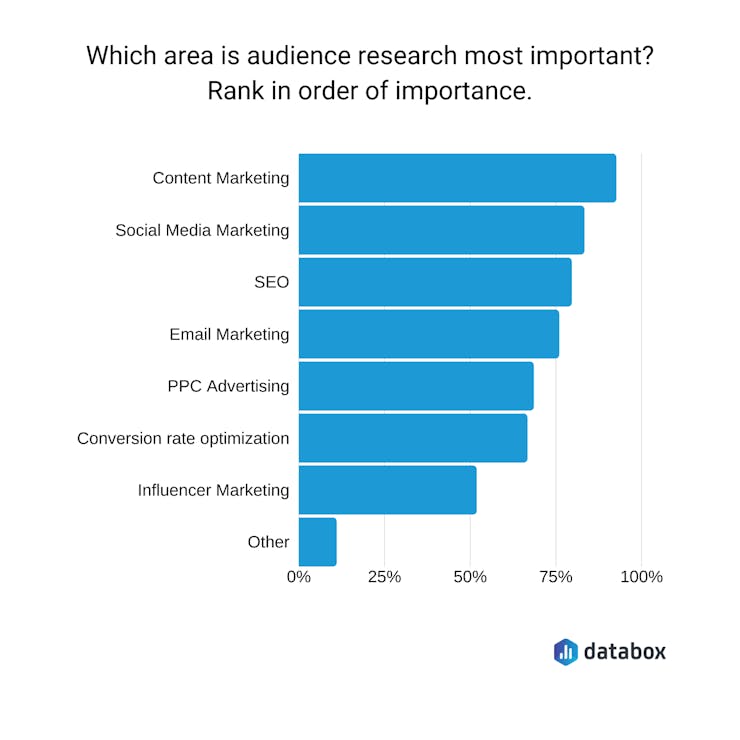 Keep in mind that you're writing to people. So, defining a buyer persona is very essential.
A buyer persona is a profile that describes your ideal consumer in a brief. You can adapt your marketing efforts and engage with your target audience to satisfy their requirements. Also, solve their issues if you create your own buyer personas.
In 5 easy's, create your buyer persona
1: Find out your target audience by conducting some preliminary research. Become aware of their objectives, pain spots, and purchasing habits.
2: Focus on other most important elements like demographic information, hobbies, and behavioral characteristics.
3: Make different personas according to your needs
4: Assign names to your personas.
5: Concentrate on roles, objectives, and challenges.
6: Create tailored digital marketing and sales strategies based on your buyer personas.
Factors will influence it, such as:
Knowledge: In your website text, if you are communicating with experts, you'll use different terminology. But the writing will be different for beginners.
Pain points: This is crucial for generating successful website content. If you can answer people's queries better than anybody else, you'll have a higher chance of gaining a client.
What will they do after visiting your website? Knowing where your visitors are coming from and what they may look for on your website will help you place content for your website.
Interest: Learning what interests your audience may help you figure out what components to include in your website content to keep them engaged.
3: Create Website Content According to the Client's Journey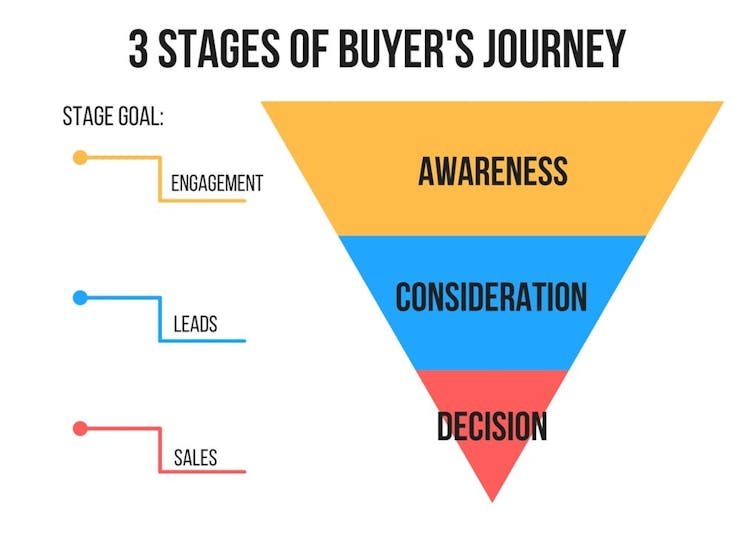 This is among the major website content tips.
The customer journey is the route taken by an online user from awareness to purchase. Basically, it encompasses every single encounter between the buyer and the company during the purchasing process.
This mapping is important since it is a strategic method for better understanding customer expectations. It also improves consumer satisfaction. Small businesses should use it to provide customized experiences across all touchpoints and platforms for each individual.
Your content should guide visitors and prospects along the sales funnel. There are mainly five stages: Awareness, Consideration, Purchase, Retention, and Advocacy.
Based on where the prospect is on the client journey, from awareness to purchase to engagement, your website should offer a range of material that answers various queries or concerns. 
A blog, for example, may raise awareness, educate, and answer general queries about your services or sector. A case study or testimonial is more ideal for demonstrating your successful work to a prospect who is assessing your business for hiring.
4: Keyword Research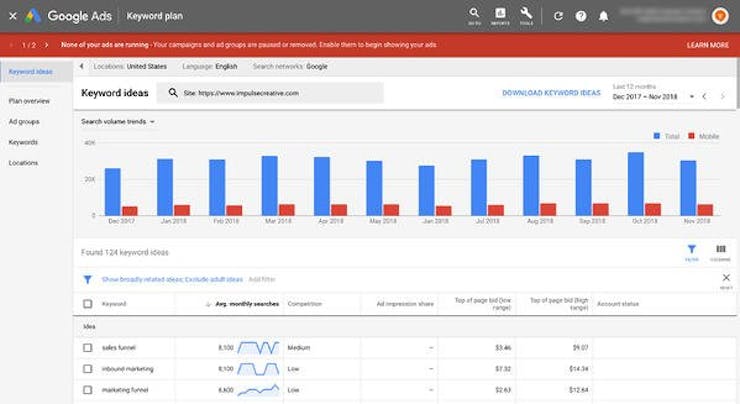 While establishing an SEO strategy, one of the main things is to search keywords. Good keyword research can help you identify the words, phrases, and queries that apply to your users and your company's objectives.
Keywords define what your organization is renowned for. It serves as the framework for your digital marketing operations, guiding all of your decisions. Find out what popular words and phrases the consumer uses on a daily basis.
It also provides important details such as where you rank for keywords, which keywords are simple to rank for, and which keywords your rivals rank for.
Finding SEO content keywords is the greatest place to develop content that performs well and delivers traffic. One of the best web content creation tools is the top keyword research tool, like Google Keyword Planner or UberSuggest. 
There is no one-size-fits-all approach to keyword research. Look at the content of your rivals or look for keyword gaps in the market and determine your target & related keywords. 
5: Analyze Competitor Websites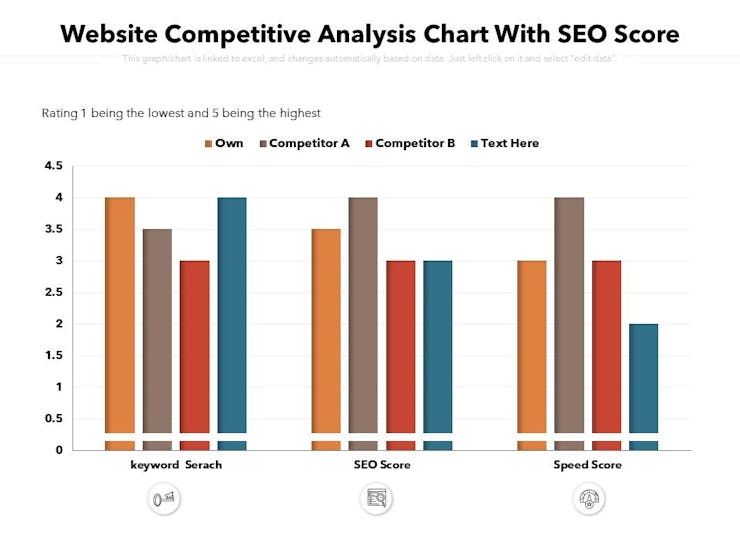 A well-rounded understanding of competitiveness is required for good website content authoring. When you compare your website to your rivals, you'll get valuable information. Such as:
Why are your visitors also going to the websites of your rivals? Find out what they're liking there so you can provide something better on your website.

You can identify industry content trends. 

Compare your performance with your competitors. Know how much traffic, backlinks, and keywords your rivals' sites get so you can establish realistic monthly objectives.

Get fresh ideas to write about. You'll be glad to have a supply of ideas at your fingertips.

Before you write content for a website, this exploration step will help you examine your possibilities.
You can easily do this by entering your keywords into Google and discovering what sites are present on the first page of results. Take note:
The content of the page's length
The subjects discussed on the pages
What format do they use, lists or paragraphs?
You should now have a fair sense of what kind of stuff you can work with. You're all set to create content for the pages.
6: Write Content for Website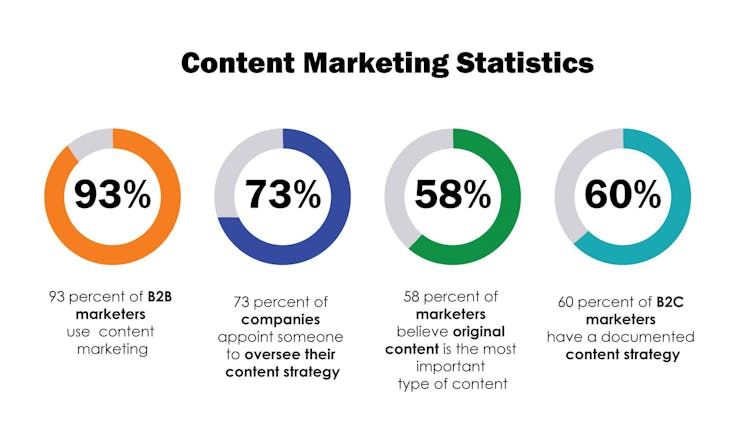 Start producing content using your keywords and subject ideas. Use the information you've collected to create a content brief if you work with authors.
First, make a list of ideas & resources and write an outline for your website content.
Then, create your initial draft of the web page text.
Now it's time to immerse yourself in writing. Follow the below suggestions while you produce content for your website pages.
Know what you want to achieve. We discussed determining the goal of your page earlier in this article. Create all of your content with the goal of getting your audience to take the action you want.
Follow the inverted pyramid rule. Put the most significant information at the top and the less important information at the bottom of the page. This format is ideal for online reading.
Write about benefits rather than features. Show readers the benefit of your goods, services, or deals. Rather than listing characteristics, describe how each one helps the reader. 
Explain the solution to readers' problems. Provide an example of how the product, service, or offer will improve the reader's condition. Show how their life will be better after they take the next step.
Keep the text crisp and clear. Use brief phrases and sentences. Remove unnecessary text and avoid using sophisticated language that will lose readers. Stick to telling the reader just what they need to know.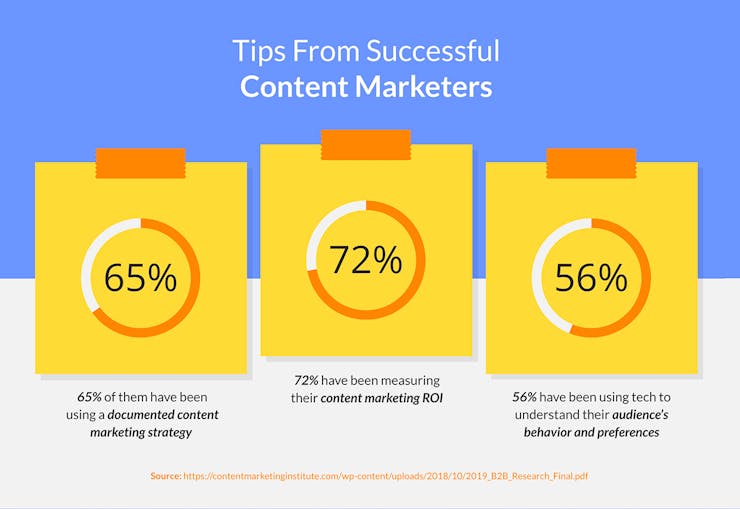 Avoid jargon and buzzwords. Use high-level terms that your readers understand avoiding confusing or losing them. Write in the same language that your target audience speaks.
Use bullet points and formatting. Break up the material to help readers identify the most crucial parts in your article. Bullets, bolding, italics, and a variety of font sizes are used to emphasize key ideas. Because most readers skip, make sure it highlights the most important things.
Address the reader directly. Speaking directly to your target audience is more successful. Use the same words you'd use in a face-to-face conversation with your reader. Write terms like "you" and "your," and phrases like "us" and "we".
If it seems natural, deviate from grammatical norms. While you don't want to have obvious grammatical faults, it's OK to break the conventions of academic writing. Only break the guidelines if it improves the copy's clarity and natural tone. 
Pay close attention to the way you finish the page. You should place a strong call to action at the bottom of the page. Inspire the reader to take action from the page by the content of your website. Use a clear call to action at the bottom of each page to aid in the start of the buyer's journey. 
7: Add Other Page Elements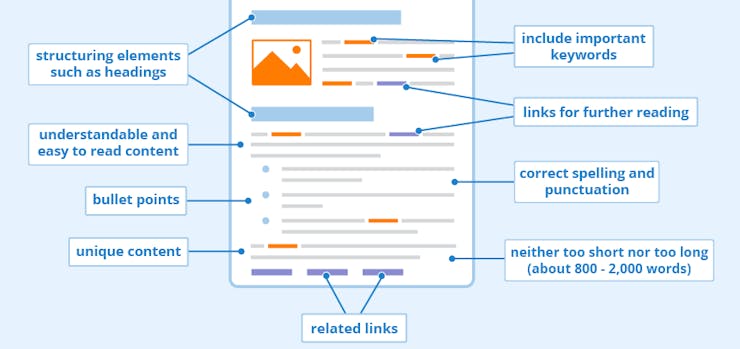 By far we have only discussed website content writing guidelines for just copy. To make strong, high-converting landing pages, concentrate on the non-copy elements on the page. Try to incorporate info-graphics.
You can draw the reader's eye to big information by using:
Make an effort to design and compose your website's content. It increases the probability that your visitors will feel they've found all the knowledge.
8: Make Edits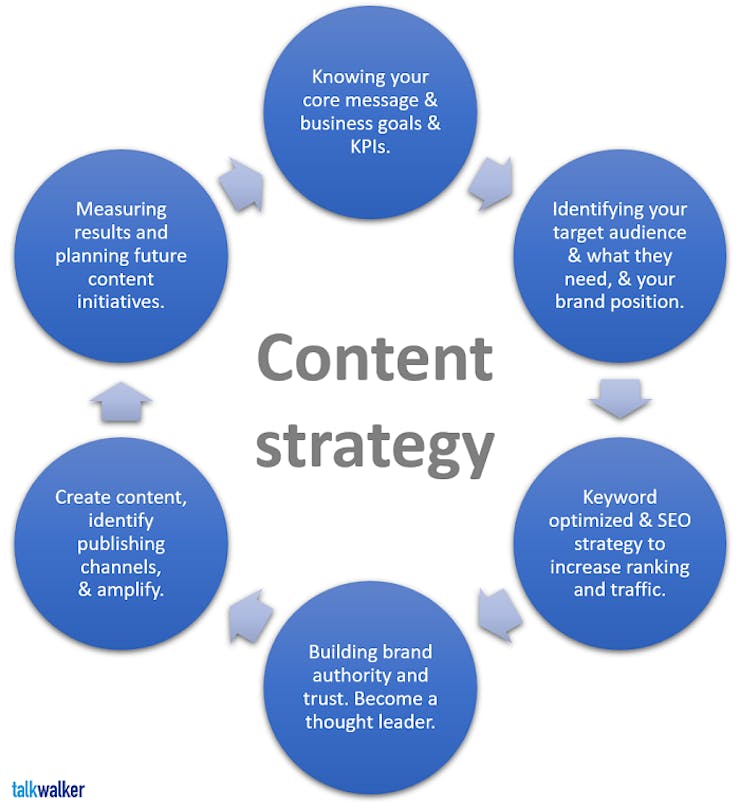 Once you've written a page's content, set it aside, even for just a couple of hours. Once you come there with fresh eyes, you'll see ways to enhance it.
Do the modifications:
Improve weak word choices
Rewrite sections that are unclear
Link to other content on your site
Internal linking helps both users and search engines find your new website content. It signals search engines telling them what the page is about and that it's value. Make it look natural. Also, link to landing pages using anchor text that has the page's primary keyword.
This is often also an honest time to optimize your website content for SEO.
9: Optimize the Page for SEO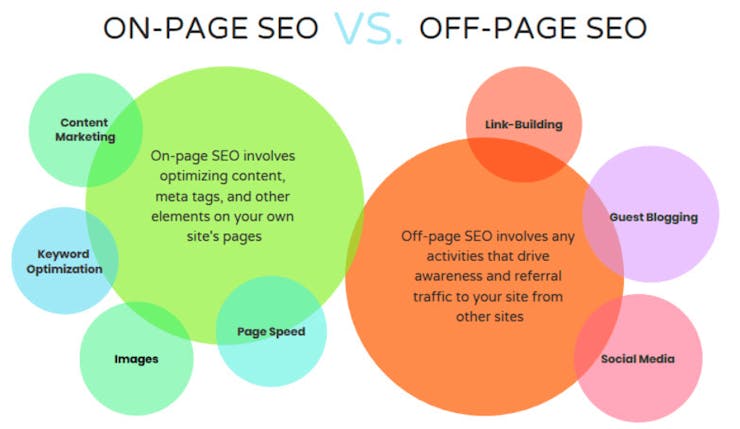 Based on the purpose, you'll want users to visit it through search. As you create content for a website, use SEO to rank the page for your main keyword.
Use the SEO content keywords naturally throughout the content.
A keyword density of 1-2% is right. It is enough to inform search engines what the page is about. Do not stuff the page with too many uses of an equivalent word. It will have a harmful effect on your search engine ranking.
Besides using the keyword within the content, also use it within the following SEO content elements:
At least one subheading like H2, H3, H4, etc.
Focus on both on-page and off-page SEO to get better results. On-page SEO includes optimizing everything on the website. Off-page SEO involves backlinking, strong social presence, etc..
You can miss opportunities or make mistakes, so double-check the SEO elements on the page. 
10. Track your performance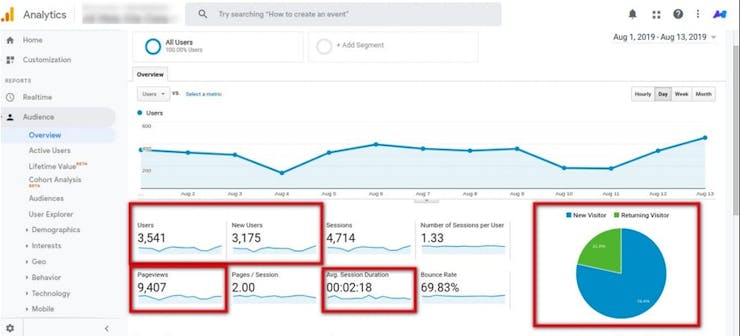 After you've published your content, track how well your target keywords are doing overtime. Set a reminder to go through your positions again.
It can reveal whether you need to update your content, optimize the metadata on your website, or handle other aspects of your content strategy. Consistent position tracking tells you if you're losing out on top spots or not ranking at all.
Keep track of the following:
Number of visitors from desktop or mobile
The pages with the most or least traffic
Your most important keywords
Keywords that don't produce results
Keeping your online content strategy relevant to your target viewers is crucial. This entails analyzing and measuring the performance of all of your material regularly. 
Examine which items are being shared and how much time visitors are spending on each page. This can help you figure out where you're connecting with your audience and offering great material. 
11. Examine the Content You Have Currently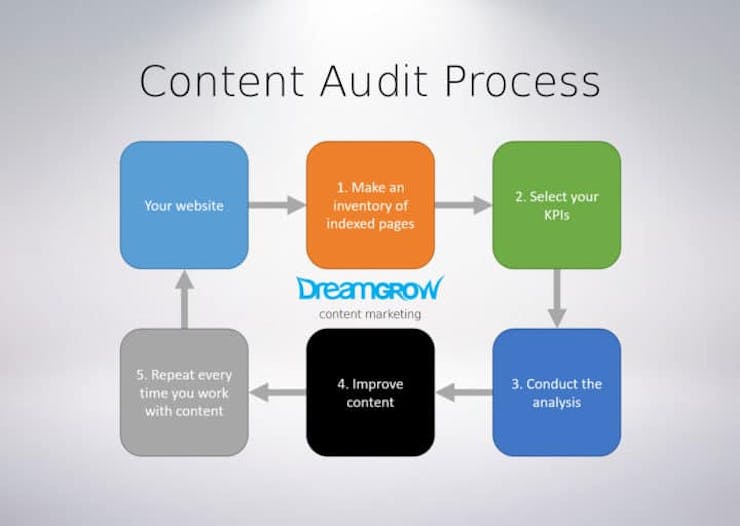 Go through the current content on your website and its sub-folders for strengths, improvements, backlinks, and other factors.
You can examine your content in groups and divide it into four categories:
Rewrite or remove: This category contains pages that were published over 24 months ago. These pages were accessed less than 15 times in the previous 30 days.
Update: Pages that were last updated more than 6 months ago. People visited these pages less than 15 times in the previous 30 days.
Quick review: Pages that were published less than 6 months ago and have been read over 150 times in the previous 30 days.
Poor Content: Pages with fewer than 200 words long.
Analyze the page's statistics and vital indicators, such as the page's bounce rate with Google Analytics.
After all the content audits, make notes or assign tasks to your content team. Make a list of any adjustments that should be performed to improve the user experience or SEO.
Conclusions
That's all the best website content tips. Great content is undoubtedly the most important aspect of SEO and generators of traffic to your website. 
Your content will help people locate your website, also the quality and relevance of your content will entice them to stay and browse it.
You're on your way to creating website content that will improve traffic and produce leads for your company. People want to consume high-quality material, and if you have it, they will flock to you.