Any off-page SEO plan includes developing backlinks. They direct visitors to your website from other websites.
The finest backlinks are relatable to the referred content. If the backlinks are from reputable sites, your page authority may rise. Also, build all over domain authority. These improve your SEO ranking in SERP.
So, not incorporating link building strategies into your plan is like missing out on a golden chance. 
We know that running a website and handling all SEO stuff is already stressful. 
You have an endless list of chores to do with hardly enough time to fulfil them. And the prospect of adding website link building to that list might be rather intimidating.
Do you need high quality backlinks but are too busy to generate them yourself?
If that's the case, you've arrived at the right place.
In this post, we'll go through 7 top link building services in 2022. Identify the greatest SEO link building services solution for you and your company.
Let's start!
What Exactly Is Link Building?
The practice of having other websites connect to the material on your website is known as website link building. If the linked page has a high page authority, that will be shared with your page. This assists Google in determining the ranking of your site.
Why Is Link Building Necessary?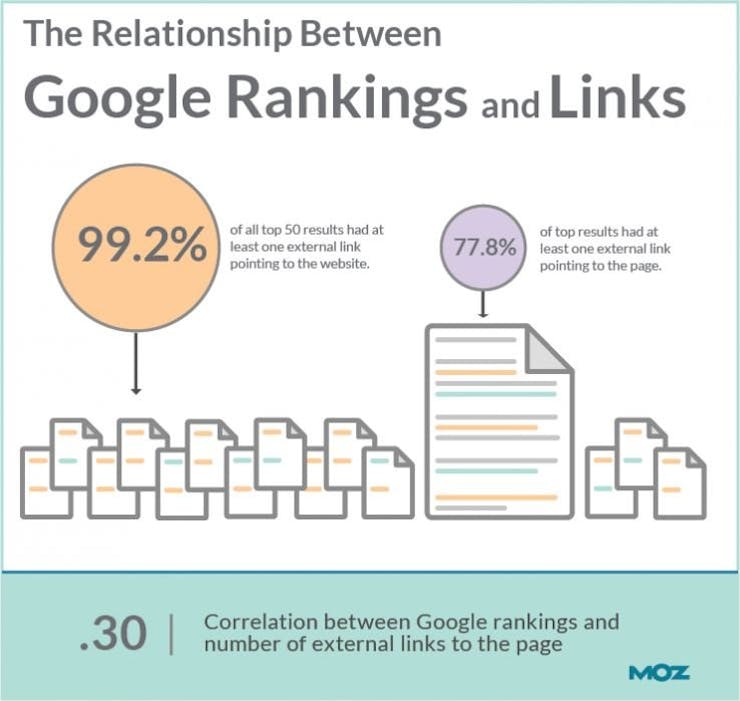 Backlinks are regarded as recommendations from others in SEO. A quality backlink from a renowned website suggests that your offering is valuable.
If a relatable website with a high rank connects to you, it is a huge vote of confidence for your website. It may inspire search engines to trust your material as well.
So, link building strategies help to get a significant rise in organic traffic. You will also profit from targeted referral traffic from other sites.
Must Raed: What is The Importance of Backlinks in SEO?
Best Practices for Link Building
Here, learn to identify respectable link building services from the best digital marketing company in Kolkata. Also, know how to avoid the pitfalls when purchasing links.
Link building is a hard task with significant benefits. If done incorrectly, Google may punish you. So, understand the legit ways to gain backlinks beforehand. 
Methods for Getting Backlinks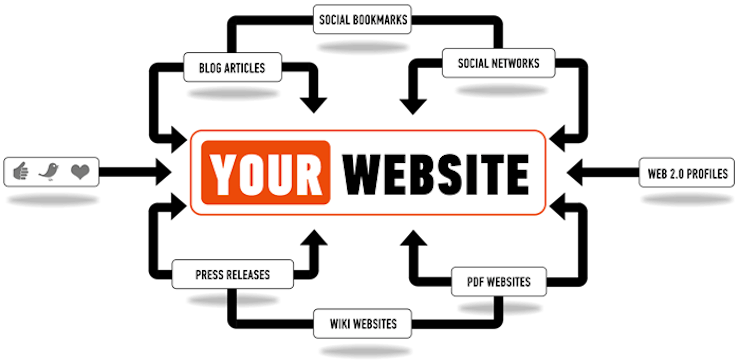 Skyscraper Method: Find a piece of content that is doing well in your niche. Create content that is more useful than that and publish it. Get in touch with the websites you mentioned in your piece and ask them to link in return.
Assisting a Journalist: Contact journalists looking for specialists of a niche. They often seek quotations or remarks for their pieces. If you assist a reporter, you can earn a significant backlink to your website or material.
Building a Broken Link: Discover broken links on other websites and advise them to connect the broken link to your content. For that, create long-form and useful guides. The ability to download your guide and read it later enhances the user experience.
Recommended: Top 7 Ideas To Build Quality Inbound Links and Boost Website Traffic
Bad Methods of Getting Backlinks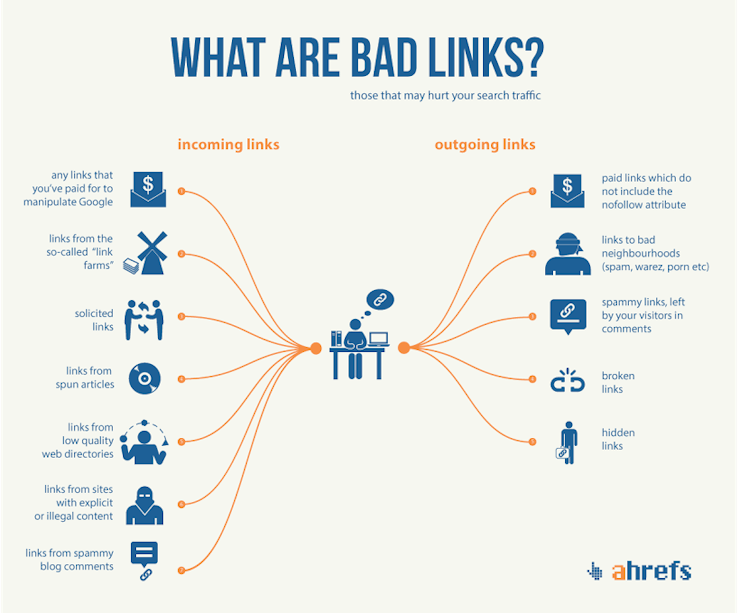 Don't Purchase Links: Purchasing links may have worked in the early 2000s. It does not ensure that they will apply to your site. A huge number of unrelated backlinks to your site will cause a Google penalty.
Don't Automate Link Generation: People who get emails requesting backlinks will recognize that they are auto-generated. So, your email will land up in their spam or trash bin.
Don't Leave Comments On Blogs To Get Links: Build your reputation as an authority. But don't promote your website as the greatest location to get all the answers. 
Don't Include a Link to Your Homepage: Backlinks to certain pages show relevancy, page authority, and other factors. If you just get links to your homepage, Google may consider it spam and don't count these links.
Don't Reuse Content on Different Pages: Guest blogging is an excellent way to get backlinks. But if you just copy your text and paste it on other sites, you risk being a victim of 'duplicate content.'
Also, an effective link building plan must have:
Time, Skill, Knowledge, Patience
But you don't have these at the moment. So, how can you gain all the benefits of link development without putting in the time and effort required?
Simply employ respected website link building services!
Read This: What Is Dofollow Link? How Do Dofollow Links Affect Site Rankings?
What Are Link Building Services?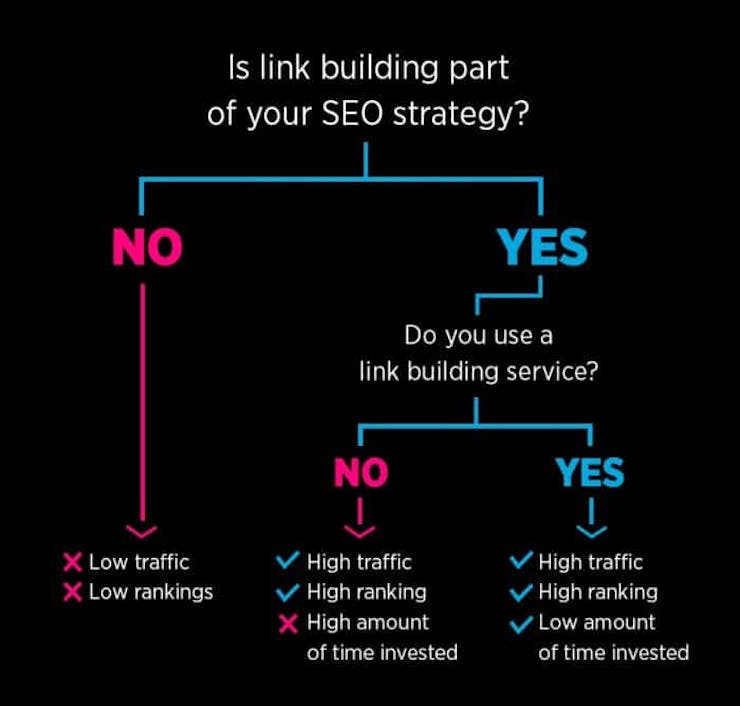 A link building service is an SEO service. These service providers are highly trained and knowledgeable in locating sites that your target audience visits. Then place links back to your site on the appropriate pages.
Also Check: What Is Nofollow Link? Everything You Need To Know!
Things to Consider in Link Building Services
Link Quality and Site Reputation
Look at a site's authority score to evaluate its reputation. The greater the score, the more probably it will appear high in Google's SERP.
Another thing to consider is relevancy. It assists Google in determining the purpose of your site. If the linked websites have the same topic as yours, your ranking will boost.
Backlinks from niche sites may increase your authority on that subject and increase the probability to correspond to a user's intent.
Service Fee
Will a more expensive link building service SEO provide greater value to you? 
Being a leading SEO company in Kolkata, we suggest that you compare all available link building services to choose the best one. Check the price according to the features and calculate the return on investment.
Make your expectations about the number of links and their quality clear. Also, ensure you will get regular reports and access to the process.
Backlink Profile and Reviews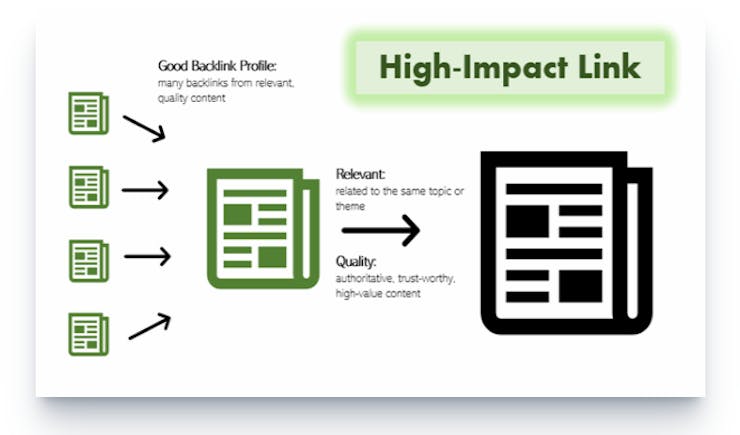 It is significant proof of the link building service's potential. If they have a solid backlink profile and other sites refer to them as experts, that's great!
Also, see what do other customers think of this service?
While reading the reviews, consider the legitimacy and significance of those reviewers. 
Now, here are four link building services you should avoid at all costs. This link building service sector is sketchy. 
Fiverr: Fiverr is a HUGE waste of money for SEO.
Private Blog Networks: It was effective until 2017 when Google clamped down on them. Their algorithm now rejects most PBN backlinks. As a result, all the connections you just purchased are now absolutely useless.
Paid Guest Posts: Guest blogging has a role in a white hat SEO plan. However, this excludes sponsored guest post links. Sites that demand cash for guest post placements are typically not legit. Another reason is purchased links violate Google's Webmaster Guidelines.
Backlinks with a Push Button: If you can purchase 100+ backlinks with the click of a button, you're purchasing spammy links. These links cause more damage than benefits.
Now, it's time to dive into legit link building services that really work.
Top 7 Link Building Services
1- Help A Reporter Out (HARO)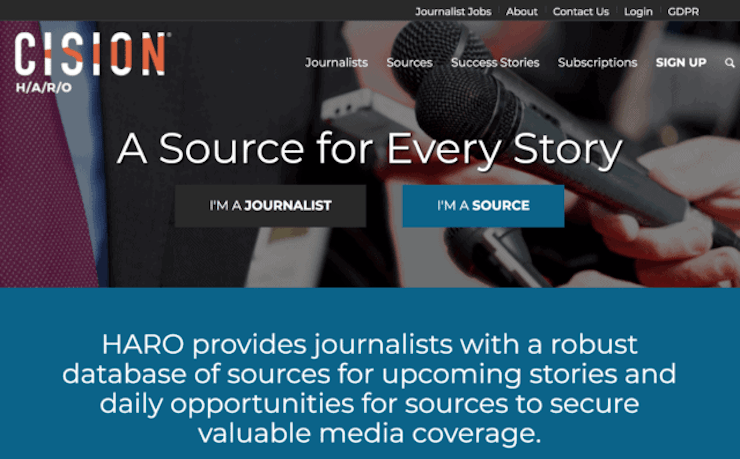 HARO is a service that helps journalists discover expert sources and quotations. You may also gain a backlink to your site if you are featured on their piece.
This is how it works:
After that, you will get three emails every day on the subject "Queries." It can be a quotation, statistic, or case study that a journalist needs to complete their piece.
Respond to their inquiry with something useful, and get a chance of being featured.
This website link building service costs from $0 to $149 per month.
Choose the free plan if you just need a few backlinks. However, if you're serious about getting media mentions, we suggest premium plans. 
Paid subscriptions provide intriguing features, such as early access to inquiries and keyword notifications.
Pros:
Popular news sites and blogs provide you with very high authority backlinks.
It is inexpensive compared to most other link building services.
The great majority of the links you get are from legitimate websites. So, don't worry about black hat connections or Google penalties.
You can get started quickly (literally today).
Cons:
Answering the queries is laborious. If you want to get included on a popular website, you must remain on top of inquiries and respond quickly.
There is no "set it and forget it" option. You have to continuously give effort to it.
Most of the links you get will go to your homepage. As a result, this isn't a good choice for creating connections to internal pages.
2- Content Marketing Firms
Companies that only develop material for your company's blog.
This is how it works:
Content marketing firms operate in two ways:
Pay a monthly fee to the agency in return for a fixed amount of articles each month. Articles may vary from many 500-word blogs to a single lengthy guide of  8,000-words.
Pay a predetermined price for a piece of material. Like they may charge Rs. 1000 for a single long-form article.
So, according to your needs, you certainly get what you paid for. 
As the best SEO company in Kolkata, we prioritize quality over quantity. So, you can get the most out of your monthly investment.
Pros:
Link building strategies via content marketing may be quite effective. In reality, most of the links come straight from producing high-quality material.
This is part of white hat SEO. There's no need to be concerned about unethical behaviour or get punished in the long run.
You gain several "extra" advantages from posting great content, such as social media traffic and brand visibility.
Cons:
You need to manage SEO services for content marketing. It will be more expensive if you hire someone for keyword research or on-page SEO.
If you want your material to get noticed and linked to, it must be invincible. 
Distribution and marketing of that content may or may not be included in your plan. If not, you'll have to promote that on your own.
3- Blogger Outreach Programs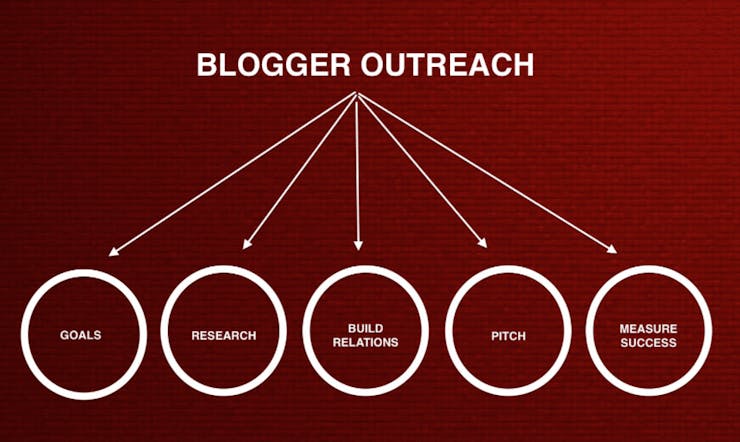 A person or company that promotes your content via manual outreach link building.
This is how it works:
The agency discovers bloggers to approach, locating their email addresses, contacting them, and following up with them.
Most outreach-focused link building services charge a fixed price for each link they establish. A single high-quality connection will cost you roughly $200. Some may also charge monthly or hourly.
Pros:
If you are just interested in backlinks for internal pages like blogs or service pages, this is best suited for you.
Email outreach is a white-hat method of link development.
You are more likely to get high-quality links. Google is looking for contextual connections on similar pages. And this is the greatest method to earn these solid links.
Only pay for outcomes. Sure, paying $100 for a link may seem to be excessive. But you received the best value in return. Many SEO firms and content businesses do not provide such a guarantee.
Cons:
Most link building firms do not provide full SEO services. As a result, if you want full-service SEO assistance, this isn't the best solution for you.
Shady providers may include your link to their PBN websites and pass it off as "outreach." Examine your links carefully to ensure they are from legitimate sources.
You must create your own content. Bloggers will not link to poor quality articles. Therefore, provide high-quality content on your site then begin your outreach program.
4- SEO Company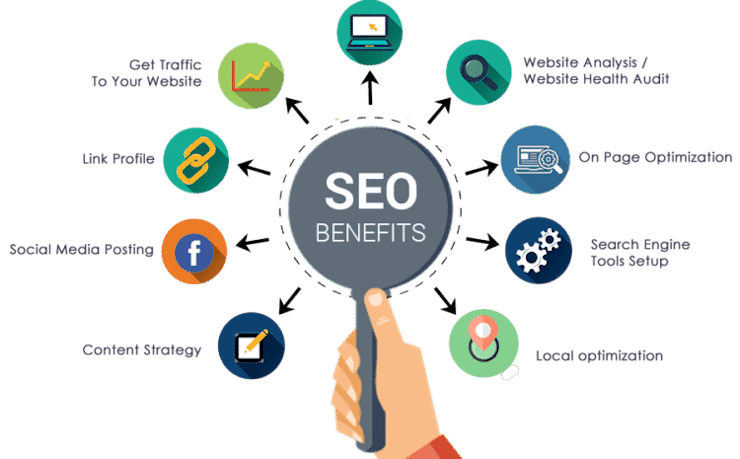 A full-service SEO company like Favfly, addresses all of your SEO requirements, including link building.
This is how it works:
You hire SEO expert in Kolkata, and they optimize your website for search engines. This involves a link-building component as an off-page SEO factor.
There are budget SEO services available for Rs.10,000 per month. You may also hire a company that works with Fortune 500 firms and pay $20-$50k per month.
Pros:
Everything is taken care of by them. There is no need to develop material or search for keywords. Simply pay them and give your URL, and that's it!
SEO link building services do these with your SEO objectives in mind. They may develop content to get links and ensure to optimize it around your goal keyword.
Cons:
Most SEO firms are ineffective (sad but true). They do some rudimentary SEO and then charge you monthly for lousy content and links. So, first, examine them and read reviews.
They don't dedicatedly build links. Yes, most agencies do link building but as a part of the whole SEO plan. So, just a tiny portion of your money is allocated to link building.
5- Services for Guest Posting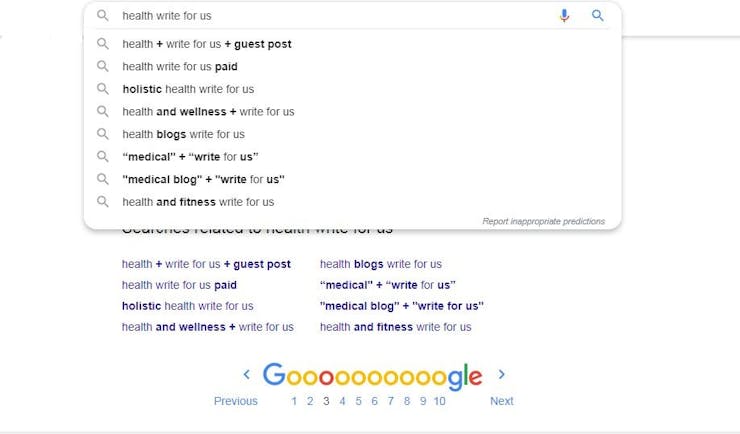 Contract with a company to create and publish guest articles on your behalf.
This is how it works:
Guest post services handle all processes involved in guest blogging. They identify sites that allow guest posts and pitch to editors. Then, create the piece and finally publish that.
(Surely, a lengthy procedure!)
Most guest posting businesses charge a fixed cost for each article. It is often between $100 and $500 that is based on the Domain Authority of the site. 
Pros:
You will get legitimate backlinks. Google does not want you to create a huge number of connections from guest articles.
A guest post on a well-known site in your niche may give you lots of referral traffic.
Only pay when a guest article is published.
Cons:
Fake guest posts are a serious issue. Some services will compose a bad guest post and then publish it in their PBN sites.
This strategy is not scalable. If you have over 5-10% of your link profile made up of guest post links, you may face a penalty.
6- Public Relations Firm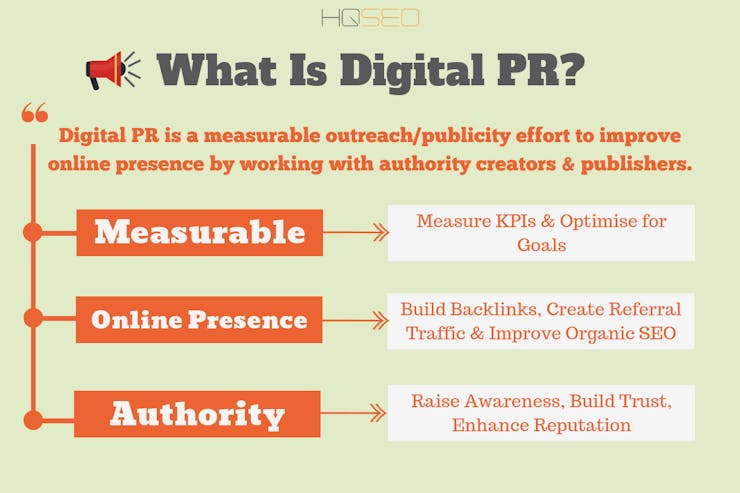 A public relations firm dedicated to getting your company's name in the news.
This is how it works:
PR firms develop a noteworthy narrative that they offer to media outlets. It may be about your product or anything from your website 
Most of these firms operate on a monthly fee basis. 
PR firms that deal with small companies often charge between $2k and $15k per month.
Pros:
You may get some very high quality backlinks. An effective public relations effort may cause connections from industry-leading websites.
They handle all the work. It's difficult to pitch journalists. 
You connect to an existing network. Most PR companies have relationships with major websites to get attention.
Cons:
Most public relations agencies do not prioritize connections. So you may get a mention on a major website with a link.
There are no assurances in public relations. You may become popular or end up with a single link from a medium authority site.
It's expensive. PR companies often charge 2-3 times more than SEO firms.
7- Infographic Design Firm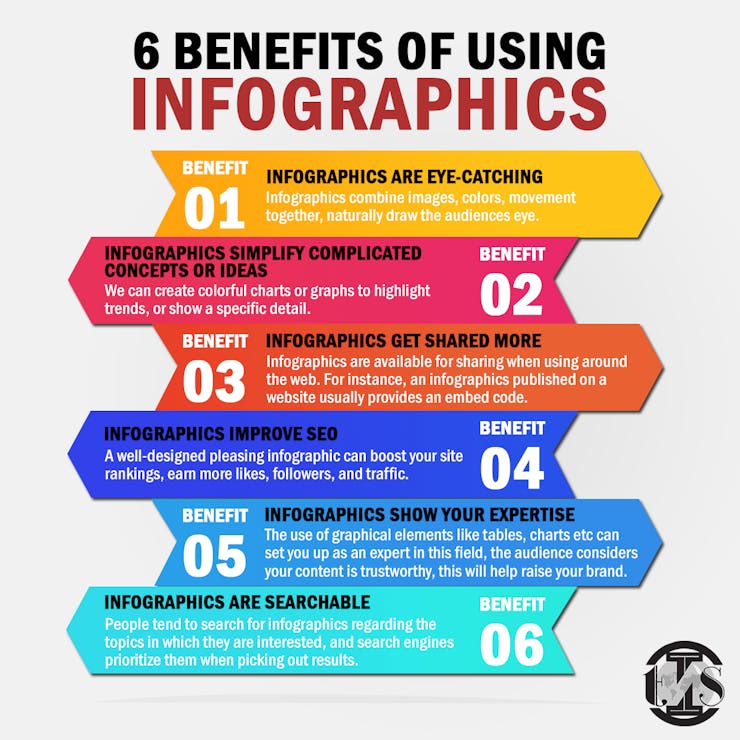 A company that creates infographics and other visual content with the intention of website link building.
This is how it works:
Most infographic firms handle the entire process. It includes coming up with a theme, gathering data, and developing the infographic.
You may also engage a graphic designer to convert your material into an infographic.
A full-service infographic service will cost between $2k and $4k.
Pros:
Infographics aren't as effective as they once were. But we think they're still a brilliant method for backlinks.
There will be no monthly charges. Most of the time, you pay per infographic.
You don't have to be heavily active.
Cons:
Most infographic services do not involve marketing. So it's up to you to promote that.
Infographics are quite hit-or-miss. Some of them become viral. Others entirely collapse. Therefore, you need to post 2-3 infographics to get success. 
Congratulations, you have known every possible ways of link building. Choose one or multiple that best fits you. Also, keep in mind the cautions about link building services and you are all set to go!