Do you know that 68% of online queries are made on search engines like Google or Bling? Hence, it becomes very important to use the proper keyword in your website content to get discovered on the top page of search engines. It doesn't matter how impressive your site looks. If nobody can find your business online, all your efforts will go in vain. Our SEO expert in Kolkata has provided here a detailed guide and best tips to beat your competitors. This guide will provide you with a detailed idea about what is keyword research. Why it is important for your business, and how to choose the right keywords for your website SEO?
So, let us take a deep dive into the intricacies of Keyword Research in SEO through this informative guide.
1. What Is "Keyword Research"?
Keyword Research is the process of finding out what people are searching for on a search engine. It has become an important part of any online business's marketing strategy. It has also become a great way to find out what people are searching for online.
For example, a person is searching for content on "what is Online SEO?" So, to make sure that this person can reach our website blogs, we need to use the right keywords.
Searching a keyword is not only important for online websites and blogs. It is important for the content creators and businesses available on platforms like Youtube. That is why today's content creators pay more attention to Keyword Research for Youtube videos to rank their content. You can consult the best SEO company in Kolkata to get the best advice on your website SEO.
Read This: 12 Top SEO KPIs To Track For Your SEO Performance
2. Why Keyword Research Is Important And How Can It Help You To Grow Your Online Business?
If you're running a business website, it's important to do keyword research to figure out what people are searching for online. That way, you can make sure your site is appearing in the search results for those terms, and you can create content that appeals to your target audience. This can help you figure out what topics to blog about and what products or services to offer on your site. Online search is the lifeblood of any kind of online business. The better your website ranks in search results, the more people can find you and the more likely they are to become customers. All you need is a good keyword strategy to find you.
In short, a Keyword Research Google can help you:
Reach your target audience
Provides you with new and relevant topics to cover on your site
It increases your online sales
Increase your brand awareness
Improves your site ranking
3. What Are The Primary Components Of Keyword Research?
Here we've mentioned the three key components that you need to cover while conducting Keyword Research.
a. Relevance
Search engines like Google give priority to relevant content only. Hence you need to make sure that the search terms you are using are relevant to your ultimate goal. Websites with high relevance for a specific search term will result in a high ranking on search engine results pages. Because Google always ensures that their users are getting the correct information. You need to create content that provides the ultimate solution and satisfies the user's query. SEO Services Kolkata is the best option for you to get this process done.
b. Volume
Suppose you can rank your content high on the top searches of Google. But what if nobody cares about what you provide? Don't you think it will be like opening a food store in a remote desert? Keyword Search Volume refers to the number of searches made in a month across all audiences. It is an important factor in SEO as it drives huge traffic and attracts new site visitors. Hence, you must always use keywords that have real search volumes.
You can make use of Google's Keyword Research Planner to estimate the search volume. You need to type your target keyword or other related keywords in the provided space. And click on the get search volume option to check the amount of traffic your site would get for those keywords.
c. Competitions
Search engines will give more importance to the sites that have high domain authority. Domain Authority is a score metric developed by Moz. It provides a good insight into the chances of a website ranking on Google or Bing. Search engine rank tracker like Ahrefs uses detail-oriented backlink data to show you more accurate results.
Domain authority score can indeed produce your site ranking. But you need to pay more attention to your competitors' ranking instead of yours. Search for the top website in your niche and observe their DA score. Scoring a DA score close to your competitors will help you achieve your business goals.
Must Read: How to Choose the Right Keywords for SEO?
4. How To Find Keywords For Website SEO?
A Keyword Research begins with understanding your niche. The process involves gathering all possible variants of keywords that are related to your website. Once you create a list of keywords, then you need to sort out the most relevant keywords for a website. The good news is that there are many seo keyword search tool out there that can help you find the right keywords. So, here we will show you a few important steps to discover the right keywords for your website SEO.
a. Study Your Niche
To start finding the best keywords that can optimize your web pages, you need to take a deep dive to understand your niche. You can discover your niche area by browsing industry forums, and Q & A sites. You can also talk to your existing customers to understand what terms they are using to describe your business. Understanding your niche will help you to find more terms that none of your competitors have used.
b. Set Goals To Rank Higher
Every plan must have a definite goal. So, before beginning the keyword search process, you need to ask yourself a few questions. You need to think about what is your brand about. And what makes your brand special? How your products or services are helping the people.
Once you got these answers, then you need to specify your business goal. It will provide a certain direction to your SEO strategy and find the best search terms.
c. Brainstorm Seed keywords
As the name suggests, brainstorming the seed keywords is the process of developing keyword ideas that are related to your niche. The purpose of this brainstorming process is to identify your real competitors. It generates a single keyword to target for your niche site.
Suppose you want to promote your coffee brand online, then your seed keywords might
Coffee
Caffeine
Cappuccino
Espresso
If you still can't find a root keyword on your own then, follow the steps given below.
Google Trends – The first thing you can do is head over to Google trends and deserve the searches made by people.
See Amazon Products descriptions – You will find a million seed keywords in the product names and descriptions to spark new ideas. Hence, there are high chances to get keyword ideas related to your niche.
Wikipedia – Another interesting way to find out the seed keyword is to start reading the articles on Wikipedia. Make a search related to your niche and you will be able to see many seed keywords within the text.
Read Forums – You can also browse forums online. After reading some of the posts related to your niche, you will get good seed keyword ideas.
Head over to other niche websites – Now this one is the most powerful technique. Browse other niche websites and find the keywords they are targeting as seed keywords.
Also Check: 25 Ways to Increase Traffic to Your Website- Proven Methods!
d. Observe Your Competitors' Ranking
After finding your seed keyword you need to move a step forward by doing competitor keyword research. You need to find keywords that send a huge amount of traffic to your competitors' websites. This is the place where your seed keywords will help you to find who ranks on the front page.
Type the seed keyword in the search bar of Google and see who ranks on the first page. But if it doesn't match your website, then you need to make auto-suggest queries and choose the one that is related to your website.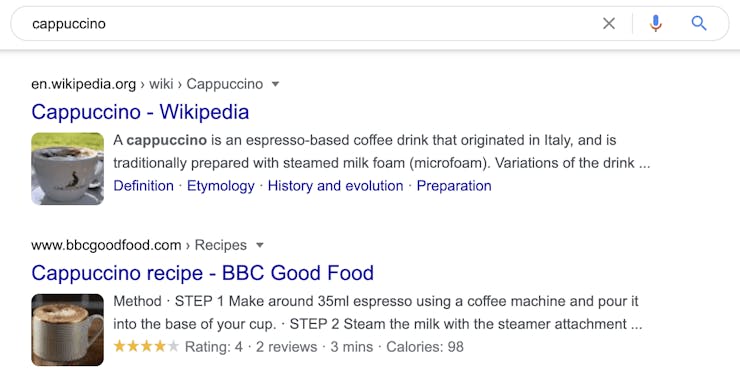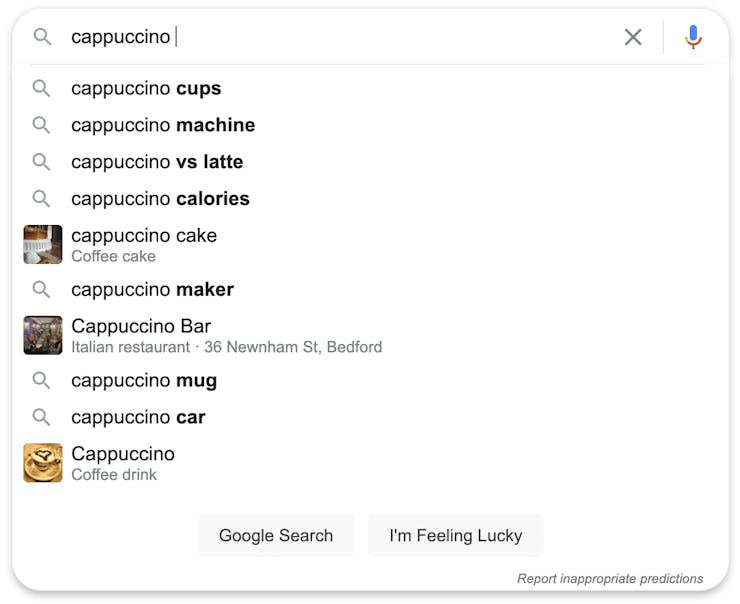 If you are selling a coffee machine then you need to find competitors who are ranking on similar business websites. After finding your real competitors you need to plug these websites into popular seo search tools to check their ranking pages. It will show you their estimated monthly search traffic and the top keyword that generates high organic traffic.
e. Make Use Of The Best Keyword Research Tool
Finding competitive keywords is a great idea. But are you sure that your competitors have used all the potential keywords that can make your website rank high? Not sure… right?
A Keyword Research tool helps you find the right keywords to target your business. They allow you to keywords to target your business. They allow you to research and analyze a large database of potential keywords. It can narrow down your options to find the ones that are most relevant to your business. Several keyword research tools allow you to research keywords, see how much traffic they get, and find out how difficult it would be to rank for them.
Google Keyword Planner is the best free keyword research tool to find the right keywords. You can enter your seed keywords here and see the results it provides. You will notice here the most relevant keyword, their monthly search volume, and the competition rate. Always choose keywords that have low competition with larger search volume.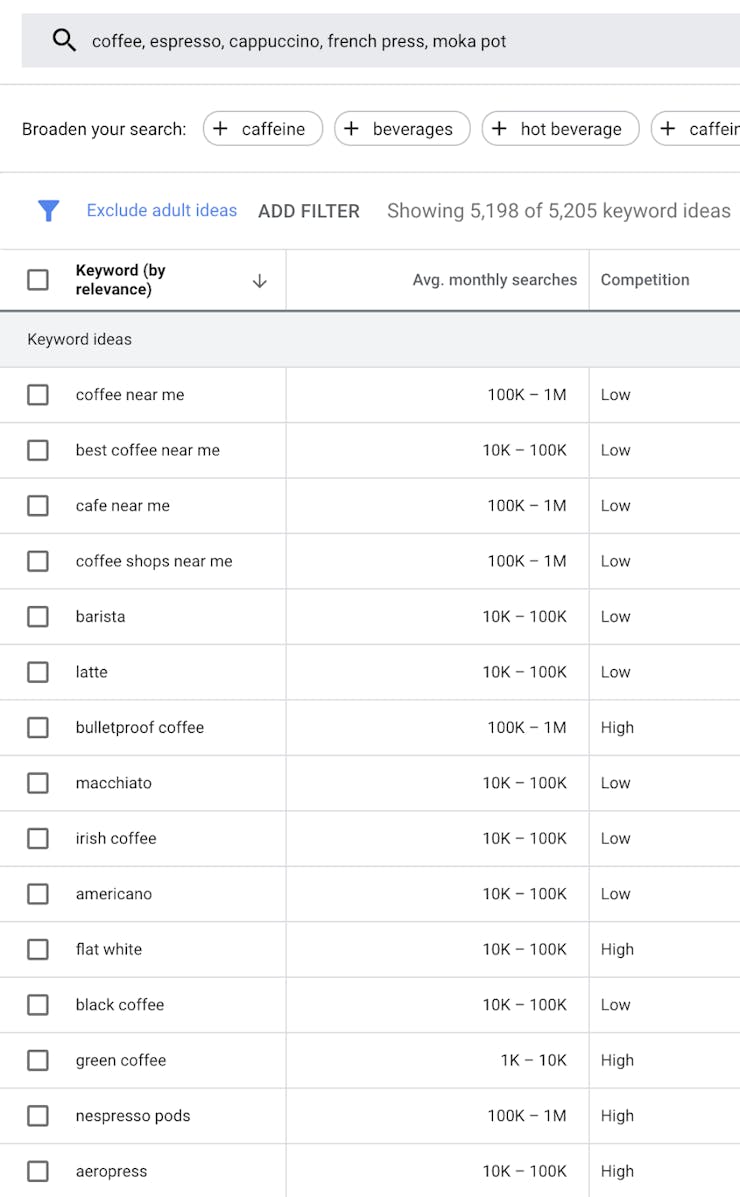 f. Choose Long-Tail Keywords
You will notice that most of the seed keywords you found are shorter search terms that are related to your business category. While Long-tail keywords are more descriptive in nature topics of your brand's niche.
The plus point about using long-tail keywords is to attract a more relevant audience and provide your site with a higher conversion rate.
5. What Are The Best Free Keyword Research Tool?
Without the Keyword Research Tool, you will not be able to find the correct search terms for your website SEO. These tools will provide you with an idea about what people are searching for online. It can not only find the correct keywords for your brand but also give you content ideas that your customers are looking for. You can later use these content ideas in your landing pages. But if you don't have time to search keywords on your own, then you can find affordable SEO services in Kolkata. These tools can also suggest to you the seed keywords and long-tail keywords your competitors are using. Using these keywords on your website pages will help you to steal their traffic and increase your conversion rates.
Let's take a look at some best free keyword research tools for SEO that you can use.
a. Google Keyword Planner
Using the right keywords on your web pages can take your online business to the next level. As we earlier said that Google always prioritizes relevant keywords to rank websites. The more you will focus on the right keywords, the higher your website will rank on the Search Engine Results Page (SERP). But then comes the question in your mind how will you find the ideal keyword for your website out of the endless keywords list?
Google Keyword Planner is the most powerful Keyword Research tool. It is very helpful for the advertisers who want to run their ads on Google. To use this tool you will need a Google Ads Account. Browse the Keyword Planner tool with a Google Ads account and enter the seed keyword. Now you need to check how many monthly searches the keyword has. It will also tell you about the competition rate for a particular keyword. It will show you the global and monthly searches for that keyword, and the CPC rate you need to pay to bid on the keyword.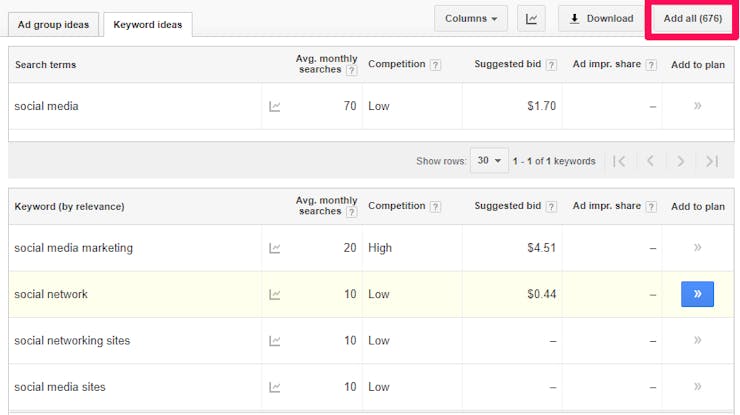 b. Google Search Console
Google Search Console is a great keyword optimization tool that has valuable capabilities. This tool can help you discover which content is currently ranking for which keyword. This keyword research tool also shows the average ranking position and CTR rate of a particular keyword. Take a look at the search result given below. Here you can see those keywords that have sent the most traffic to this site.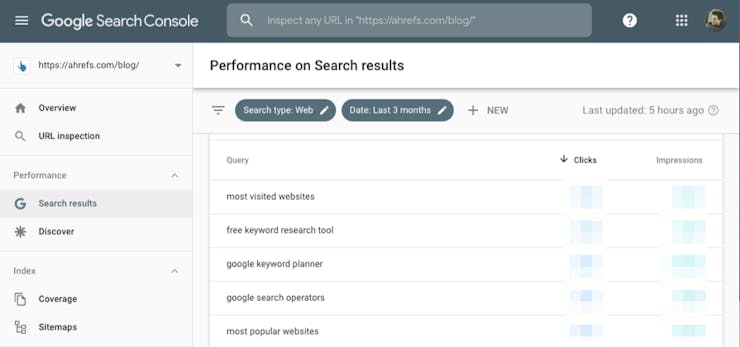 It also shows the keyword average rank and click-through rate.
If you see a lower CTR, then it means you need to improve your title tag and Meta description.

This Keyword Research tool also allows you to filter queries by using the "Page" filter option. You can see all those keywords that bring up your content in search results. This will help you a lot to understand whether you need to improve your targeting efforts or not. You will also get optimization opportunities that can lead to a high website ranking on google.
c. Google Trends
Using this tool you can make tailor searches for relevant keywords in a set duration of time. It is a great way to analyze user interest in various fields. This analytic-measuring tool collects data from Google and allows you to compare the frequency of search terms. Using Google Trends people are generating keyword ideas in sports, entertainment, and much more.
Google Trends can help business owners to get a clear insight into the demands of products and services in your country. Look at this report shared by Google Trends for "Taylor Swift." If you see the results, you will find that there is a spike in Aug 2020. It's the time when she released her popular "Folklore" album.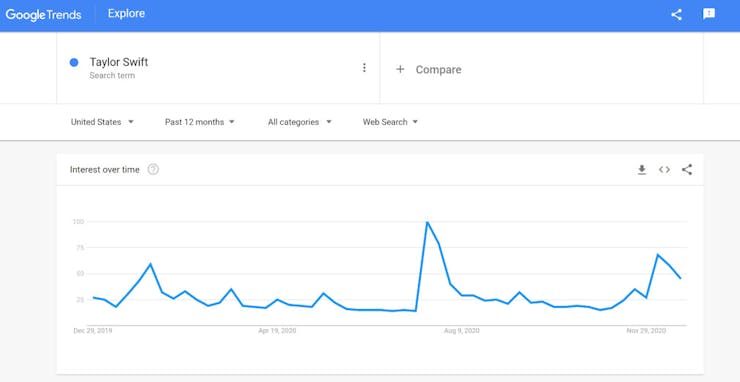 So, like this way you can find out what is trending for a relevant keyword. Here you can also filter the data by its type, time, and region basis. It is a great option to perform local keyword research and find out what's trending in your area. This way you can promote your website content or service during its peak season.
d. Answer The Public
We all know that creating content on a website that drives organic traffic is not so easy. And that is why you need an incredible keyword research tool that gives you better ideas to increase your website's traffic. Answer the Public is a popular free tool for making related searches to a term or phrase. It shows data made on Google.
It displays a huge database that has plenty of keyword ideas. This tool can help you grow your keyword traffic. The best part about using this search tool is that you can make unlimited daily searches all free of cost. You can also export the database in CSV format and save it for later use.
We have made a search using the keyword "Protein Powder". So here we got the result: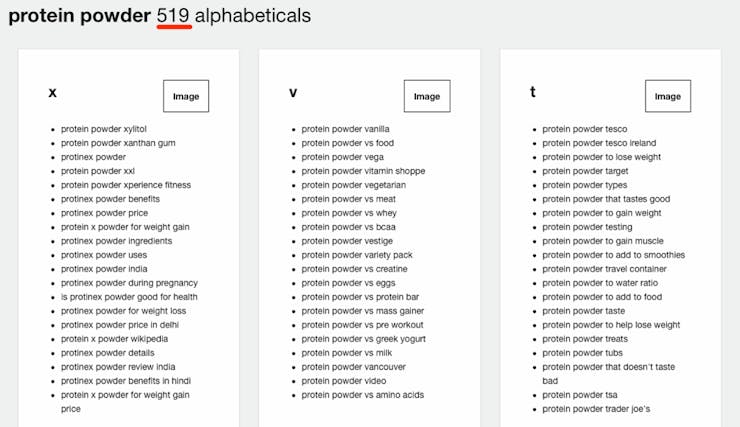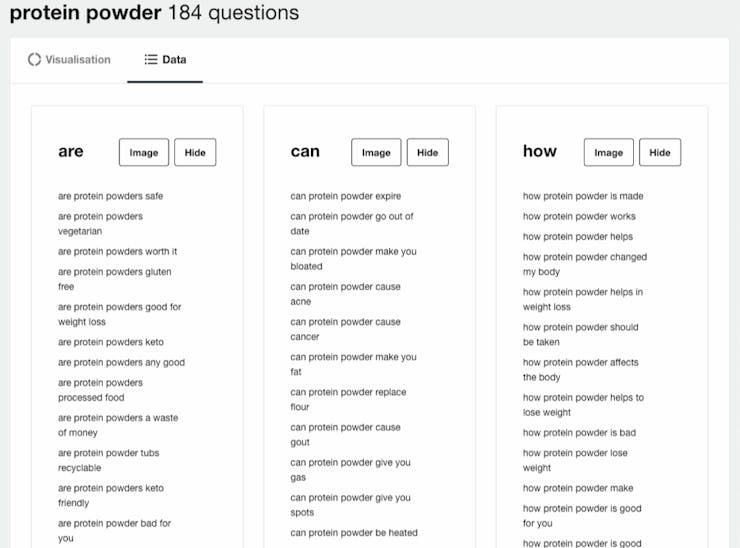 It shows all the related queries in questions, prepositions, and alphabetical format.
However, this tool is only created for Keyword Research. As it doesn't provide you with other data like the search volume, competition, CPC rate, and Keyword difficulty score.
e. Uber Suggest
Uber Suggest is a user-friendly SEO tool that lets you find keywords for website. This SEO research tool can help you plan your content, and do competitor analysis to improve your SEO strategy. It is one of the best tools to plan and optimize your site content. Its helpful features can make a positive impact on your site rankings. This tool also tells you about your competitor's backlinks and their sources.

Ubersuggest also shows you the top-performing content in your niche. So that you can work on those content. Using this search tool you can generate long-tail phrases and popular keywords that drive high search volume. But you can make here S keyword search from a single account per day.
To perform Keyword Research in Ubersuggest, you need to enter the seed keyword in the search box and select the country from the drop-down list. It will show you the search volume, SEO difficulty, Paid difficulty, and CPC rate for that particular keyword. On scrolling down, you will find a list of keywords based on your seed keyword.

We would suggest you pick the keyword with a low SEO difficulty score to rank higher in search results.
f. SEMrush Keyword Magic Tool
SEMrush is a brilliant keyword tool that offers you many advanced features. This tool can suggest you many advanced features. This tool can suggest to you 5-10 specific keywords that are already used by your competitors. Using these keywords you can improve your site rankings. This keyword tool gives you a full picture of the most popular keyword. It shows you the monthly search volume and the growing popularity of the keyword.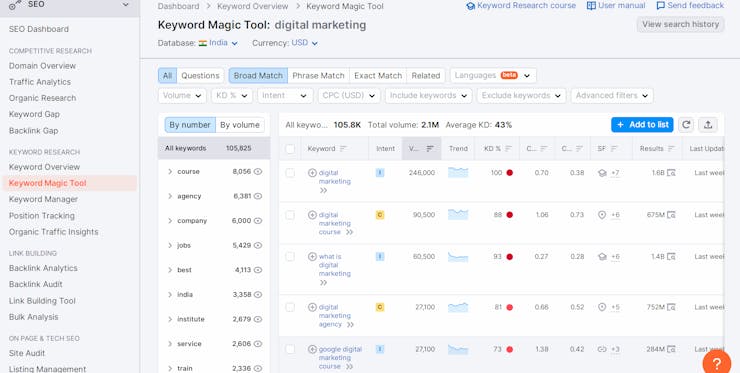 This tool also allows you to check the domain overview of your competitor's website. You can check long-tail keywords, keyword difficulty, and search volumes in a single click. This is the most popular Keyword Research tool among the world's top marketers. You can make a maximum of 10 queries per day using the free version of the Keyword Magic Tool.
g. Ahrefs Keyword Generator
It is another popular Keyword tool that can perform a detailed Keyword analysis for SEO. It can generate at least 150 keyword ideas for any seed keyword you enter.
For example, we searched the term "digital marketing" and we got 100 keyword ideas. It also provides you with a report on the keyword difficulty and monthly search volume.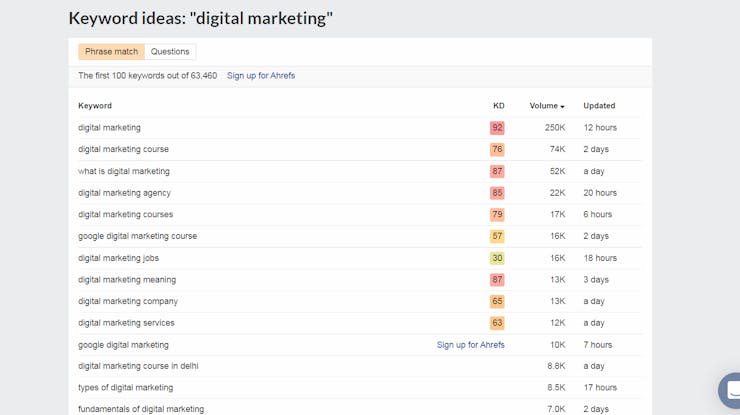 Here, you can also see a list of question-queries related to that specific keyword.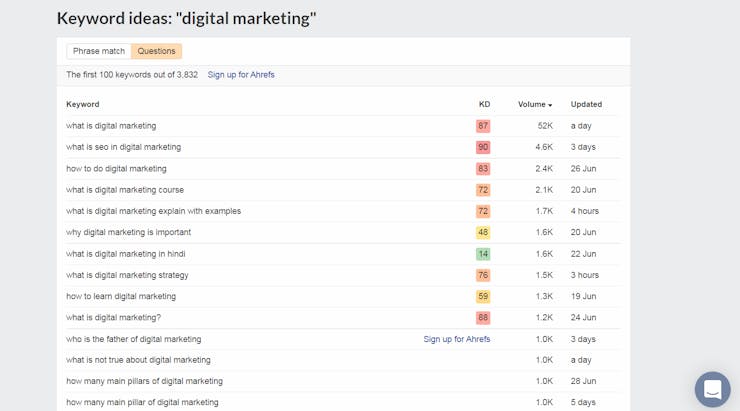 All you need to do is enter the search term or phrase in the search box and choose the country where you live. This tool also lets you find the best keywords for Bing, Youtube, and Amazon sites.
6. How To Search The Correct Keywords For Your Website?
Till now you have learned about how to search keywords and what is the best free keyword research tool? But what about finding the correct keyword for your website? You need to know whether the keyword you are searching for can fulfill your ultimate goal or not. Picking the correct keyword is the most important step in keyword research. A good SEO keyword rank checker can suggest to you a list of all ranking keywords your competitors might be using. But finding the most relevant one out of them is a great necessity to target the right audience. It will demand your valuable time and extensive research, but the final results will be worth it. The easiest way of choosing the best search terms is by following the SEO metrics. So, here we will describe how to use the SEO metrics to find the best keywords for your website's landing pages. Read this point to understand the entire process.
1.  Study The Search Intent
A search Intent is the why behind your Keyword Research. It provides you an idea of why people are searching for this? The user-based search is further divided into three categories.
Informational – When the user searches to learn something.
Navigational – When the user is searching for a web page.
Commercial – When the user wants to buy something.
Start thinking like your customer to get the best phrases. To rank your website on search engines like Google you need to find the most relevant keywords.
For example, take the word keyword "smart phones". It defines that the user is interested in buying smartphones. While, if someone is searching for "how to format a smartphone" then it is an informational search.
Look at this table below that explains a certain type of search intent.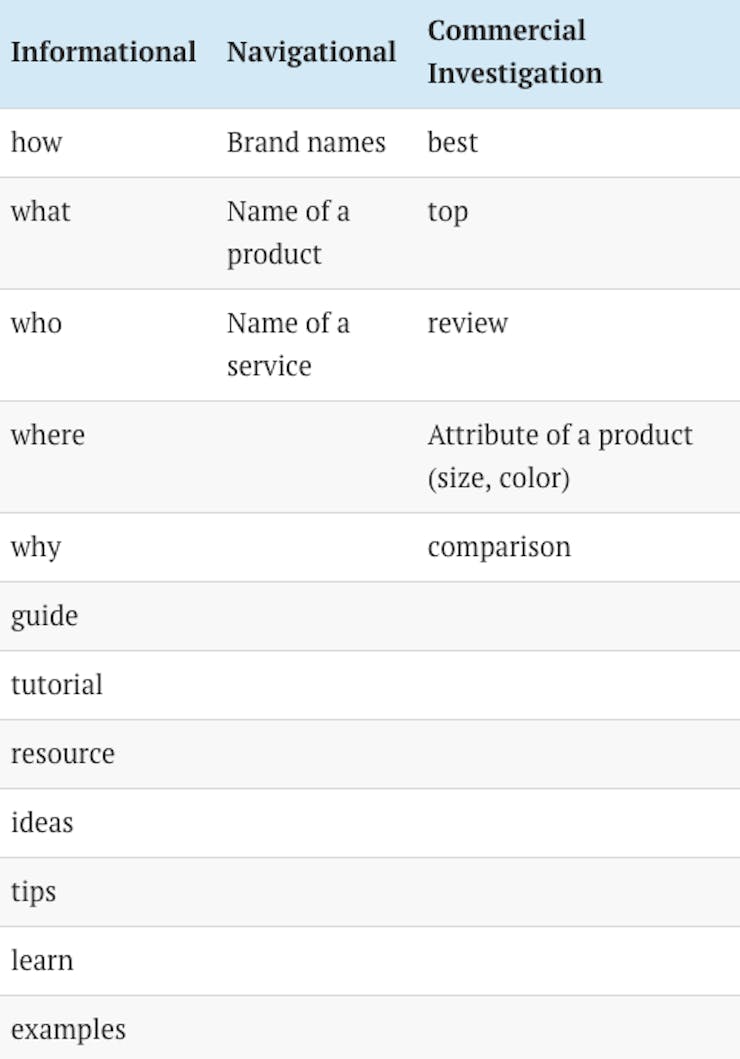 It is a wise choice to include all three keyword categories in your website content. You can use informational keywords in a knowledgeable blog post. On the hand, commercial phrases are best for the product page. Hiring an SEO Agency in Kolkata can help you produce excellent articles with the best phrases.
2. Give More Importance To The Keywords With Less Competition
A low competition keyword allows you to rank high with no domain authority. Your competitors are having a good rank for strong domain authority. Because Google considers sites with high domain authority a trusted resource.
But targeting low competition keywords can give you more traffic. It can help the clients have a new website with no domain rating. It can help you rank in an industry or topic that is super-competitive.
Follow these simple steps to find low-competition keywords with high volumes.
a. Think About The Main Topic
Take a minute to think about the queries or searches made by your target audience. Jot down 5-10 seed keywords. Suppose if you sell groceries online, then it might be like -
Cereals
Pulses
Oils
Vegetables
Fruits
b. Use A Keyword Research Tool Like Ahrefs Keyword Explorer
Enter your root keyword in the search box and check the report. You'll find related phrases with their monthly search volume and other SEO metrics.
c. Choose The Keywords With a Low Difficulty Score
Find the Keywords with low keyword difficulty scores from the generated report. A keyword difficulty score of 0-10 is the best to rank your website.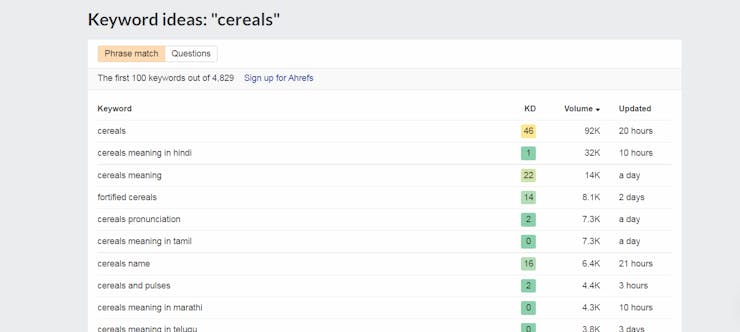 3. Look For The Search Volume.
Finding a low-difficulty keyword is an important step in Keyword Research. But what's even more important is the search volume for those keywords. A high search volume means more people are seeking information about that topic. It means there's a high chance of them finding your business website. If you're targeting a keyword with a low search volume, it might not be worthy of your time. Because there is little chance of people finding your website.

Seach volume is an SEO metric that tells how many searches are made for a particular keyword. As you can see "digital marketing" has a monthly search of 90,500 alone in India. But you keep in mind a few things related to this metric –
It shows you the exact amount of searches made for the topic. No matter if the same person is behind all those searches. You will only know about the number of searches, not the number of people.
It doesn't define the traffic rate, even if your website manages to reach number one.
It only shows you the monthly search volume for a keyword.
It allows you to check a global search volume for keywords. It will benefit those doing business worldwide.
4.  Check The Click Rate For Keywords
One way to find the best keywords for your site is by looking at their click-per-rate (CPR). A CPR tells you about the number of monthly clicks made on a keyword. The higher your CPR is, the more traffic that keyword is likely to generate. There are many ways to find CPR for a particular keyword.
One simple way is to type the keyword into the Google search box, and then check the number of results it is showing. If the number of results is higher, then it means the keyword is more popular.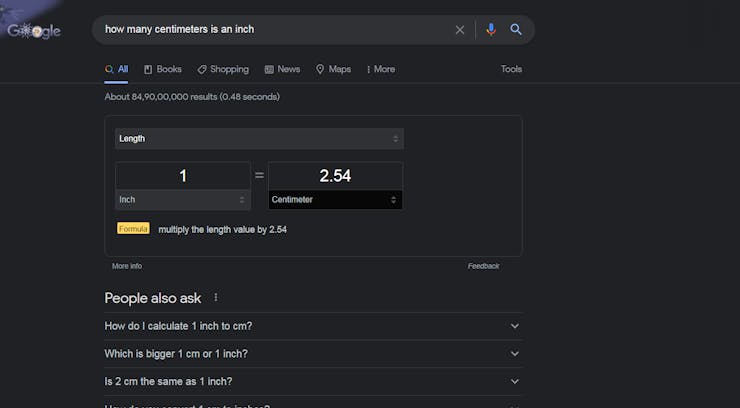 Also, notice the number of ads displayed for that keyword. If you see more ads, then the keyword is likely to generate more traffic.
5.   Check How Much Traffic The Keyword Is Generating?
Throwing a dart in the dark room will never help you achieve your goal. Likewise targeting the wrong keywords will never give you the result you need. Luckily, there are many keyword tools out there to help you with your research. One important step in finding the correct keyword is analyzing your traffic potential. By understanding the traffic potential of a keyword, you can get the most out of your website.
Traffic potential informs you how much traffic keywords can generate. It takes into account many factors, including the number of monthly searches, and the level of competition of the keyword. By understanding a traffic potential of a keyword, you can determine its ranking factor.
Let's try to understand this report. The keyword "side effects of coffee" get 1000 search volumes and 802 clicks in a month.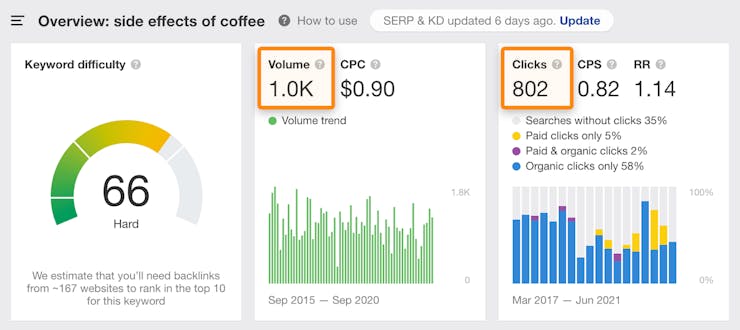 But ranking your web content with such keywords is a little bit difficult. As these keywords will also rank for similar phrases and synonyms. Always look for the top ranking results to get an idea about the total search traffic potential.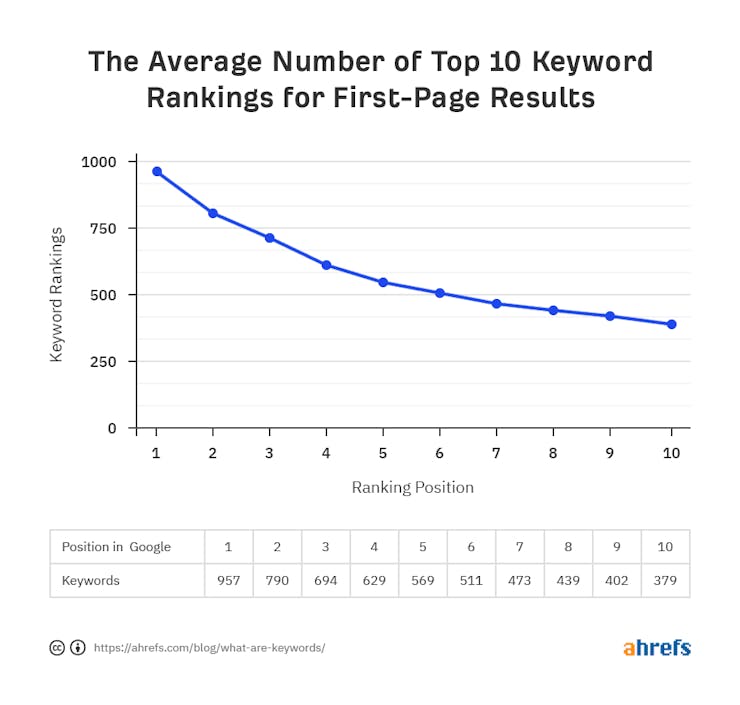 6.  Find Both Head Term & Long Tail Keywords
Long tail keywords are more specific in nature. These are generally 3-4 words long keywords that have less competition. While head terms are phrases that are shorter in length. These keywords generate a mountain of search results.
The best keyword strategy to rank your site is to use a mix of head terms and long-tail keywords. The main reason behind this strategy is that head terms are searched more frequently. While long-tail keywords are less competitive and help you to rank high. Head terms hold the potentials to send you huge traffic if used with a set of long-tail keywords.
7.  Check Your Competitors' Ranking For Those Keywords
Another way to discover the best keywords is by analyzing your competitors' websites. Understanding what makes your competitors rank on the top page is very important. Using your competitor's keyword can improve your site rank. But, you need to use those keywords also that your competitors don't care about. A competitive keyword analysis is an effective way to gain a good rank in a competitive industry. Performing this analysis can give you an idea about how to outrank a competitor.
Finding competitors' keywords through Google Keyword Planner.
Visit the Google Ads website.
Press The option "Go to Keyword Planner" and sign in to your Google Ads account.
Click the "Discover new keywords" option in your dashboard area.
Paste your competitors' URLs in the given space.
And finally, press the "Get results" Tab.
It will show you a report containing your competitors' high-ranking keywords. Here you can also filter the keywords based on monthly or yearly searches. Moreover, you can download this report for later use.
So, This Is How You Can Generate The Organic Keywords For Your Website SEO
Hope you have understood well the process of conducting Keyword Research. We've seen immense growth of business websites after using the best keywords. To improve your business in this competitive world you must target relevant customers. Keyword Research is a great way to find these customers and make an online presence. It has become the backbone of online marketing campaigns.
You have plenty of free tools to help you in doing keyword research. But it will demand your time and great expertise to get things done in the right way. So, if you want to rank on page one you can reach out to us for any keyword, SEO, or digital marketing-related queries.
Feel free to contact us & discuss your SEO needs.