The digital era has altered the way marketers engage with and sell to business-to-business (B2B) audiences. As technology advances, digital marketing tactics need to be more integrated and flexible.
Effective digital marketing strategy for B2B business is a tough skill to master. Marketers have a lot to balance when establishing their B2B digital marketing plan between creative demands, financial constraints, and channel considerations.
First, your audience is the most important factor in good marketing.
If you don't correctly target your buyer persona, your promotions and ads will go in vain. You'd be better off not promoting at all.
Marketing to businesses is different from marketing to individual people. B2B firms need well-thought-out marketing. So, there is an altogether other strategy called B2B marketing. That's why we created this guide on the best online marketing strategies.
When you first consider B2B marketing methods, you may think of direct and outbound techniques - messaging directly to identified potential customers. While this may be effective, it is not always the greatest way to attract new customers.
In conclusion, we hope you will have a better grasp of the digital marketing strategy for B2B business. Also, know the most successful B2B digital marketing plan, including a social media marketing strategy.
We will tell you how to reach and convert your business audience. In addition, fresh ideas in the B2B arena in 2022, as well as expert advice.
Best Digital Marketing Strategy For B2B Business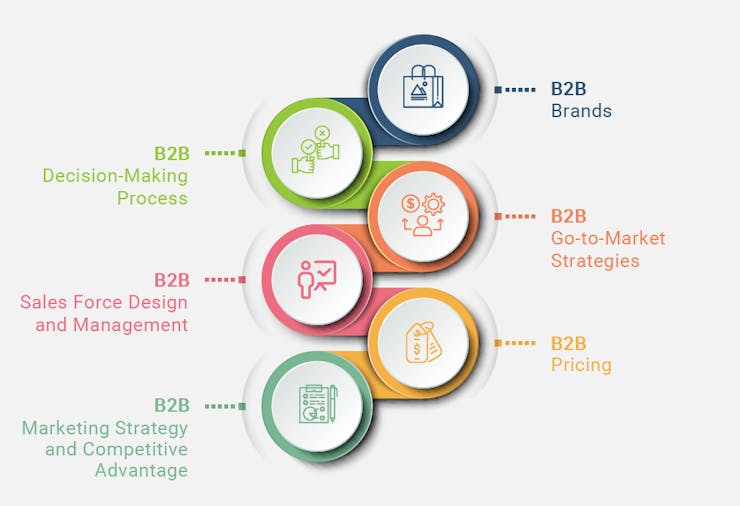 The key to increasing the efficiency of your B2B digital marketing strategies is to have a well-defined plan. Let's look at 8 B2B digital marketing tactics to use in 2022 to boost your company's visibility and sales.
Before that, what exactly is B2B marketing?
B2B (business-to-business) marketing is any marketing approach or content aimed towards a company or organization. Companies that sell goods or services to other businesses rather than to consumers use these methods.
The goal of B2B marketing is to familiarize other companies with your brand. And conveying the value of your product or service to turn them into consumers.
When developing your B2B digital marketing plan, there are a few stages you should follow before diving into implementation.
1. Establish Your Brand's Position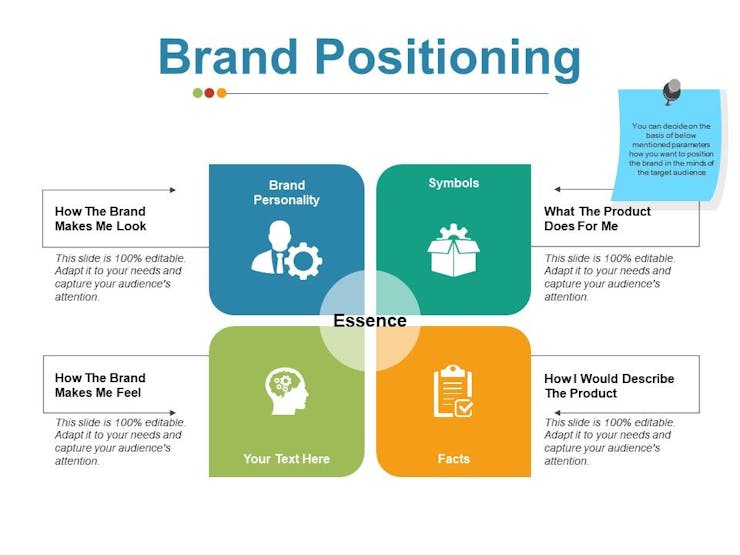 To develop a successful B2B digital marketing plan, first completely comprehend your brand's position. Define the who, what, why, and how of your brand identity. Or simply how customers see your brand.
Create a brand positioning statement that your potential consumers can trust. And you are set to go on to the next step.
2. Determine Your Target Audience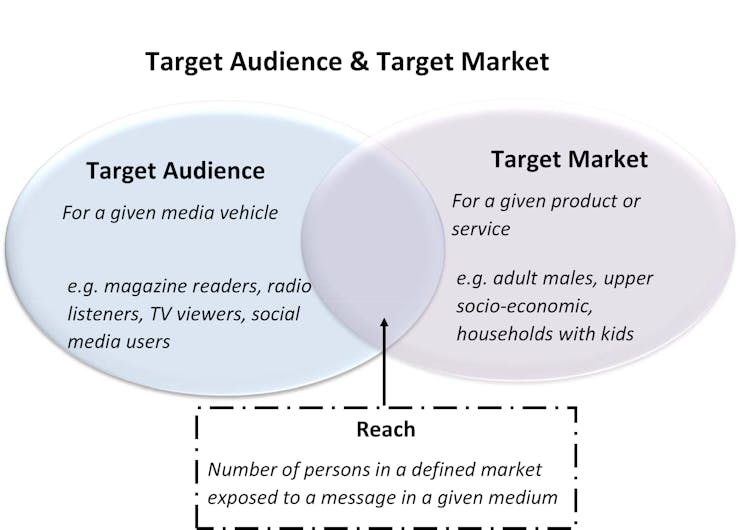 Find who is really interested in your brand's goods or services. That data can help you create buyer personas and understand how people make purchasing choices.
So, do research to identify your target demographics. You are wasting your time and money if you don't have a clear image of who your target audience is!
All B2B digital marketing strategies have this step in common. Because it is hard to sell to everyone at once, focus on your core demographic. As a result, you should ask yourself the following questions:
Who is my target demographic, and how can I construct "buyers personas" for them?
What are their passions? Dislikes?
What are their purchasing patterns and pricing range?
What are the pain areas we can address with them, and how can we do so?
How do they desire to be communicated with?
This extensive market research can help you make more educated choices as a company owner to better connect with your target audience.
After completing your buyer persona research, it's time to turn your attention to demographics. You save your marketing efforts by narrowing down your audience via "hyper-targeting."
If you're not sure where to start, concentrate your efforts on a single consumer category! When you know how your marketing material is being consumed, Google Analytics is a wonderful place to start.
3. Conduct A Market Analysis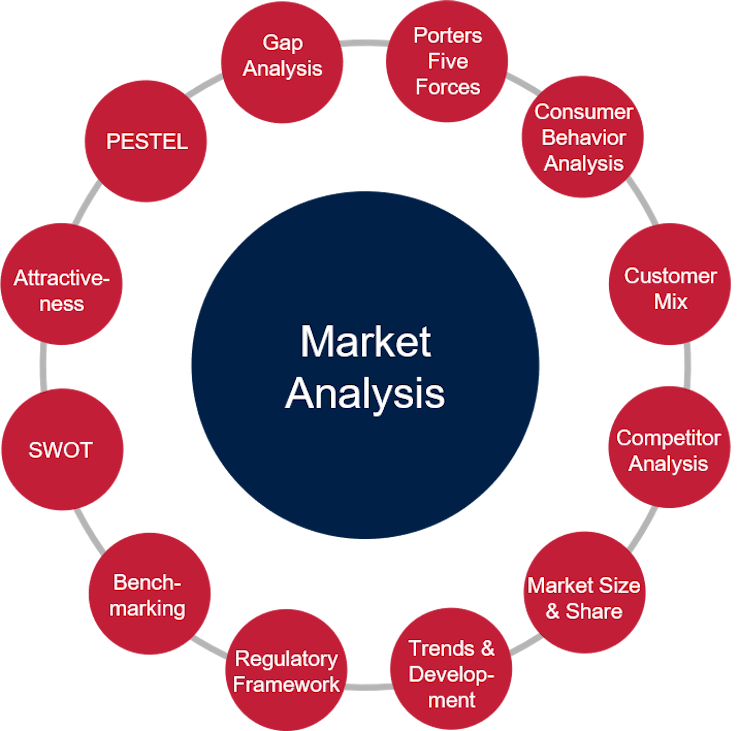 With a competition analysis, you can scope out the market and discover what other organizations are promoting to your target demographic. When examining rivals, keep the following in mind:
Product and offerings of competitors
Competitor sales strategies and outcomes
Content marketing and social media presence of competitors
SWOT analysis, or a basic summary of these factors, may help you discover your rivals' strengths, weaknesses, opportunities, and threats.
4. Make a Website for Your Business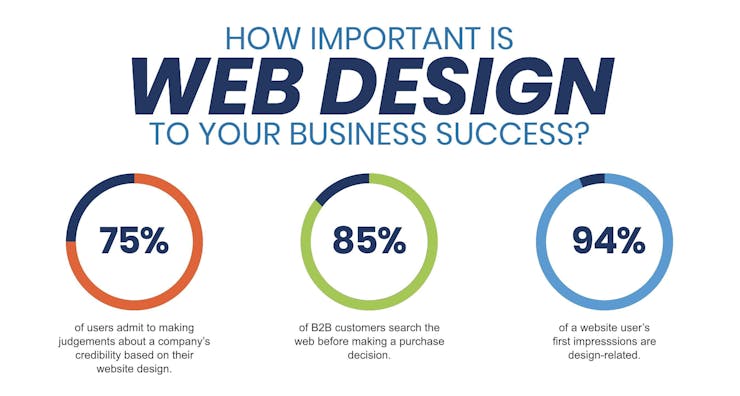 Your B2B website is the first point of contact for new customers and that's why you need a professional website for your business. 
As a digital marketing company in Kolkata, we have seen 80% of individuals use the internet to research service providers. So, an excellent website is very crucial.
Effective websites need constant monitoring and care to thrive. That means it must highlight your expertise, offer prospective clients solutions.
Your company's website should also serve as an industry reference, allowing clients to quickly learn what you do. Visitors may explore your site or download a resource like an eBook. That's how you create leads and collect information from customers.
A B2B website must have the following features:
Use calls to action like "get a quote," "get a demo," or "read a white paper."
Add current testimonies with company logos.
Use a blog or custom landing pages to provide up-to-date and interesting material.
Include connections to your social media sites on your website.
Highlight figures or studies that apply to the sector.
To increase traffic, create relevant and trustworthy backlinks.
It may take a long time for a company to investigate a B2B product or service. It's not the same as someone shopping for the greatest deal. There are often several parties engaged, which may prolong the purchasing process. 
As a result, the more information you can present on your website that addresses your audience's problems and offers answers, the better.
If you already have a website, check whether it is serving your company's needs. If it isn't, examine your website's analytics, audit your content, and reevaluate your personas.
5. Use SEO and Content Marketing to Promote Your Business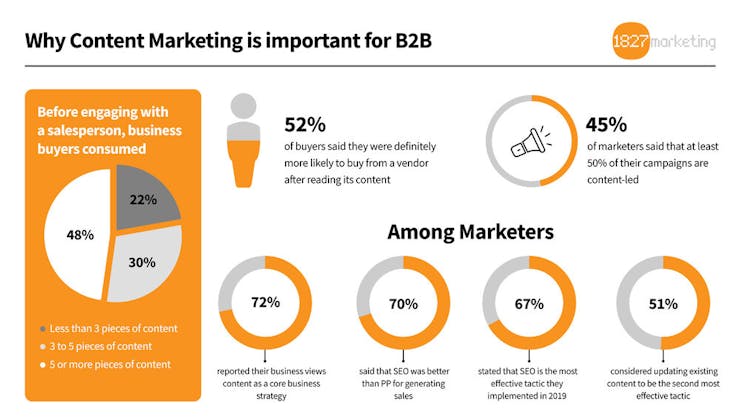 It's difficult to gain new visitors to your site without SEO, and you can't expand your company without visitors. But foremost, what is SEO and how does it work?
In short, SEO aids search engines like Google in finding your website and ranking it in the results. You want to be on the first page of any search to be found. 
For that, you need to identify and use the most effective keywords for your website.
To boost your SEO, you should also consider other best online marketing strategies. 
Having a blog is essential. It improves SEO and establishes you as an industry leader and attracts a high-quality audience. Your knowledge may be precious to current customers while attracting new ones to your website. 
Note that the B2B cycle may be lengthy. So, if you can entice customers back to your site with interesting content, you can build trust. It will lead to them completing the conversion funnel.
Emphasize both on-page and off-page SEO. This is an efficient digital marketing strategy for increasing exposure to your content. As a result, search engines will include you in the relevant results to users. That way, they'll discover you and your products/services!
Track backlinks to your website from outside engagements or guest blogs for off-site SEO. These activities help to establish your website's authority on your niche and content. Outside networking is usually a good idea for marketing!
Search engines will see your site as more reputable as you network and feature you. You'll have more users visit your site, and interact with it, leading in better ranks. This is also a result of creating high-quality blogs and material for your website!
Nowadays, video is also a very popular content type that gives a lot of opportunities to interact and educate your audience. Infographics, e-books, white papers, and case studies are examples of other sorts of content. 
As a beginner, SEO can be intimidating for you. So, it's a good idea to employ an SEO specialist or engage with a digital marketing company. 
There are many sorts of marketing channels you can use effectively.
After completing the preceding stages of developing your B2B digital marketing plan, broaden your B2B marketing portfolio. In the next section, we have listed the B2B marketing channels that can help you connect with your target audience.
6. Email Marketing for Business-to-Business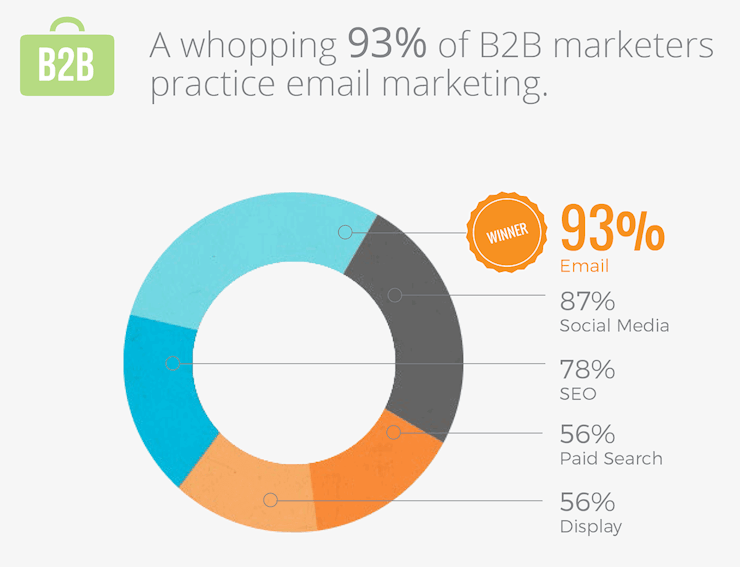 Email marketing is a tested method of communicating with consumers and organisations equally.
Do you know that email is used by 93% of B2B marketers?
Emails encourage interaction, which converts subscribers to leads and, finally, customers.
Customers in the B2B sector need rationale and a good return on investment. Literally, they ask, "How can your company help my company grow?" As a result, your email marketing should always connect with your company clients. Always concentrate on issues that matter to them, such as time, money, and resources.
Email marketing is also an effective means of distributing your company's content. As an element of their content marketing, 83% of B2B companies send out email newsletters. Furthermore, 40% of B2B marketers believe that newsletters are the most essential aspect in their successful marketing.
With so many emails bombarding our inboxes these days, it's more vital to write and send efficient marketing emails. So, first, go through some best B2B email marketing examples.
7. Social Media Marketing Strategy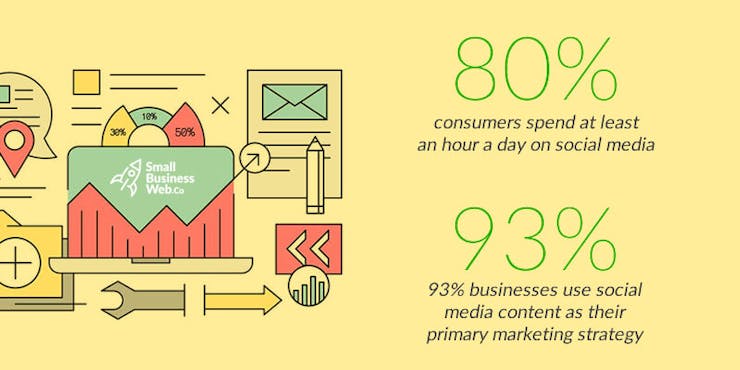 Social media is very important for digital marketing for B2B businesses. So, you must include it in your B2B marketing plan.
Do you know? 60% of purchasers use social media to research new service providers. This makes it a more popular source of information than traditional referrals and recommendations.
Surely, it's tempting to use social media in your B2B digital marketing plan. It may be time-consuming and need creativity to keep visitors interested. 
In fact, social media marketing is the second most popular channel behind search engine marketing. 83% of B2B marketers use it. 
When it comes to the platforms that B2B companies use, some are more effective than others in driving engagement. According to the statistics, LinkedIn is the most effective platform for engaging B2B audiences, followed by Twitter and Facebook.
Optimizing your blog material is one of the simplest ways to use social networking. Posts that link to valuable material give helpful information while also improving SEO. You may also cross-promote across all of your social media channels. But make sure that your message is platform-specific and tailored to the audience by each one.
You may well use social media by providing material like:
Your products/services updates.
Client or partner testimonials 
Case studies and whitepapers.
Links to your company's instructional videos
Tips: Overt sales pitches are the one thing you should avoid on social media. Instead, make sure your material is both informative and engaging to grab people's interest and drive them to your services.
8. Take a Look at PPC Campaigns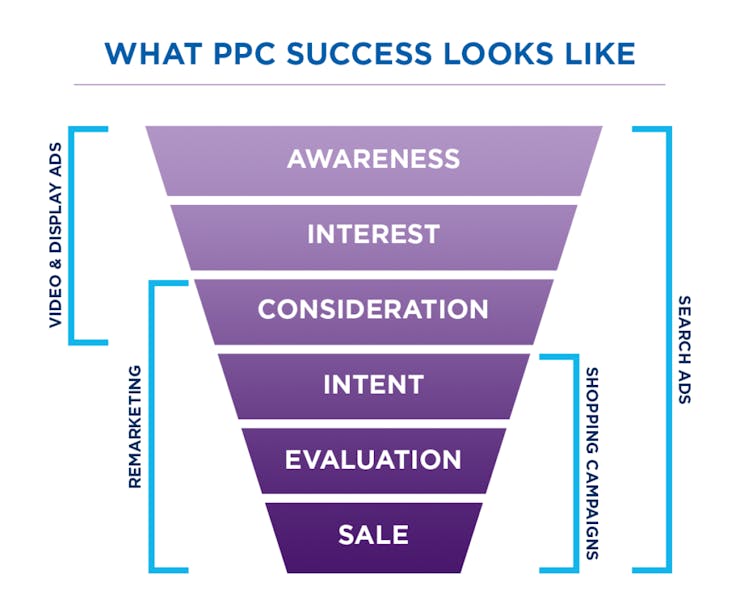 Consider integrating a Pay-Per-Click (PPC) campaign in your online marketing strategy if your budget permits.
The beauty of SEO and content marketing is that it is quite affordable, or even free if you have the necessary skills. However, if you're not getting the results you want, PPC campaigns are a brilliant solution. 
Create simple budgeting that fits your requirements since you only pay if someone takes an action like a click. To guarantee that you understand what's working, use a paid media campaign tracker to monitor expenditure and results.
Some sites, like Facebook, charge for interaction or impressions or give you the option of paying in different ways. This allows you to segment your audience to achieve your particular goal. So, it is a powerful tool for generating leads and increasing brand recognition.
The greatest method to get a return on your paid advertisements is to use buyer persona data and enhance the content that they care about. 
It can be possible that a fresh new customer who has never heard of you is looking for your identical product. They might look for a location-based solution or a feature in a product. Pay to target key segments inside your brand rather than marketing your goods or services to reach the largest number of prospective buyers.
9. Referral Marketing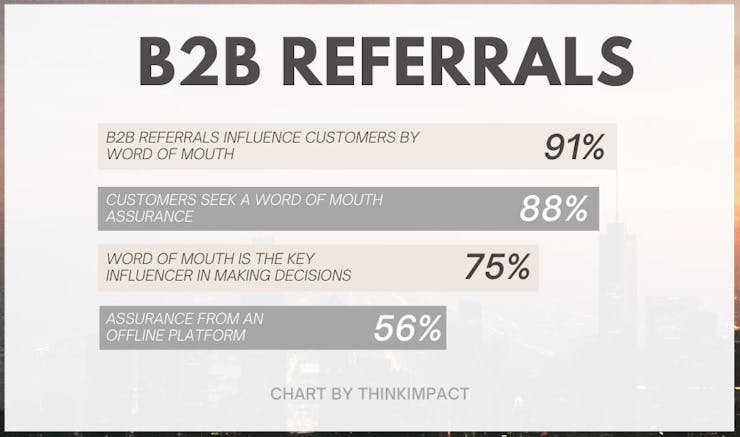 Digital marketing strategy for B2B business has developed, as we showed at the start of this post. You no longer need to spend hours on the phone cold calling or passing out paper flyers. This is a significant upgrade in your B2B marketing plan. 
Many studies suggest recommendations are no longer coming just from customers, but from strangers online. Just because a company's reputation is high enough.
Social proof is a powerful advocate for your company's success, and it doesn't end with testimonials. Even if they haven't worked with you directly, establishing yourself as a leader in your B2B field may assist others to think and share that you are a high-quality company to collaborate with.
If done well, your company will stay in people's minds and they will want to tell others about it. Client referrals and new business may result from this brand familiarity.
Also, offer existing customers referral bonuses, promotions, and partnership levels to promote your company. Expand your present connections with customers and gain their trust. Collaborate, and connect with them by referral marketing.
10. Review Of Clients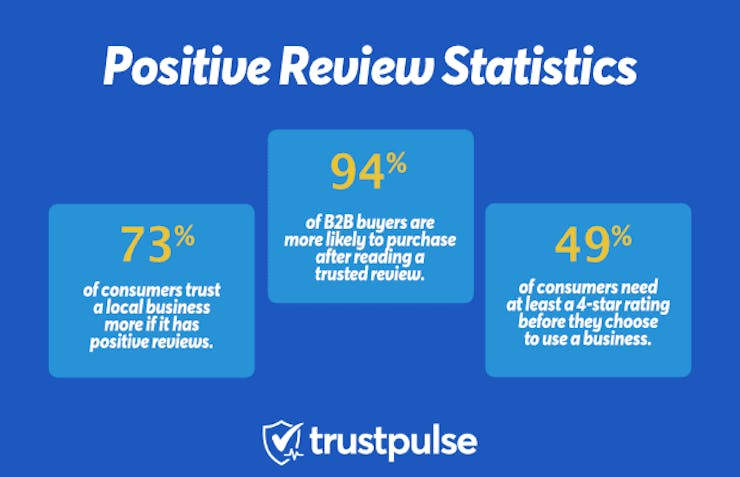 Because you're selling to company owners, B2B marketing must prioritize data above all else. Businesses will not invest in anything unless the outcomes are based on facts! Customer research and reviews are some of the greatest and easiest strategies to boost your digital marketing for B2B business.
The best method to target the proper marketing plan is to ask your clients directly what works? Incorporating a feedback form or any other sort of feedback mechanism into your marketing approach unlocks valuable data.
When displaying your brand and industry expertise, it's critical to understand consumer and client data. It makes you credible, serious, and perceptive about assisting consumers and paying attention to their ever-changing demands.
After you receive feedback from clients, read it and reply to it, even if the criticism is unfavourable. By doing this, you show that your customers' experience is important to you and you want to improve it.
Where do you begin with your B2B marketing strategy?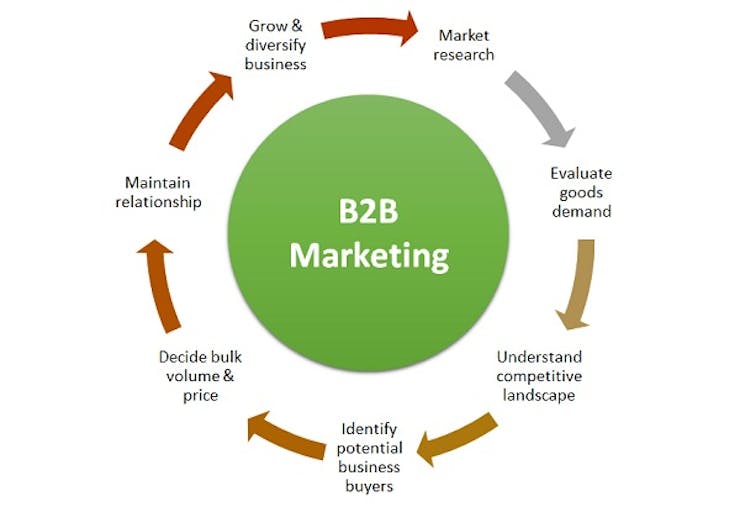 List all of your digital resources, including websites, blogs, landing pages, and social media platforms, to start your B2B digital marketing plan. Look for materials that have helped create leads or complete sales if you have access to data. 
If you don't have access to this information, look at the most popular resources in terms of visits, clicks, and shares. This can provide you with an idea of what has been performing successfully for your company.
Then, using these data insights, decide where you may expand your resources. Like creating new social media sites or launching a PPC campaign. 
Consider your budget and use a media budget tracker to figure out where to put your money. After that, look at your analytics to determine where you'll receive the most return.
Create a content calendar after you've chosen the digital marketing methods your firm needs to use. This will ensure that you have a strategy in place. This plan should include the following components:
PPC (pay-per-click) advertisements
You should also think about enlisting the help of influencers. They can help you get your content and message out there. Look at businesses that effectively employ B2B influencers in their strategy if you need some ideas.
Remember, it's never too late to employ a top-rated digital marketing company like us for your business. We will make incorporating digital marketing into your B2B marketing strategy a breeze.
Conclusion
Understanding the best online marketing strategies and successful digital marketing channels is the greatest approach to attract and engage a B2B audience.
The digital world may be full of creative resources and chances for a B2B organization. But it's difficult to completely comprehend and stay ahead of the curve. Meetings, calls, and papers will not cut it, but using the aforementioned B2B digital marketing strategies will propel your company to new heights.