Do you know? Every day, nearly 7 million new blog articles are going live!
Among 1.7 billion live websites, there are 600 million blogs nowadays. So, it's the right moment to take the benefits of blogging for your business and include it in your marketing plan.
As a leading digital marketing company, we have seen most people do not understand what makes blogging so powerful, useful, and efficient. The benefits of having a blog on your website are the most essential thing businesses can do to grow online.
Blogging has the potential to enhance your business through brand positioning, thought leadership, and lead creation. It increases website traffic and promotes your goods and services. Also develops trust with prospective clients.
In this piece, we'll go over 15 benefits of blogging for marketing, so you can attract inbound connections and traffic to your website.
What is the definition of business blogging?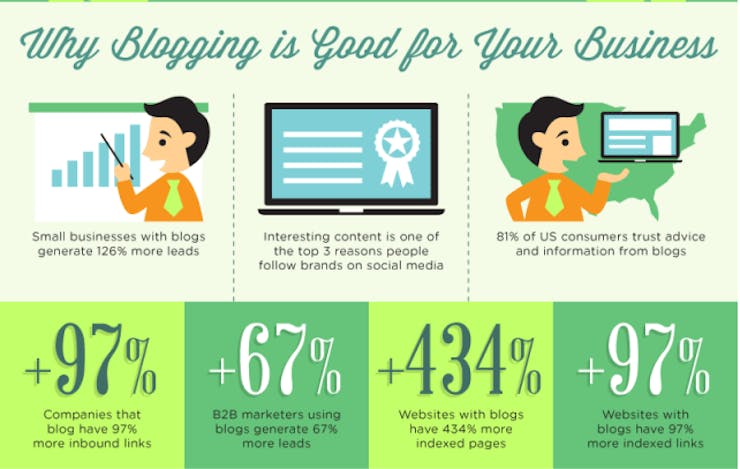 Business blogging is a marketing strategy that uses blogging to increase the exposure of your brand online. A business blog, like social media and email marketing, aids in the development of a company.
So, in our digital marketing and SEO strategy, we foremost suggest having a blog entry on the business website.
Benefits of Blogging for Your Business
1. Drive traffic to your website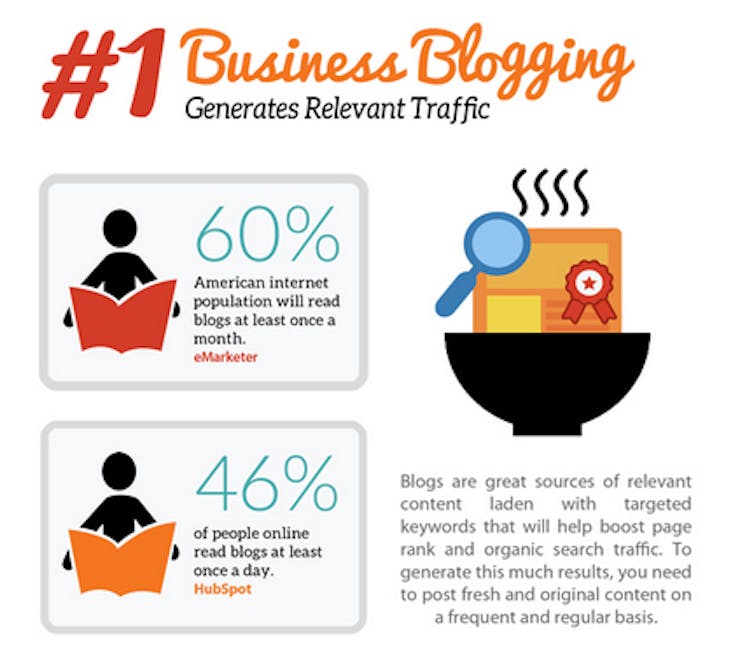 People who know you can visit your website, but that's an already-existing audience. Branded searches do not help you generate extra traffic on top of what you currently have.
You may pay for traffic by posting numerous sponsored advertisements, which is costly. When you run out of money, your traffic stops as well.
So, how can you bring in new visitors or readers to your website? The benefits of having a blog on your website do this by optimize your website for search engines.
Every time you write and publish a blog post, you add another indexed page to your website. So, you have another chance to appear on the search engine results page (SERP) and attract organic traffic to your site.
We'll go over the benefits of blogging for SEO in more detail later. But it's also another signal to Google that your website is active. So, search engines should check in regularly to see what new content is published.
2. More conversion of website visitors into qualified leads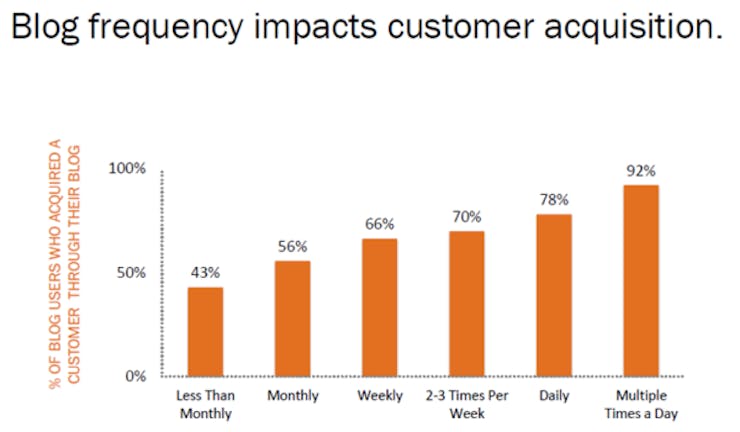 Now that you have some website traffic coming from your blog, you can turn that website traffic into leads. It's among the major benefits of blogging for marketing. 
Each blog article you publish is a fresh chance to generate new leads. Simply, just include a lead-generating call-to-action in each blog article.
These calls to action can be an option to download free ebooks, white papers, fact sheets. Or sign up for webinars, trials, or any other content asset. In return for these freebies, visitors will share their information.
The process of traffic-to-lead conversions is as easy as this:
They see a free offer as a call-to-action button.
When a visitor clicks on this, they are sent to a landing page with a form. They must fill out their information to get the offer.
The visitor completes the form, enters his or her information, and gets the free offer.
That is how you convert blog visitors into sales leads for your company. 
Pro Tip: All your blog readers will not convert into leads, which is normal. Nobody can turn 100% of blog readers into leads. Simply start writing and include calls to action in each blog post. Try to establish a visitor-to-lead conversion rate standard for yourself, and attempt to raise the benchmark each month.
3. Boost Sales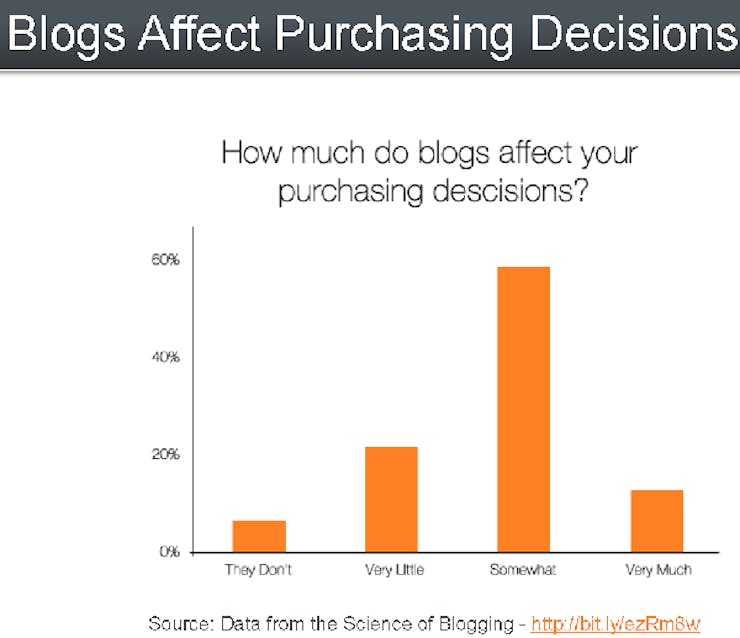 Static websites do not generate a lot of new consumers. But the benefits of having a blog on your website are a steady supply of excellent leads that can boost sales.
In-depth blog pieces assist prospective clients/customers in resolving their difficulties. So, people will start believing and regard you as an authority in the industry. If customers want more help than a blog article can provide, they may be interested in contacting you.
To increase your sales through blogs:
Concentrate on your keyword phrases in your blogs
Use one or more blog photos to promote your products and services 
Include links to product pages 
At the conclusion of each article, provide a shopping list with your goods highlighted
4. Enhance your SEO with the benefits of blogging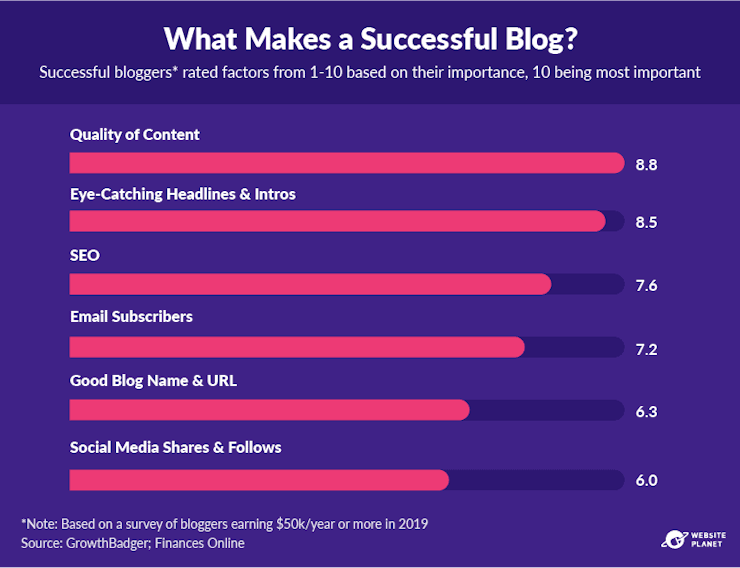 Without a blog, your website can't generate visitors, qualified prospects and SERP ranking. An informative, well-curated blog may help you get to the top position of organic search results. 
The finest blog methods coincide with your SEO objectives, such as link building, meta tags, eye-catchy titles, and image optimization. So, each article increases your search engine authority and chances of top-ranking.
Google always tries to provide readers with the most relevant answers. Your blog may assist those readers in locating the information they want!
5. Quality link building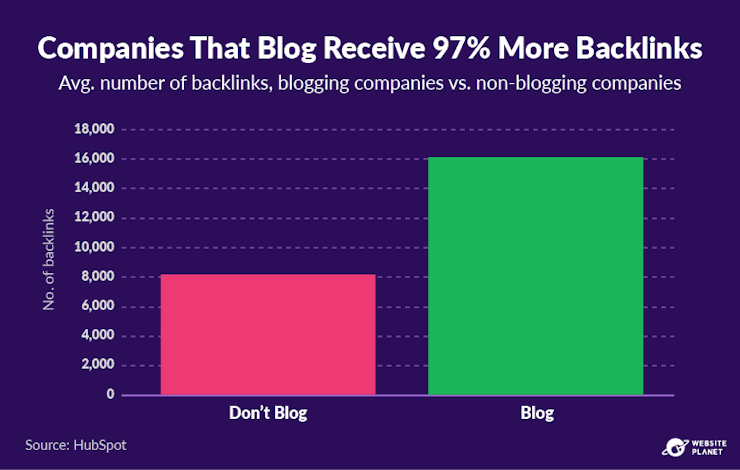 Inbound links, often known as backlinks, are one of the 200 criteria of Google's algorithm to rank a website on SERP. Backlinks are often regarded as the third most important component of SEO strategy.
Do you know? 41% of SEO specialists claim link development is the most difficult aspect of search optimization.
It will be simpler to get relevant backlinks if your blogs are not only useful to your prospective consumers but also to other firms that your audience regards as industry leaders.
Links from authoritative websites are a vote of confidence or endorsement from other websites. It also tells Google you're dependable and knowledgeable about your field.
Backlinks also aid in the development of domain authority. It improves your overall discoverability in search engines.
6. Use blogs to promote your business on social media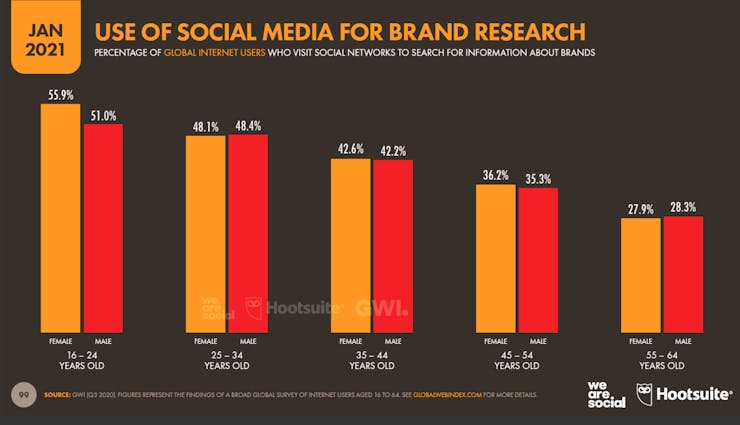 Among the major benefits of blogging for marketing is that it aids in social media discovery. Every time you publish a new post, you're giving people an opportunity to share that on social platforms. It helps to expose your brand to a new audience.
You don't have to generate fresh content for social media, your blog will function as a content library.
Blogs also sustain your social media presence. You can expand your social reach with blogs and bring new website traffic via your social channels. It will help improve your organic ranking and SEO approaches.
7. Create an Email list for marketing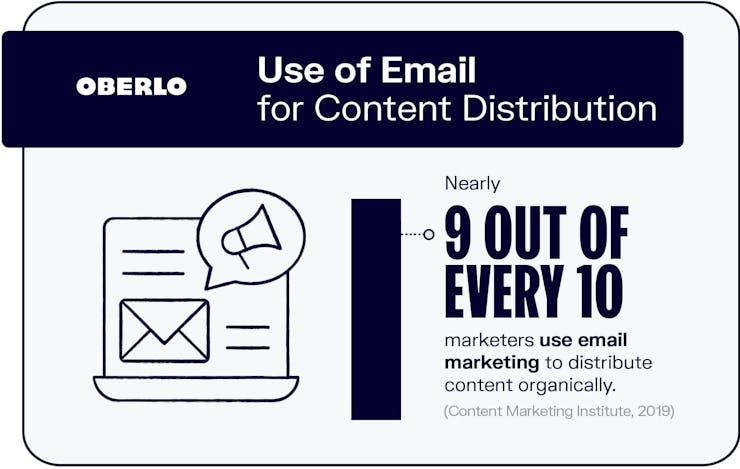 While social media is getting a lot of attention these days, email is still the most dependable method for marketing. People check their email frequently and use it to get essential notifications.
Getting your prospective leads' email addresses is difficult. But once you have it, you have a direct line of communication with them. You'll then be able to attract their attention anytime. Create email marketing campaigns, share the relevant blogs and promote your business.
8. Establish a Network
The benefits of having a blog for your business include broadening your network. Informative and fascinating blogs entice users to leave comments on your site and give you personal messages through your contact page. 
A blog may also be used to reach out to others.
9. Successfully position your brand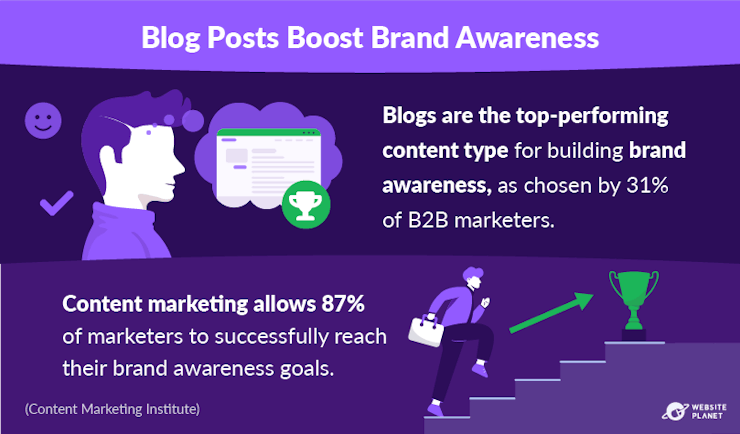 Your blog is an excellent area for your brand's identity to emerge and expand. You may show off your team's successes, emphasize your firm's unique culture. Show why the visitors should choose your organization. 
All this can be done while providing excellent blog content to your readers. Create a brand image on your own with the benefits of business blogging!
10. Educate your visitors
If you constantly provide excellent material or articles for your target audience, you are an industry leader or authority in their eyes.
Assume prospects discover solutions to their daily queries on your company's blog. Therefore, they're a lot more likely to enter the sales funnel since you've already benefited them. 
Your blog entries will help visitors to get a better understanding of your goods and services, your market position, and your industry. This results in a considerably more fruitful sales interaction.
11. Establish Your Expertise–Create an Authority Website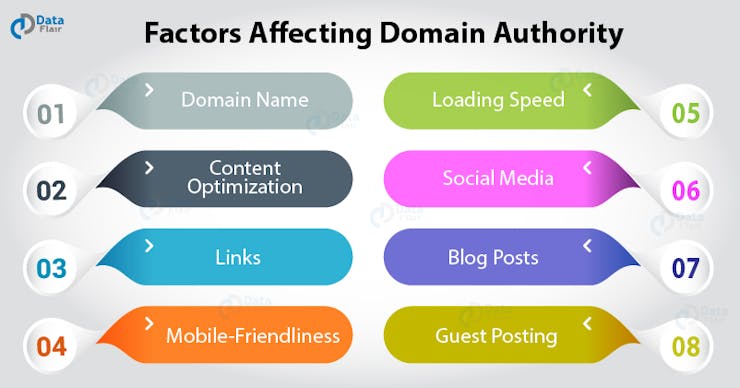 As you publish more posts and present more of your skills, your website will transform from 'simply another blog' to a strong representation of your competence in a topic. 
When someone visits your website and sees the insights you've offered on a topic, and the community appreciates and seeks that information, it'll be clear that you're a true authority in the industry.
Being an expert is helpful!
12. Establish Online Trust
On the internet, trust is a rare and important commodity. We cannot purchase trust. It must be earned by repeatedly displaying your dedication to your audience.
Excellent blogs accomplish that by routinely providing useful, honest material on the website. The more people who trust you, the simpler it will be to achieve your objectives online.
13. Blogging Offers Insight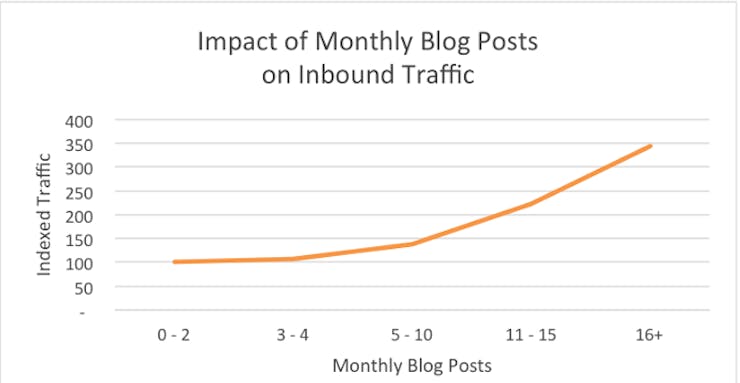 One of the major benefits of having a blog on your website is that you can measure the outcomes. Identify which topics are giving the highest ROI and performing efficiently. What are the requirements of your prospects? 
Measure the social involvement of the blogs. Reply to users' comments on the content and tell them to share it with their own networks. Readers who respond to your posts show they are engaged and interested in what you offer.
Make use of these insights to fine-tune your marketing approach and sales presentation.
14. Share your business news
Other benefits of blogging for both large and small businesses is a medium to share your company news.
Have you interviewed any industry experts? Develop a blog out of that and mention them. Also, that influencers can share the blog with their networks. 
You can also publish a case study that shows how your goods and services benefit customers.
Do you plan to hold a local trade show or an online webinar? Using your blog, you may generate interest in the event.
Sharing business news on your blog personalizes your brand. It also demonstrates to your audience that you aren't always about sales.
15. Get long-term outcomes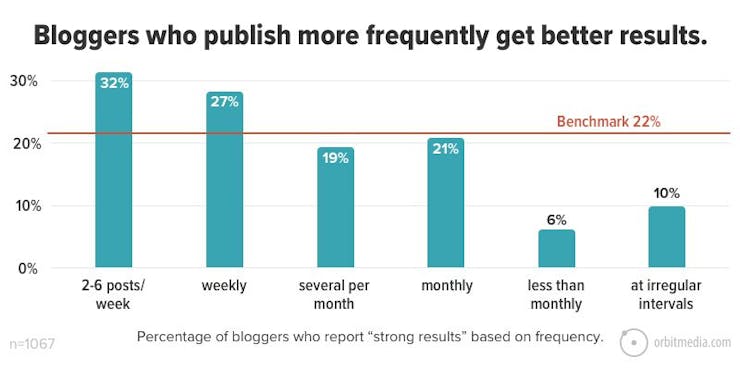 If your blog post has a high ranking in SERP, then you will get constant traffic to your website.
So, while you're busy with other business work, you're also generating traffic and leads. Your efforts from yesterday might cause hundreds of thousands of views and leads in the future.
Furthermore, you may monetize your blog in a variety of unique methods. Affiliate marketing business models allow you to earn money from blogging on almost any subject.
Remember, your earlier blog pieces are likely to generate most of your purchases. Over 90% of the leads you get each month originate from blogs written in the past months or several years ago.
We refer to these sorts of blog postings as "compounding" posts. Not every blog post will fall into this category. But the more evergreen blogs you create, the more probable it is to have another compounding blog.
Do you know? According to our analysis, one out of every 10 blogs ends up becoming a compounding blog post that gives results for several years.
This proves the scalability of business blogging.
While you may not see instant results, you will get a consistent quantity of traffic and leads for your company with no extra resource input.
Additional Benefits of Business Blogging
Other benefits of having a blog for your business is to test out long campaigns before putting a lot of money in ads. Also, you can use your blog to better grasp your brand identity and reach a large, localized audience. 
Wrap Up
Blogging effectively is a vital component of your entire digital marketing plan. It increases traffic to your website, provides new leads, nurtures those prospects, and broadens your understanding of your consumer base. Blogs are profitable and produce quantifiable outcomes in terms of positive ROI.
With all these benefits of blogging, you must be eager to have a blog on your website. Take our assistance on how to establish an excellent business and get started!